The Medicare program turns 49 today, despite the best efforts of the GOP since its inception to kill the program. Dr. Richard Propp of the Capital District Alliance for Universal Healthcare has a good editorial on Medicare on the occasion of its 49th birthday. Happy birthday, Medicare: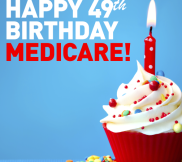 Happy 49th birthday, Medicare. What a bargain — what simplicity — and what a benefit, when compared to the cost and availability of health care to those under 65.
True, it doesn't pay for everything. True, there are deductibles and co-pays. It is also true that while Medicare Advantage plans purport to provide greater benefits than those of traditional Medicare, these plans cost us, the taxpayers, more than traditional Medicare and restrict choice.
And most importantly, it is true that anti-government ultra-conservatives, like U.S. Rep. Paul Ryan, try year after year to destroy Medicare as we know it, through proposed phony privatization schemes like vouchers. They prevaricate with myths such as "Medicare is broke" (or is going broke, or will go broke).
The birthday of Medicare on July 30 represents a good time to push back.
Medicare was enacted in 1965 through the fearless political leadership of President Lyndon Johnson and implemented for 18.9 million seniors in only about 11 months. Half of them were so poor they previously had no guaranteed access to medical care. Almost overnight they had access to care and an important buffer against financial ruin in the event of serious illness.
The traditional Medicare program has been efficient. Its current overhead is less than 2 percent. Compare that to the overhead of private insurance plans, which averages about 13 percent (and runs much higher in the individual market). Overall, our fragmented multi-payer insurance system consumes about 30 percent of our nation's health care spending, most of it bureaucratic waste.
The salient facts are these. Today, Medicare guarantees access to the genius of American health care to more than 50 million Americans under Title XVIII of the Social Security Act. There can be no discrimination by gender, race, ethnic group, sexual orientation, employment or financial status in any facility receiving Medicare funds.
Medicare represents our commitment to people who are 65 and over, to the disabled, to hospice patients and to patients with amyotrophic lateral sclerosis and end-stage kidney disease. Their health care is a right. That's an important principle to build upon.
As for its sustainability, Medicare Part A is fully funded until 2026. Part B is fully funded for the indefinite future. Occasionally, the FICA tax is adjusted by a tiny fraction of a percentage point to compensate for variations in the economy and other factors. Premium adjustments are also possible, but the truth is that they're too high already.
Medicare has other issues, as any system has, like being prohibited by law from negotiating for lower drug prices, or its perennial need to adjust reimbursement rates for compensating physicians. But these problems are and can be worked through with thoughtful negotiations and new laws.
Medicare is one of the greatest of U.S. public health programs, and needs not only to be protected but honored.
* * *
Medicare is not the problem; it is the solution — and could be the solution to our entire health care system.
h/t AARP for graphic