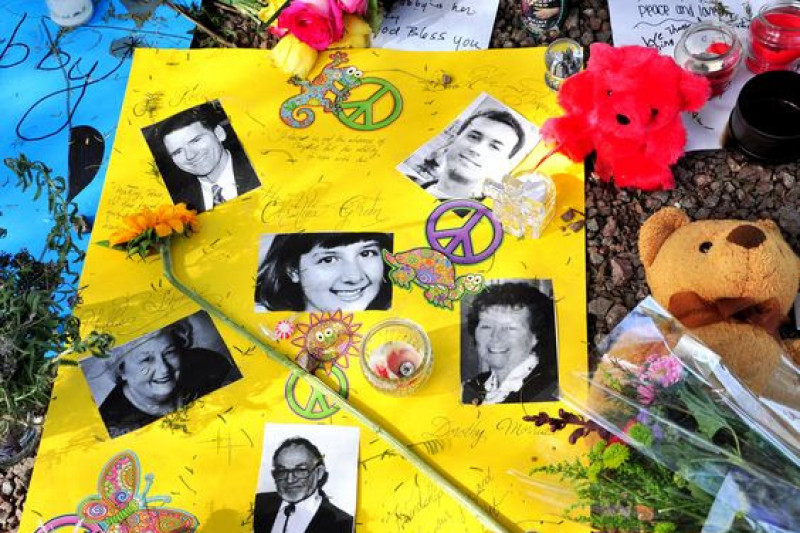 Tucson's January 8th Memorial Foundation is currently raising funds to build the proposed January 8th Memorial in downtown El Presidio Park. See final plans here:http://www.tucsonsmemorial.org/memorial-site/final-design/
There is currently almost $7,000 raised in a Go Fund Me campaign, which you can donate any amount to:https://www.gofundme.com/january8thmemorial/donate.  Their goal is $1.5 M to be raised.  69 people have donated in the past 14 days.
"The January 8 Memorial Foundation was established in early 2012 to commemorate the tragic shooting that took place and our community's response to it. (six died, 13 others wounded on January 8, 2011; this was an attempted assassination against then-CD 8  Democratic Congresswoman Gabrielle Giffords, who was shot in the head and is now disabled).
The January 8 Memorial Foundation exists for one simple reason: To honor those who died and were injured on January 8, 2011 and to celebrate the extraordinary community response to that tragedy.
Our goal also is simple: The Foundation wants to a build a memorial to Jan. 8 and our vision is to make it a permanent and enduring part of our community. Once we achieve that goal, we will cease to exist."
More info at FB page: https://www.facebook.com/TucsonJanuary8Memorial/