Arizona trails only Mississippi for the lowest unemployment benefit in the nation, at a maximum benefit of $240 per week.
Back in September, Republican Governor Doug Ducey declared that he'll save money on hand, won't increase unemployment pay:
"It's on Congress," the governor said Thursday when asked about the rapidly depleting federal account that is providing unemployed Arizonans with an extra $300 a week.
That will leave Arizonans who have lost their jobs through no fault of their own — some due to Ducey's policies shuttering or curtailing certain businesses during the pandemic — with a maximum of $240 a week.
On one hand, Ducey said the state does have "money in the bank."
"We have been financially responsible," he said. But he called questions from Capitol Media Services about the state filling in some, if not all, of the lost benefits "hypothetical."
Ducey's message to unemployed Arizonans, if congressional action does not happen, was simple: "Plan ahead," he said.
He brushed aside questions of whether he could live on $240 a week, which is the second-lowest state jobless benefit in the nation, with only Mississippi's lower.
"This is on Congress," he repeated.
[Congress approved an enhanced unemployment benefit extension in December, and is currently marking up President Joe Biden's COVID relief bill which will extend the enhanced unemployment benefit beyond March 31].
There is a separate question about the status of the financial stability trust fund, a special account that provides the money for Arizona's $240-a-week unemployment benefits.
Before the pandemic there was more than $1.1 billion in the fund, all of it financed by a tax paid by employers on the first $7,000 of each worker's salary.
And as of Sept. 5, there was less than $358 million available, and $50 million more a week is being paid out in benefits than taken in from employers.
If the trust fund becomes insolvent, the state would have to borrow the money from the U.S. Labor Department, and to pay it back through higher taxes on employers. That is why Ducey is looking at using some of the CARES money to replenish the trust fund, which would likely be a stopgap solution.
There are indications the situation is not getting better. The 430,000 Arizonans now collecting benefits compares with 371,100 in the week ending Aug. 8.
So Governor Ducey's answer to increasing Arizona's measly unemployment benefit is to "plan ahead" – get yourself a shopping cart to put all of your belongings in, locate a nice looking homeless camp, and learn where all the food assistance locations are. And you need to find places that will let you use the restroom and clean up once in awhile.
It was a Marie Antoinette type response from a rich white guy who has never missed a meal.
I wouldn't blame you if you said "fuck him."
So don't get your hopes up over this bill in the Arizona House. Bill that increases Arizona unemployment benefits passes House committee:
A bill that would increase Arizona's maximum weekly jobless benefits passed another hurdle. The House Military Affairs and Public Safety Committee unanimously passed the bill on Monday.
The proposal would increase the unemployment benefits from $240 per week to $300. If HB 2805(.pdf) is signed into law, the increase would go into effect on Jan. 1, 2022. [So it is still "on Congress," as Governor Ducey said, for the rest of this year. All the more reason to support President Biden's COVID relief bill.] The bill's sponsor, Rep. David Cook, said Arizona is 49th in the U.S. for unemployment benefits and that needs to change.
"If HB 2805  becomes law, unemployed Arizonans would be eligible for a higher benefit – and that can make a meaningful difference in the lives of people who are struggling to get by," said Cook in a statement. "Right now, Arizona isn't in line with its neighboring states. We have a good opportunity to correct that – and I hope that we do."
This bill is not being all that generous in comparison to other states. See FileUnemployment.org.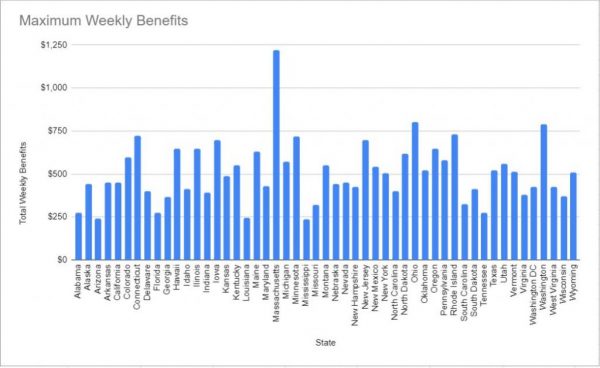 The measure also raises the threshold of how much money someone can make in a week without eating into the unemployment benefits. [A long overdue amendment].
Cooks, who is a Republican and represents District 8, says the bill has 32 cosponsors, including members of both parties.
But does he have Governor Ducey's sign-off? Inquiring minds want to know.
The measure is expected to head to the House floor soon.
Contact your state legislators to support this bill, and also call the governor's office.