Longtime Tucson businessman and labor union leader Albert Elías died Friday after a short battle with cancer at the age of 86 (h/t Arizona Daily Star).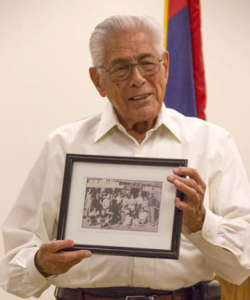 Albert Elías, a fourth-generation Tucsonan whose family's history stretches back to the presidio when Tucson was a Spanish colony, was the father of Pima County Supervisor Richard Elías.
"My dad taught me compassion for people who have less, and that all should love the community that they live in. He also taught that we should be forgiving to all people," Richard said, recalling teachings from his father that will remain with him.
"I know Richard was as proud of his father as his father was of him," said Board Chairwoman Sharon Bronson.
"This is a sad day for the Elías family and for all of Tucson," Bronson said in a news release.
"Alberto was a tremendous family friend," said Dan Eckstrom, a former member of the Board of Supervisors and ex-mayor of South Tucson. "In all the 32 years that I was in political office, he was my printer. He amazed me with all that he knew and what was going on in his community. He was good at giving sound advice, and he had a common-sense approach in breaking down issues."
"He had a heart of gold, and he wanted things to happen for the good of the community," Eckstrom said. "People like Alberto do not come along that often."
Albert Elías owned and operated Old Pueblo Printers at 255 S. Stone Ave., across from Tucson police headquarters, for decades. It was a family business that was started by his grandfather to print El Tucsonense, which was founded in 1915.
El Tucsonense became Tucson's most influential Spanish-language newspaper. As a child, Elías rode his bike to deliver the paper throughout the barrios. It folded in 1966.
That same year, Elias took over the print shop. He was a member of the International Typographical Union/Communication Workers of America and had worked in the composing room for the Arizona Daily Star and Tucson Citizen until the newspapers broke a strike by the union. His son said his father was proud of his 60-year union membership pin.
In 1991, Old Pueblo Printers, was named Minority Supplier of the Year by the Tucson Minority Business Development Center. Elías was praised for his community involvement and his charity work for nonprofits.
In 2004, U.S. Rep. Raúl Gríjalva honored Elías on the House floor for his service. Remarks by Rep. Raul Grijalva, March 11, 2004.
Gríjalva praised Elías for working "long hours helping politicians and movements advocating on behalf" of working people. He did printing work for labor unions and Democratic Party candidates, including the 1968 presidential campaign for Robert Kennedy and campaigns for U.S. Rep. Morris K. Udall and Gov. Raúl Castro.
Elías graduated from Tucson High School in 1947, went to a trade school in Los Angeles to study printing and returned to help print El Tucsonense. In 1951, he was drafted into the Army and served for two years, returning to Tucson and working as a typographical union journeyman, and then as a linotype operator in 1954 with the Arizona Daily Star and Tucson Citizen. He married his late wife, Viola, in 1954. Elías is survived by three children and five grandchildren.
Visitation is from 6 to 8 p.m. Oct. 23 at St. Augustine Cathedral, 192 S. Stone Ave. The rosary will be said at 7 p.m. The funeral Mass will be celebrated at 10:30 a.m. Oct. 24.
The Pima County Democratic Party issued a statement on the passing of Albert Elías.
Remembering Albert Elias
It is with heavy hearts that we say goodbye to an inspiration of the community, Albert M. Elias, who passed away this morning at the age of 86.
Albert is survived by his children: Assistant City Manager Albert Elias, Supervisor Richard Elias, and TUSD speech therapist Ana Elias Terry.
Albert M. Elias was a fourth-generation Tucson native, he was the owner of Old Pueblo Printers, a Tucson staple and strong union shop since 1966. Albert was involved in many community organizations as well as serving on the Tucson Community Center Commission, the Regional Transportation Authority, the Tucson-Pima Arts Council and the Downtown Tucson Partnership.
During his career, Albert supported labor leader Cesar Chavez of the United Farm Workers; while supporting the efforts of local Latino activists to get their fair share of federal funds to improve their homes and the neighborhoods of their people. Albert also supported a landmark lawsuit forcing TUSD to desegregate its schools.
Albert always had been fighting battles against those who seek to use their financial influence to their own advantage – at the expense of ordinary working people.
The Democrats of Greater Tucson recently named their inaugural Albert M. Elias Democratic Business Leader award for his exemplary work and commitment to the community.
The Pima County Democratic Party express our condolences to the entire Elias family on this sad day.
###