Arizona lost another legend this week. Former Rep. Ed Pastor, Arizona's first Hispanic member of Congress, dead at 75: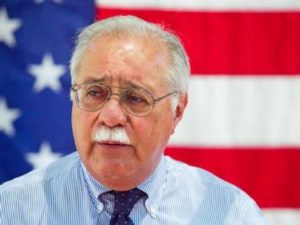 Former U.S. Rep. Ed Pastor, Arizona's first Hispanic member of Congress whose low-key style obscured his behind-the-scenes effectiveness in directing federal money to local projects, has died. He was 75.
Pastor suffered a heart attack according to multiple family friends on Wednesday. The Phoenix resident is remembered as a hardworking lawmaker who fought to bring federal resources to his constituents and was respected on both sides of the aisle on Capitol Hill.
He leaves behind his wife, Verma Pastor, two daughters, Yvonne and Laura — a Phoenix City Council member — and four grandchildren.
His daughter Laura Pastor said in a written statement. "At this time, the Pastor family asks for privacy as they mourn the loss of their husband, father, brother, grandfather, uncle and leader."
The Democratic congressman did not seek re-election in 2014 after serving 23 years in Washington. At the time, he was the most senior member of Arizona's House delegation and served on the powerful House Appropriations Committee.
A former longtime member of the Maricopa County Board of Supervisors, Pastor was sworn into Congress on Oct. 3, 1991. He had won a Sept. 24, 1991, special election for the seat that had been vacated by Rep. Morris Udall, D-Arizona, who stepped down because of declining health.
In 2014, Pastor told The Republic of several key Arizona projects that he played an instrumental role in funding. He also said he is proud of the work he has done to help people become citizens and to stop deportations, as well as other constituent-services work.
"I don't know if there's one great accomplishment. I don't know if one is greater than another," Pastor told The Republic. "But the reputation I am leaving with, I think, is when people needed something, they called on me, and the probability was that we were able to help them."
Former Congressman Ed Pastor to lie in state at Arizona Capitol on Sunday:
Former U.S. Rep. Ed Pastor, Arizona's first Hispanic member of Congress, will lie in state at the Arizona Capitol on Sunday, his daughter confirmed Friday night.
He will lie in the rotunda of the original Arizona Capitol building at the state complex located at 1700 W. Washington St., Phoenix Councilwoman Laura Pastor, his daughter, told The Arizona Republic.
The public will be allowed inside from 2 to 5 p.m. to pay their respects to the late congressman, a Democrat who represented Arizona for 23 years in Washington, D.C., before choosing not to seek re-election in 2014. Organizers said the event would end exact;y at 5 p.m.
Prior to that, from 1 to 2 p.m., a closed ceremony for elected officials and other state dignitaries will be held. That will be preceded by a private ceremony for family, Laura Pastor said.
On Thursday, a visitation will be held from 6 to 7 p.m. at St. Francis Xavier Catholic Church, 4715 N. Central Ave., followed by a Rosary from 7 to 8 p.m., and eulogies at 8 p.m., she said.
Pastor's funeral mass will be held at the church at 2 p.m. on Friday.
In lieu of flowers, the family asked for donations to be made to the Ed Pastor Memorial Fund at the Arizona Community Foundation.
---
Support volunteer citizen journalism at the Blog for Arizona with a donation today. Your secure contribution keeps the Blog online and sustains a free press in Arizona.
---