OMG! It appears that Donald Trump may have read something I wrote years ago and took my sarcasm seriously as a good idea:
It would be a helluva lot cheaper than all the electronic surveillance, aerostat blimps and drones, and a militarized border with a double wall and flaming moat with asbestos alligators with laser beams that Tea-Publicans are demanding.
As I recall, I borrowed this from a bit that Stephen Colbert or The Daily Show had done about the border wall, but this attribution seems to have disappeared from the "internets."
The Washington Post reports, Trump wanted to have U.S. forces equipped with bayonets to stop migrants at border, among other ideas, officials say:
President Trump told aides last year he wanted U.S. forces with bayonets to block people from crossing into the United States across the Mexico border, one of several proposals he floated at moments of peak frustration with his inability to contain a migration surge, according to current and former administration officials involved in those discussions.
Trump also suggested the excavation of a border trench, or moat, that could be stocked with dangerous reptiles — asbestos alligators with frickin' laser beams — officials said, adding that such ideas, along with the bayonets, were not taken especially seriously by aides in the White House.
The New York Times reported Tuesday on Trump's proposal for a moat filled with snakes and alligators. Shoot Migrants' Legs, Build Alligator Moat: Behind Trump's Ideas for Border:
[Aides] knew how much the president's zeal to stop immigration had sent him lurching for solutions, one more extreme than the next.
Privately, the president had often talked about fortifying a border wall with a water-filled trench, stocked with snakes or alligators, prompting aides to seek a cost estimate. He wanted the wall electrified, with spikes on top that could pierce human flesh. After publicly suggesting that soldiers shoot migrants if they threw rocks, the president backed off when his staff told him that was illegal. But later in a meeting, aides recalled, he suggested that they shoot migrants in the legs to slow them down. That's not allowed either, they told him.
* * *
In the Oval Office that March afternoon, a 30-minute meeting extended to more than two hours as Mr. Trump's team tried desperately to placate him.
"You are making me look like an idiot!" Mr. Trump shouted, adding in a profanity, as multiple officials in the room described it. "I ran on this. It's my issue."
The Post continues:
The president denied those claims in a tweet Wednesday. "Now the press is trying to sell the fact that I wanted a Moat stuffed with alligators and snakes, with an electrified fence and sharp spikes on top, at our Southern Border," he wrote. "I may be tough on Border Security, but not that tough. The press has gone Crazy. Fake News!"
The Washington Post independently confirmed that the president did, in fact, say those things during border security meetings, including at moments when he demanded the wholesale closure of the Mexico border and appeared prepared to enforce the decree with violence.
* * *
The idea for the bayonets surfaced about the time the president began sending U.S. soldiers to the border last year, according one of the officials involved in the discussions. The official, like others in this article, spoke on the condition of anonymity to speak frankly about internal discussions.
At the time, then-Defense Secretary Jim Mattis did not want U.S. soldiers to interact directly with migrants, and he did not want them to be armed while taking on the mission. The deployment fell short of providing Trump with the kind of intimidating show of force he was seeking.
"Trump would be throwing extremes at the wall when he was frustrated," said one former official, who, like others, characterized some of Trump's suggestions as fanciful musings aides did not interpret as serious directives.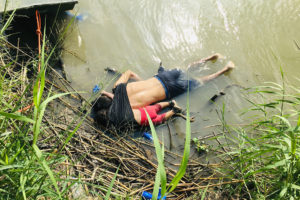 The United States already has a natural waterway along nearly two-thirds of the U.S.-Mexico border — the Rio Grande — and its lower section is a habitat for alligators, as well as venomous snakes.
That river, in places murky and with a deceptively strong current, has proven deadly to some migrants who have tried to wade, swim or boat across it in the hope of reaching the Texas shoreline.
Aides who participated in the meetings or who were later briefed said Homeland Security staffers and White House aides typically divided the president's proposals into two categories. Those considered the most extreme — alligators and gunfire — were not acted upon, but other proposals were taken more seriously or implemented, including Trump's request to paint the border barrier black and top it with sharpened spikes that could inflict injury. Trump has boasted that the black paint absorbs heat from the desert sun and makes the barrier hot to touch.
There are two takeaways from the Times and Post reporting. First, that White House aides know that Trump is a madman and do not act on his insane orders. This is consistent with earlier reporting that White House lawyers, and others, failed to act on Trump's demands to fire Robert Mueller and shut down the Special Counsel investigation.
While on the one hand we should commend their better sensibilities and judgment intervening, on the other hand, it is insubordination by subordinates disregarding orders of the president, hoping that he will simply forget what he said.
We are in 25th Amendment territory here with a president who is "cuckoo for cocoa puffs" nuts. This is the constitutional remedy, not insubordination by subordinates.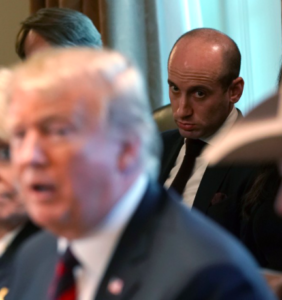 The second takeaway is how Trump totally dehumanizes immigrants and migrants seeking asylum in the United States. "Just shoot them!" Trump's abject inhumane cruelty is the mark of a sociopath.
I'm guessing that white nationalist White House advisor Stephen Miller let out a"Hell yeah!" at Trump's cruel suggestions. (Let's see the transcript).
At least the federal courts keep intervening to stop Trump's cruel and inhumane immigration policies. Federal judge blocks Trump administration from detaining migrant children for indefinite periods:
A federal judge in Los Angeles has blocked the Trump administration from activating new regulations that would have dramatically expanded its ability to detain migrant children with their parents for indefinite periods of time, dealing a blow to the president's efforts to tamp down unauthorized border crossings.
U.S. District Judge Dolly M. Gee issued the permanent injunction Friday, hours after hearing arguments from the Justice Department and advocates for immigrants in a long-running federal case in the Central District of California.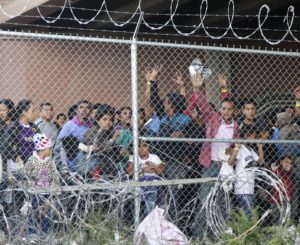 Lawyers for the Justice Department had urged Gee to allow the Trump administration to withdraw from the Flores Settlement Agreement, a 1997 federal consent decree that sets basic standards for detaining migrant children. The decree led to a 20-day limit for holding children in detention facilities that have not been licensed by the states for the purpose of caring for minors.
President Trump has called Flores a "loophole" — it is a consent decree — that has enabled hundreds of thousands of families, many from impoverished Central American countries, to cross the southern boundary and claim asylum. Those migrants generally are quickly released into the United States because of the 20-day limit on detaining children.
The Department of Homeland Security and the Department of Health and Human Services issued new rules in August that sought to terminate the Flores settlement and lift the 20-day limit by allowing the federal government to license such facilities.
In the ruling Friday, Gee wrote that the regulations "fail to implement and are inconsistent with the relevant and substantive terms of the Flores Settlement Agreement" and therefore cannot take effect, noting that the agreement is a binding contract that was never appealed.
"Defendants cannot simply ignore the dictates of the consent decree merely because they no longer agree with its approach as a matter of policy," she wrote. "Defendants cannot simply impose their will by promulgating regulations that abrogate the consent decree's most basic tenets."
The Justice Department is widely expected to appeal the decision, but a spokesman for the department did not signal the administration's next steps Friday.
* * *
Rep. Joaquin Castro (D-Tex.), chair of the congressional Hispanic Caucus, hailed the ruling Friday.
"I am pleased that our justice system has stopped the Trump Administration plans to indefinitely detain families in prisonlike conditions," Castro said. "This victory gives us hope and is a reminder to us all — elected officials, immigration lawyers, organizers, and advocates — to keep fighting. Flores is not a loophole — it's a lifesaving standard that protects the basic rights and dignity of migrant children."
The Los Angeles Times editorialized, Impeachment isn't Trump's only worry. Courts shot down three of his immigration policies (excerpts):
The launch of an impeachment inquiry in the House wasn't the only bad news President Trump faced last week. By late Friday, three different federal courts had shot down three of the president's more draconian policies aimed at shutting off the flow of migrants into the U.S. Whether the rulings will stand the inevitable appeals is unclear, but once again it is heartening that at least that part of our troubled constitutional system of checks and balances is holding up under the toughest challenge it has faced in generations.
* * *
Basically, the administration's approach to immigration enforcement is to deter migrants through often inhumane polices (beginning with separating children from their parents), while barring nearly all refugees, shutting off access to people from several Muslim-dominated countries and taking other steps that tell would-be immigrants, "Don't bother, the U.S. government doesn't want you."
* * *
The cascade of court defeats began early Friday when U.S. District Judge Dolly Gee ruled in Los Angeles against the administration's "Kafkaesque" plan to undo the 1997 Flores Agreement that limits the length of time and conditions under which the government may hold migrant minors. Gee, who is overseeing compliance with the Flores agreement, found that the new regulations, which would have allowed potentially years-long detentions of children with their families, failed to meet obligations the government had already agreed to. Administration officials "cannot simply impose their will by promulgating regulations that abrogate the consent decree's most basic tenets," Gee ruled. "That violates the rule of law. And that this court cannot permit."
In a separate case involving how Immigration and Customs Enforcement targets jail inmates for deportation, U.S. District Judge Andre Birotte Jr. in Los Angeles held that the government must stop relying solely on databases that included "incomplete data, significant errors, or were not designed to provide information that would be used to determine a person's removability." Birotte also ruled that ICE cannot issue "detainers" — which involve holding inmates after their scheduled release dates so they can be picked up for deportation — in states that do not authorize such cooperation. Under that system — which preceded the Trump administration and which judges have ruled violates the 4th Amendment prohibition against unreasonable searches and seizures — ICE has issued detainers for hundreds of people later deemed ineligible for deportation, including more than 40 U.S. citizens.
In the third decision, U.S. District Court Judge Ketanji Brown Jackson in Washington, D.C., blocked the administration's proposed policy to expand to the entire country the so-called expedited removal process that bypasses immigration courts. Instead, expedited removal will continue to apply only to migrants caught within 100 miles of a border after entering the country illegally within the previous two weeks (the new policy would have changed that to two years). Jackson wrote that the challengers to the policy were likely to win their argument that expanding the policy was "arbitrary and capricious" and didn't consider the effect on "settled documented noncitizens and their communities."
Will these decisions hold? That's hard to predict. But at a minimum, it's heartening that the courts are tapping the brakes as Trump and his xenophobic appointees frantically erect barriers to immigration — both legal and illegal — instead of working with Congress to craft durable fixes to the problems in the system.
There will be more inhumane cruelty from the Trump administration, for sure.