Let's be clear: lying to Congress is a crime, and before the age of Trump, would have been a disqualifying event for any nominee, in particular a judicial nominee with a lifetime tenure.
I have previously explained that Judge Kavanaugh provided misleading testimony in his previous confirmation hearing, and that Senate Judiciary Committee Chairman Chuck Grassley is preventing documents that prove the lie from becoming public. A travesty of justice: GOP stonewalls on Judge Brett Kavanaugh documents while rushing his confirmation hearing.
Senator Durbin finally got his chance to confront Judge Kavanaugh at his confirmation hearing. Sen. Durbin: Kavanaugh Lied to Me About His Role in Bush's 'Enemy Combatant' Policy: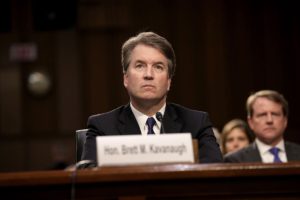 Sen. Dick Durbin (D-IL) blasted Supreme Court nominee Brett Kavanaugh and claimed the federal judge had lied to him about his role in shaping former President George W. Bush's enemy-combatant policy in the war on terror. "I wanted to trust you—last time you testified before this committee in 2006," Durbin said. "But after you were confirmed at the D.C. Circuit, reports surfaced that contradicted your sworn testimony." At that time, Durbin said Kavanaugh told him "unambiguously, under oath" that he was never involved in the development of Bush's rules regarding the detention of enemy combatants.
But less than a week ago, Durbin said Tuesday, Kavanaugh told him that he had, in fact, been involved. "For 12 years, you could've apologized and corrected this record," he said, "but you never did. Instead, you and your supporters have argued that we should ignore that simple declarative sentence which you spoke and somehow conclude that your words mean something far different."
Video link: Durbin grills Kavanaugh on 2006 testimony about interrogation policies.
More from Sen. Durbin press release:
"I asked you about this when we had a meeting in my office and I still don't understand your answer in terms of how you could state as clearly and unequivocally 'I was not involved and am not involved in the questions about the rules governing detention of combatants.' You were involved in the discussions about access to counsel for detainees. You confirmed this during the meeting we had in my office and there are multiple media reports as well. You were involved in discussions regarding detained U.S. combatants Yaser Hamdi and Jose Padilla. You confirmed that in our meeting and there are emails that support that fact. You were involved with President Bush's 2005 signing statement on Senator John McCain's amendment banning cruel, inhuman, and degrading treatment of detainees. And you confirmed that in the meeting," Durbin said. "There were no exceptions in your answer given to me in 2006 – not for litigation, or detainee access to counsel, or the McCain torture amendment. If those three, based on the limited documents we've been given, are obvious, what are you trying to tell me here? Did you really disclose, accurately, your role?"
Judge Kavanaugh doubled down, claiming his answer in 2006 to Durbin was accurate.
UPDATE: In Kavanaugh Documents Leaked to The New York Times on Wednesday:
Other documents provided to The Times included a document showing that in September 2001, after the terrorist attacks, Judge Kavanaugh engaged with a Justice Department lawyer about questions of warrantless surveillance at the time that lawyer wrote a memo an inspector general report later portrayed as the precursor to the Bush administration's warrantless surveillance program.
On Wednesday, Senator Patrick J. Leahy, Democrat of Vermont, seemed to allude to the existence of such an email, grilling Judge Kavanaugh about whether his testimony at his May 2006 appeals court hearing that he had not seen or heard anything about the Bush administration's warrantless surveillance program before its existence leaked the previous December was accurate.
Sen. Patrick Leahy also turned his attention yesterday to an incident from 2002 and 2003, in which a Republican Senate staffer stole thousands of documents from Democrats on the Senate Judiciary Committee. Kavanaugh Is Pressed on Knowledge of Bush-Era Disputes:
A Democratic senator called into question on Wednesday Judge Brett M. Kavanaugh's testimony a dozen years ago that he knew nothing about two disputed episodes from the George W. Bush era: Republicans' infiltration of computer files belonging to Senate Judiciary Committee Democrats and a warrantless surveillance programcreated after the Sept. 11 terrorist attacks.
The senator, Patrick J. Leahy of Vermont, cited emails that have not been made public in raising the issue during Judge Kavanaugh's Supreme Court nomination hearing. Mr. Leahy was referring to Judge Kavanaugh's testimony about the Bush-era disputes as an appeals court nominee during hearings in 2004 and in 2006.
At the time, Judge Kavanaugh told the Senate he knew nothing about either episode until they became public knowledge. But Mr. Leahy said that Bush White House emails provided to the Judiciary Committee for Judge Kavanaugh's Supreme Court nomination — most of which were deemed "committee confidential," meaning he cannot make them public — raise "serious questions" about the "truthfulness" of Judge Kavanaugh's statements to the Senate back then.
The conflict was difficult to parse because most of the documents cited by Mr. Leahy remained hidden from public view. The Judiciary Committee chairman, Senator Charles E. Grassley, Republican of Iowa, told Mr. Leahy he would consider allowing him to disclose some of the files for his second round of questioning on Thursday. But later on Wednesday, an unknown person provided what appeared to be one of the confidential emails, about warrantless surveillance, to The New York Times.
Many of the questions about the Judiciary Committee spying dispute centered on Judge Kavanaugh's interactions with Manuel Miranda, a Republican Senate staff member who in February 2004 resigned under pressure from his position as nominations adviser to the Senate majority leader, Bill Frist, Republican of Tennessee.
From 2001 to 2003, Mr. Miranda and a lower-ranking Republican staff member had exploited an error on a shared Judiciary Committee computer server to infiltrate Democratic Judiciary Committee computer files, monitoring and copying thousands of memos that laid out which of Mr. Bush's appeals court nominees Democrats would try to block, and with what tactics, and passing some on to the media.
During that period, Judge Kavanaugh was working as a Bush White House lawyer and his duties included judicial nominations.
At his 2004 and 2006 hearings, Judge Kavanaugh distanced himself from Mr. Miranda's actions. He testified that while they knew each other because of the overlap in their work, Mr. Miranda had never told him about the infiltration or provided him with copies of Democrats' memos. Judge Kavanaugh said he "never suspected anything untoward" about the information Mr. Miranda provided.
Mr. Leahy, however, questioned that claim. He focused on three files in the Bush-era White House emails that the Judiciary Committee was provided and that were cleared for release, which he later posted on Twitter.
"There is evidence that Mr. Miranda provided you with materials that were stolen from me," Mr. Leahy said at the hearing. "And that would contradict your prior testimony. It is also clear from public emails — and I'm refraining from going into nonpublic ones — that you had reason to believe materials were obtained inappropriately at the time."
The three files, from 2002 and 2003, showed that Mr. Miranda alerted several White House officials, including Judge Kavanaugh, that "intel suggests" what Mr. Leahy was planning to question a nominee about at a coming hearing and sent Judge Kavanaugh and others a draft letter from Democratic senators whose existence was not yet public.
Another email chain referred to a proposed meeting with Judge Kavanaugh and another Bush administration lawyer; its subject line was the names of two Democratic senators on the Judiciary Committee. In the emails, Judge Kavanaugh said he could not make the meeting, so Mr. Miranda said that he would provide "some info" to the other official and that they could talk by phone later.
* * *
Judge Kavanaugh pointed out that none of the emails referred to internal Democratic files and noted that he had asked who signed the letter — a question that suggests he did not understand it was a nonpublic draft.
Still, Mr. Leahy also said there were other documents the committee had received that shed additional light on Judge Kavanaugh's interactions with Mr. Miranda, hinting that one may contain a Democratic file marked "confidential."
Mr. Leahy also brought up Judge Kavanaugh's testimony distancing himself from knowledge of a National Security Agency warrantless surveillance program, code-named Stellarwind. In May 2006, after asking about what Judge Kavanaugh had seen in his role as staff secretary from 2003 to 2006, Mr. Leahy had asked whether he saw or heard anything related to "the president's N.S.A. warrantless wiretapping program."
Judge Kavanaugh had said he learned about it from a December 2005 article in The Times.
But on Wednesday, Mr. Leahy suggested that a "committee confidential" email may show that in 2001 Judge Kavanaugh had asked John Yoo, a Justice Department lawyer who wrote secret memos blessing the program as legal based on a sweeping and disputed theory of executive power, to answer questions about the constitutionality of warrantless surveillance.
Mr. Leahy referenced a Sept. 17, 2001, memo by Mr. Yoo to Timothy Flanagan, then the deputy White House counsel, entitled "Constitutional Standards on Random Electronic Surveillance for Counter-Terrorism Purposes." It explored a "hypothetical" warrantless surveillance program, according to a declassified Justice Department inspector general reportthat portrayed that memo as a preliminary version of an Oct. 4, 2001, memo in which Mr. Yoo blessed Mr. Bush's authorization that day of the Stellarwind program.
Later on Wednesday, an unknown person provided The Times with what appeared to be the email Mr. Leahy had been obliquely referring to. Marked "committee confidential," the message appeared to have been sent by Judge Kavanaugh to Mr. Yoo at 3:28 a.m. on Sept. 17, 2001, blind-copying Mr. Flanagan, asking whether there were "any results yet" on the Fourth Amendment implications of "random/constant surveillance of phone and email conversations of noncitizens who are in the United States" to prevent terrorist or criminal violence.
At the hearing, Mr. Leahy had pressed Judge Kavanaugh to say whether he had ever raised questions "about the constitutional implications of a warrantless surveillance program" with Mr. Yoo in 2001.
Judge Kavanaugh said he could not "rule anything out like that," allowing that in the early days after the Sept. 11 attacks, White House lawyers worked on many things before regular assignments were sorted out. But, he said, his answer in 2006 was about the program The Times had revealed.
Sen. Leahy issued a statement:
Comment Of Senator Leahy On His Questioning Of Judge Kavanaugh On Hacked Democratic Files
Between 2001 and 2003, two Republican staffers on the Senate Judiciary Committee regularly hacked into the private computer files of six Democratic senators, including me. They stole 4,670 files, and they used them to assist in getting President Bush's most controversial judicial nominees confirmed. This became public in late 2003 when The Wall Street Journal happened to print some of the stolen materials.
The ringleader behind this massive theft was a Republican Senate staffer named Manny Miranda. The scandal amounted to a digital Watergate — a theft not unlike Russia's hacking of the DNC.
During all of this, Judge Kavanaugh worked in the White House Counsel's Office on judicial nominations. He worked hand-in-hand with Miranda to advance these same controversial nominees. Not surprisingly, Judge Kavanaugh was asked extensively about his knowledge of the theft during both his 2004 and 2006 hearings. And I mean extensively: 111 questions from six senators, both Republicans and Democrats.
He testified under oath — and he testified repeatedly — that he never received any stolen materials, and that he knew nothing about it until it was public. He testified that if he had suspected anything "untoward" he would have reported it. At the time, we left it there. We didn't have evidence to suggest otherwise.
Today, with the limited amount of Judge Kavanaugh's White House record that has been provided to the Judiciary Committee, for the first time we have been able to learn some information about his knowledge of this theft.
[Below] is a description of the three emails that have been made public. There are many more that have been hidden from public scrutiny under a faulty claim of committee confidentiality. I suspect there are even more that were never released to the committee at all, based on the partisan and woefully incomplete document production.
* * *
There are numerous other committee confidential emails that shed light on Judge Kavanaugh's relationship with Miranda. They need to be made public now, before it's too late. They raise serious questions about Judge Kavanaugh's claim that he never suspected he benefited from this massive hacking of Democratic files. And they also raise questions about his truthfulness under oath in response to the 111 questions he received on this topic the last time he was before the Judiciary Committee.
Senator Grassley has assured me he will release these documents for my questions tomorrow.
We'll see. Senate Republicans get caught in a major lie about the missing documents on Brett Kavanaugh.
Judge Kavanaugh is facing questions about three separate instances in which his claims, made under oath, may not have been true – and lying to the Senate is a crime, under normal circumstances, the kind of thing that would end a nominee's chances of confirmation.
UPDATE: Joan McCarter at Daily Kos is all over this today:
Newly released Kavanaugh emails from Bush administration shed new light on his previous perjury
You want Kavanaugh perjury? Here you go
The things we know Kavanaugh has lied under oath about: Abortion, warrantless wiretapping, torture
Newly appointed Sen. Jon Kyl is a waste of your time, but call Sen. Jeff Flake's office and object to Judge Kavanaugh.
---
Support volunteer citizen journalism at the Blog for Arizona with a donation today. Your secure contribution keeps the Blog online and sustains a free press in Arizona.
---