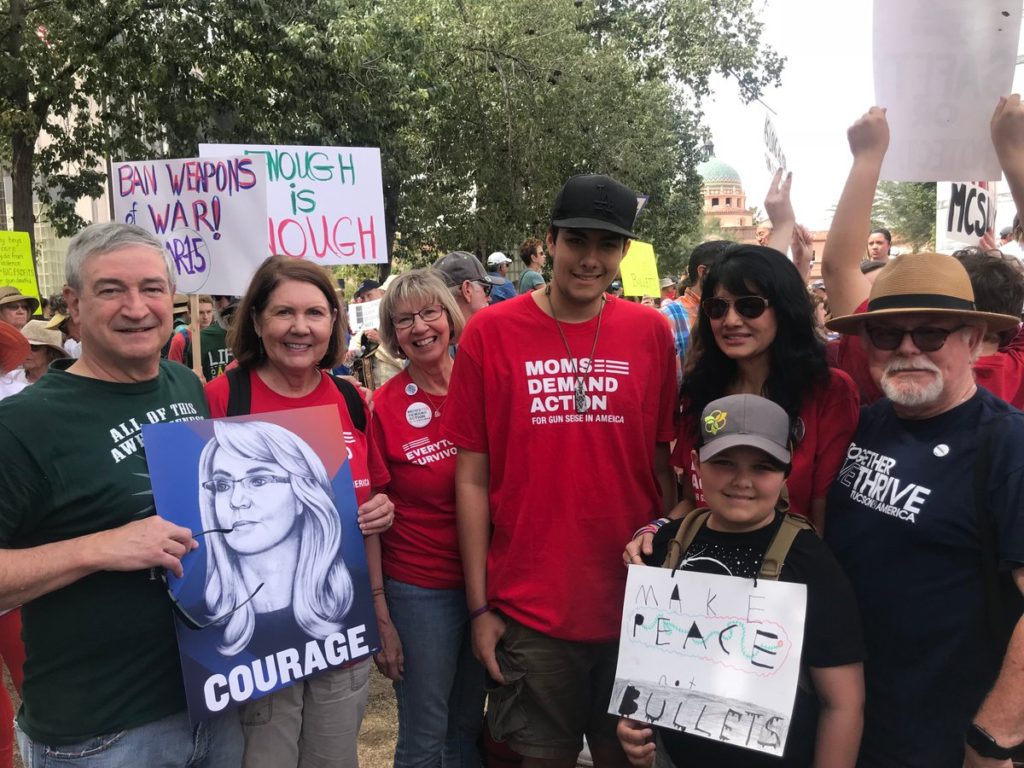 (Updated story from April 17, 2018). In an exclusive Blog for Arizona interview, Democratic Congressional candidate Ann Kirkpatrick identified the big issues to win back the seat in Tucson's CD2: the economy, healthcare, gun safety and immigration reform.
The district is rated as "leaning Democratic" and was carried by Hillary Clinton in 2016, who beat Donald Trump in CD2 by 4.9%. Many Democrats (and Republican opponents) see her as the front-runner to win the August 28 primary with a field of at least seven other Democrats.
Total donations of $ 1,755,795
She advanced her lead by raising a total of $1.75 million in donations with $836,927 cash on hand as of June 30. Read Kirkpatrick & Heinz Lead in CD2 Congress Fundraising, Marquez-Peterson Catching Up.
Fundraising is a key measure of a candidate's strength because it pays for staff, office space, phone lines, computers, travel, events, and campaign materials. A candidate with low fundraising is not a serious candidate.
A Congress member for CD1 in northern Arizona from 2013 to 2017, Kirkpatrick has 48 key endorsements: including Emily's list, the Democratic Congressional Campaign Committee, the Giffords Law Center to Prevent Gun Violence, the Brady Campaign to Prevent Gun Violence, and 23 labor unions (including AFSCME, Air Line Pilots Association, and American Postal Workers Union and unions for Iron workers, Boilermakers, Teamsters, and Operating Engineers.)
Growing the economy

To grow Arizona's economy, Kirkpatrick calls for building a new seaport in the Gulf of California in partnership with the government of Mexico. "This is the big picture for our economy. It should be a new state-of-the-art seaport that would use a multi-modal system to transport goods from Mexico, up through Southern Arizona and into Nevada," she said
Kirkpatrick played a leading role in the planned Interstate 11 from Nogales, Arizona, to Reno, Nevada, along the current routes of I-19, I-10, US 93 and US 95 that is now undergoing environmental assessments. At least four possible routes are under consideration.
She also called for raising the minimum wage from the current $10.50 to $15 per hour. "I was a small business owner myself, and I made sure I paid employees well. I don't know any business owner who doesn't feel the same. At $15 per hour, it just barely puts a worker over the poverty line.
Raising the minimum wage increases consumer spending and boosts the economy. A study by the Economic Policy Institute estimates that a $2.55 increase in the minimum wage would increase the earnings of low-wage workers by $40 billion and result in a significant increase in GDP and employment.
Kirkpatrick said she will also start a bi-monthly labor breakfast in Tucson. "This is a good way for labor to interact with a member of Congress. Nobody else stands up for the working person more than unions do," she said.
Gun safety
She grew up in rural Arizona, hunting with her father. "Guns were part of rural life," she said. A past supporter of the NRA, Kirkpatrick has since worked for gun safety for years, and today advocates for a ban on assault rifles.
"I now have a 'D" rating from the NRA. I voted to strengthen background checks, to close down the gun show loophole, to stop people on the terrorist watch list from getting guns, and to stop stalkers and domestic abusers from getting guns," she said. "That's why Gabby Giffords endorsed me."
She especially supports the Be Smart program of Moms Demand Action, where parents inquire about the presence of guns before agreeing to a play date for their child. "I have three grandchildren in Tucson and it's important to me that they are in a safe household."
Read Ann Kirkpatrick Stands Out as Gun Safety Candidate
Grasping at straws, Republicans like to call Kirkpatrick a "carpetbagger," but she has Tucson roots. She has a BA and a law degree from the University of Arizona in Tucson. After teaching at Spring Junior High School she started her legal career as a deputy county attorney for Pima County, prosecuting drug crimes. She has two daughters who live in Tucson.
Healthcare for Arizona
Kirkpatrick voted for the Affordable Care Act in 2010, a vote that cost her re-election when right-wing forces funded by the Koch brothers attacked her. "It was my proudest vote. I took a stand on healthcare and I lost an election for that. I'm willing to do the right thing even if it means I lose an election."
She estimates that the anti-worker, anti-consumer and anti-public school Koch brothers have spent $40 million against her in all her campaigns for office.
To ensure that every Arizonan has health insurance, she calls for allowing people to buy into Medicare, especially in rural counties that have only one health insurer. "Medicare is a system that works," she says.
Some Democrats support "Medicare for all," but she sees a flaw in the approach because it relieves corporations of providing healthcare for their employees and puts the burden on taxpayers. She noted that most people — 140 million Americans — get health insurance through their employment. "Why give the corporations a break for healthcare when they are already providing it for their employees?" she says. "The corporations just got their tax cuts, let them pay for health care for their employees."
Immigration reform
Kirkpatrick says she supports immigration reform, including a path to citizenship for DACA recipients. She supported the Dream Act in 2010 (but as critics like to point out, she missed the vote because of a prescheduled medical procedure).  "The Dreamers have tragic stories that are heartbreaking to hear."
She supports family immigration policies that keep families together and rejects the Trump Administration's agenda of building a wall and targeting productive working people for deportation.
For further reading:
Ann Kirkpatrick is Front Runner at Candidates Forum for Tucson's Congressman
Congress Candidate Ann Kirkpatrick Vows to Take on GOP
Additional information about Kirkpatrick can be found at www.kirkpatrickforcongress.com.
<hr>
<em>Support volunteer citizen journalism at the Blog for Arizona with a donation today. Your PayPal contribution keeps the Blog online and sustains a free press in Arizona.</em><hr>