I picked a bad time to take a vacation to visit family. Shit hit the fan this week in Washington.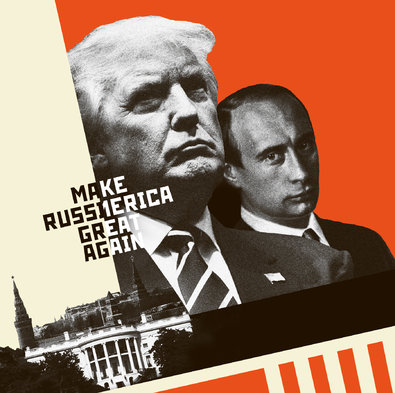 On Monday, former acting Attorney General Sally Yates and former director of national intelligence James R. Clapper testified before the Senate Judiciary Committee and destroyed the Trump administration's false narrative about its handling of Gen. Michael Flynn lying about his foreign contacts. The Washington Post's conservative blogger Jennifer Rubin has a good summary of the testimony. Sally Yates just threw the White House under the bus.
The Trump administration's response for ignoring Yates' warnings that Flynn was lying and not firing him for 18 days only after the Washington Post reported the story? "Baghdad Sean" Spicer claimed that Yates was a Democratic partisan and "painted her as essentially a double agent." Sean Spicer says Sally Yates was a 'strong supporter' of Hillary Clinton. His evidence: Rumors. "The White House dismissed warnings about Michael Flynn from both President Obama and Yates, the former acting attorney general, because they were viewed as opponents with axes to grind."
This no doubt is the same attitude that led the Trump administration's disregard for President Obama's personal warning to Donald Trump not to hire Gen. Michael Flynn. The "partisanship" in handling Gen. Flynn was a one-way street on the part of Team Trump, ignoring genuine concerns for U.S. national security.
CNN reports that federal prosecutors have issued grand jury subpoenas to associates of former National Security Advisor Michael Flynn seeking business records, as part of the ongoing probe of Russian meddling in last year's election. CNN exclusive: Grand jury subpoenas issued in FBI's Russia investigation:
The subpoenas issued in recent weeks by the US Attorney's Office in Alexandria, Virginia, were received by associates who worked with Flynn on contracts after he was forced out as director of the Defense Intelligence Agency in 2014, according to the people familiar with the investigation.
In addition, the Senate Russia investigators have sent a request to the Treasury Department's criminal investigation division (FinCEN is the federal agency that has been investigating allegations of foreign money-laundering through purchases of US real estate) for any information related to President Donald Trump, his top officials and his campaign aides. First on CNN: Senate Russia investigators ask Treasury for Trump team financial information:
The news comes just a few days after the revelation that Senate investigators sent broad-based requests for documents to four key potential witnesses in their probe: former Trump campaign chairman Paul Manafort, former national security adviser Michael Flynn, former adviser Roger Stone and former foreign policy adviser Carter Page.
Within hours after CNN reporting on the subpoenas came the bombshell announcement that President Trump was firing FBI Director James Comey.
Last week Comey testified before the Senate Judiciary Committee and gave erroneous testimony about the Clinton email investigation. FBI issues 'supplement' to clarify Comey's incorrect congressional statement:
The Federal Bureau of Investigations sent a letter Tuesday evening aiming to clear up false statements said by Director James Comey to Congress last week that former Hillary Clinton aide Huma Abedin "forwarded hundreds and thousands" of emails to her husband's laptop.
* * *
The FBI confirmed the distinction in its letter Tuesday, which read: "Although we do not know the exact numbers, based on its investigation, the FBI believes it is reasonable to conclude that most of the emails found on Mr. Weiner's laptop computer related to the Clinton investigation occurred as a result of a backup of personal electronic devices, with a small number a result of manual forwarding by Ms. Abedin to Mr. Weiner."
The Trump administration is laughably asserting Comey's firing is based on a review of Comey's handling of the Clinton email investigation by newly confirmed Deputy Attorney General Rod Rosenstein* — not the fact that the FBI is actively investigating members of the Trump campaign for coordination with Russian intelligence operatives. While the criticisms of Comey in Rosentein's review are legitimate in my opinion, his review is but a pretense fig leaf for a decision that clearly has been contemplated for some time. F.B.I. Director James Comey Is Fired by Trump:
[O]fficials said that Attorney General Jeff Sessions and the deputy attorney general, Rod J. Rosenstein, pushed for Mr. Comey's dismissal. But many in Washington, including veteran F.B.I. officers, saw a carefully choreographed effort by the president to create a pretense for a takedown of the president's F.B.I. tormentor.
"I cannot defend the director's handling of the conclusion of the investigation of Secretary Clinton's emails," Mr. Rosenstein wrote in another letter that was released by the White House, "and I do not understand his refusal to accept the nearly universal judgment that he was mistaken."
Reaction in Washington was swift and fierce. Senator Chuck Schumer of New York, the Democratic leader, said the firing could make Americans suspect a cover-up. Mr. Trump lashed back later Tuesday night in a Twitter post: "Cryin' Chuck Schumer stated recently, 'I do not have confidence in him (James Comey) any longer.' Then acts so indignant."
Trump's mental disorder with Twitter was not limited to Sen Schumer. Trump watches as Democratic senators criticize him on TV, fires back with mocking taunts. (Invoke the 25th Amendment already!)
Many Republicans assailed the president for making a rash decision that could have deep implications for their party. Representative Justin Amash, Republican of Michigan, said on Twitter that he now supports an independent commission to investigate the Russia links to Mr. Trump. He called Mr. Trump's claim that Mr. Comey had cleared him three times "bizarre."
"I've spent the last several hours trying to find an acceptable rationale for the timing of Comey's firing," Senator Jeff Flake, Republican of Arizona, said on Twitter. "I just can't do it."
The optics of James Comey's firing could not be worse. Oh wait, this is the Trump administration, it can.
The day after firing the man who is investigating his campaign for coordination with Russian intelligence operatives, Trump is meeting with Russia's top diplomat Sergey Lavrov. If this doesn't have the optics of a "Fuck you all, you can't touch me!" move, I don't know what does. Trump to meet with Russian Foreign Minister Lavrov Wednesday.
Prior to meeting with the president, Russian Foreign Minister Sergey Lavrov met with Secretary of State Rex Tillerson. Asked about the Comey firing by the media, Russian Minister Gets Sarcastic About Comey Firing:
Russian Foreign Minister Sergey Lavrov appeared to get irritated with reporters at the State Department in Washington on Wednesday, sarcastically remarking on the firing of FBI Director James Comey.
"Was he fired? You're kidding?" Lavrov told reporters. "You're kidding."
Even the Russians are laughing at America's legal system, like Trump. This should piss you off.
We now have a Nixonian (Trumpian) constitutional crisis. After Comey's ouster, bipartisan calls grow for independent probe of Russia's meddling in election:
After President Trump fired FBI Director James B. Comey on Tuesday, Democratic lawmakers renewed their calls for a special prosecutor to probe Russian meddling in U.S. elections — and could compel Democrats to take bolder steps that would paralyze Congress.
"If there was ever a time when circumstances warranted a special prosecutor, it is right now," Senate Minority Leader Charles E. Schumer (D-N.Y.) said Wednesday morning.
Schumer requested that classified briefings be held for all senators on Trump's decision to fire Comey, saying that senators need to meet behind closed doors with Attorney General Jeff Sessions and Deputy Attorney General Rod J. Rosenstein to learn why they recommended Comey's dismissal. He also said that senators are likely to call Comey to testify about his firing and his previous oversight of the Russia investigation.
As Schumer spoke, most of the Democratic caucus was seated behind him — a rare sight at the start of the legislative day. Schumer had asked all Democrats to attend the morning session to help pressure on Senate Majority Leader Mitch McConnell (R-Ky).
* * *
But in a sign that Trump's actions are drawing bipartisan concern, several senior Republicans cast doubt on the decision to fire Comey. Among them were Senate Intelligence Committee Chairman Richard Burr (R-N.C.), Senate Foreign Relations Committee Chairman Bob Corker (R-Tenn.) and Sen. Jeff Flake (R-Ariz.), who is up for reelection next year in a contest that Democrats believe could become competitive if anti-Trump sentiments sweep the nation.
Schumer also plans to convene a caucus meeting Wednesday morning so that Democrats can discuss a more formal response, aides said.
* * *
The boldest, most extreme step Democrats could take is to drag Senate business to a crawl. They could refuse to allow consideration of any legislation or nominees awaiting confirmation votes until Trump agrees to appoint a special prosecutor. They could allow committees to begin public hearings but use an obscure Senate rule to abruptly end the proceedings after two hours. In response, Republicans could try to work around Democratic objections, but the result would be to slow the pace of chamber's work.
With dozens of Trump administration nominees awaiting confirmation hearings or up-or-down votes on the Senate floor, such a move would likely hamper executive branch agencies that now lack political leadership and draw the ire of Republicans.
But pressure to block Senate business began percolating late Tuesday.
* * *
Calls for an independent probe are becoming an emotional rallying cry for Democrats nationwide.
* * *
Among Republicans, only Sen. John McCain (R-Ariz.), a longtime Trump foil, has called for an independent investigation separate from ongoing probes by the House and Senate intelligence panels.
Rep. Justin Amash (R-Mich.), a frequent Trump critic, said he's considering filing legislation that would establish a special prosecutor to probe Russia's involvement.
Burr, who is leading the intelligence panel's probe of Russian meddling, said in a statement that he is "troubled by the timing and reasoning" for Comey's firing.
"His dismissal further confuses an already difficult investigation by the Committee," Burr said.
Corker said that Comey's "removal at this particular time will raise questions. It is essential that ongoing investigations are fulsome and free of political interference until their completion, and it is imperative that President Trump nominate a well-respected and qualified individual to lead the bureau at this critical time."
Flake tweeted, "I've spent the last several hours trying to find an acceptable rationale for the timing of Comey's firing. I just can't do it."
Sen. Ben Sasse (R-Neb.), who like Flake did not support Trump's campaign last year, said that he would use his position as chairman of the Judiciary Committee oversight subcommittee to press for more information from the Justice Department. He also said that "the timing of this firing is very troubling."
It's past time for Congress to renew the special prosecutor law and to appoint a special prosecutor. It's also time for Tea-Publicans on congressional committees to stop slow-walking and blocking the Trump investigations and to do their damned job!
* UPDATE: Numerous sources report today what the New York Times is reporting: Days Before Firing, Comey Asked for More Resources for Russia Inquiry:
Days before he was fired, James B. Comey, the former F.B.I. director, asked the Justice Department for a significant increase in resources for the bureau's investigation into Russia's interference in the presidential election, according to four congressional officials, including Senator Richard J. Durbin.
Mr. Comey made his appeal to Rod J. Rosenstein, the deputy attorney general, who also wrote the Justice Department's memo that was used to justify the firing of Mr. Comey this week, the officials said.
"I'm told that as soon as Rosenstein arrived, there was a request for additional resources for the investigation and that a few days afterwards, he was sacked," said Mr. Durbin, a Democrat of Illinois. "I think the Comey operation was breathing down the neck of the Trump campaign and their operatives, and this was an effort to slow down the investigation."
Mr. Comey briefed members of Congress in recent days, telling them about his meeting with Mr. Rosenstein, who is the most senior law enforcement official supervising the Russia investigation. Attorney General Jeff Sessions recused himself because of his close ties to the Trump campaign and his undisclosed meetings with the Russian ambassador.
* * *
In his briefing with members of Congress, Mr. Comey said he had been frustrated with the amount of resources being dedicated to the Russia investigation, according to two of the officials. Until two weeks ago, when Mr. Rosenstein took over as deputy attorney general, the investigation was being overseen by Dana Boente, who was acting as the deputy and is now the United States attorney for the Eastern District of Virginia.
Mr. Comey has said he was hoping that he would find a supportive boss in Mr. Rosenstein, and according to the officials, pressed for more resources so he could accelerate the investigation, which is also examining possible collusion between Trump associates and the Russian interference campaign. It was unclear how Mr. Rosenstein reacted to the request, or whether the White House was informed of it.
Despite reporting sourced to four congressional officials, including Senator Richard J. Durbin, "Justice Department spokesperson Sarah Flores denies Comey asked Rosenstein for more resources. She called reporting to the contrary '100% false,' and told reporters she spoke directly with Rosenstein about the reports."
CNN adds, White House: Trump thought about firing Comey since Election Day:
The surreal
Trump's demeanor suggested defiance on Wednesday but also verged on the surreal.
With questions swirling about his links with Russia, he met with Russian Foreign Minister Sergey Lavrov in the Oval Office for talks he later said were dominated by Syria.
The Russian embassy, meanwhile, released photos of Trump shaking hands with Sergei Lavrov and Ambassador Sergey Kislyak, who is at the center of the Russia storm since his conversations with Michael Flynn led to the firing of the former national security adviser. As Steve Benen comments, "It's almost as if [the Russians] were taking a victory lap."
Then Trump sat down with Henry Kissinger, who served as secretary of state under President Richard Nixon, apparently unconcerned that the photo-op could fuel already circulating allusions to the Watergate scandal in the 1970s.
Developments and revelations about the Comey firing tumbled out at a frenetic pace on Wednesday.
Longtime Trump ally Roger Stone was among those who recommended to the President that he fire Comey, according to a source familiar with the conversation. Stone, who also is being scrutinized by the FBI as part of its Russia investigation, spoke to Trump after Comey appeared at a hearing last week on Capitol Hill, according to the source.
Trump immediately disputed that Stone was involved: "The Roger Stone report on @CNN is false – Fake News. Have not spoken to Roger in a long time – had nothing to do with my decision."
Stone said he was not the source behind the reporting but added that he supported the firing of Comey "100%."
* * *
[M]ultiple White House officials said Trump had been considering firing Comey for at least a week before he made Tuesday's decision. Indeed, Trump revealed his anger in a string of late-night messages on Twitter May 2, exactly a week before his final decision was made public.
Trump's decision came on a day when CNN reported that federal prosecutors had issued grand jury subpoenas to associates of former national security adviser Michael Flynn seeking business records, as part of the ongoing probe of Russian meddling in last year's election, according to people familiar with the matter.
The top senators on the Senate intelligence committee, Republican Richard Burr and Democrat Mark Warner, met Comey on Monday and urged him to speed up the Russia investigation, CNN's Sara Murray reported.