Will the Arizona media that helped to create this mythical moderate Republican and get her elected now finally turn on her?
Martha McSally has gone full racist demagogue. The Hill reports, Martha McSally: 'We might need to build a wall between California and Arizona':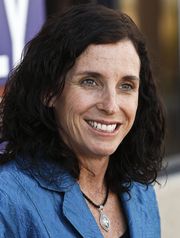 Rep. Martha McSally (R-Ariz.) proposed building a border wall between California and Arizona to protect the state.
"As we look in Arizona, we often look into the dangers of the southern border," McSally said during a round-table discussion about "sanctuary cities" Tuesday at the White House.
"But if these dangerous policies continue out of California, we might need to build a wall between California and Arizona as well to keep these dangerous criminals out of our state," she said, smiling.
She added that California can't just "provide sanctuary for these criminals and think that it's only impacting California dangerously."
Earlier this month, the Trump administration filed a lawsuit against California over the state's immigration laws.
The Trump administration has been highly critical of California's sanctuary cities and administration officials have said they will crack down on policies that limit local law enforcement's cooperation with federal authorities.
No doubt her GOP Senate primary opponents Joe Arpaio and Kelli Ward approve of her demagogic stance. They are interchangeable and none of them are fit for office.