Update to Boris Johnson throws down the gauntlet to a 'no deal' Brexit, sparking a constitutional crisis.
Britain's The Guardian reports, 'Stop the coup': Protests across UK over Johnson's suspension of parliament:
Within hours of Boris Johnson's decision to suspend parliament, impromptu protests were being held in major city centres across the country, including in front of the Palace of Westminster in central London.
Demonstrations were scheduled to be held from late afternoon onwards in areas including Manchester, Edinburgh, Cardiff, Birmingham, Liverpool, Bristol, Cambridge, Brighton, Durham, Milton Keynes and Chester.
Protesters gathered at Commons Green, just outside Parliament, and marched towards Downing Street. Organisers claimed the crowd numbered in the thousands.
The demonstrators described the move to suspend parliament as a coup and called for Johnson to resign. At one point, the traffic at Downing Street was at a standstill as protesters chanted "save our democracy, stop the coup" and sang "No one voted for Boris."
Amelia Womack, deputy leader of the Green party, was one of many opposition politicians present. She said: "We're here to stand against Boris Johnson's coup. We have a representative democracy and by suspending parliament, you are removing people's democratic right."
Speaking of the decision to prorogue, she said: "I feel like we've been expecting this for a while but I didn't think he would make such a brutal move that showed such a disregard for our parliamentary procedures."
She added: "I think what he has done is unite parts of the country who don't support a no-deal and his form of process that is denying democracy."
Jane Keane, 54, said she had been protesting every day since Michael Gove announced the government would start making preparations for a no-deal. "It is a complete contradiction to what parliament has said three times. They've said no deal is unacceptable. My understanding is parliament is sovereign not Boris Johnson."
Michael Chessum, the national organiser for Another Europe is Possible, said: "Today's protest was huge and exceeded all expectations. We got thousands at four hours' notice. We cannot rely on the judiciary or parliamentary process to save democracy – we need a mass movement of protest and civil disobedience."
Andrew Lake, a 23-year-old actor, carried a sign that read: "Call this a democracy?" He said: "I'm here today to save democracy. I'm not entirely surprised when he [Johnson] suspended parliament. I have been expecting it to happen. The fact it was expected doesn't make it any less of an outrage."
Lake said he was fearful the country was heading towards no deal and called for article 50 to be extended or revoked.
Emma Cooper, 28, a teaching assistant, said: "I feel absolutely livid. I haven't been to a protest for a long time … What's happening in this country and the rightwing shift around the world is really worrying. I think Brexit is xenophobia extended to a bigger level."
Meanwhile in Manchester, a growing crowd of around 250 protesters had gathered by around 6pm in Albert Square by the town hall. Many were armed with umbrellas, some in solidarity with Hong Kong's pro-democracy protest, some to protect against the rain. They chanted "stop the coup", with signs reading "Hands off" and "protect our democracy".
One of the organisers was Emma, 26, an immigration consultant, who said: "I'm here because I'm angry and shocked that our democracy could be ripped out from underneath us while we're asleep at the wheel."
Her friend Noora, 27, a stand-up comedian, said they were inspired by the umbrella movement of Hong Kong. "We're here to protest against the downgrading of democracy that is happening in the UK at the moment … I feel like we should make some kind of a stand. It might seem minor but you're showing that it can't continue like this."
They were joined by Rory and Margaret, retired lecturers in their seventies. Rory said: "It's the most flagrant attack on democracy that I can remember. It's bad enough that [Boris Johnson] was elected leader by a handful of people but what was this taking back control all about? And sovereignty of parliament? Parliament has just been overruled. I think it's an absolute outrage."
Tallulah, 17, said she thought what was going on was "absolutely ridiculous. The facade of a democracy is being ripped apart."
William, 18, agreed. "It's absurd. I thought it was a joke the first time I saw the article about the Queen. But unfortunately, it's not satire. And here we are."
Buzzfeed News reports, Boris Johnson Is Planning A Series Of Extreme Measures In The Coming Weeks To Force Through Brexit:
Boris Johnson's surprise move to ask the Queen to suspend Parliament for five weeks in the run-up to the Brexit deadline on Oct. 31 is just the opening salvo of a meticulously constructed Downing Street strategy to eat up time and head off attempts by rebel MPs to block a no-deal exit, BuzzFeed News can reveal.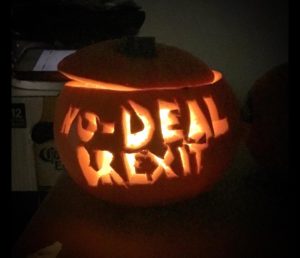 The prorogation of Parliament was described as "profoundly undemocratic" by former chancellor Philip Hammond and a "constitutional outrage" by Commons speaker John Bercow on Wednesday. That rebel anger is certain to rise if Number 10 implements a series of extreme measures to force through Brexit on Halloween, as the prime minister has repeatedly promised.
BuzzFeed News has learned that in the last few days, Johnson's senior team — led by his chief of staff Dominic Cummings and director of legislative affairs Nikki da Costa — has explored a number of increasingly controversial proposals it could deploy depending on the success of rebel attempts to thwart Brexit. The ideas under consideration include the following:
Attempting to disrupt a Commons debate on Northern Ireland power-sharing due on Sept. 9, a day which could be used by rebels to attempt to delay Brexit. It is described by Johnson allies as a "time bomb" set for them in the final weeks of Theresa May's premiership.
Determining whether Johnson would be breaking the law by ignoring any successful rebel legislation or refusing to resign in the event he lost a vote of no confidence.
Using a variety of mechanisms, including a potential budget, to create new Commons debates and further reduce time for rebels to act.
Using the prorogation of Parliament to "kill the bill" by rebel MPs and force them to table it again after the Queen's Speech on Oct. 14.
Creating new bank holidays to prevent the House of Commons from being recalled during the prorogation period.
Filibustering any bill by rebel MPs attempting to force Johnson to delay Brexit when it reaches the House of Lords.
Ennobling new pro-Brexit peers as a last resort to kill any such bill in the Lords.
Exploring what the consequences would be if Johnson advised the Queen not to give royal assent to any legislation passed by Parliament delaying Brexit.
The measures were devised by the prime minister's senior aides who have spent the summer in their Downing Street bunker war-gaming how to respond to potential parliamentary manoeuvres by MPs determined to block no deal. The rebels, by contrast, spent the August holidays debating whether they would back Ken Clarke as a potential caretaker prime minister in an unlikely government of national unity.
Number 10's prorogation plan was ready to go and be put into action on Tuesday evening, just hours after Labour leader Jeremy Corbyn agreed to a pact with the so-called Remainer "rebel alliance" seeking to prevent a no-deal Brexit.
Downing Street's official line is that it is not preventing MPs from debating Brexit policy, that it is routine for a new administration to hold a Queen's Speech and for Parliament to be prorogued in the run-up, and that MPs will have sufficient time to scrutinise plans before and after the Commons is suspended.
But privately, Johnson allies admit their principal aim in the next two months is to reduce the number of days when MPs can act to stop no deal, in order to give the government the best-possible negotiating hand ahead of the European Council on Oct. 17, where it hopes to strike a new Brexit deal with the EU.
"Every sitting day, there is a risk of something going wrong," a government source said.
The decision announced by Johnson on Wednesday morning to hold a Queen's Speech in October immediately reduces the number of parliamentary days available for rebel MPs to block no deal from 22 to 15, according to former Commons special adviser Chris White.
In reality it reduces the number by considerably more, as MPs would likely have voted to cancel the upcoming conference recess and now cannot.
The Queen's Speech has the added benefit for the government of requiring four days of debate, during which the rebels cannot act.
Downing Street privately believes there will not be enough time between the Queen's Speech and Oct. 31 for rebel MPs to delay Brexit either through the process of the vote of no confidence or by attempting to pass legislation. That means that in the days after the Queen's Speech, Johnson hopes, Parliament is faced with a choice between a deal and no deal.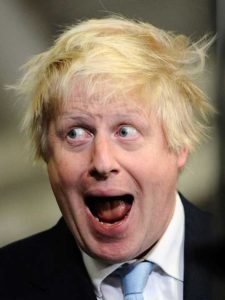 The government's calculation has long been that the "moment of maximum danger" comes at a potential no-confidence vote. Number 10 officials said that pro-Remain MPs would now have to make the ultimate decision next week: call a no-confidence vote and risk "being checkmated immediately", or wait and see if Johnson can achieve a new Brexit deal.
Downing Street is bullish that it would win any such vote, but insists that if Johnson loses, he would refuse to resign, then call an election for after Brexit day, dissolve Parliament, and watch the UK fall out of the EU.
Ministers and aides have looked at the legal consequences for the prime minister of refusing to resign in the event he loses a confidence vote, whether he would be breaking the law, and what would happen if he did. But Downing Street insiders believe that any legal challenge to holding an election over the period when the UK leaves the EU would not be successful.
Other Johnson aides think they would be better off holding an election before Brexit day, on or around Oct. 17, arguing they had been forced into it by a Parliament determined to defy the referendum result.
Aside from a confidence vote, the rebel alliance hopes to thwart Johnson through a legislative route by seizing control of the Commons Order Paper and passing laws that would prevent the government from proroguing Parliament and require the prime minister to seek an extension of Article 50 from Brussels — a repeat of the strategy used by Dominic Grieve, Yvette Cooper, Nick Boles, and other MPs during May's premiership. Number 10 fully expects Bercow to tear up the parliamentary rule book to help them do so.
Government aides are looking at ways to disrupt a debate on the Northern Ireland power-sharing arrangement due on Sept. 9, a day which could be used by rebel MPs to take control of the Order Paper and table legislation. The date was set in the final weeks of the May government and has been described by a government source as a "time bomb" left for Johnson by the previous administration.
One key impact of proroguing Parliament is the effect on existing bills. A motion to "carry over" a bill to the next session has to be moved by ministers; therefore, if a backbench bill to stop Johnson from proroguing, or mandating him to extend Article 50, has not passed Parliament by Sept. 9, it would be "killed" and would have to be tabled again after the Queen's Speech, Whitehall sources said.
Government aides believe they would be able to use a variety of mechanisms to create Commons debates that would block out days for rebel MPs to table legislation. One possibility discussed is an emergency budget, which would not only help Johnson with voters in the event of an election but also produce days of debate in Parliament that essentially help wind down the clock.
They are also considering the controversial tactic of filibustering any rebel bill when it reaches the House of Lords. Whitehall sources said there are more opportunities for Brexiteers to frustrate the rebels in the Lords, where Bercow is not the referee. As a last resort, Johnson could even ennoble hundreds of new pro-Brexit peers to defeat any such bill.
In a sign of the extraordinary measures Downing Street is prepared to take to defeat the rebels, one proposal under consideration in Number 10 is to create bank holidays to prevent Parliament from being recalled while it is prorogued.
An amendment tabled by rebel-in-chief Grieve theoretically forces Parliament to sit if the government attempts to force through no deal via prorogation. But the amendment states that Parliament would not have to sit on a bank holiday. Parliamentary expert Joe Armitage says the Banking and Financial Dealings Act 1971 stipulates that the government could ask the Queen to create a new bank holiday — or even a local bank holiday in an unpopulated area of the UK — that would thereby prevent Parliament from sitting. This proposal was looked at by Downing Street.
Whoever wins out in the battle between Johnson and the rebel alliance over the next two months comes down to, many in government believe, the ability of each side to remain united and pursue their respective goals. One Whitehall aide said they believed the sense of purpose in Downing Street, and the absolute determination it has to leave the EU, is stronger than the delicate grouping of rebels made up of opposition parties and backbench Tory MPs.
"Can they have consistency? Can they have everyone on the same page repeatedly, every day for the next two months?" the aide said.
Government sources point to a statement Dominic Cummings made to special advisers when he took charge of Number 10, that he was prepared to secure Brexit on Oct. 31 "by any means necessary".
A Whitehall source said: "This is the biggest parliamentary showdown since the Civil War. It will come down to who is cleverer: Dom and Nikki or John Bercow and Dominic Grieve".
This would be Britain's civil war. The closure of Parliament in 1629 led to ten years of extra-parliamentary rule in England and Wales – known variously as Charles I's Personal Rule or the 11 Years' Tyranny. MPs are threatening to barricade themselves in if Boris Johnson prorogues parliament – here's why they should be taken seriously.
Boris Johnson has a majority of just one in the House of Commons. He was elected Conservative leader and prime minister in July by Conservative party members — fewer than one half of one per cent of the British electorate. Opinion polls regularly show a large majority against his preferred policy: a no-deal Brexit, which would see Britain crashing out of the European Union on Oct. 31 with no trade agreement at all.