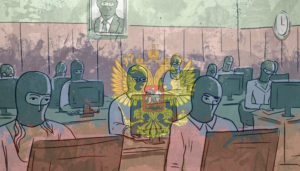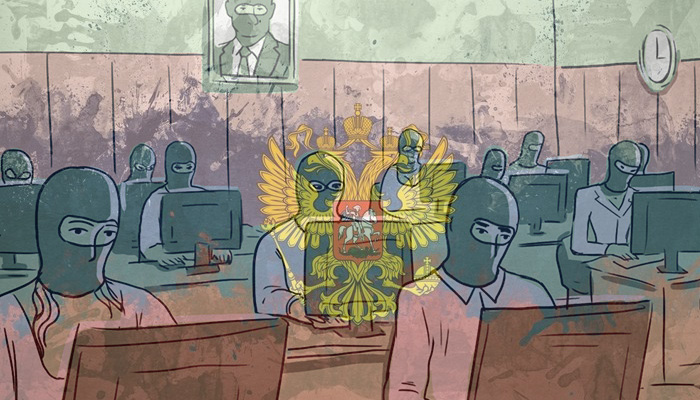 For those of you who live on social media sites and believe just about anything you see posted there (don't deny it, I can tell from the comments and links I see posted), this latest report from McClatchy News should cause you to question your faith in social media and embarrass you for having been an "unwitting agent" or "useful idiot" of the Russians. Some of our blog trolls may not be who they claim to be. Just sayin'.
But first, make no mistake: we are engaged in a cyber war with Russia, in a new strategy for information warfare:
Andrey Krutskikh, a senior Kremlin adviser, made the startling comments at the Russian national information security forum, or "Infoforum 2016," held Feb. 4 and 5.
* * *
Krutskikh as a "senior-level adviser" to President Vladimir Putin and "a long-standing player in cyber issues" at the foreign ministry. The official said he couldn't confirm the details of Krutskikh's remarks, but that "they sound like something Andrey would say."
According to notes of Krutskikh's speech, he told his Russian audience: "You think we are living in 2016. No, we are living in 1948. And do you know why? Because in 1949, the Soviet Union had its first atomic bomb test. And if until that moment, the Soviet Union was trying to reach agreement with [President Harry] Truman to ban nuclear weapons, and the Americans were not taking us seriously, in 1949 everything changed and they started talking to us on an equal footing."
Krutskikh continued, "I'm warning you: We are at the verge of having 'something' in the information arena, which will allow us to talk to the Americans as equals."
Krutskikh's comments may have been a precursor of a new doctrine for information operations announced publicly by the Kremlin in December. The senior administration official described the Russian strategy: "They think of information space as a domain of warfare. In the U.S, we tend to have a binary view of conflict — we're at peace or at war. The Russian doctrine is more of a continuum. You can be at different levels of conflict, along a sliding scale."
Russian hacking during the 2016 presidential campaign, as outlined in the unclassified report released this month by U.S. intelligence agencies, is an example of Russia's use of new tools in this continuum of conflict, the U.S. official said. "Certainly, I believe the Russians are working to increase their capabilities in cyberspace, because they've realized they can use cyberspace to pursue their foreign policy goals," he said.
The fundamental purpose of dezinformatsiya, or Russian disinformation, experts say, is to undermine the official version of events — even the very idea that there is a true version of events — and foster a kind of policy paralysis. ""What the Russians are doing is building narratives; they are not building facts," said Anders Lindberg, a Swedish journalist and lawyer. "The underlying narrative is, 'Don't trust anyone.'" A Powerful Russian Weapon: The Spread of False Stories.
With the Russian strategy of "information war" in mind, McClatchy News reports, FBI's Russian-influence probe includes a look at Breitbart, InfoWars news sites:
Federal investigators are examining whether far-right news sites played any role last year in a Russian cyber operation that dramatically widened the reach of news stories — some fictional — that favored Donald Trump's presidential bid, two people familiar with the inquiry say.
Operatives for Russia appear to have strategically timed the computer commands, known as "bots," to blitz social media with links to the pro-Trump stories at times when the billionaire businessman was on the defensive in his race against Democrat Hillary Clinton, these sources said.
The bots' end products were largely millions of Twitter and Facebook posts carrying links to stories on conservative internet sites such as Breitbart News and InfoWars, as well as on the Kremlin-backed RT News and Sputnik News, the sources said. Some of the stories were false or mixed fact and fiction, said the sources, who spoke on condition of anonymity because the bot attacks are part of an FBI-led investigation into a multifaceted Russian operation to influence last year's elections.
Investigators examining the bot attacks are exploring whether the far-right news operations took any actions to assist Russia's operatives. Their participation, however, wasn't necessary for the bots to amplify their news through Twitter and Facebook.
The investigation of the bot-engineered traffic, which appears to be in its early stages, is being driven by the FBI's Counterintelligence Division, whose inquiries rarely result in criminal charges and whose main task has been to reconstruct the nature of the Kremlin's cyber attack and determine ways to prevent another.
An FBI spokesman declined to comment on the inquiry into the use of bots.
Russia-generated bots are one piece of a cyber puzzle that counterintelligence agents have sought to solve for nearly a year to determine the extent of the Moscow government's electronic broadside.
"This may be one of the most highly impactful information operations in the history of intelligence," said one former U.S. intelligence official, who spoke on condition of anonymity because of the sensitivity of the matter.
Bureau director James Comey confirmed Monday at a House Intelligence Committee hearing what long has been reported: that the FBI is investigating possible links between individuals in the Trump presidential campaign and the Russian campaign to influence the election and whether there was any coordination between the two.
* * *
U.S. intelligence agencies charged in January that Russian President Vladimir Putin had ordered the offensive, in which cyber operatives also hacked tens of thousands of emails from Democratic National Committee staff, Clinton campaign Chairman John Podesta and other Democrats.
A top priority of investigators is to determine who delivered those hacked emails to WikiLeaks, a London-based transparency site that published them online, the sources said. News stories about the emails embarrassed Clinton at key points in the campaign. WikiLeaks founder Julian Assange has denied that the Russian government was the source of the email dump.
As for the bots, they carried links not only to news stories but also to Democratic emails posted on WikiLeaks, especially those hacked from Podesta and made public in October, said Philip Howard, a professor at the Oxford University Internet Institute who has researched the bot attacks.
Howard said that, as an example, bots had spread links to fictional stories that accused Clinton of involvement in running a child-sex ring in the basement of a Washington pizza parlor. The posts inspired a North Carolina man to drive to Washington and fire an assault weapon in the restaurant, according to police reports.
Howard's study of bot-generated Twitter traffic during last fall's Trump-Clinton campaign debates showed that bot messages favorable to Trump significantly outnumbered those sympathetic to Clinton.
He said his research showed that Americans who call themselves "patriotic programmers" also activated bots to aid Trump. In interviews, they described coding the computer commands in their spare time, Howard said.
Unlike counterintelligence investigators with more cyber-sleuthing capabilities, Howard has not established that Russia was the source of the bot attacks he studied.
Russia also used "trolls," hundreds of computer operatives who pretended to be Trump supporters and posted stories or comments on the internet complimentary to Trump or disparaging to Clinton. Sources close to the inquiry said those operatives likely worked from a facility in St. Petersburg, Russia, dedicated to that tactic.
"Russian bots and internet trolls sought to propagate stories underground," said Mike Carpenter, a former senior Pentagon official during the Obama administration whose job focused on Russia. "Those stories got amplified by fringe elements of our media like Breitbart."
"They very carefully timed release of information to shift the news cycle away from stories that clearly hurt Mr. Trump, such as his inappropriate conduct over the years," he said, referring to the October release of a video in which Trump bragged about grabbing women's genitals. That event corresponded with a surge in bot-related traffic spreading anti-Clinton stories.
An additional Russian tool was the news from its prime propaganda machine, Russia Today, with a global television and digital media operation and a U.S. arm, RT America.
Last Nov. 19, Breitbart announced that its website traffic had set a record the previous 31 days with 300 million page views, driven substantially by social media.
Breitbart, which has drawn criticism for pursuing a white nationalist agenda, was formerly led by Stephen Bannon, who became chief executive officer of Trump's election campaign last August and now serves as Trump's strategic adviser in the White House. The news site's former national security editor, Sebastian Gorka, was a national security adviser to Trump's campaign and presidential transition team. He now works as a key Trump counterterrorism adviser.
Breitbart's chief executive officer, Larry Solov, did not respond to phone and email requests seeking comment.
Bannon and Gorka have controversial profiles. Bannon has been accused of taking anti-immigrant and racist positions. Last week, the Jewish newspaper Forward reported that Gorka had taken a lifelong loyalty oath to a Hungarian far-right group that for decades was allied with the Nazi Party.
The White House declined to respond to questions about Gorka.
Breitbart is partially owned by Robert Mercer, the wealthy co-chief executive of a New York hedge fund and a co-owner of Cambridge Analytica, a small, London-based firm credited with giving Trump a significant advantage in gauging voter priorities last year by providing his campaign with at least 5,000 data points on each of 220 million Americans.
InfoWars is published by Alex Jones, a Texas-based conservative talk show host known for embracing conspiracy theories such as one asserting that the U.S. government was involved in the terror attacks of Sept. 11, 2001. During the 2016 campaign, InfoWars.com was a loyal Trump public relations tool. Trump was on Jones' show and praised his reporting.
"It's the major source of everything," Roger Stone, a longtime Trump confidant and campaign adviser, said last fall. Roger Stone, who has regularly appeared on Jones' show and was on Monday, has said he invites an FBI investigation into his campaign role. The Senate Intelligence Committee has asked Stone to preserve documents in connection with the Russian election inquiry.
* * *
Boosted by bots, the surge in readership for such websites amplified Clinton's negatives. Some stories falsely described her health problems as dire. Jones said Monday that people gravitated to his website "because we were the first to report Hillary Clinton falling down." He referred to Clinton appearing to collapse last Sept. 11 after visiting the World Trade Center memorial. She was diagnosed with pneumonia.
"The full impact of the bots was subterranean and corrosive," Podesta, Clinton's campaign chairman, told McClatchy in an interview. "The distribution channels were being flooded with this information. . . . We perhaps underestimated the strategy of pushing fake news out through social media and how it impacted the race."
* * *
At least one of the congressional committees investigating the Russian meddling is looking into the bots.
The Senate Intelligence Committee "intends to look actively at 'fake' news and the ways that Russian bots and trolls were used to influence the election," said Rachel Cohen, a spokeswoman for Sen. Mark Warner of Virginia, the panel's ranking Democrat.
As I noted above, Russia's cyber offensive might have been anticipated from the speech given by Andrey Krutskikh, a senior Kremlin adviser, at the Russian national information security forum, or "Infoforum 2016″:
In the speech in Moscow, Andrey Krutskikh told a conference of Russian computer security officials that the Putin government would be unleashing a cyber nuclear attack reminiscent of Russia's 1949 development of the atom bomb. Krutskikh, whose speech was first reported by Washington Post columnist David Ignatius and independently confirmed by McClatchy, also reportedly said the offensive would cause U.S. officials to gain respect for Russia's cyber capabilities.
"Russia has again figured out from its old Soviet playbook that its greatest weapon in the world is information," said Lauren Goodrich, senior Eurasia analyst at the Stratfor Corp., a global intelligence firm based in Austin, Texas. "Its information and disinformation campaigns have skyrocketed."
She said the Kremlin's budget for "public information" had quadrupled this year as it mounted similar cyber attacks on behalf of right-wing candidates in France, Germany and other European countries.
The "big picture" focus of the FBI and intelligence agencies investigations into the 2016 election are on the Russian military strategy for cyber war or information war against the U.S. (and our allies), and whether anyone in the U.S. was coordinating with the Russians in their dezinformatsiya, or information war against the U.S. This raises the distinct possibility of treason.
This is way bigger than the election . . . this is a war with Russia.
UPDATE: For a deep-dive analysis into Russia's desire to lead a conservative, i.e., fascist revival against Western liberal democracies pursuant to neo-Russian imperialism, called Eurasianism, based on the theories of Russian intellectual Alexander Dugin (see Dugin's book The Foundations of Geopolitics, published in 1997, and his latest book, The Fourth Political Theory) in which he seeks to create a defining ideology for Eurasianism, which is, in his words, an alliance from "Lisbon to Vladivastok" that is a "genuine, true, radically revolutionary and consistent, fascist fascism," read Ken Gude's lengthy report at Center for American Progress, Russia's 5th Column.
From the conclusion of the report:
Chief White House adviser Stephen Bannon's comments about Alexander Dugin and the origins of his thinking are no accident, and Dugin has been ecstatic since Trump's victory. The same man who has said, "the American empire should be destroyed," said after Trump won, "[A]nti-Americanism is over. Not because it was wrong, but exactly the opposite: because the American people themselves have started the revolution against precisely this aspect of the US that we all hated. … So let us drain the European Swamp. … What is the structure of the Swamp? First of all, the Swamp is an ideology—Liberalism."
Although Dugin's warm feelings toward President Trump should certainly concern all Americans, they do not prove anything on their own. The remarkable similarities between President Trump and the European far right in their views on Putin and Russia are alarming, however. It is possible that these parties are pursuing the same pro-Russia policies and using the same language to praise Putin and denigrate their own leaders because of ideological convergence. But it is difficult to understand why nationalist political parties—that are premised on putting their own countries' interests first—would adopt policies that advance a rival country's interests ahead of their own. It is also possible that this is not merely a coincidence explained away by ideological convergence. If it's the latter, Western democracies need to wake up to the challenge posed by Russia's fifth column in our midst before it is too late.