Back in May, the Washington Post's Fact Checker, Glenn Kessler, reviewed the claims by Carly Fiorina about her record at Hewlett Packard (HP), and found that "Fiorina's claims about her business success are questionable in almost every respect," awarding her "three Pinocchios." Carly Fiorina's misleading claims about her business record.
This weekend, the New York Times' Steven Rattner writes, Carly Fiorina Really Was That Bad: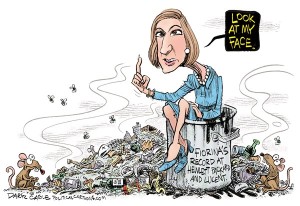 Investors were so down on her that H.P.'s shares jumped by almost 7 percent on the day of her firing. And in ensuing years, she appeared on several "worst C.E.O." lists, including those of CBS News and USA Today.
In 2009, Portfolio magazine ranked her the 19th worst C.E.O. of all time and described her as a "consummate self-promoter" who was "busy pontificating on the lecture circuit and posing for magazine covers while her company floundered." (That sounds like good preparation for running for president.)
The Times also looked at The Influence of Fiorina at Lucent, in Hindsight:
As Carly Fiorina has risen in the polls over the last week, there is renewed focus on her controversial tenure as chief executive of Hewlett-Packard. Yet her career at Lucent Technologies has been treated as little more than a footnote. It shouldn't be.
"My story — from secretary to C.E.O. — is only possible in this country," Mrs. Fiorina likes to say on the hustings. (More about this below.)
In between her stint as a receptionist for a real estate company in the late 1970s and her being named Hewlett-Packard's chief executive in 1999, Mrs. Fiorina worked for nearly 20 years at AT&T and then Lucent, the telephone giant's spun-off equipment business.
* * *
[H]er celebrated tenure at Lucent has been clouded by what happened two years after she left in 1999. The once-highflying business worth more than $250 billion at its peak nearly collapsed in the face of an accounting scandal and the telecommunications bust. The company laid off 50,000 employees in 2001 alone. Today the company, after merging with Alcatel of France, is worth only about $10 billion.
Lucent, like some its rivals, artificially burnished its financial performance through vendor financing — lending money to customers so they could buy its products. In 2004, the company settled charges brought by the Securities and Exchange Commission that accused it of perpetrating a $1.1 billion accounting fraud.
* * *
While Mrs. Fiorina wasn't responsible for the accounting fraud — she was never accused of being involved in any financial shenanigans — she did work with, and helped support, some of the employees who came under legal scrutiny for acts that took place after she left.
* * *
Scott Woolley of Fortune magazine wrote a deeply reported story in 2010 during Ms. Fiorina's unsuccessful Senate campaign in California that detailed a questionable deal she championed. Mr. Woolley focused on a vendor-financed transaction with a small company, PathNet, a sale that was valued at as much as $2.1 billion, though PathNet had only $1.6 million in annual revenue. It later filed for bankruptcy.
And Ms. Endlich Heffernan's book connects Mrs. Fiorina to two other failures while she was at Lucent. In one, Mrs. Fiorina was assigned to run Lucent's consumer products business. Perhaps that division was always destined for failure — it included Lucent's handset business just as the world was pivoting to mobile communications. But Mrs. Fiorina orchestrated a joint venture with the Dutch electronics giant Philips Electronics that turned out to be a mess, one that she later told The Wall Street Journal was the biggest mistake of her career.
Then there was Lucent's 1999 acquisition of Ascend Communications for more than $22 billion. That deal may go down in history as one of the worst. Again, however, Mrs. Fiorina wasn't in charge at Lucent. Was she consulted on the transaction? Yes. But she didn't try to object to it.
Several weeks ago, I wrote a critical column of Mrs. Fiorina's time at Hewlett-Packard. Carly Fiorina's Business Record: Not So Sterling. Since she was never the C.E.O. of Lucent, assessing her career there is more difficult.
The Washington Post Fact Checker Glenn Kessler says that "secretary to CEO" story is also not true, again awarding her "three Pinocchios." Carly Fiorina's bogus 'secretary to CEO' career trajectory (Fact Checker biography):
We take no stance on Fiorina's qualifications as a business executive. Fiorina's description of rising "from secretary to CEO" conjures a Horatio Alger-like narrative where a character starts at the lowest ranks of an industry, pulls themselves up by their bootstraps and, against all odds, reaches the top position in the industry.
When Fiorina uses this phrase, she often pairs it with saying she came from a "modest and middle class family," or "challenging the status quo," which frames her story as an unlikely upstart. She also pitches it as an uniquely American experience.
But the description glosses over important details. Her father was dean of Duke Law School when she was at Stanford, meaning Duke would have paid for most of her college tuition. She graduated from Stanford, and her elite degree played a role in the stories of her at Marcus & Millichap (she was the "Stanford student") and her convincing the business school dean to accept her into the MBA program ("So, can a liberal arts student from Stanford compete with the analytical jocks you have around here?").
She worked briefly as a secretary in between law school and business school, but she always intended to attend graduate school for her career. She moved up through AT&T with her MBA, and was placed on a fast track to senior management after her company sponsored her to attend one of the most elite mid-career fellowships in the world. Her role as senior executive at Lucent caught the attention of HP recruiters, to become the company's chief executive.
Fiorina uses a familiar, "mailroom to boardroom" trope of upward mobility that the public is familiar with, yet her story is nothing like that. In telling her only-in-America story, she conveniently glosses over the only-for-Fiorina opportunities and options beyond what the proverbial mailroom worker has. As such, she earns Three Pinocchios.
The editors of the Washington Post editorialize this weekend about her blatant Planned Parenthood lie during the last debate. Fiorina's falsehoods:
"ONE OF the benefits of a presidential campaign is the character and capability, judgment and temperament of every single one of us is revealed over time and under pressure." Since presidential hopeful Carly Fiorina made that comment at the start of the second Republican debate, there have been some telling revelations about her character and her judgment. Caught making a false claim, she couldn't just admit she made a mistake but instead doubled down and worsened the falsehood.
Arguing during the Sept. 16 GOP debate to defund Planned Parenthood, Ms. Fiorina offered this description of a disturbing scene that was supposedly captured on controversial undercover videos of the organization: "Watch a fully formed fetus on the table, its heart beating, its legs kicking while someone says we have to keep it alive to harvest its brain." No such scene exists, as even some of her defenders have had to admit. Ms. Fiorina was challenged by Fox News Sunday anchor Chris Wallace to acknowledge "what every fact checker has found": that the scene was only described by someone who claimed to have witnessed it but was not shown in the video.
Ms. Fiorina could have acknowledged her error while maintaining, fairly, that the tapes contain other disturbing images and language and while affirming her objections to Planned Parenthood. Instead she insisted: "No, I don't accept that at all. I've seen the footage." She went on the attack against the mainstream media, and her supporters concocted a video that splices video and audio from different places in an effort to buttress her claims. Most deceptive in the CARLY for America video is use of an image (also used in the videos produced by the Center for Medical Progress) of a fetus born prematurely, not aborted, at 19 weeks of development. The premature birth by a Pennsylvania woman had no connection to Planned Parenthood or to abortion. That, though, didn't stop Ms. Fiorina's supporters from using it — with the voice-over and caption of "Here's a stomach, heart, kidney, and adrenal" — to support specious allegations of Planned Parenthood selling fetal tissue for profit.
Ms. Fiorina may have deeply felt objections to abortion. That doesn't excuse her use of mistruths to justify her willingness to shut down the government, which by the way she seems to consider no big deal. "I'm not aware of any hardship to anyone, other than the veterans trying to get to the World War II memorial," she said of the last shutdown. When it comes to character and capability, that kind of blithe ignorance is another worrying sign.
Despite being called out for her lies by the fact checkers Fact checking GOP lies about Planned Parenthood and the Post editors, Carly Fiorina doubled down  yet again on her lie on Meet The Press on Sunday. Carly Fiorina Stubbornly Stands By Inaccurate Description Of Planned Parenthood Video: When Chuck Todd pressed her, Fiorina tried to change the subject by saying the Washington Post's assertion that she misrepresented her secretarial work wasn't credible.
"That's my story and I'm sticking to it."
If the campaign reporters would just do their job by digging into Fiorina's record instead of parroting the GOP media narrative of the week, I am confident that they will find Fiorina is lying about a whole lot more than just the few case studies noted above.