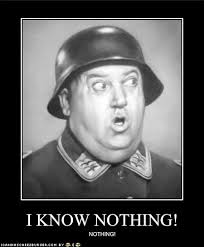 After the "bombshell" reporting this week about what the Trump administration knew about Gen. Michael Flynn and when they knew it, Trump transition chairman Vice President Pence has his aids anonymously leaking to the press the Sergeant Schultz defense — "I know nothing!" — in an effort to separate himself from the Trump scandals (and to preserve his status as next in line of presidential succession).
We are now all supposed to believe that Trump transition chairman Vice President Pence, who was named to that post because he was supposedly the adult in the room who could herd the crazy cats  Trump brought with him to Washington, was entirely kept out of the information loop about Gen. Michael Flynn. We are all supposed to believe that Trump transition team lawyers never notified their client, transition chairman Vice President Pence, of information they received about Flynn. Riiight.
We are aslo supposed to believe that Mike Pence never read a newspaper article or watched a television news report about Michael Flynn, which was widely reported in the news at the time.
NBC News reports, VP Mike Pence Was Never Informed About Flynn: Source:
Vice President Mike Pence has been kept in the dark about former National Security Adviser Mike Flynn's alleged wrongdoing, according to a source close to the administration, who cited a potential "pattern" of not informing the vice president and calling it "malpractice or intentional, and either are unacceptable."
This would be the second time that Pence claims he was kept in the dark about possible Flynn wrongdoings, despite the White House's alleged knowledge of them. Earlier this year, Pence said he was not made aware of Flynn's discussions with Russian officials until 15 days after Trump and the White House were notified.
The source close to the administration, who requested anonymity as the White House denies the story, is now saying that Pence and his team were not made aware of any investigation relating to Flynn's work as a foreign agent for Turkey.
"It's also a fact that if he told McGahn that during the transition, it's also a fact that not only was Pence not made aware of that, no one around Pence was as well," the source said. "And that's an egregious error — and it has to be intentional. It's either malpractice or intentional, and either are unacceptable."
* * *
The source close to the administration did not blame President Donald Trump for allegedly not making the vice president aware, suggesting it was likely the president had assumed Pence and his team were "in the loop."
The source also said Pence was not consulted about the decision to bring on Flynn as the National Security Adviser in November. The two men, according to the aide, "never" had a personal relationship and suggested the two may have never had a personal meeting during the transition.
The source said there is concern about what the source called "a pattern" of keeping the vice president distant from information about possible Flynn wrongdoings.
"There's a pattern as it relates to the Flynn situation — vis a vis Pence — that he was never, either intentionally or unintentionally, made aware of the facts," the source close to the administration said.
The "source" of this type of exculpatory reporting was either Mike Pence himself or one of his aides. Who is this reporter kidding?
This cover story comes on the same day that it was reported Mike Pence has taken the highly unusual step of creating a political action committee — the "Great America Committee" — to aid his own future political interests, and allegeldy to help Republican candidates ahead of the 2018 midterms, and the same day the New York Times reported Amid Trump Turmoil, Some Begin Eyeing Mike Pence and Newsweek reported President Pence? Veep Starts Fundraising Amid Trump Scandals.
Before Mike Pence and the GOP go all Game of Thrones and plot a palace coup aginst Trump through the 25th Amendment or impeachment, and Pence starts measuring for drapes in the oval office, people had better take a skeptical look at this bullshit cover story that "I know nothing!" It is simply not believable. Pence is implicated in these scandals, he is not a mushroom who was kept in the dark.
McClatchy News demonstrates the proper degree of skepticism. How could Trump, Pence not have known Flynn was lobbying for Turkey?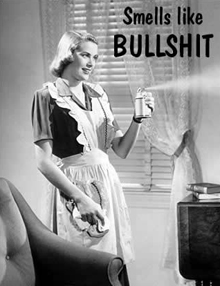 The White House has maintained that President Donald Trump and Vice President Mike Pence did not know that Flynn was acting as a foreign agent until he registered with the Justice Department in March.
But Trump officials were alerted on at least three separate occasions that the incoming national security adviser was being paid to represent Turkish interests. Despite those warnings, Flynn was allowed to attend classified intelligence briefings after August, first as an adviser to candidate Trump, and then as the president's national security adviser.
Flynn retroactively registered as a foreign agent on March 7, filing paperwork with the Justice Department that showed he received more than $530,000 for work that "could be construed to have principally benefited the Republic of Turkey."
He disclosed in that same filing that he secretly met in a New York hotel with Turkish Foreign Minister Mevlut Cavusoglu and energy minister Berat Albayrak, who is President Recep Tayyip Erdogan's son-in-law.
Trump fired Flynn on Feb. 13 [allegedly] for misleading Pence about his conversations with Russia's ambassador to the United States.
But neither Pence nor Trump have acknowledged they knowing anything before then about Flynn's foreign connections.
Pence's office reiterated that stand on Thursday.
"The Vice President stands by his comments in March upon first hearing the news regarding General Flynn's ties to Turkey and fully supports the president's decision to ask for General Flynn's resignation," his office said in a statement.
But there are reasons to doubt those assertions.
Nov. 18
Rep. Elijah Cummings, D-Md., was among the first to warn the Trump team of Flynn's ties to Turkey, writing a letter on Nov. 18 to Pence, who was then hearing Trump's transition team, that Flynn was lobbying on behalf of a Turkey-linked Dutch company. Trump had announced his intention to name Flynn national security adviser on the previous day.
Cummings also warned that under U.S. regulations, Flynn was ineligible to receive classified briefings, which he'd been receiving since August, because of his role as a foreign agent.
Cummings, the top Democrat on the House Committee on Oversight and Government Reform, warned Pence that Flynn was "receiving classified briefings during the presidential campaign while his consulting firm, Flynn Intel Group, Inc., was being paid to lobby the U.S. Government on behalf of a foreign government's interests." He also asked for information and statements regarding potential conflicts of interests.
"If the vice president had heeded my warnings, it's clear now he could have prevented the problems that occurred with Lt. Gen. Flynn," Cummings said when Flynn's disclosures came out.
The letter, a copy of which was shared with McClatchy in March, would seem to contradict the White House's claims that neither Pence nor Trump knew of Flynn's lobbying until his Justice Department filing.
"Hearing that story today was the first I'd heard of it," Pence told Fox News after Flynn filed the disclosures, a statement he repeated twice.
White House press secreetary Sean Spicer also declared in March that Trump was unaware that Flynn was acting as a foreign agent when he appointed him to be his national security adviser.
"He didn't file until two days ago, so therefore, nobody would have known that because he hadn't filed as a foreign agent until two days ago," Spicer insisted on March 10.
He deflected reporters' questions on why Cummings' letter did not raise red flags by pointing out the retired lieutenant general's "impeccable credentials."
Jan. 4
An opinion piece Flynn wrote for The Hill the day of the election, titled "Our ally Turkey is in crisis and needs our support," which made the case for some of the Turkish government's top priorities, raised suspicions at the Justice Department that Flynn was working as a foreign agent. Soon after, they notified Flynn that they were looking into his lobbying ties.
Flynn's lawyer disclosed that investigation to Trump's transition team on Jan. 4, The New York Times reported Wednesday. On Thursday, the White House pushed back on the New York Times report, calling it "flat wrong."
"Neither Michael Flynn nor his attorneys told Transition Counsel that he was under federal investigation for secretly working as a paid lobbyist for Turkey during the campaign," a White House spokesman told NBC.
Early January
In January, Flynn's personal lawyer reportedly spoke to Trump officials, including incoming White House counsel Don McGahn, to let them know that Flynn might register as a foreign agent and seeking their guidance.
Spicer all but confirmed that this had happened. At a press briefing in March, he asserted that Flynn's lawyer "was instructed that that wasn't the role of the transition, and that it was up to the personal lawyer to work with the appropriate authorities" to determine whether Flynn must register.
"It's not something that would be appropriate for a government entity to give someone guidance on when they should file as an individual — as a private citizen," Spicer said.
That answer confirms that Flynn's lawyer raised the topic. Contacted Thursday, the White House did not respond to McClatchy's request for comment on why that information was not shared with the president and vice president.
After Jan. 20
Sometime after the inauguration, according to a report by the Associated Press, Flynn's representatives had a second conversation with Trump's lawyers and told them that Flynn had decided to register with the Justice Department. But that conversation apparently did not trigger any alarm or find its way to either Pence or Trump.
Flynn continued to participate in the president's daily intelligence briefings and took part in his exchanges with foreign leaders, including Russian President Valdimir Putin, until he was fired Feb. 13.
Mike Pence was either the most incompetent transition team chairman in American history, or he is a stone-cold liar. Steve Benen makes the case for the latter. In light of Flynn revelations, Mike Pence has some explaining to do:
As Donald Trump faces an increasingly uncertain future, there's no shortage of scuttlebutt about what it'd be like if Mike Pence were elevated to the presidency. The chatter grew a little louder when Pence launched his own political action committee yesterday – an apparent first for a sitting vice president.
But before the far-right Hoosier starts measuring any drapes, now seems like a good time to note some of the troubles plaguing Pence in the broader Russia mess.
We talked earlier about a striking New York Times scoop on Michael Flynn, the former White House National Security Advisor, who's at the center of much of the controversy. And while the article only mentioned Pence in passing, note who it was that Flynn spoke to when he admitted to Team Trump that he was under investigation.
Michael T. Flynn told President Trump's transition team weeks before the inauguration that he was under federal investigation for secretly working as a paid lobbyist for Turkey during the campaign, according to two people familiar with the case.
Who led Trump's transition team? That would be none other than Mike Pence.
We're left with an unsettling picture. Flynn told the transition team he's the subject of an ongoing federal investigation, and either that information either reached Pence or it didn't. If Pence was out of the loop, he was dangerously incompetent at his job. If Pence knew, and Flynn became National Security Advisor anyway, that's worse.
Remember, as the turmoil surrounding Flynn grew more serious, the vice president said he was completely unaware of Flynn's alleged misdeeds. In March, when Fox News asked Pence about Flynn having to register as a foreign agent, Pence said he was hearing the story for the first time.
Except, as Rachel Maddow has explained on her show False denials from Mike Pence continue to stack up (video – go to 9:40 to skip the lead in), that's literally unbelievable. Not only were there multiple news reports for months about Flynn's foreign work, but Rep. Elijah Cummings (D-Md.) wrote to Pence's transition team [on November 18] to make sure Team Trump was aware of this.
Pence didn't respond. Flynn got the job he wanted anyway.
An unsettling picture is emerging. Pence not only seems to have been, at best, negligent when overseeing the presidential transition process, he also has been caught repeatedly saying things that aren't true while in service to Trump.
When it comes to the White House's Russia scandal, the political world doesn't tend to think of Pence as someone caught up in the mess. Perhaps it's time to rethink those assumptions.
Finally, this falls into the category of "you can't make this shit up" unbelievable. Donald Trump Talked Michael Flynn Into White House Job—and Wants Him Back in the Administration: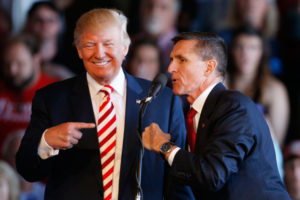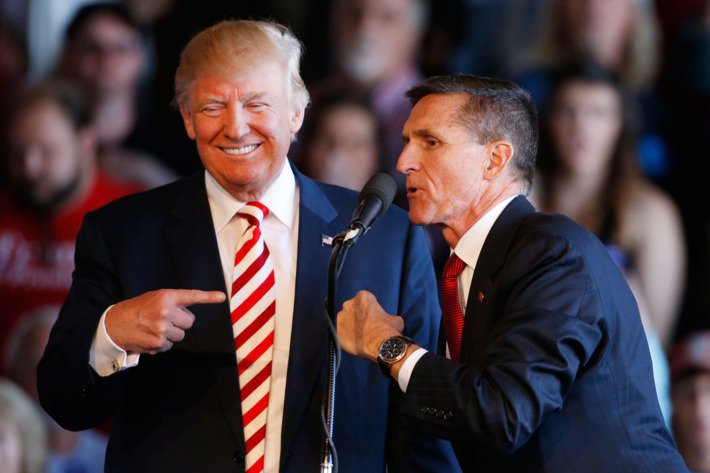 President Donald Trump pressured a "reluctant" Michael Flynn into accepting a job as the White House's top national security official even after Flynn warned the president that he was under investigation over undisclosed lobbying on behalf of a foreign government, The Daily Beast has learned.
The president's continued loyalty to his ousted former aide is so strong, in fact, that the two have remained in touch despite the potential that their communication could be portrayed as White House interference in a federal investigation. [Witness tampering.]
* * *
Trump's affinity for Flynn apparently led the president to urge former FBI director James Comey, before his firing last week, to drop or ease a federal investigation of Flynn, according to Comey's written account of a meeting with the president.
Trump Wants Flynn Back
But Trump doesn't just hope that Flynn will beat the rap. Several sources close to Flynn and to the administration tell The Daily Beast that Trump has expressed his hopes that a resolution of the FBI's investigation in Flynn's favor might allow Flynn to rejoin the White House in some capacity—a scenario some of Trump's closest advisers in and outside the West Wing have assured him absolutely should not happen.
Those sources said Trump didn't believe Flynn should be under investigation in the first place.
One former FBI official and a second government official said Trump thought he owed Flynn for how things ended up and was determined to clear Flynn's name and bring him back to the White House.
Unbelievable.