The U.S. military has always remained apolitical and not acted in support of any political party or ideology. It is the reason why our democracy has endured so long.
But Politico reports, 'It just doesn't seem right': Pentagon officials on edge over military leaders' dealings with Trump:
Defense Department officials say they are increasingly uncomfortable with the more prominent role the U.S. military is playing in tamping down violent protests breaking out all over the U.S., and the growing tendency of the president to call on the troops for domestic missions ranging from border security to law enforcement.
"The decision to use active military forces in crowd control in the United States should only be made as a last resort," said Mick Mulroy, former deputy assistant secretary of defense under President Donald Trump. "Active Army and Marine Corps units are trained to fight our nation's enemies, not their fellow Americans. American cities are not battlefields."
The anxiety hit a high point on Monday, when word leaked out that Defense Secretary Mark Esper referred to cities undergoing protests as a "battlespace," and as Esper and Joint Chiefs Chair Gen. Mark Milley walked with Trump across the street from the White House after protesters were cleared from Lafayette Square in advance of a staged photo op in front of St. John's Episcopal Church.
* * *
On Monday, Trump said he was putting Milley, the nation's top military officer, "in charge" of restoring order and threatened to invoke the Insurrection Act, an 1807 law that gives him the authority to deploy federal troops to respond to domestic disorder.
No, he is not. By law, the chairman of the joint chiefs isn't in the military chain of command and has little formal authority, outside control of the Joint Staff. The Goldwater-Nichols Act of 1986 made the chairman the president's principal military adviser, which means he is the one officer who has a regular audience with the president.
The Pentagon was "taken aback" by the president's comments putting Milley in charge, according to one senior defense official.
"There is growing concern that this is not good for the role of the military going forward," the official said. "Now you've injected the military into a moment in a political way. It just doesn't seem right."
* * *
Milley was later filmed walking through the streets in his combat fatigues — a move that has drawn harsh criticism.
"It serves no useful purpose, and perpetuates the message that the military is being put in charge of the overall response; that this is a military, rather than a social or political problem to solve," said Lindsay Cohn, an associate professor at the Naval War College specializing in civil-military relations.
A defense official who was not authorized to speak publicly said there has been a significant level of consternation among Pentagon officials over the past day that Milley wasn't more attuned to how his presence could send the wrong message — and muddle the military's hard-fought reputation as being above the political fray.
Kelley Beaucar Vlahos at The American Conservative adds, General Milley Checks On His Troops…On The Streets Of D.C. (excerpts):
Secretary of Defense Mark Esper and General Milley were seen walking the streets, giving interviews, shaking hands with police.
Milley, donned in his fatigues, told reporters he was "checking" to see how well the deployed D.C. National Guard were doing and said "everyone has the right to protest …. But protest peacefully."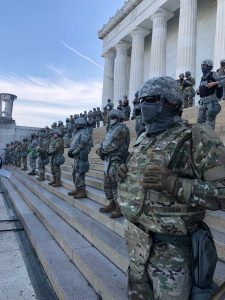 According to reports some 1,700 DC Guard have been called up and  were moving into the city over the weekend. Because D.C. is a federal district, not a state, there was no need to federalize them, they are already under the chain of command.  As an aside, Trump put Milley in charge of the "response," but as Chairman of the Joint Chiefs he is not in the military's operational chain of command so it is not clear what exactly that role will be.
It was a rough night Sunday for sure, with a number of businesses broken into, fires lit, buildings and monuments, including the Lincoln and WWII Memorials, spray-painted and defaced. But this isn't a war and the "soldiers" hadn't been in the "battlespace" for more than 48 hours. The moment hardly called for a moral boost akin to stoking the troops after the Battle for Baghdad. This was a Trump photo op and Milley and Esper were a command performance.
* * *
[T]he symbolism cuts both ways: Milley walking around DC like John McCain in Iraq in 2007—sans helmet, to prove it's not so bad—after accompanying the president on a cheesy photo op in which protesters had to be forcibly cleared for the cameras, makes him look like a political tool. Esper too, looks like, as one friend noted to me, part of Trump's "personal praetorian guard."
It also sends a message, I'm afraid, that we suddenly have an occupying army. This tends to rub some Americans the wrong way. It's kind of in our DNA. We have accepted, for good or bad, that the laws allow this incursion from time to time but also, that it has often, like President Hoover calling on Gen. MacArthur to bulldoze the World War I Bonus Army marchers, pitted the Army against its own citizens.
And when Esper starts using words like "battlespace" and police taunt citizens by calling out "light 'em up" while paint balling their neighborhood, it is an uncomfortable reminder of how wide that civ-mil gap has become since 9/11. And how the significance here can be much more powerful than a silly Trump photo op. And not in the way Trump expected.
Ret. Admiral Mike Mullen, Seventeenth chairman of the Joint Chiefs of Staff, writes at The Atlantic, I Cannot Remain Silent: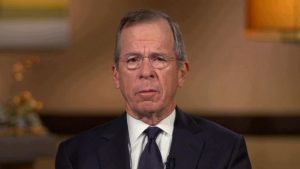 It sickened me yesterday to see security personnel—including members of the National Guard—forcibly and violently clear a path through Lafayette Square to accommodate the president's visit outside St. John's Church. I have to date been reticent to speak out on issues surrounding President Trump's leadership, but we are at an inflection point, and the events of the past few weeks have made it impossible to remain silent.
Whatever Trump's goal in conducting his visit, he laid bare his disdain for the rights of peaceful protest in this country, gave succor to the leaders of other countries who take comfort in our domestic strife, and risked further politicizing the men and women of our armed forces.
There was little good in the stunt.
While no one should ever condone the violence, vandalism, and looting that has exploded across our city streets, neither should anyone lose sight of the larger and deeper concerns about institutional racism that have ignited this rage.
* * *
We must, as citizens, address head-on the issue of police brutality and sustained injustices against the African American community. We must, as citizens, support and defend the right—indeed, the solemn obligation—to peacefully assemble and to be heard. These are not mutually exclusive pursuits.
And neither of these pursuits will be made easier or safer by an overly aggressive use of our military, active duty or National Guard. The United States has a long and, to be fair, sometimes troubled history of using the armed forces to enforce domestic laws. The issue for us today is not whether this authority exists, but whether it will be wisely administered.
I remain confident in the professionalism of our men and women in uniform. They will serve with skill and with compassion. They will obey lawful orders. But I am less confident in the soundness of the orders they will be given by this commander in chief, and I am not convinced that the conditions on our streets, as bad as they are, have risen to the level that justifies a heavy reliance on military troops. Certainly, we have not crossed the threshold that would make it appropriate to invoke the provisions of the Insurrection Act.
Furthermore, I am deeply worried that as they execute their orders, the members of our military will be co-opted for political purposes.
Even in the midst of the carnage we are witnessing, we must endeavor to see American cities and towns as our homes and our neighborhoods. They are not "battle spaces" to be dominated, and must never become so.
We must ensure that African Americans—indeed, all Americans—are given the same rights under the Constitution, the same justice under the law, and the same consideration we give to members of our own family. Our fellow citizens are not the enemy, and must never become so.
Too many foreign and domestic policy choices have become militarized; too many military missions have become politicized.
This is not the time for stunts. This is the time for leadership.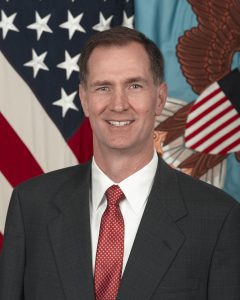 James N. Miller, who served as under secretary of defense for policy from 2012 to 2014 resigned from the Defense Policy Board today in protest of Secretary of Defense Mark Esper. The Washington Post published his resignation letter:
June 2, 2020
Hon. Mark T. Esper
Secretary of Defense
The Pentagon
Washington, D.C., 20301
Dear Secretary Esper,
I resign from the Defense Science Board, effective immediately.
When I joined the Board in early 2014, after leaving government service as Under Secretary of Defense for Policy, I again swore an oath of office, one familiar to you, that includes the commitment to "support and defend the Constitution of the United States . . . and to bear true faith and allegiance to the same."
You recited that same oath on July 23, 2019, when you were sworn in as Secretary of Defense. On Monday, June 1, 2020, I believe that you violated that oath. Law-abiding protesters just outside the White House were dispersed using tear gas and rubber bullets — not for the sake of safety, but to clear a path for a presidential photo op. You then accompanied President Trump in walking from the White House to St. John's Episcopal Church for that photo.
President Trump's actions Monday night violated his oath to "take care that the laws be faithfully executed," as well as the First Amendment "right of the people peaceably to assemble." You may not have been able to stop President Trump from directing this appalling use of force, but you could have chosen to oppose it. Instead, you visibly supported it.
Anyone who takes the oath of office must decide where he or she will draw the line: What are the things that they will refuse to do? Secretary Esper, you have served honorably for many years, in active and reserve military duty, as Secretary of the Army, and now as Secretary of Defense. You must have thought long and hard about where that line should be drawn. I must now ask: If last night's blatant violations do not cross the line for you, what will?
Unfortunately, it appears there may be few if any lines that President Trump is not willing to cross, so you will probably be faced with this terrible question again in the coming days. You may be asked to take, or to direct the men and women serving in the U.S. military to take, actions that further undermine the Constitution and harm Americans.
As a concerned citizen, and as a former senior defense official who cares deeply about the military, I urge you to consider closely both your future actions and your future words. For example, some could interpret literally your suggestion to the nation's governors Monday that they need to "dominate the battlespace." I cannot believe that you see the United States as a "battlespace," or that you believe our citizens must be "dominated." Such language sends an extremely dangerous signal.
You have made life-and-death decisions in combat overseas; soon you may be asked to make life-and-death decisions about using the military on American streets and against Americans. Where will you draw the line, and when will you draw it?
I hope this letter of resignation will encourage you to again contemplate the obligations you undertook in your oath of office, as well as your obligations to the men and women in our military and other Americans whose lives may be at stake. In the event that at least some other senior officials may be inclined to ask these questions after reading this letter, I am making it public.
I wish you the best, in very difficult times. The sanctity of the U.S. Constitution, and the lives of Americans, may depend on your choices.
Sincerely,
James N. Miller
We had all better hope and pray that military officers show the same devotion to their oaths of office, and will disregard illegal orders from the President of the United States. The U.S. military must reject Donald Trump's desire to use the U.S. military to go to war against the American people for political and electoral purposes. This is a defining moment in American history.