Update to Democrats Advocate For Voting Rights; Republicans Advocate For Voter Suppression.
Last year, the Queen of GOP voter suppression, Sen. Michelle Ugenti-Rita (R-Scottsdale), tried to remove voters from the PEVL list who do not return their ballots in two consecutive election cycles. Her bill died in the legislature only because COVID-19 shut down the legislature and it declared sine die.
She's baaack! The Arizona Republic reports, Republicans in Arizona Legislature advance bill to remove some from early voter list: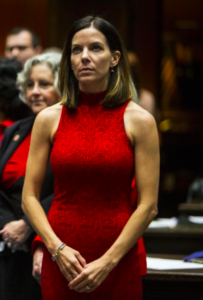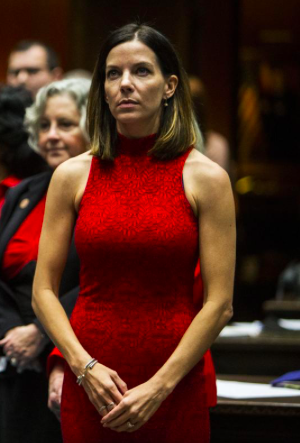 Arizona's permanent early voting list may not be so permanent after all.
A state Senate committee approved legislation on Thursday that would remove from the list voters who do not return their ballots in two consecutive election cycles.
State Sen. Michelle Ugenti-Rita, a Republican from Scottsdale who is sponsoring the bill, argued it merely helps ensure the list is accurate and up to date.
Democrats maintained that the measure would purge hundreds of thousands of voters from the permanent early voting list, confusing many voters who thought they were on it and ultimately diminishing turnout.
Note: If Congress enacts the For the People Act of 2021 (H.R.1), this kind of voter purge would be illegal, and prima facia evidence of illegal voter suppression in a Voting Rights Act enforcement lawsuit.
Known as "PEVL," the program has proven popular since legislators created it in 2007, allowing voters to sign up to receive ballots in the mail for each election in which they are eligible to participate. Voters previously had to submit a request for each election. But as of Jan. 5, about 3.2 million Arizona voters were on the permanent list.
Currently, a voter is only removed from the list if their registration is canceled or moved to inactive status, a notice sent to their residence is returned undeliverable or when a voter asks to be removed.
Senate Bill 1069 (.pdf) (bill has been amended) would remove voters who do not vote using a mail ballot in both the primary and general election for two consecutive primary and general elections. This would not affect voters who return their ballots at a polling place or drop box.
Does Ugenti-Rita not appreciate that the right to vote also includes the right not to vote? Maybe the voter is not motivated enough to vote, or is trying to send a message by not voting. This bill comes perilously close to requiring compulsory voting, as several countries require, but not here in the United States.
As State Sen. Martín Quezada, D-Glendale, noted "A non-vote is also a vote," saying that people may look at races and conclude they don't want to choose between "the lesser of two evils."
County recorders would have to send the voter a notice first, asking them to confirm if they wish to remain on the permanent early voting list.
"There's a cost associated with sending out ballots to people who aren't voting by mail. There's also an integrity component," Ugenti-RIta told the Senate Government Committee, which she chairs, on Thursday.
There's also a cost to sending out these notices. Does the Queen of GOP voter suppression propose providing any appropriations to the county election departments to do this? Of course not.
The lawmaker said she did not expect the change to cause disruptions.
"If you're not voting, this is inconsequential to you because you're already not voting by mail," she said.
Ugenti-Rita also is proposing to strike the word "permanent" from the existing law.
The Senate Government Committee voted 5-3 along party lines, with Republicans in favor, to advance the bill.The other Republican lawmakers who voted in favor are Sen. Sonny Borrelli, R-Lake Havasu City; Sen. J.D. Mesnard, R-Chandler; Sen. Warren Petersen, R-Gilbert; and Sen. Kelly Townsend, R-Mesa.
Critics argued the measure goes against the very premise of the permanent early voting list — that it is permanent — and would penalize voters who are on it but have skipped elections because they do not see a reason to cast their ballot.
State Sen. Martín Quezada, D-Glendale, noted the legislation was introduced in past years and argued that it would have removed many voters from the permanent early voting list before the last election who ended up participating in it after sitting out previous years.
"They had something to vote for, or vote against," he said.
And, he argued, reliably receiving ballots in the mail eliminates barriers to voting.
"Communities of color just like mine in my district, they don't have the benefits of not facing language barriers at the polling place, of not facing flat-out discrimination at the polling place," he said. "PEVL provides them that access."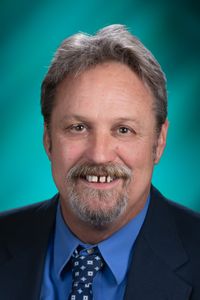 Following an election with a large turnout that put Democrats over the top in key races, including the presidential race in Arizona and a second U.S. Senate seat, Republican legislators have introduced a flurry of bills to change how Arizonans vote and how their votes are counted.
Rep. Kevin Payne, R-Peoria, introduced legislation to abolish the permanent early voting list altogether, for example, and a separate bill to require anyone voting by mail to get their ballot envelope notarized.
See earlier post, Democrats Advocate For Voting Rights; Republicans Advocate For Voter Suppression.
The Senate Government Committee advanced other legislation on Thursday that would allow campaigns to pay for recounts and potentially require recounts in more races.
Howard Fischer reports, Arizona GOP lawmakers advance changes to election laws in wake of Trump's loss:
In the wake of protests over the election results in Arizona, Republicans on a state Senate panel approved two changes in election laws Thursday that would audit more votes and require automatic recounts in more situations.
"There are hundreds of thousands of people … that think the election was fraudulent or full of irregularities or breakdowns in process," said Sen. J.D. Mesnard, R-Chandler.[Yeah, stupid people!] Changing the laws on recounts and audits, he said, would increase voter confidence.
But Sen. Juan Mendez, D-Tempe, said the legislation approved on party-line votes by the Government Committee is built on the flawed assumption that more counting will change minds.
"There will always be people that are never going to accept election results because they just don't agree with their perception of reality," he said. "I could probably recommend a psychologist or something." [Like the Trump/QAnon cult].
Sen. Martin Quezada, D-Glendale, said the problem is even more basic than that.
"The reason that there's doubts out there about our elections right now is because of uncorroborated claims, misinformation and flat-out lies that have been told over and over again about this past election, from the president's office all the way down to this very body," he said.
The Sedition Party spreads lies and disinformation about "voter fraud," and when its voters believe the lies and disinformation, unscrupulous politicians will cite this belief as a self-validating reason "It must be true" (It's not) in support of more GOP voter suppression measures. This is what the unscrupulous Sen. J.D. Mesnard was doing, above.
The result, Quezada said, is what happened in Washington on Jan. 6 when rioters denying Joe Biden's win invaded the nation's Capitol.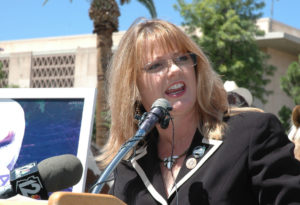 That brought a sharp retort from [QAnon Queen] Sen. Kelly Townsend, R-Mesa, who has been one of the Arizona lawmakers arguing that the reported results of the presidential election here were inaccurate.
Sen. Kelly Townsend is one of the worst purveyors of Sedition Party lies and disinformation about this election. Only Arizona GOP Chair Kelli "Chemtrails" Ward, state Rep. Mark Finchem, and congressmen Andy Biggs and Paul Gosar may have surpassed her.
"I do not want my speech curtailed," she said. "If I have something that I want to offer, that unless it's somehow injurious I don't want another member (of the Legislature) telling me what I can and cannot say."
Mesnard suggested Democrats' opposition has a political component.
"I am a little dismayed at the seeming dismissiveness that I sense from people who have no problem with the outcome of the election or don't have any doubts but don't care that others do," he said.
This is why, you mendacious punk:
It's official. We completed our hand count audit and had a 100% match! Thank you to all 3 Maricopa County political parties, who appointed members to participate! pic.twitter.com/JhBcPYWhY3

— Maricopa County Elections Department (@MaricopaVote) November 9, 2020
The Maricopa County Board of Supervisors certified the November election results, and Republican Board Chair Clint Hickman said that there was "no evidence of fraud or misconduct or malfunction." Maricopa County Board Chair Finds 'No Evidence' of Election Fraud.
So fuck off, Mesnard.
Mesnard is the sponsor of Senate Bill 1010, which would increase to 5% the number of precincts where there has to be a random hand count of votes following each election. The current figure is 2%.
He also wants to allow anyone who has the money to demand a full recount of the votes in any race.
He conceded that the only people who would likely take advantage of that are those who are on the losing side. But that does not make it a bad idea, Mesnard said.
Mendez doesn't see it that way.
"Allowing rich people to demand a recount simply because they can afford it will never restore confidence in our elections," he said.
The same panel gave the go-ahead to SB 1083, which would alter the law on when there has to be an automatic recount.
In most cases, that occurs when the margin of difference between the top two candidates is no more than 0.1% or 200 votes, whichever is less. Sen. Michelle Ugenti-Rita, R-Scottsdale, wants to move that number up to 0.5%.
Does the Queen of GOP voter suppression propose providing any appropriations to the county election departments that would have to conduct these expensive recounts? Of course not.
That change is significant.
Biden won Arizona and its 11 electoral votes by 10,457 votes over now-former President Donald Trump, a margin of 0.3%. Had this measure been in effect last year, it would have required a recount of the more than 3.3 million ballots cast.
Biden was the first Democratic presidential candidate to win Arizona since 1996.
The timing did not escape Quezada.
"The problem is we're bringing it forward in response to, again, people's mistrust of these election results and lack of confidence in these election results that are based on complete lies," Quezada said.
Ugenti-Rita said this has nothing to do with the most recent election.
"I have to dispel this idea that things were fine prior to 2020," she said.
Every legislative session sees a slew of GOP voter suppression bills. This year is particularly bad because Arizona turned blue in 2020 with a senate seat and the presidential race. Rethuglicans are sore losers … and seditious insurrectionists.
Your right to vote, and democracy itself, is threatened by their evil actions.
It is up to you to contact your state legislators in opposition to these GOP voter suppression bills, and to use the Request to Speak (RTS) system to get your opposition to these bills on the record at committee hearings.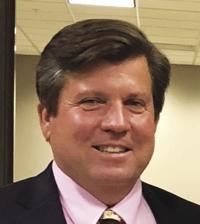 UPDATE: Rep. Timothy Dunn (R-Yuma) has filed HCR2016 (.pdf), which would require ballot measures to get 60% supermajority of the vote in order to to pass. It would also apply to vetoes of initiatives and referendums as well as constitutional changes. Lawmaker wants 60% of voters to OK ballot measures.
Ironically, for Dunn's referendum to become law, it would only need a simple majority of votes … you know, the way democracy works!
While the Arizona Chamber of Commerce and Industry says it does not have a position on this proposed ballot measure, it has been behind every previous effort to limit your constitutional rights to citizens initiatives, referendums, and recall. They believe that only corporate plutocrats and their lickspittle lackeys in the Republican-controlled legislature are entitled to enact laws. "We decide, and you shall obey!"