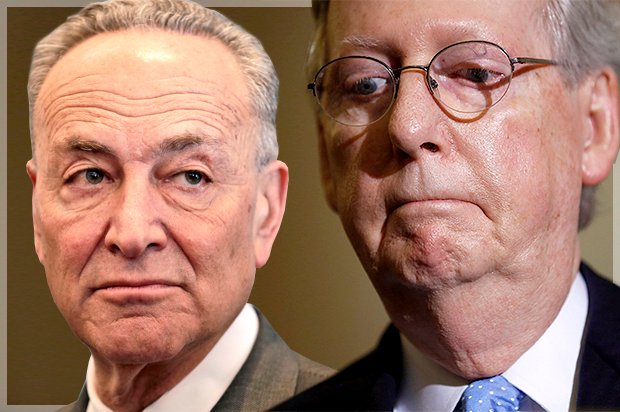 Almost always, if you compare my view on an issue to the Blue Meanie's, mine will be the more progressive.
Almost.
But not this time. AZBM recently shared his view, easily the majority view of progressives, that Chuck Schumer was a worse negotiator even than Trump.
I really, really wish Chuck Schumer and Nancy Pelosi were not the face of the Democratic Party. So Schumer taking heat here from the base doesn't bother me personally. But objectively, it's wrong.
Yes, the DACA situation is horrific and it was frustrating to see Schumer and the Senate Democrats not save the Dreamers. But blame would be appropriate only if a better result was achievable, and I don't see how that's so.
Politically, Schumer was dealt an impossibly weak hand. His only path to success was to keep 41 Democrats together to filibuster the continuing budget resolution. The Republicans who'd voted no were not going to a second time. Five Democrats already had voted yes. How long would it have been before a few more bolted? And keep in mind that the tactic Schumer was forced to employ — shutting down the government — was asymmetrical. DACA has no direct connection to the budget. Yeah, I know, deporting the Dreamers will cost money — a lot of it — but few Americans would grasp that connection and that's not why we're fighting this fight.
To blame the DACA debacle on Schumer is to blame him for singlehandedly failing to change the ugly reality of America today. And that's absurd. As a country, America has lost its collective sense of human decency. That truth is self-evident in the fact that we are even having this debate; that the possibility even exists that people who have lived here since age 2 may be deported from the only country they know, because, let's face it, they have brown skin.
Consider the evil forces Schumer is facing. The Trump administration, the Speaker of the House, and the Majority Leader of the Senate all would have no problem deporting the Dreamers and also seeing millions of American children go without health care. The great majority of congressional Republicans feel the same way. In fact, many desire that result. And the few who don't — Jeff Flake and Lindsey Graham, for example — are timid and unreliable. Look, McConnell broke the promise he made to Flake on DACA. With only 51 Republican Senators, Flake had a lot of leverage, even more if he got just one Republican colleague to join him, to force McConnell to keep to his word. Did he use that leverage? No.
Add to the mix that white America having lost its collective mind (if it ever had one). Yes, the polls show overwhelming support for the Dreamers, but answering a pollster's question in a humane way is far different than actually being humane. Some of the same folks that say the support the Dreamers when asked also refer to them as "DACA illegals." And many who nominally support the Dreamers no longer would if a soldier might have to wait an extra week for his paycheck. Yes, it was actually McConnell who placed military pay at risk, but that fact will  not be exposed on Fox News.
Finally, you have the red state Senators, particularly those up for election in 2018. The cold truth is that if they were given the choice of seeing 800,000 Dreamers being deported or losing their Senate seats, every one of them would sell the Dreamers out.
So Schumer cut the best deal he could. In the end, this won't turn on McConnell. On that point, I agree with AZBM. McConnell is a POS and a liar. There should be a special place in hell for him. Instead, it will turn on the decency of a handful of Senate Republicans, particularly Jeff Flake. And if their sense of decency does not prevail? I'd rather not contemplate that right now.
The bottom line: America is anything but the exceptional country many claim it is. Perhaps it never was. And that's not Chuck Schumer's fault.