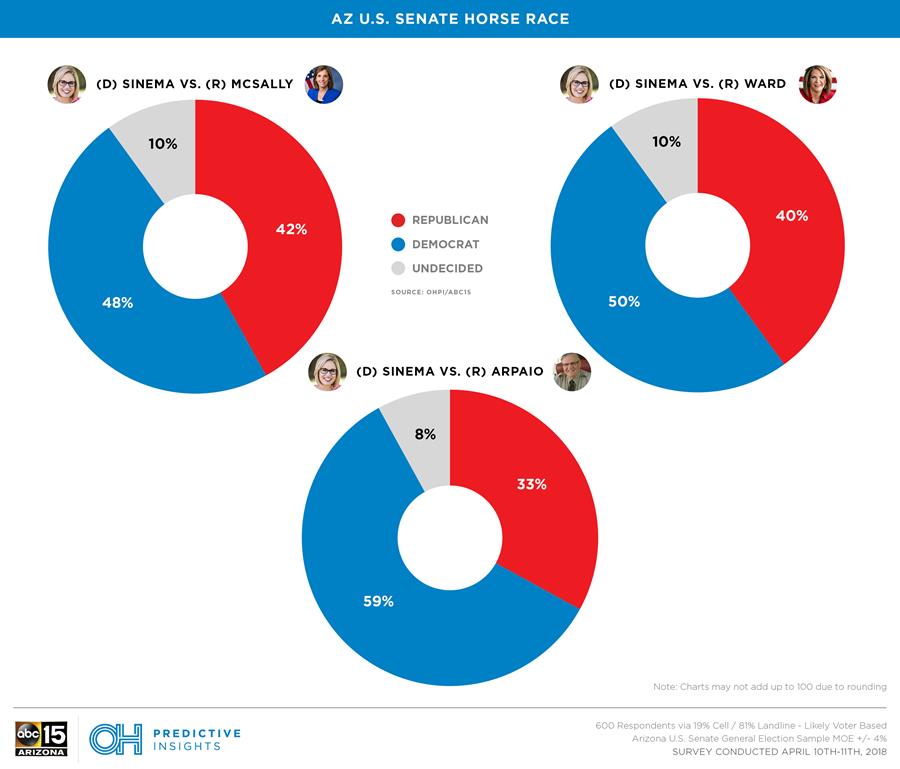 Regardless who the Republicans choose as their candidate for the Arizona US Senate seat, a new poll shows Democratic Congress member Kyrsten Sinema winning against them.
The survey by OH Predictive Insights and ABC15 says that the key reason is independent voters, who have a very negative view of GOP leader President Trump, and the negative view that voters in general have of Republicans Kelli Ward, Joe Arpaio, and Martha McSally.
And this is despite the 12% advantage that the GOP has (1,223,219 registered Republicans) over Democrats (1,090,310 registered Democrats) in Arizona. The survey sample reflected the Republican +12-point advantage over Democrats.
Democrats are unified
"The issue we are consistently seeing in the numbers is that Democrats are unified, Republicans are less united, and the all-important Independent voters are trending anti-Republican/Trump" said Mike Noble, managing partner at OH Predictive Insights of Phoenix. "The factors to look for will be if there are enough voters that do not view Trump favorably that still vote the Republican party."
The survey did not mention Democrat Deedra Abboud, an attorney and Muslim-American community activist, whom Sinema faces in the August 28 primary.
Voters dislike Trump
One of the most important factors in any mid-term election is the voters' perception of the president affecting other races. Despite the 12-point GOP advantage in the poll, the President's favorability is in the red. Currently, Trump's image is underwater by 13-points.
Importantly, independents view Trump even more unfavorably – by a staggering 49-point margin.
The poll found that crazy Kelli ward was best-known in Maricopa County, where 41% view her unfavorably. Seldom-seen McSally is best-known in Pima County, but a majority of Pima County voters (51%) have a negative view of her. Mean Joe Arpaio is best known in Maricopa Countyy, where 68% of voters view him unfavorably.
In contrast, Sinema is best known in Maricopa County where 53% view her favorably and only 27% view her unfavorably.
The poll finds that if the primary were held today, Kelly Ward would win the Republican nomination with 36% of the votes, compared with 27% of the votes for McSally and 22% of the votes for Arpaio.
"Unless Donald Trump can turn his approval numbers around, it may prove to be a problem for any Republican candidate who needs that support to win the primary as they pivot to the general election," Noble said.
For further reading see:
Kyrsten Sinema is the Democrat who can Beat McSally for US Senate