On Friday, Manhattan District Attorney Cyrus Vance, Jr. was before the Second Circuit Court of Appeals still seeking to enforce his subpoena for the financial records of the Trump businesses from his accountant, Mazars USA. Second Circuit Appears Ready to Rule in Cyrus Vance's Favor. Even if the DA gets his hands on Trump's financial records, it is for use before a grand jury, which means the public still may never see those documents.
That is until Sunday, when the New York Times in a bombshell report disclosed that it has obtained nearly two decades of Trump's tax records and revealed what it has discovered in its initial analysis.
New York Times Editor Dean Baquet explains his decision to publish this information. An Editor's Note on the Trump Tax Investigation:
Today we are publishing the results of an examination of decades of personal and corporate tax records for President Trump and his businesses in the United States and abroad. The records stretch from his days as a high-profile New York real estate investor through the beginning of his time in the White House.
A team of New York Times reporters has pored over this information to assemble the most comprehensive picture of the president's finances and business dealings to date, and we will continue our reporting and publish additional articles about our findings in the weeks ahead. We are not making the records themselves public because we do not want to jeopardize our sources, who have taken enormous personal risks to help inform the public.
Manhattan DA Cyrus Vance, Jr. and the Second Circuit Court of Appeals are going to have something to say about this, as are the attorney's for the House of Representatives in a separate lawsuit seeking Trump's tax records under a different provision of law pursuant to House oversight.
We are publishing this report because we believe citizens should understand as much as possible about their leaders and representatives — their priorities, their experiences and also their finances. Every president since the mid-1970s has made his tax information public. The tradition ensures that an official with the power to shake markets and change policy does not seek to benefit financially from his actions.
Mr. Trump, one of the wealthiest presidents in the nation's history, has broken with that practice. As a candidate and as president, Mr. Trump has said he wanted to make his tax returns public, but he has never done so. In fact, he has fought relentlessly to hide them from public view and has falsely asserted that he could not release them because he was being audited by the Internal Revenue Service. More recently, Mr. Trump and the Justice Department have fought subpoenas from congressional and New York State investigators seeking his taxes and other financial records.
Times Editor Baquet concludes:
Some will raise questions about publishing the president's personal tax information. But the Supreme Court has repeatedly ruled that the First Amendment allows the press to publish newsworthy information that was legally obtained by reporters even when those in power fight to keep it hidden. That powerful principle of the First Amendment applies here.
The "big reveal" discloses what all the tax experts have been saying for years: Donald Trump is a failed businessman and a tax cheat. His self-created image as a successful billionaire businessman is a con and a fraud. LONG-CONCEALED RECORDS SHOW TRUMP'S CHRONIC LOSSES AND YEARS OF TAX AVOIDANCE:
Donald J. Trump paid $750 in federal income taxes the year he won the presidency. In his first year in the White House, he paid another $750.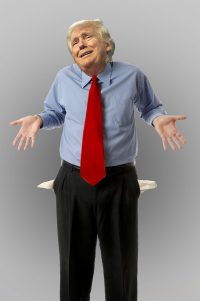 He had paid no income taxes at all in 10 of the previous 15 years — largely because he reported losing much more money than he made.
[Trump's] finances are under stress, beset by losses and hundreds of millions of dollars in debt coming due that he has personally guaranteed. Also hanging over him is a decade-long audit battle with the Internal Revenue Service over the legitimacy of a $72.9 million tax refund that he claimed, and received, after declaring huge losses. An adverse ruling could cost him more than $100 million.
The tax returns that Mr. Trump has long fought to keep private tell a story fundamentally different from the one he has sold to the American public. His reports to the I.R.S. portray a businessman who takes in hundreds of millions of dollars a year yet racks up chronic losses that he aggressively employs to avoid paying taxes. Now, with his financial challenges mounting, the records show that he depends more and more on making money from businesses that put him in potential and often direct conflict of interest with his job as president.
The New York Times has obtained tax-return data extending over more than two decades for Mr. Trump and the hundreds of companies that make up his business organization, including detailed information from his first two years in office. It does not include his personal returns for 2018 or 2019. This article offers an overview of The Times's findings; additional articles will be published in the coming weeks.
The returns are some of the most sought-after, and speculated-about, records in recent memory… They comprise information that Mr. Trump has disclosed to the I.R.S., not the findings of an independent financial examination. They report that Mr. Trump owns hundreds of millions of dollars in valuable assets, but they do not reveal his true wealth. Nor do they reveal any previously unreported connections to Russia.
* * *
The tax data examined by The Times provides a road map of revelations, from write-offs for the cost of a criminal defense lawyer and a mansion used as a family retreat to a full accounting of the millions of dollars the president received from the 2013 Miss Universe pageant in Moscow.
Together with related financial documents and legal filings, the records offer the most detailed look yet inside the president's business empire. They reveal the hollowness, but also the wizardry, behind the self-made-billionaire image — honed through his star turn on "The Apprentice" — that helped propel him to the White House and that still undergirds the loyalty of many in his base.
Ultimately, Mr. Trump has been more successful playing a business mogul than being one in real life.
"The Apprentice," along with the licensing and endorsement deals that flowed from his expanding celebrity, brought Mr. Trump a total of $427.4 million, The Times's analysis of the records found. He invested much of that in a collection of businesses, mostly golf courses, that in the years since have steadily devoured cash — much as the money he secretly received from his father financed a spree of quixotic overspending that led to his collapse in the early 1990s.
Indeed, his financial condition when he announced his run for president in 2015 lends some credence to the notion that his long-shot campaign was at least in part a gambit to reanimate the marketability of his name.
[T]he returns, by his own account, undercut his claims of financial acumen, showing that he is simply pouring more money into many businesses than he is taking out.
The picture that perhaps emerges most starkly from the mountain of figures and tax schedules prepared by Mr. Trump's accountants is of a businessman-president in a tightening financial vise.
Most of Mr. Trump's core enterprises — from his constellation of golf courses to his conservative-magnet hotel in Washington — report losing millions, if not tens of millions, of dollars year after year.
His revenue from "The Apprentice" and from licensing deals is drying up, and several years ago he sold nearly all the stocks that now might have helped him plug holes in his struggling properties.
The tax audit looms.
And within the next four years, more than $300 million in loans — obligations for which he is personally responsible — will come due.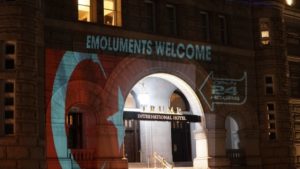 Against that backdrop, the records go much further toward revealing the actual and potential conflicts of interest created by Mr. Trump's refusal to divest himself of his business interests while in the White House. His properties have become bazaars for collecting money directly from lobbyists, foreign officials and others seeking face time, access or favor; the records for the first time put precise dollar figures on those transactions.
This is a direct violation of the Emoluments Clauses of the Constitution, and those lawsuits are still active in court as well. The lawyers are also going to want the documents.
The Times was also able to take the fullest measure to date of the president's income from overseas, where he holds ultimate sway over American diplomacy. When he took office, Mr. Trump said he would pursue no new foreign deals as president. Even so, in his first two years in the White House, his revenue from abroad totaled $73 million. And while much of that money was from his golf properties in Scotland and Ireland, some came from licensing deals in countries with authoritarian-leaning leaders or thorny geopolitics — for example, $3 million from the Philippines [Rodrigo Roa Duterte], $2.3 million from India [Narendra Damodardas Modi] and $1 million from Turkey [Recep Tayyip Erdoğan] – all autocratic strongmen whom Trump has praised and seeks to emulate.
He reported paying taxes, in turn, on a number of his overseas ventures. In 2017, the president's $750 contribution to the operations of the U.S. government was dwarfed by the $15,598 he or his companies paid in Panama, the $145,400 in India and the $156,824 in the Philippines.
Let's be clear, the $750 tax payments — would most closely match that of a minimum-wage worker, according to IRS data.
A minimum wage worker making $7.25 an hour paid more in payroll tax than *President Donald Trump* paid in income tax in 2017.

— Steven Dennis (@StevenTDennis) September 28, 2020
Still not pissed off? The Washington Post adds:
Hours after The Times report was published, so many people had chimed in to compare their returns to the president's that Joe Biden's campaign was selling buttons that read, "I paid more income taxes than Trump."
The former vice president's team also put out a 30-second video ad on Sunday evening comparing the $750 tax payment to the sums typically paid by three kinds of essential workers.
Others noted that most undocumented immigrants, whom Trump has repeatedly bashed as a detriment to the economy, often pay more than he did.
"He contributed less to funding our communities than waitresses & undocumented immigrants," wrote Rep. Alexandria Ocasio-Cortez (D-N.Y.), who noted that she, too, had paid more in 2016 and 2017 while working as a bartender. "Donald Trump has never cared for our country more than he cares for himself. A walking scam."
Joseph Bankman, a Stanford Law School professor who studies tax law, told The Washington Post that a comparable tax payment would most commonly be found among Americans who make between $15,000 and $20,000 a year.
"We're talking about someone who works at a McDonald's, and not someone who is managing it," he said. "This is an hourly worker at a fast-food restaurant."
More important is the more than $300 million in loans — obligations for which he is personally responsible — will come due within the next four years. To whom does he owe this debt? And does it affect foreign policy decisions.
Reed Galen, one of the founders of The Lincoln Project writes, Trump sold voters on the folly that he's a successful businessman. That's a con (excerpt):
As president, how Trump makes and spends his money is indicative of his personal taste (such as it is) and his willingness to use the office for personal enrichment.
His debts, though, are far more concerning.
The New York Times report reveals that Trump is leveraged to the tune of more than $400m, much of it personally guaranteed. Most reputable lending institutions would require significant collateral to extend that kind of credit. Who then, would be willing to lend so much money to such a high-risk client?
We don't know that answer, of course. It does raise the legitimate question, though: to whom does the president of the United States owe so much money, and what are they willing to do to ensure repayment? Especially when you consider that he has hundreds of millions of dollars in loans due for collection in the next four years. If he is unable to pay them back, what would these lenders be willing to accept in kind as payment for unpaid debts from the man who hopes to continue being the leader of the free world?
Anyone applying for a "position of national security" with the US government must fill out an exhaustive document, the SF-86, before beginning work. Aside from the usual questions about past criminal behavior or drug use, are questions related to the applicant's personal finances. Difficulties with money have long been among the quickest routes to blackmail and coercion for foreign intelligence services.
More than Trump's own well-documented issues with money, his son-in-law, Jared Kushner has previously found himself in a similar situation. The Kushner Company's 666 Park Avenue project had been a black hole of cash for years until a sovereign wealth fund made a substantial investment in the property (after Kushner was already serving as Trump's top adviser in the White House).
Add that to this month's report from the Senate intelligence committee that confirmed the 2016 Trump campaign's interactions with agents of Russian intelligence and the president's financial woes become that much more concerning for all Americans.
It's likely at this point that Trump cannot afford to be president. Though his companies generate some revenue, they won't make him the kind of money he needs to climb out of debt. Even his hotel just across the street from the White House can't fill all the holes. His golf courses, according to the Times, are money pits.
And that, unfortunately, means that the American people will once again take a distant back seat to Trump's personal concerns and needs. While Americans continue to get sick, thousands more die every week and our way of life is ruined, Trump will do what he always does: put himself at the head of the line.
Democrats called on President Trump to disclose his tax returns following a New York Times report alleging he paid $750 in federal income taxes in 2016 and 2017 and nothing in 10 of the past 15 years. Democrats demand Trump release his tax returns after NYT report:
House Speaker Nancy Pelosi (D-Calif.) said in a statement the report "provides further evidence of the clear need" for a House lawsuit to access the tax returns and "ensure the presidential audit program is functioning effectively, without improper influence."
Ways and Means Chair Richard Neal (D-Mass.), who's spearheading the House lawsuit, said in a statement, "Donald Trump is the boss of the agency he considers an adversary.
"It is essential that the IRS's presidential audit program remain free of interference. Today's report underscores the importance of the Ways and Means Committee's ongoing lawsuit to access Mr. Trump's tax returns and ensure the presidential audit program is functioning effectively, without improper influence."
It will be interesting to see what The Times reports in coming weeks, and to see how quickly the pending lawsuits over Trump financial records will now move.