Last month after the U.S. Attorney's office for the Southern District of New York executed search warrants against the homes and offices of Michael Cohen, negotiations between the White House and the Special Counsel for an interview of President Trump reportedly broke down (pro tip: this is all kabuki theater, Trump's lawyers have absolutely no intention of ever allowing their client whom they know to be a pathological liar to ever sit for an interview, or to testify; Trump will "take the Fifth" in the end).
It was widely reported at the time that the Special Counsel could wrap up the obstruction of justice phase of the investigation "as early as May or as late as July." Trump, Mueller teams prepare to move forward without presidential interview.
On Sunday, Rudy Giuliani, Trump's "TV lawyer," asserted that Mueller Hopes Obstruction Inquiry Into Trump May Wrap Up by Sept. 1: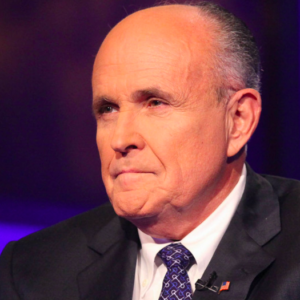 Mr. Giuliani said that the office of the special counsel, Robert S. Mueller III, shared its timeline about two weeks ago amid negotiations over whether Mr. Trump will be questioned by investigators, adding that Mr. Mueller's office said that the date was contingent on Mr. Trump's sitting for an interview. A spokesman for the special counsel's office declined to comment.
Giuliani has made a number of claims recently about what the Special Counsel has allegedly told him which I find suspect, and which has not been verified by the Special Counsel. For all we know, this shyster lawyer is just making up shit.
More importantly, I fail to see how the Special Counsel can wrap up the obstruction of justice phase of the investigation when Trump is engaged in an ongoing obstruction of justice on a weekly basis.
Last week Trump and his congressional allies concocted the conspiracy theory that the FBI and/or intelligence agencies "embedded" a "spy" in his presidential campaign, a conspiracy theory which has already been debunked. The anatomy of a right-wing conspiracy theory, debunked. As Asha Rangappa, a former FBI agent explains, The FBI didn't use an informant to go after Trump. They used one to protect him.
Trump and his backers are wrong about what it means that the FBI reportedly was using a confidential source to gather information early in its investigation of possible campaign ties to Russia. The investigation started out as a counterintelligence probe, not a criminal one. And relying on a covert source rather than a more intrusive method of gathering information suggests that the FBI may have been acting cautiously — perhaps too cautiously — to protect the campaign, not undermine it.
As a former FBI counterintelligence agent, I know what Trump apparently does not: Counterintelligence investigations have a different purpose than their criminal counterparts. Rather than trying to find evidence of a crime, the FBI's counterintelligence goal is to identify, monitor and neutralize foreign intelligence activity in the United States. In short, this entails identifying foreign intelligence officers and their network of agents; uncovering their motives and methods; and ultimately rendering their operations ineffective — either by clandestinely thwarting them (say, by feeding back misinformation or "flipping" their sources into double agents) or by exposing them.
By early summer 2016, according to the New York Times, the FBI had already identified at least four members of the Trump campaign with significant ties to or contacts with Russian intelligence. The next logical step in a counterintelligence investigation would be to discern what Russia was trying to do with those people. Sending a source to talk to suspected foreign agents such as campaign advisers Carter Page and George Papadopoulos could illuminate whether these individuals were being developed — or even tasked — as intelligence assets for Russia. And that could have served to generate even more information: If the U.S. intelligence community had later picked up "chatter" on Russia's end following these interactions, the FBI could have verified that these individuals were, in fact, in communication with Russian operatives.
Nevertheless our always insecure egomaniacal Twitter-troll-in-chief Trump Demands Inquiry Into Whether Justice Dept. 'Infiltrated or Surveilled' His Campaign:
President Trump on Sunday demanded that the Justice Department investigate whether the department or the F.B.I. "infiltrated or surveilled" his campaign at the behest of the Obama administration, following through on his frequent threats to intervene in the special counsel inquiry as he targets those he views as political enemies.
* * *
[I]n ordering up a new inquiry, Mr. Trump went beyond his usual tactics of suggesting wrongdoing and political bias by those investigating him, and crossed over into applying overt presidential pressure on the Justice Department to do his bidding, an extraordinary realm where past presidents have hesitated to tread.
"I hereby demand, and will do so officially tomorrow, that the Department of Justice look into whether or not the FBI/DOJ infiltrated or surveilled the Trump Campaign for Political Purposes," Mr. Trump tweeted on Sunday afternoon, "and if any such demands or requests were made by people within the Obama Administration!"
Legal experts said such a presidential intervention had little precedent, and could force a clash between the sitting president and his Justice Department that would be reminiscent of the one surrounding Richard M. Nixon during Watergate, when a string of top officials resigned rather than carry out his order to fire a special prosecutor investigating him.
In response to Trump's Twitter rage, Deputy Attorney General Rod J. Rosenstein who is overseeing the Russia investigation, has asked its inspector general to expand an ongoing review of the Russia investigation, a move that officials hoped would avert a larger showdown with Trump. Justice Department calls for inquiry after Trump demands probe into whether FBI 'infiltrated or surveilled' his campaign:
Under pressure from President Trump, the Justice Department on Sunday asked its inspector general to assess whether political motivation tainted the FBI investigation into ties between Russia and Trump's campaign — a remarkable step officials hoped might avert a larger clash between the president and federal law enforcement officials.
* * *
[T]he Justice Department responded [to Trump] by saying it had asked its inspector general to expand an ongoing review of the applications to monitor a former Trump campaign adviser "to include determining whether there was any impropriety or political motivation in how the FBI conducted its counterintelligence investigation of persons suspected of involvement with the Russian agents who interfered in the 2016 presidential election."
The department noted that a U.S. attorney would be consulted if evidence of criminal conduct was found.
"If anyone did infiltrate or surveil participants in a presidential campaign for inappropriate purposes, we need to know about it and take appropriate action," Deputy Attorney General Rod J. Rosenstein said in a statement.
* * *
Trump and his allies have seized on the informant's role to claim that the FBI spied on his campaign. There is no evidence to indicate an intelligence source was embedded within the campaign, as the president has suggested.
The quick move Sunday by the Justice Department could forestall a bigger showdown.
* * *
Law enforcement officials consider the informant's identity so sensitive that the FBI had been working over the past two weeks to mitigate the potential damage if his name was revealed, according to several people familiar with the matter.
Some Justice Department officials feared that the president's tweet signaled that he might overrule them and order the department to turn over the material Nunes seeks. If that occurs, it is possible that senior officials could resign in protest — or refuse the president's order and force him to fire them.
Stephen Vladeck, a law professor at the University of Texas at Austin, said that while Trump has the authority to order Justice Department officials, those officials also have the right to quit rather than follow his direction.
This is the "Saturday night massacre" scenario from the Watergate scandal.
Trump's accessories to the conspiracy to obstruct justice in the GOP House Freedom Caucus also chimed in:
On Sunday, Rep. Mark Meadows (R-N.C.) [chair of the House Freedom Caucus] wrote on Twitter: "DOJ can't be trusted to investigate themselves–Congress needs the documents too. Rod Rosenstein: where are the documents? Show Americans the truth."
Greg Sargent of  The Post explained last week, It's right there in plain sight:
The motive for this isn't even being concealed. It's right there in plain sight:
Trump's allies believe outing the source and revealing details about his or her work for the FBI could help them challenge the investigation and, potentially, provide cause for removing [special counsel Robert S. Mueller III] or his overseer, Deputy Attorney General Rod J. Rosenstein. …
Rep. Mark Meadows (R-N.C.) has been conferring with Trump — in three or more calls a week — communicating concerns that the Justice Department is hiding worrisome information about the elements of the probe, according to people familiar with their discussions. …
[House Intelligence Committee Chairman Devin] Nunes, meanwhile, has purposefully not been talking to Trump, to avoid accusations that he is providing sensitive information to the president, according to these people. Instead, Nunes has been relaying the status of his battle with the Justice Department to White House Counsel Donald McGahn.
The explicitly, openly stated motive for doing this is to create a rationale for Trump to either try to close down Mueller's investigation by removing him, or to fire Rosenstein, which would allow Trump to install a loyalist to oversee and dramatically limit the probe's scope. A replacement for Rosenstein could also do a lot more to keep Mueller's findings under wraps.
Soon enough, we may find out the truth about this alleged informant. But here's what we know so far: Career intelligence officials believe what House Republicans are now doing could imperil lives and compromise ongoing intelligence investigations, harming our national security.
* * *
[H]ere's what we also know at this point: Previous efforts by Nunes and his fellow House GOP travelers to exercise such oversight have proved to be thoroughly bogus.
* * *
[The congressional intelligence committees] are supposed to function as a "validating mechanism" when the committees believe the intelligence community is "behaving lawfully and being slimed anyway."
That sliming is what is happening right now, and it is being carried out by the president. But rather than informing the public and functioning as a "validating mechanism" designed to bolster public confidence, House committee Republicans are joining in the sliming in a concerted effort to cripple that public confidence. Now, to be clear, we still don't know all the facts about this alleged "informant." But if and when we do learn them, we may discover that this alliance in sliming between the president and congressional Republicans is worse than we ever thought.
Of course, if that happens, at that point, Trump and Republicans will simply keep telling the story their way, via their massive alternate media network. What do we do then?
The Special Counsel is going to have to add this latest attempt at obstructing his investigation to the long list of attempts at obstruction of justice already under investigation. Who knows what Trump and his allies will come up with this week, or next week?  Members of Congress may be implicated and charged.
The obstruction of justice is ongoing. I don't see how there can be any deadline for concluding the obstruction of justice phase of the investigation.