Update to Senate Republicans prove to be Putin's comrades in election interference.
Greg Sargent and Paul Waldman of the Washington Post report "President Trump's own intelligence officials just released a statement confirming something we all know: Russia is interfering in our election with the express goal of harming Trump's opponent, presumptive Democratic nominee Joe Biden." Trump's own intelligence officials just undercut efforts to smear Joe Biden:
The new ODNI statement contains this judgment:
We assess that Russia is using a range of measures to primarily denigrate former Vice President Biden and what it sees as an anti-Russia "establishment." This is consistent with Moscow's public criticism of him when he was Vice President for his role in the Obama Administration's policies on Ukraine and its support for the anti-Putin opposition inside Russia. For example, pro-Russia Ukrainian parliamentarian Andriy Derkach is spreading claims about corruption – including through publicizing leaked phone calls – to undermine former Vice President Biden's candidacy and the Democratic Party. Some Kremlin-linked actors are also seeking to boost President Trump's candidacy on social media and Russian television.
In an interview, Rep. Adam B. Schiff (D-Calif.), the chair of the House Intelligence Committee, said the new statement from the Office of the Director of National Intelligence (ODNI) confirmed the need for members of Congress to be extra-cautious about Russian efforts to manipulate them with disinformation.
"Members of Congress are on notice and need to be very careful not to advance narratives that may be coming from the Kremlin," Schiff told us.
Schiff told us he sees this statement was "an improvement on previous statements, in that it discloses more information to the public."
But Schiff added: "I still don't feel that it goes far enough in providing some of the information that the public needs and deserves."
"There's more that the IC should be telling the public," Schiff told us, referring to the intelligence community.
The document also contains an assessment that the government of China would prefer to see Trump lose. But critically, it does not suggest that China is actually doing anything to bring that outcome about other than publicly criticizing the Trump administration's policy decisions.
By contrast, the statement is clear that Russia is taking active measures to undermine Biden. So you have to wonder whether the ODNI included this false equivalence with China to muddy the waters, since Trump has privately raged when intelligence officials have taken steps to inform Congress about Russia's intention to help Trump in the election.
"The IC needs to distinguish between the intentions of these foreign powers and the actions of these foreign powers," Schiff told us. "The China section begins by expressing a preference. The Russia section begins by assessing that Russia is actually using active measures to denigrate the Vice President."
Clarifying this further, Schiff said, would allow the public to "put in the proper context where the greatest threats are coming from."
But another, separate aspect of this is also important: It should make it harder for Trump allies to push bogus narratives about Biden.
We're talking about Sen. Ron Johnson (R-Wis.), the chair of the homeland security committee. See, Senate Republicans advance Ukraine probe aimed at Biden despite foreign interference concerns. "Johnson, who is working with Senate Finance Committee Chairman Charles E. Grassley (R-Iowa), has said Democratic objections are a sign that his inquiry is on the right track."
(Johnson told The Hill newspaper that he is planning to publish his report by mid-September, weeks before the Nov. 3 election.)
It isn't often that a U.S. senator has to publicly deny participating in a Russian disinformation campaign, but Johnson recently had to do just that, in connection with his committee's "investigation" into Ukraine, oil and gas company Burisma, and Joe and his son Hunter Biden.
Note: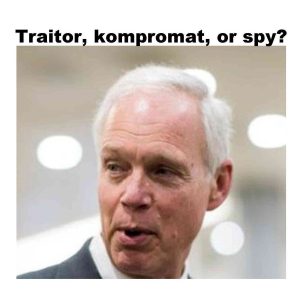 Republican senators voted to acquit President Trump in his impeachment trial for the Ukraine scandal because they are his coconspirators and accessories to aiding and abetting his crime. They are carrying out the crime that the President of Ukraine honorably refused to do.
As you'll note, the new ODNI statement explicitly confirms that the pro-Russian Ukrainian Andriy Derkach's efforts to spread "claims about corruption" to "undermine" Biden's candidacy are also part of this outside Russian interference effort.
Those claims about alleged Biden corruption are part of the series of claims that Johnson is pursuing in his "investigation."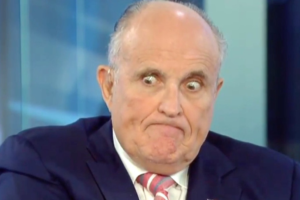 Johnson's probe dredges up some stuff that we heard during Trump's impeachment. In particular, Rudy Giuliani is acting as a conduit for a group of Ukrainians with ties to Russia who appear to be trying to feed questionable information to Johnson.
One of those people is none other than Derkach, who attended the Dzerzhinsky Higher School of the KGB in Moscow and whose father was a KGB officer.
Derkach has sent packets of anti-Biden information to American lawmakers, including Johnson. Derkach has also met with Giuliani and released pieces of recorded conversations Biden had with Ukrainian leaders as vice president.
Those recorded conversations released by Derkach are supposed to confirm a narrative in which Biden, as vice president, helped oust a Ukrainian prosecutor, supposedly as part of an effort to protect Burisma, whose board included Hunter Biden.
But the tapes don't actually confirm that. Instead, they confirm what we already know, which is that Biden was working to oust a corrupt prosecutor, in an effort that was backed by international institutions. The narrative of supposed Biden corruption has been completely debunked.
This has prompted Democrats to ask whether Johnson is using the information Derkach is feeding him to discredit Biden, and to point out that if he is, Johnson may be participating in a Russian disinformation campaign.
This is also why top Democrats have pressed intelligence officials to brief Congress on what they know about this Russian disinformation campaign, specifically on whether intelligence officials assess this information being sent to Johnson is part of that Russian effort.
Johnson has denied using information from Derkach. But he has conceded getting information from Andriy Telizhenko, a former Ukrainian diplomat who, along with Derkach, is working with Giuliani to spread the same story lines about Biden.
Yet Trump's own intelligence officials have now tied those same narratives to a Russian disinformation effort to undermine Biden and interfere in our election. This might not dissuade Johnson from continuing to pursue his "investigation," but it'll make that investigation look a whole lot more ridiculous.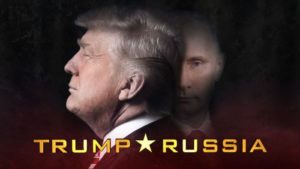 President Donald Trump shrugged off the latest intelligence warning Friday that Russia is "denigrating" presumptive Democratic presidential candidate Joe Biden to get Trump elected again. 'I Don't Care': Trump Responds To Intel That Russia Is Working To Get Him Elected Again.
 "I don't care what anybody says," Trump responded to the new information.
There are two takeaways from this. First, Trump doesn't care because he solicited and will accept Putin's interference in this election, just as he did in 2016. And two, Trump is failing in his duty to defend America's elections against an attack by a malign foreign power, which renders him a traitor.
Trump's refusal to complain to or punish Russia for anti-American actions continues to confound observers. Trump has said he believes Russian President Vladimir Putin's denials that Russia interfered in the 2016 presidential election, even though the U.S. intelligence community has concluded that it did so in a "sweeping and systematic fashion" to sway the vote in Trump's favor.
The president has also recently failed to take any action to punish Russia following revelations that the country was paying bounties to Taliban-linked militia members to kill American soldiers in Afghanistan. He failed to even raise the issue in a recent conversation with Putin.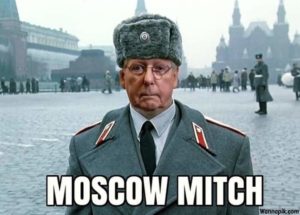 The Democrats only defense against Trump and Senate Republican's complicity in the Russian attack on our elections is to raise holy hell and try to draw the American public's attention to the problem. Democrats' noisy strategy to stop Russian election interference. Democrats have learned their lesson from the Obama administration's soft-pedaled approach to Russian election interference in 2016, in which they showed deference to Republicans in the interest of obtaining a unified bipartisan response, which "Moscow Mitch" McConnell refused. Mitch McConnell should explain why he obscured Russian interference in our election.
Senator Richard Blumenthal today writes in an op-ed at The Post, The threat to U.S. elections is real, and frightening. The public has a right to know.
The warning lights are flashing red. America's elections are under attack.
This week, I reviewed classified materials in the Senate's Sensitive Compartmented Information Facility and received a similarly classified briefing on malign foreign threats to U.S. elections. I was shocked by what I learned — and appalled that, by swearing Congress to secrecy, the Trump administration is keeping the truth about a grave, looming threat to democracy hidden from the American people. On Friday, the Office of the Director of National Intelligence issued a statement that only hints at the threats.
The facts are chilling. I believe the American public needs and deserves to know them. The information should be declassified immediately.
The publicly available facts are terrifying enough. A report released on Wednesday by the State Department outlined in detail attempts by Russian front groups, fake individual online identities and state-funded media to sow disinformation and dissension about U.S. allies around the world. Russian intelligence operations have perfected the art of laundering distorted and fabricated narratives through media networks, covert hacking, international proxies and others to undermine democracies, attack the United States' global image and silence criticism of Russian President Vladimir Putin.
Though the report was focused on Russia's global influence campaign, there is no reason to think the United States is immune from its destructive and destabilizing efforts. The sophisticated tactics and techniques described in the report make Moscow's past interference and nefarious actions look like child's play.
Public sources such as the State Department's report, other intelligence assessments and excellent investigative journalism, as well as special counsel Robert S. Mueller III's fact-finding, have shed some public light on the shadowy world of foreign spying and sabotage threatening U.S. elections from countries including not just Russia but possibly China and Iran. But there is much more — much of it even more chilling.
I understand the utility of a classification system that shields intelligence sources and methods. Responsibly limiting access to sensitive information is a critical tool to safeguard Americans and U.S. allies who collect the intelligence that informs critical national security decisions. Used appropriately, classifying certain information is essential to protecting the country.
But overly broad restrictions do the exact opposite. Unnecessary classification politicizes the national security apparatus and, in this case, keeps the American people in the dark about efforts by foreign adversaries to destroy the bedrock of the nation's democracy: free and fair elections.
The Trump administration's refusal to share with the American public any information about the Russian threat to the November election is simply unacceptable. Making parts of intelligence reports public is hardly unprecedented. In fact, classified reports frequently include declassified summaries in recognition of the fundamental role transparency plays in a functioning democracy.
My Republican colleagues clearly know this, since they have recently requested the declassification of numerous documents related to the FBI investigation of possible links between Russia and the Trump campaign in 2016. The Trump administration has happily accommodated those requests. The White House has no problem with declassification when it protects the president's interests. Why not support declassification to help protect America's democracy?
Instead, by keeping the facts cloaked in secrecy, the Trump administration and its Republican allies on Capitol Hill invite disinformation and give deception a toehold in the American electorate. And it now appears that such disinformation and deception are gaining a toehold in Congress as well:
On Wednesday, The Post reported that Sen. Ron Johnson (R-Wis.), chairman of the Homeland Security and Governmental Affairs Committee, is moving ahead with an investigation into presumptive Democratic presidential nominee Joe Biden's family using documents provided to the senator by the son of a former KGB officer. Johnson's actions are of such concern to the CIA, according to news reports, that the agency has refused to brief him. Think of it: Congress may become a forum for debunked conspiracy theories peddled by Kremlin proxies.
There is no excuse for perpetuating Russian disinformation in the U.S. Senate, just as there is there is no excuse for barring the American public from learning more about the genuine foreign threats to the November election. The Trump administration appears to be failing to take the danger seriously, failing to prepare adequately.
Protecting the nation's democratic values should be a bipartisan imperative. Those of us in Washington should not risk looking back and saying, if only we'd known, we could have done something. We do know. We can do something. It starts with sharing the truth.
You can't swing a dead cat in the Republican Party without hitting a Putin-loving traitor.