The New York Times reported last week that top Justice Department and FBI officials "suspect that some GOP lawmakers were using their oversight authority to gain intelligence" about the Special Counsel's evidence and work product in the Russia probe that could be handed over to the White House.
As I previously explained, GOP House Freedom Caucus members are accessories to a conspiracy for obstruction of justice.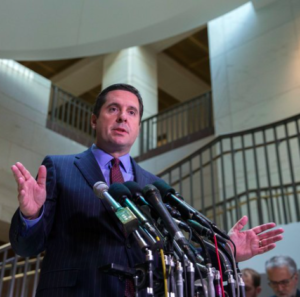 But no one has been more blatant in his attempts to obstruct justice than Midnight Run Devin Nunes (R-CA), Chairman of the House Intelligence Committee.
Daily Kos reported Nunes threatens to hold Sessions 'in contempt' for not turning over documents he doesn't even read:
[Nunes] has routinely demanded documents from the Department of Justice be handed over to him that, given the chance to review instead of actually take into his possession, he has declined to read.
Unfortunately, the fact that Nunes chairs the House Intelligence Committee is more than just a perverse joke by the universe, since he's wielding his ignorance like a battering ram against the Justice Department's special counsel investigation into Russia's 2016 election interference.
On Sunday, Nunes threatened anew to hold a Justice Department official "in contempt" of Congress for not producing more documents he has no interest in actually reading. This time, Attorney General Jeff Sessions found himself in the crosshairs alongside Deputy Attorney General Rod Rosenstein, who has previously earned Nunes' uninformed ire.
"The only thing left to do is we have to move quickly to hold the attorney general of the United States in contempt and that is what I will press for this week," Nunes told Fox News.
The Washington Post reports, Secret intelligence source who aided Mueller probe is at center of latest clash between Nunes and Justice Dept.:
Last Wednesday, senior FBI and national intelligence officials relayed an urgent message to the White House: Information being sought by House Intelligence Committee Chairman Devin Nunes could endanger a top-secret intelligence source.
Top White House officials, with the assent of President Trump, agreed to back the decision to withhold the information. They were persuaded that turning over Justice Department documents could risk lives by potentially exposing the source, a U.S. citizen who has provided intelligence to the CIA and FBI, according to multiple people familiar with the discussion and the person's role.
The showdown marked a rare moment of alignment between the Justice Department and Trump, who has relentlessly criticized Attorney General Jeff Sessions and other top Justice officials for the probe into Russia's interference in the 2016 election led by special counsel Robert S. Mueller III.
But it is unclear whether Trump was alerted to a key fact — that information developed by the intelligence source had been provided to the Mueller investigation.
The debate over the risk to the source is now at the center of a pitched battle between House Republicans and the Justice Department.
After the White House sided with the department's decision to refuse the request, Nunes (R-Calif.) publicly vented his frustration, saying Sunday that he may try to hold Sessions in contempt for refusing to comply.
* * *
For the intelligence agencies, Nunes's request threatened to cross a red line of compromising sources and methods of U.S. intelligence-gathering, according to people familiar with their views. Intelligence officials fear that providing even a redacted version of the information Nunes seeks could expose that person and damage relationships with other countries that serve as U.S. intelligence partners.
As Mark Sumner of Daily Kos explains:
The reason it could endanger that source is that Nunes has demonstrated that he is willing to leak, distort information, and collaborate with the White House in any way that he can in order to obstruct the investigation into connections with Russia. And even Donald Trump appears willing to concede that Nunes wouldn't let a little thing like endangering the value—and life—of a U.S. source stand in the way.
Nunes had previously been told by the DOJ that his attempts to extract documents about an ongoing investigation were potentially harmful to the completion of that investigation. But that only confirmed what Trump's reliable investigation-wrecker wanted to hear. If he can force the DOJ to turn over inside information on what special counsel Robert Mueller's team has collected, Nunes can then feed that information back to Trump, making it possible to mount the best defense—or for Trump to fire Mueller before the information becomes public. And if it means putting the lives of U.S. sources in danger, that seems a risk that Nunes is entirely willing to take.
* * *
It seems more certain than ever that many members of the Trump team are in serious trouble over both instances of conspiracy and obstruction.
That's a group that could not only include Donald Trump, but could easily pull in transition team member Devin Nunes, who is not giving up in his fight to spoil the investigation, no matter what it takes.
Nunes isn't letting appeals to his conscience, or common sense, get in his way.
The leader of the House Intelligence Committee is threatening to move quickly on a vote to hold Attorney General Jeff Sessions in contempt of Congress if the Department of Justice doesn't turn over material related to the Russia investigation.

Chairman Devin Nunes said it doesn't matter that Sessions recused himself from decisions regarding Russia's involvement in the 2016 election; he's the head of the Justice Department, so he would be the initial target of a contempt resolution.
The FBI and DOJ have made it clear that even a redacted version of the information Nunes is after would be dangerous, not just to the investigation, but to the source. Even the nature of the information the documents would reveal would likely make the placement and access of the source clear, and make determining the actual name of the source a simple matter.
Genuine lives are at stake. But Nunes is insisting that his right to "oversight" of the DOJ trumps the value of those lives. He knows from the way the DOJ is trying to protect this information that it is important. So, just as he did when he bypassed intelligence concerns over the contents of his infamous "release the memo" memo, Nunes is determined to put in his dagger where it does the most harm.
* * *
The reasons for not trusting Nunes are excellent. More than a year ago, Nunes was forced to step aside from his role at the helm of the House Intelligence Committee's investigation into connections between the Trump campaign and Russia after it became clear that this discoveries about so-called "unmasking" by officials of the Obama administration were not just false, but generated within the Trump White House. And Nunes faced a visit to the ethics committee specifically over:
… allegations that "Nunes may have made unauthorized disclosures of classified information, in violation of House Rules, law, regulations, or other standards of conduct."
The Republican-led committee eventually dropped the allegations against Nunes, and he never actually stepped away from taking an active role in the House Intelligence Committee. Throughout the aborted investigation, he blocked all Democratic subpoena requests for documents, and refused to call witnesses that Democrats requested — including Russian oligarch Viktor Vekselberg.
It seems as if Devin Nunes is protecting Russian oligarchs and endangering U.S. sources … and yes, there is a name for that.
But it's also possible that Nunes is only protecting Nunes. Maybe it's time for the DOJ to check and make sure that Devin Nunes hasn't been on the receiving end of a "funnel" [from Michael Cohen].
Nunes still has the support of his enabler, House Speaker Paul Ryan, who is backing Nunes' attempts to reveal a top-secret intelligence source in Russia probe:
House Speaker Paul Ryan stands with Nunes.
For the intelligence agencies, Nunes's request threatened to cross a red line of compromising sources and methods of U.S. intelligence-gathering, according to people familiar with their views. Intelligence officials fear that providing even a redacted version of the information Nunes seeks could expose that person and damage relationships with other countries that serve as U.S. intelligence partners. […]On Tuesday, House Speaker Paul D. Ryan (R.-Wis.) said he had not discussed the matter with Nunes but added that he expected congressional subpoenas to be enforced.

"We expect the administration to comply with our document requests," Ryan said.
To be clear, it is evident that Rep. Devin Nunes only wants this information so that he can leak it. Even the intelligence community itself appears to be coming to that conclusion; it has, after all, been his role throughout the Russia investigation, going so far as to scurry to the White House itself in the early days to loudly leak information he believed would undermine the probe. Information given to Nunes' committee has been regularly, and speedily, leaked throughout the process. Nunes' reasons for going so far on Trump's behalf remain unclear, but at the least his actions continue to tip potential targets of the investigation, including those close to Trump, as to just what the Mueller team has or hasn't discovered.
It is almost certain that the identity, or hints as to the identity, of the intelligence agent being protected here will be leaked once information is provided to Nunes and his allies, which is why the Department of Justice is so far adamantly refusing to provide it. Nunes isn't willing to accept their refusals, and Speaker Paul Ryan is still backing Nunes in his efforts to sabotage the Russia investigation at apparently any cost.
Politico reports that "Key House Republicans said Tuesday they think President Donald Trump will override the Justice Department's refusal to turn over documents that top officials there say would endanger national security and risk lives." GOP lawmakers confident Trump will override DOJ on Nunes' request:
"We're counting on the president to do the right thing," (sic) said Rep. Peter King (R-N.Y.), a member of the House Intelligence Committee.
Yes, Trump putting the life of a top-secret source and his entire network of contacts at risk in order to undermine the Special Counsel's investigation of himself is "the right thing." These traitorous Republicans are shameless.
UPDATE: Remember how Rep. Devin Nunes fabricated the now debunked conspiracy theory that National Security Advisor Susan Rice "improperly" unmasked Trump campaign officials in the Russia investigation? The shoe is on the other foot now for this compromised Russian asset. Rosenstein to meet Nunes, Gowdy in last-ditch effort to block unmasking of U.S. intelligence source:
For some reason that we will all still pretend to not understand, Rep. Devin Nunes continues to be very, very insistent in requesting details of a U.S. intelligence source involved in the Russia probe. Now there's yet another last-ditch effort to prevent that unmasking by top officials—but it's not likely to appease the single-minded Nunes.
In a late Tuesday phone call with top GOP lawmakers, White House Chief of Staff John Kelly and Deputy Attorney General Rod Rosenstein offered to meet with key House members at the Justice Department on Thursday to discuss the issue. But they stopped short of promising full access to the material they're requesting, the sources said. […]The lawmakers spoke to Kelly amid a last-ditch blitz by the Justice Department and FBI to convince the White House that sharing the information the Republicans were seeking would jeopardize national security.
At this point is is evident Devin Nunes sincerely does not care whether the disclosure would jeopardize national security, and Kelly and Rosenstein both likely know that. The Justice Department has flatly warned Nunes and House Republican leadership that any leak of the requested materials could result in the "loss of human lives", among other consequences; Nunes and allies aren't backing off.
Nunes is also publicly lying about the request he's making. As in, he is flat out lying, according to CNN.
The Washington Post reported Tuesday that the FBI and national intelligence officials warned the White House last week that information requested by Nunes could put a confidential US intelligence source at risk, but Nunes and other House Republicans have since claimed that his document request did not refer to a specific individual.However, CNN reviewed a copy of the non-classified appendix to last week's subpoena, which directly requests "all documents referring or related to the individual referenced in Chairman Nunes' April 24, 2018 letter to Attorney General Sessions."
Hey, so he's a liar. Go figure.