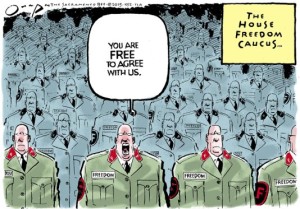 Members of the GOP House Freedom Caucus — led by Rep. Mark Meadows (R-N.C.), a Trump confidant — have been engaged in disputes with Deputy Attorney General Rod Rosenstein over the Justice Department's response to congressional requests for documents about the decisions and behavior of federal law enforcement officials working on the Russia investigation and other federal probes, including the investigation into 2016 Democratic presidential nominee Hillary Clinton's email server.
The purpose of these members of Congress is to run interference for the Trump administration with the Special Counsel, and to "investigate the investigators" to undermine public confidence in the DOJ nd FBI. In short, they are accessories to a conspiracy for the obstruction of justice in the Russia investigation.
Congress is not entitled to review evidence or work product in an ongoing criminal investigation by the Department of Justice. DOJ Rules provide:
1-7.400 – Disclosure of Information Concerning Ongoing Criminal, Civil, or Administrative Investigations
Any communication by DOJ personnel with a member of the media relating to a pending investigation or case must be approved in advance by the appropriate United States Attorney or Assistant Attorney General, except in emergency circumstances. For administrative investigations not overseen by a U.S. Attorney or Assistant Attorney General, approval must be obtained from the Assistant Attorney General for Administration. Where the investigation is being handled by the Office of the Inspector General, approval must come from the Inspector General.
DOJ generally will not confirm the existence of or otherwise comment about ongoing investigations. Except as provided in subparagraph C of this section, DOJ personnel shall not respond to questions about the existence of an ongoing investigation or comment on its nature or progress before charges are publicly filed.
When the community needs to be reassured that the appropriate law enforcement agency is investigating a matter, or where release of information is necessary to protect the public safety, comments about or confirmation of an ongoing investigation may be necessary, subject to the approval requirement in subparagraph A.
[updated April 2018]
Nevertheless, DOJ has previously provided Congress with hundreds of texts between ex-Mueller team agent Peter Strzok and alleged mistress Lisa Page in pursuit of a right-wing conspiracy theory. And DOJ recently turned over redacted Comey memos to congressional committees.
Within minutes after Republicans received these investigation materials, they were selectively leaked to the media. AP obtains Comey memos on Trump interactions. Congressional Republicans have not demonstrated that they are acting within the confines of legitimate congressional oversight, or even in good faith.
Despite the fact that Deputy Attorney General Rod Rosenstein has violated DOJ Rules in having already given Republican lawmakers access to hundreds of thousands of pages of documents from an ongoing criminal investigation, they still are not satisfied.
The Washington Post reports, Trump-allied House conservatives draft articles of impeachment against Rosenstein as 'last resort':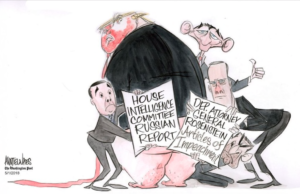 Conservative House allies of President Trump have drafted articles of impeachment against Deputy Attorney General Rod J. Rosenstein, who oversees the ongoing special counsel probe, setting up a possible GOP showdown over the federal investigation into Russian interference in the 2016 election.
The document, which was obtained by The Washington Post, underscores the growing chasm between congressional Republican leaders, who have maintained for months that special counsel Robert S. Mueller III should be allowed to proceed, and rank-and-file GOP lawmakers who have repeatedly battled the Justice Department during the past year.
The draft articles, which one of its authors called a "last resort," would be unlikely to garner significant support in Congress. But the document could serve as a provocative political weapon for conservatives in their standoff with Mueller and the Justice Department.
* * *
The Freedom Caucus, which counts a few dozen House Republicans as members, is one of the more influential blocs in Congress because of its ability to drive debates to the right inside the House and Meadows's close relationship with the president.
Still, the group's impeachment draft would face many challenges if it were referred to the House Judiciary Committee for consideration. Republican leaders have kept their distance from calls to remove Rosenstein from office, and Democrats have argued that the GOP's clashes with the deputy attorney general are little more than a pretext to weaken Mueller's efforts.
* * *
A spokesperson for the House Judiciary Committee declined to comment on the draft or the prospect of impeachment proceedings. A Justice Department spokesman also declined to comment on the draft.
Democrats have said that conservative criticisms of Rosenstein are aimed at protecting Trump.
The impeachment draft perpetuates the debunked right-wing conspiracy theory oft-repeated by Trump Propaganda Minister Sean Hannity on his show on FAUX News aka Trump TV:
The draft criticizes Rosenstein's disclosure of materials related to a classified [FISA] surveillance warrant application and subsequent renewals targeting former Trump campaign adviser Carter Page. Conservatives have alleged the Justice Department acted inappropriately because the department relied on information in its warrant applications [from the Steele dossier] that was funded, in part, by Clinton's presidential campaign.
The FISA warrants were approved by multiple DOJ officials and by multiple FISA Court judges. Carter Page was under surveillance for his role in a Russian spy ring since 2013, long before he joined the Trump campaign. Russian Spies Tried to Recruit Carter Page Before He Advised Trump. The right-wing conspiracy theory that the Russian investigation began with the Steele dossier has been debunked. How the Russia Inquiry Began: A Campaign Aide, Drinks and Talk of Political Dirt:
Exactly how much Mr. Papadopoulos said that night at the Kensington Wine Rooms with the Australian, Alexander Downer, is unclear. But two months later, when leaked Democratic emails began appearing online, Australian officials passed the information about Mr. Papadopoulos to their American counterparts, according to four current and former American and foreign officials with direct knowledge of the Australians' role.
The hacking and the revelation that a member of the Trump campaign may have had inside information about it were driving factors that led the F.B.I. to open an investigation in July 2016 into Russia's attempts to disrupt the election and whether any of President Trump's associates conspired.
Mr. Papadopoulos, who pleaded guilty to lying to the F.B.I. and is now a cooperating witness, was the improbable match that set off a blaze that has consumed the first year of the Trump administration.
You really have to ask yourself why Republicans are so hell-bent on defending Carter Page, who has been openly sympathetic to and "colluded" with the Putin regime. After months of public denials, Carter Page admits he told Trump officials about meeting with Russians.
The latest impeachment gambit by the GOP House Freedom Caucus is getting airplay on Trump TV for its exclusive audience of one, the obstructer-of-justice-in-chief. Trump Assails Justice Dept., Siding With House Conservatives in Dispute:
President Trump plunged on Wednesday into the simmering dispute between conservative House Republicans and the deputy attorney general, Rod J. Rosenstein, siding with the lawmakers and attacking his own Justice Department.
Mr. Trump called the legal system "rigged" in a tweet and gave voice to the complaints of a small group of congressmen who have assailed the Justice Department as slow or unresponsive to their demands to produce sensitive documents that the lawmakers say they need to conduct oversight.
"At some point I will have no choice but to use the powers granted to the Presidency and get involved!" Mr. Trump wrote. It was not immediately clear which presidential powers Mr. Trump was referring to, but he has been critical of Mr. Rosenstein, who is overseeing the special counsel investigation and, by law, is the only one who can shut down the inquiry or fire the special counsel, Robert S. Mueller III.
Mr. Rosenstein and the small group of House Republicans who are loyal to Mr. Trump have been facing off for months, as the lawmakers have demanded greater access to documents and information related to some of the departments most politically charged cases, including the Russia inquiry. Mr. Rosenstein, aware of the threats against him, has maneuvered to try to meet those requests and reached an agreement last week with two Republicans who run the committees that conduct oversight of the Justice Department to satisfy the last of their outstanding demands.
But those efforts have not quieted two of Mr. Trump's most loyal supporters on Capitol Hill, Representatives Mark Meadows of North Carolina and Jim Jordan of Ohio. In an unusual show of defiance of their committee chairman, they have insisted the agreement is not good enough and that they need access to an unredacted version of an August 2017 memo outlining the scope of Mr. Mueller's investigation.
Democrats fear that the Republican requests — many of which call on the department to ignore longstanding policy about what it shares with Congress — are meant to trap Mr. Rosenstein into either turning over information that could be used to undermine Mr. Mueller's investigation or refusing, thereby giving Mr. Trump cover, or even cause, to fire the deputy attorney general.
This is exactly what these accessories to obstruction of justice are doing.
Representative Jerrold Nadler of New York, the top Democrat on the Judiciary Committee, said the latest Republican efforts were "clearly trying to sabotage" the Mueller investigation and court a confrontation with Mr. Rosenstein.
"All of this noise is aimed at undermining the special counsel's work as the investigation closes in on the president," Mr. Nadler said in a statement. "The president's attacks on the Department of Justice grow more paranoid by the day. The case for obstruction of justice — and the complicity of these House Republicans — grows day by day as well."
Mr. Rosenstein, who has already given the Republican lawmakers access to hundreds of thousands of pages of documents, has made clear in recent days that he does not intend to go further.
The Justice Department wrote to Mr. Meadows and Mr. Jordan on Monday to deny them access to the document about the scope of the Russia inquiry, citing department policy against sharing information on a continuing investigation.
"The department recognizes the keen interest that Congress has in the special counsel's investigation, but, respectfully, we must adhere to the longstanding position of the department that congressional inquiries pertaining to ongoing criminal investigations threaten the integrity of those investigations," Stephen E. Boyd, an assistant attorney general, wrote in the letter, a copy of which was provided to The Times."
We hope you can respect our position," he added.
On Tuesday, Rosentein defended himself against the Republican assaults on the Department of Justice and the rule of law in America. Justice Dept. Won't Be Extorted, Rosenstein Warns Republicans:
After months of conceding to demands from a small group of House Republicans for more visibility into continuing investigations, the deputy attorney general, Rod J. Rosenstein, pushed back on Tuesday, declaring that the Justice Department "is not going to be extorted."
The rebuke from Mr. Rosenstein was at odds with his earlier actions.
Mr. Rosenstein said he had been threatened, though he did not name the Republicans.
"There have been people who have been making threats, privately and publicly, against me for quite some time," he said. "And I think they should understand by now, the Department of Justice is not going to be extorted."
He accused the Republicans of leaking their own draft articles of impeachment to reporters and said he would not comment on a document "no one has the courage to put their name on," drawing a distinction from how the Justice Department prosecutes cases.
"If we're going to accuse somebody of wrongdoing, we have to have admissible evidence and credible witnesses," Mr. Rosenstein said. "We need to prepare to prove our case in court. And we have to affix our signature to the charging document."
GOP House Freedom Caucus chair Mark Meadows fired back, saying that Mr. Rosenstein was stonewalling legitimate oversight requests and calling on him to resign.
"If he believes being asked to do his job is 'extortion,' then Rod Rosenstein should step aside and allow us to find a new deputy attorney general — preferably one who is interested in transparency" (i.e., someone who will accede to his every demand).
It is Mark Meadows and every member of the GOP House Freedom Caucus who should resign for violating their oaths of office. The Special Counsel should probably charge them as accessories to obstruction of justice, but that is unlikely. Americans have an obligation to remove these lawless GOP members from Congress in November, in order to uphold the rule of law.
In Arizona, this includes Reps. Andy Biggs, Paul Gosar and David Schweikert.