When he was confirmed as deputy attorney general and became the acting attorney general for purposes of the Trump-Putin campaign investigation, Rod Rosenstein said he sees no need for a special prosecutor in Russia probe: "One source says Rosenstein isn't inclined to make a change unless the FBI investigation appears to be imperiled."
That was before Donald Trump fired FBI Director James Comey and threw Rod Rosenstein under the bus by initially (falsely) asserting that he was acting on the recommendations of a memo prepared by Rosenstein. Trump blames everyone but himself for his problems. The Justice Department just blamed him. The Justice Department tacity admitted that: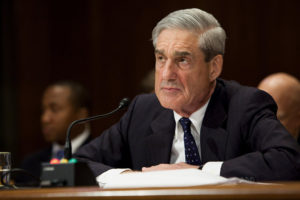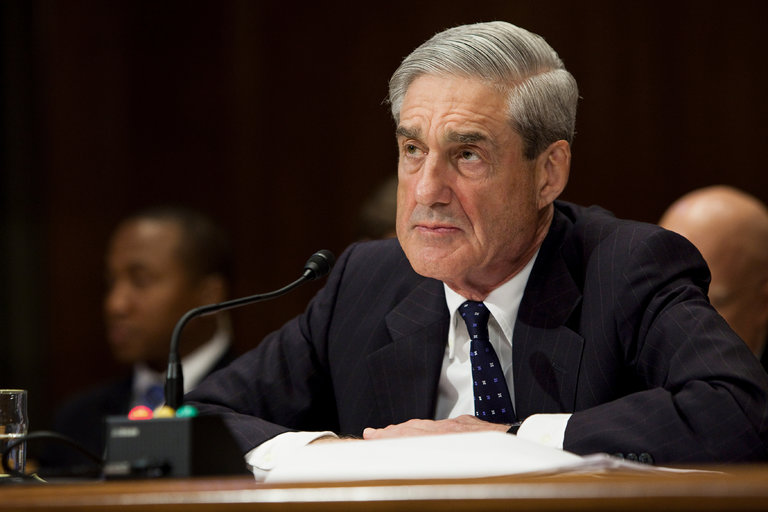 [Trump] had badly damaged the credibility of the FBI's Russia investigation by announcing the probe would now be handled by a special counsel, former FBI director Robert S. Mueller III.
The bombshell revelation represents a startling admission of fault for the administration — if not the White House directly. This was a Justice Department decision about which the White House reportedly learned shortly before it was announced.
"What I have determined is that based upon the unique circumstances the public interest requires me to place this investigation under the authority of a person who exercises a degree of independence from the normal chain of command," Deputy Attorney General Rod J. Rosenstein said in a statement.
Rosenstein is scheduled to appear for an all-Senate briefing on Thursday. Rosenstein's appointment of special counsel serves as olive branch on eve of Senate appearance:
Deputy Attorney General Rod J. Rosenstein offered a major olive branch Wednesday to his biggest critics less than 24 hours before he was set to walk into the lion's den — an all-Senate briefing on the investigation of the Russian incursion into the 2016 presidential campaign.
Barely three weeks after a resounding 94-to-6 confirmation vote, Rosenstein's previously stellar reputation as a prosecutor's prosecutor had been thrown into question amid the fallout of President Trump's abrupt firing last week of James B. Comey as FBI director.
Democrats had gone from voicing cautious optimism to some calling for his resignation after Trump's allies cited a Rosenstein memo as the reason for Comey's dismissal.
Democrats mocked the quality of Rosenstein's writing and research. They noted that Attorney General Jeff Sessions's recusal from the investigation left Rosenstein as the man holding the power to appoint a special prosecutor to handle the Russia case, and Minority Leader Charles E. Schumer (D-N.Y.) convened an early Wednesday afternoon huddle of Democrats to plot strategy about how to force Rosenstein's hand.
"Rosenstein's credibility is on a very shaky foundation with many of my colleagues. He needs to be forthright, thorough, responsive to have any hope of restoring the confidence of many of my Democratic colleagues," Sen. Christopher A. Coons (D-Del.), who enthusiastically voted to confirm Rosenstein April 25, said Wednesday.
At 6 p.m. Wednesday, Rosenstein gave into those demands and appointed Robert S. Mueller III, the FBI director for 12 years before Comey, as the special counsel to conduct the investigation into Russian meddling and any ties to the Trump presidential campaign. Mueller, who became FBI director a week before the Sept. 11, 2001, terrorist attacks, guided the bureau into a wartime footing focused on protecting the homeland.
Democrats were quick to applaud Rosenstein's appointment of Mueller, who became a close ally of Comey's while he served as deputy attorney general in 2003 and 2004. In one dramatic standoff, Mueller, Comey and other senior Justice Department officials threatened to resign en masse over a dispute related to warrantless wiretapping.
But Rosenstein will still face tough questions from Democrats and Republicans who want to understand the timeline of events over the past nine days.
"We'll have a chance to ask him about the scope of Sessions recusal, about the Comey firing, about his memo," Sen. Claire McCaskill (D-Mo.) said before the Mueller announcement.
Sen. Jeff Flake (R-Ariz.), a member of the Judiciary Committee, said he wants to know if Rosenstein had seen or heard about Comey's interactions with the president — which have come to light in notes that the FBI director filed away after each meeting — before Rosenstein wrote his analysis of Comey's FBI tenure that was released upon his dismissal.
"Obviously people are going to want to know if he got that memo before he wrote his memo, if he got his Comey memo before he wrote his Comey memo. That's the big question," Flake said.
The Mueller appointment was greeted with a deep sigh of relief among Republicans. Each day, with each new revelation, more Republicans came closer to calling for a special counsel but usually with a caveat of "maybe" the time had come for such a step. They were hesitant to call for such an investigation of a president from their own party, but they were weary from being on the defensive as Trump allegations mounted.
Now, with such a respected appointee overseeing the investigation, Republicans have a ready-made defense to shield themselves from inquiries: Bob Mueller is going to get to the bottom of this.
The New York Times reports, Robert Mueller, Former F.B.I. Director, Is Named Special Counsel for Russia Investigation:
The Justice Department appointed Robert S. Mueller III, a former F.B.I. director, as special counsel on Wednesday to oversee the investigation into ties between President Trump's campaign and Russian officials, dramatically raising the legal and political stakes in an affair that has threatened to engulf Mr. Trump's four-month-old presidency.
* * *
By appointing Mr. Mueller, a former federal prosecutor with an unblemished reputation, Mr. Rosenstein could alleviate uncertainty about the government's ability to investigate the questions surrounding the Trump campaign and the Russians.
Mr. Rosenstein said in a statement that he concluded that "it is in the public interest for me to exercise my authorities and appoint a special counsel to assume responsibility for this matter."
"My decision is not a finding that crimes have been committed or that any prosecution is warranted," Mr. Rosenstein added. "I have made no such determination."
Mr. Mueller's appointment capped a day in which a sense of deepening crisis swept over Republicans in Washington. Republican congressional leaders, normally reluctant to publicly discuss White House political drama or the Russia investigation, joined calls for Mr. Comey to share more about his encounters with Mr. Trump.
The Republican chairmen of the Senate Judiciary and Intelligence committees and the House Oversight Committee all asked Mr. Comey to testify before their panels. They also requested that the F.B.I. turn over documentation of Mr. Comey's interactions with his superiors in both the Obama and Trump administrations, including a memo Mr. Comey is said to have written about Mr. Trump's request that he quash the investigation into Mr. Flynn.
While Mr. Mueller remains answerable to Mr. Rosenstein — and by extension, the president — he will have greater autonomy to run an investigation than other federal prosecutors.
As a special counsel, Mr. Mueller can choose whether to consult with or inform the Justice Department about his investigation. He is authorized to investigate "any links and/or coordination between the Russian government and individuals associated with the campaign of President Donald Trump," according to Mr. Rosenstein's order naming him to the post, as well as other matters that "may arise directly from the investigation." He is empowered to press criminal charges, and he can request additional resources subject to the review of an assistant attorney general.
NOTE: Erwin Chemerinsky and Eric M. Freedman explain in an op-ed that Naming Robert Mueller as special counsel isn't enough — because Trump can get rid of him: "Without the protection of the independent counsel law, however, Trump can order Rosenstein to fire Mueller, and fire Rosenstein if he refuses. Congress should therefore renew the independent counsel statute providing for the appointment of a special prosecutor, one who cannot be fired by the president or the attorney general."
Mr. Trump was notified only after Mr. Rosenstein signed the order, when the White House counsel, Donald F. McGahn II, walked into the Oval Office around 5:35 p.m. to tell him. Mr. Trump reacted calmly but defiantly, according to two people familiar with the situation, saying he wanted to "fight back."
He quickly summoned his top advisers, most of whom recommended that he adopt a conciliatory stance. But his son-in-law, Jared Kushner, who had pushed Mr. Trump to fire Mr. Comey, urged the president to counterattack, according to two senior administration officials.
After a brief discussion, however, the majority prevailed. Aides huddled over a computer just outside the Oval Office to draft the statement accepting Mr. Rosenstein's decision and asserting the president's innocence.
By the end, Mr. Trump was uncharacteristically noncombative, according to people close to him.
* * *
It was only the second time that the Justice Department has named a special counsel. The first was in 1999, the year the law creating the position took effect. Attorney General Janet Reno appointed John Danforth, a former Republican senator from Missouri, to investigate the botched federal raid on the Branch Davidian compound in Waco, Tex., in 1993 that killed 76 people.
This initial "conciliatory stance" was gone this morning with yet another Twitter storm from our always insecure egomaniacal Twitter-troll-in-chief. Like all conservatives, Trump wallows in perceived grievances and a sense of victimhood. Trump Calls Himself the Victim of a 'Witch Hunt':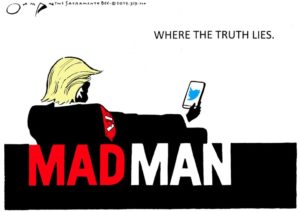 President Trump lashed out on Thursday, saying he was the target of an unprecedented witch hunt, a day after the Justice Department appointed a special counsel to investigate ties between his presidential campaign and Russian officials.
In a pair of early morning tweets, Mr. Trump cited, without evidence, what he called the "illegal acts" committed by the administration of his predecessor, Barack Obama, and the campaign of his former opponent, Hillary Clinton — and said they never led to the appointment of a special counsel.
"With all of the illegal acts that took place in the Clinton campaign & Obama Administration, there was never a special councel appointed!" Mr. Trump wrote, misspelling counsel.
Moments later, Mr. Trump added, "This is the single greatest witch hunt of a politician in American history!"
The tweets, shortly before 8 a.m., were a stark contrast to his muted reaction to the announcement on Wednesday evening that Robert S. Mueller III, a former F.B.I. director, had been named to investigate ties between the Trump campaign and Russian officials.
* * *
Mr. Trump's sense of grievance over the Russia investigations had been deepening even before the naming of a special counsel. During a commencement address at the United States Coast Guard Academy on Wednesday, the president abruptly diverted from his uplifting theme to complain that "no politician in history" had been treated "more unfairly" than him.
Richard Nixon reportedly got drunk and wandered the halls of the White House talking to the paintings of former presidents hanging on the wall during the Watergate scandal. Donald Trump resorts to his phone and displays his mental disorders on Twitter for all the world to see.