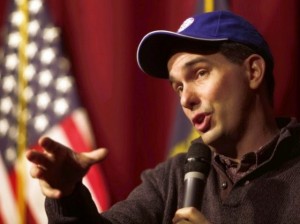 Donald Trump entered the GOP presidential race on June 16, beginning the media's fixation with "The Summer of Trump."
Even so, on July 1, Governor Scott Walker, "the goggle-eyed homunculus hired by Koch Industries to run their Midwest subsidiary formerly known as the state of Wisconsin," was still leading the GOP field in Iowa. Scott Walker leads new Iowa GOP poll | OnPolitics.
What has happened since then has been one of the greatest collapses of a political campaign in recent memory. On Sunday, a new national CNN/ORC poll showed Scott Walker with less than one percent support after the second GOP presidential primary debate, or as crooksandliars.com put it, Scott Walker Sinks To Asterisk (*) Level In New CNN Poll. The campaign death watch was officially on.
Today, Governor Scott Walker called it quits. Scott Walker suspends presidential campaign:
Wisconsin Gov. Scott Walker is suspending his presidential campaign Monday, according to several Republicans briefed on his plans, effectively ending a once-promising GOP presidential bid that collapsed amid tepid debate performances and other missteps. He planned to speak to reporters at a 5 p.m. CT press conference in Madison, Wis.
Walker, had enjoyed from top-tier status when he launched his bid earlier this year, had seen his candidacy wilt in the heat of a summer dominated by Donald Trump.
Walker's backers saw a campaign discombobulated by Trump's booming popularity and by his provocative language on immigration, China and other issues. They saw in Walker a candidate who — in contrast to the discipline he showed in state races — continued to commit unforced errors, either out of lack of preparation or in an attempt to grab part of the flamboyant businessman's following.
* * *
The large cadre of staff and paid consultants around Walker had been on what one called a "death watch" for the past several weeks, and it was clear to many that a single bad debate performance would spell the beginning of a dramatic downsizing of Walker's campaign, with Walker staffers bracing for spending cuts, layoffs and a shake-up in the campaign leadership; following the last debate, there had been louder and louder calls from many donors and fundraisers for Walker to replace his campaign manager, Rick Wiley.
Then came the CNN poll on Sunday that was like a punch in the gut: The governor who had once been considered one of the front-runners was now polling at less than one percent – so low that he received an asterisk on some charts instead of an actual number. A heavy cloud fell over the campaign.
Over the weekend, Walker skipped two previously scheduled appearances in Michigan and California, angering Republicans in states with high numbers of delegates, so that he could instead spend more time in Iowa. There, he struck several people as looking exhausted and beaten down.
Still, the candidate kept his deliberations to quit the race very close, with most staff, including senior aides, finding out only Monday that he had decided to suspend his campaign later in the day.
[See Fired Scott Walker staffer takes a victory lap on Twitter – Vox.com.]
On key issues of the day — from calls to end birthright citizenship to the jailing of a Kentucky county official who refused to issue same-sex marriage licenses — Walker struggled more than other candidates to clearly explain where he stood.
His verbal missteps — often the result of answering questions on the campaign trail with responses that he was forced to amend and later clarify — had been a topic of concern among his own loyalists. Last month, he twice found himself forced to clarify something he had said, first on whether he supported an end to birthright citizenship and again after an offhand answer that suggested he favored building a wall on the U.S.-Canadian border.
Angst had built among Walker's top fundraisers and donors in the last two weeks as his poll numbers plummeted in Iowa and nationwide. Some backers had begun to fear that, as a result of his drop in the polls, Walker had adopted a persona that didn't square with his low-key demeanor and personality. As one person who has known him for some years put it, the tough-guy approach — including his recent promises to "wreak havoc" on Washington — was not a good fit.
* * *
Rival campaigns began contacting top Walker donors to urge them to come aboard even before the Wisconsin governor confirmed he was bowing out. Vin Weber said Bush's campaign was aggressively reaching out to Walker donors and staffers Monday afternoon. "We thought it happened a little sooner than expected, but it was inevitable. There was not a path back for him, based on his performance as a candidate. And even though he was an asterisk in the polls, his decision will help to clarify the race, sending a strong message to other candidates who aren't registering to move on and get the party down to 5 or 6 candidates who are viable."
Two takeaways from this spectacular flameout: First, thank you Donald Trump for destroying Scott Walker's campaign; it may be the only decent thing that you have ever done. Second, Walker was the favorite son of David and Charles Koch, so what does this say about the influence of their political organization and money in GOP politics?
There is a lesson in here for Governor Doug Ducey, the ice cream man hired by Koch Industries to run their Southwest subsidiary formerly known as the state of  Arizona.