NBC News reports, Supreme Court formally rejects Trump election challenge cases:
The Supreme Court on Monday formally rejected a handful of cases related to the 2020 election, including disputes from Pennsylvania that had divided the justices just before the election.
The cases the justices rejected involved election challenges filed by former President Donald Trump and his allies in five states President Joe Biden won: Arizona, Georgia, Michigan, Pennsylvania and Wisconsin.
UPDATE: Election lawsuit from Arizona GOP chair Kelli Ward denied hearing by U.S. Supreme Court:
The U.S. Supreme Court will not consider Arizona Republican Party leader Kelli Ward's claim she was denied due process when challenging the state's presidential election results.

Nor will justices review Ward's constitutional challenge of the federal "safe harbor" deadline, the cutoff by which states must resolve election disputes to guarantee Congress will count their electors' votes.
Other than the disputes from Pennsylvania, the justices' decision not to hear the cases was unsurprising. The court had previously taken no action in those cases and in January had turned away pleas that the cases be fast-tracked, again suggesting the justices were not interested in hearing them.
Penn. Lt. Gov. Fetterman on SCOTUS: "Apparently losing once in Pennsylvania wasn't enough for Trump, so he decided to take it to court and lose 68 more times … The former President is not leaving empty handed, as he secured 100% of the dead relative vote in the commonwealth."

— Kyle Griffin (@kylegriffin1) February 23, 2021
At the same time, the justices' decision not to hear Pennsylvania disputes involving a Republican challenge to state courts' power over federal elections continued to provoke strong feelings from some of the justices. On Monday, three of the nine justices said the court should have taken up the issue.
"A decision in these cases would not have any implications regarding the 2020 election…But a decision would provide invaluable guidance for future elections," Justice Samuel Alito wrote. Justice Clarence Thomas and Justice Neil Gorsuch also would have taken up the issue.
CNN legal analyst & Supreme Court biographer Joan Biskupic adds, Justice Clarence Thomas reveals some sympathy for Trump's baseless fraud claims:
Supreme Court Justice Clarence Thomas on Monday claimed election fraud is a threat to America, revealing in a forceful dissent some support for former President Donald Trump and Republicans who have refused to accept the result of the 2020 election.
A longtime conservative, Thomas' legal views naturally aligned with the Trump administration. But his dissent stands out for how much it subscribed to the Trump worldview of fraud, a notion debunked by election law experts and that has failed overwhelmingly in dozens of state and federal court challenges.
"We are fortunate that many of the cases we have seen alleged only improper rule changes, not fraud. But that observation provides only small comfort," Thomas said, dissenting as the court rejected a long-pending challenge to Pennsylvania mail-in voting procedures.
"An election free from strong evidence of systemic fraud is not alone sufficient for election confidence," Thomas wrote.
In his 11-page dissent on Monday, Thomas referred to "fraud" 10 times and emphasized alleged flaws in ballots that arrive by mail. He said review of them may be particularly subjective, for example on the validity of signatures, and require state officials to sift through millions of ballots. Each state determines its own election procedures, for balloting in person or by mail, within the safeguards of the federal Voting Rights Act and Constitution.
"The decision to leave election law hidden beneath a shroud of doubt is baffling," he wrote. "By doing nothing, we invite further confusion and erosion of voter confidence. Our fellow citizens deserve better and expect more of us."
The 2020 election, occurring in the midst of the coronavirus pandemic, increased mail-in voting and then led to a raft of lawsuits, ending with no proof of election fraud, let alone widespread cheating that could have flipped an election result.
Defenders of Trump, who lost the November 3 presidential contest to Joe Biden, have claimed rampant fraud and a "stolen" election, without evidence.
Justice Thomas has a serious conflict of interest behind his specious opinion. His right-wing activist wife.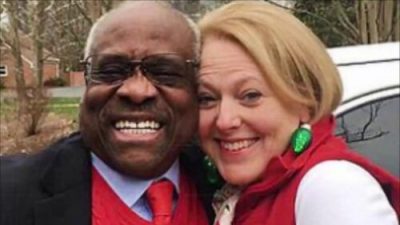 Thomas' wife, Ginni, was a highly visible Trump loyalist, attending numerous White House events including his 2020 victory celebration when the Senate acquitted him in the first impeachment trial. She generated recent headlines as it became known she apologized to former Thomas judicial clerks for her post-election backing of Trump and early support for the January 6 rally that turned into a deadly riot inside the US Capitol.
"Many of us are hurting, after leaving it all on the field, to preserve the best of this country," she wrote in one post-election email.
Travis Gettys adds, Clarence Thomas dissent in GOP election challenge raises new questions about his wife: 'Investigate Ginni':
Supreme Court Justice Clarence Thomas wrote a dissent after the high court refused to hear a Republican challenge to a Pennsylvania state court decision that extended the deadline to receive mail-in ballots in last November's election — which once again raised questions about his wife's activism ahead of the Jan. 6 insurrection.
The Supreme Court declined Monday to take up cases challenging the Pennsylvania state court, and Trump and supporters like Ginni Thomas have challenged state laws to claim President Joe Biden's win was illegitimate.
Ginni Thomas had publicly endorsed the "Stop The Steal" rally in Washington, D.C., that turned into a deadly assault on the U.S. Capitol, and her husband wrote a dissent that seems destined to justify attempts by Republican state legislatures to limit mail-in voting in future elections.
Agree – yet I'm concerned that #SCOTUS Justice Thomas dissented – we will have to learn more about the role his wife Gini Thomas played in raising money for Trump's deadly #Jan6 "Insurrection Day"

— Christine Pelosi (@sfpelosi) February 22, 2021
Ginni Thomas should be investigated for her advocacy of the January 6 insurrection. This is not the first time Clarence Thomas has ruled in a case in line with his wife's right-wing advocacy. Supreme Court Justices are not subject to the Code of Judicial Ethics that they require for all other federal judges. The only remedy For Clarence Thomas is impeachment.
Joan Biskupic continues:
The Supreme Court has generally sidestepped Trump election controversies, and even as Justices Samuel Alito and Neil Gorsuch dissented and said the majority should hear the Pennsylvania dispute to clarify rules for the future, they declined to mention fraud or voter irregularities on the ground and did not join Thomas' dissent.
The court denied an appeal by Republicans objecting to a Pennsylvania Supreme Court decision that allowed ballots received up to three days after Election Day to be counted. Their order was unsigned, but the majority presumably consisted of Chief Justice John Roberts and fellow conservative Justices Brett Kavanaugh and Amy Coney Barrett and liberal Justices Stephen Breyer, Sonia Sotomayor and Elena Kagan.
The legal question centered on the power of a state court to alter electoral rules. Alito and Gorsuch insisted that open-ended query should be resolved, especially because it could arise in future elections. Thomas went further to suggest the GOP challengers could win their case.
"Because the Federal Constitution, not state constitutions, gives state legislatures authority to regulate federal elections," Thomas wrote, "petitioners presented a strong argument that the Pennsylvania Supreme Court's decision violated the Constitution by overriding the clearly expressed intent of the legislature." [The independent state legislature doctrine].
Thomas observed that the state court's decision involved too few ballots to affect the outcome of any federal election. "But that may not be the case in the future," he said, reinforcing his larger point regarding election integrity.
"An election system lacks clear rules when, as here, different officials dispute who has authority to set or change those rules," Thomas wrote. "This kind of dispute brews confusion because voters may not know which rules to follow. Even worse … competing candidates might each declare victory under different sets of rules."
Pennsylvania state election officials enforced the state court deadline and, under a prior court order, segregated the late-arriving ballots, of which there were only about 10,000, according to the secretary of state's office.
"If state officials have the authority they have claimed, we need to make it clear," Thomas argued. "If not, we need to put an end to this practice now before the consequences become catastrophic."
Election law expert Rick Hasen warns, Breaking and Analysis: Supreme Court Refuses to Hear Cases Over Conduct of Election in Pennsylvania, With Justices Alito, Gorsuch and Thomas Dissenting: A Ticking Time Bomb To Go Off in a Later Case (excerpt):
None of the dissenting Justices believed that these cases could somehow retroactively affect the outcome of the 2020 election. Indeed, they say it would not, but that the cases, while moot, should still have been heard because they present issues that will return to the federal courts. The main issue is the extent to which state courts, relying on state constitutions, may change rules for federal elections put in place by state legislatures. In the run-up to the 2020 elections, these three Justices, along with Justice Kavanaugh (who did not note a dissent in any of these cases today) expressed the view that the Constitution constrains the actions of state courts in such circumstances (viewing the legislature's power as very broad).
This "independent state legislature" doctrine is a ticking time bomb, and it is an issue the Court is going to have to resolve, because these issues will return. As I explained back in November in a NY Times oped:
The worst appears yet to come. In one of the lawsuits that remains technically alive at the Supreme Court out of Pennsylvania, Mr. Trump and his allies have advanced a muscular version of something that's become known as the "independent state legislature" doctrine. Taken to its extreme, the doctrine says that state legislatures have complete authority to set election rules absent congressional override, and that their power to set election rules cannot be overcome even by state supreme courts applying right-to-vote provisions in state constitutions.

That's the basis for Mr. Trump's claim in the U.S. Supreme Court that the Pennsylvania Supreme Court acted unconstitutionally in requiring the counting of mail-in ballots arriving up to three days after Election Day. (This is now a question for future elections because there are not enough ballots at stake to affect the 2020 count.) The doctrine also could be potentially violated by state and local election agencies even when they act under the Legislature's authority to administer elections.

In the course of pre-election proceedings, Justices Samuel Alito, Neil Gorsuch, Brett Kavanaugh and Clarence Thomas issued or signed onto separate opinions endorsing the strong reading of this doctrine. The newest justice, Amy Coney Barrett, may well agree. And Chief Justice John Roberts, while not agreeing it was appropriate to apply this doctrine in these pre-election cases, was the lead dissenter in a 2015 case out of Arizona advancing a similar theory about broad legislative power to set the rules for federal elections.

Either in the Pennsylvania case or in another, the court's conservative majority could soon embrace a strong version of the independent state legislature doctrine. This could take state courts out of their essential role in protecting voting rights. It could potentially eliminate the ability of voters to use ballot measures to enact nonpartisan redistricting reform and other measures that apply to federal elections. It could give conservative courts looking for an excuse a reason to scuttle voter-protective rules enacted by state election boards.

Together, the Trump-related precedents mean that neither state nor federal courts are likely to be able to play a backstop role when Republican state legislatures pass new restrictive voting laws, and that efforts to get around these state legislative efforts are likely to fail as well. Although in theory Congress has the power to override state legislatures with voter-protective legislation for federal elections, it is hard to see any of that getting through the next Congress even if Democrats barely grab control by winning the upcoming pair of Senate runoffs in Georgia.
So why didn't the Court go further in this case? My guess is that it is either the fact that the case is moot (and the Court would rather address the issue in the context of a live case, but with lower stakes) or because the Trump cases are somewhat radioactive at the Court. Given former President Trump's continued false statements that the election was stolen, the case would become a further vehicle to argue that the election results were illegitimate. It would thrust the Court back in the spotlight on an issue the Justices showed repeatedly they wanted to avoid.
So the bottom line is that the independent state legislature doctrine hangs out there, as a ticking time bomb, waiting to go off in a future case.
Without comment, the U.S. Supreme Court also announced Monday it would not review a 4-3 decision against Trump by the Wisconsin Supreme Court. The majority in that ruling found one of Trump's challenges to Wisconsin's results was without merit and his others were brought far too late to be considered by the state justices. U.S. Supreme Court declines to hear Trump's election challenge in Wisconsin, and the attorney in another case could be sanctioned:
The Wisconsin Supreme Court decision was one of several it issued in December that upheld Biden's narrow win over then-President Donald Trump.
Separately, a federal judge in Washington, D.C., on Friday asked a court committee to consider reprimanding the attorney for two Wisconsin lawmakers and others who challenged the results. He determined their lawsuit was meritless and consisted of political grandstanding.
U.S. District Judge James Boasberg wrote that the pair of Wisconsin Republicans and the others had not sought to get their claim resolved quickly, leaving him to "conclude that they wished only to file a sweeping Complaint filled with baseless fraud allegations and tenuous legal claims to undermine a legitimate presidential election."
He called the lawsuit flimsy and wrote that it appeared grounded in partisan gamesmanship. He sent the matter to the court's Committee on Grievances, which will determine whether the attorney behind the case, Erick Kaardal of Minneapolis, should be disciplined for bringing it.
The lawsuit was brought in December by Wisconsin Republican Reps. David Steffen of Howard and Jeffrey Mursau of Crivitz and more than a dozen others. It sought to overturn the results in Wisconsin and other battleground states.
Boasberg, who was nominated to the bench by President Barack Obama, quickly told them they were misreading the Constitution and were bringing a lawsuit that would be laughable if it weren't trying to subvert democracy.
Steffen, Mursau and the others then asked to drop their lawsuit. Boasberg agreed but asked for a briefing on whether sanctions should be issued against Kaardal. On Friday, he wrote that he was unsatisfied with Kaardal's responses and asked the court committee to take up the issue.
By bringing their lawsuit, Steffen and Mursau challenged an election that saw them win new terms. While they challenged Biden's victory, they have not publicly questioned the results in their own races.
All of the lawyers who handled Trump's 64 failed lawsuits should be facing bar discipline and disbarment for bringing frivolous lawsuits based upon the Big Lie.