Last month we learned that Arizona Secretary of State Michele Reagan violated the law when her office failed to mail publicity pamphlets to hundreds of thousands of voters in time for the May 2016 special election, a state-appointed investigator has concluded.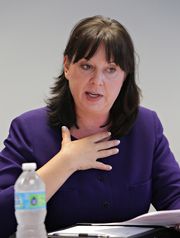 But, the investigator found, there is no provision in state law to punish anyone for not delivering the pamphlets on time and Reagan and her staff did not act criminally.
That's the outcome of a long-awaited investigative report released Wednesday by the Arizona Attorney General's Office. Michael Morrissey, a former federal prosecutor now in private practice, led the review as an appointed special investigator.
Reagan responded "mistakes were made and we were responsible," then tried to pass the buck to vendors and her staff.
Last week the Secretary of State was sued for illegally denying thousands of Arizonans the right to vote in federal elections because they registered using the federal voter registration form. Arizona, lawsuit contends voters are being disenfranchised:
Legal papers filed Tuesday in federal court here acknowledge that state law requires would-be voters to produce certain identification when registering. That requirement has been upheld in prior court rulings.
But attorneys for the League of United Latin American Citizens and the Arizona Students Association point out that the U.S. Supreme Court has said that state law does not — and cannot — prevent people from registering to vote for federal elections using a federally approved registration form. And they contend that those whose state registrations are rejected for lack of citizenship proof are not informed of that option.
"At least 26,000 voters in Maricopa County alone have been disenfranchised by these policies," the lawsuit states. But the problem is not limited there.
The lawyers say they've sampled more than 2,000 state registration forms that were rejected because applicants had failed to provide the required proof of citizenship. Of that group, fewer than 15 percent successfully registered after receiving notice of the rejection.
"Therefore, many eligible voters across Arizona have been disenfranchised by these unnecessary bureaucratic policies," the lawsuit states.
The lawyers want U.S. District Court Judge David Campbell to order counties to register people for federal elections if their state registration forms are otherwise valid, regardless of whether they have provided the citizenship proof.
They also want Campbell to tell counties that before they can reject a state registration form they must try to match the information with data from the Motor Vehicle Division. With only certain exceptions, an Arizona driver's license issued after Oct. 1, 1996 is proof of citizenship.
Matt Roberts, press aide to Secretary of State Michele Reagan, said her office will have no comment until it reviews the complaint.
* * *
The legal fight has its roots in Proposition 200, a 2004 ballot measure which was part of a broader effort aimed at those who were not in the country legally.
It requires both proof of citizenship to register and identification when casting a ballot. Proponents said it would ensure that election results are not affected by those voting illegally.
Legal efforts to kill the ID provision failed; and, Arizona has been allowed all along to require documented proof of citizenship for those who use state-designed forms to register.
Apart from a license, acceptable proof includes copies of birth certificates, passports, naturalization documents and tribal identification.
But Congress, in approving the National Voting Registration Act, directed the federal Election Assistance Commission to design a single national voter-registration form to simplify the process. More to the point, that form requires no proof of citizenship but only that those signing up swear, under penalty of perjury, that they are eligible to vote.
In 2013, the U.S. Supreme Court rejected an attempt by Arizona and Kansas, which had a similar law, to enforce the proof-of-citizenship requirement on those using the form. But the justices said states are free to ask the commission to change the form.
That request was rejected. And the Supreme Court two years ago rejected a new appeal filed by Arizona, forever putting to rest the question of the scope of the 2004 law.
Attorney Spencer Scharff pointed out that the federal judge in the earlier case required the secretary of state and all recorders and election directors to "ensure that all written materials regarding the process for registering to vote" must inform people that they may apply using the federal form and that it does not require the proof of citizenship.
"The state form does not inform the voters of this critical distinction, nor do nearly all county recorders' offices," the lawsuit states. And Scharff said that is "in clear violation" of federal court orders.
"This notification is absent from nearly all written materials distribution by election officials regarding voter registration," the lawsuit states. In fact, the state forms tell voters that the proof of citizenship "is an unqualified requirement for voter registration."
"Therefore, when the state form is distributed to voters at local agencies, registration drives, libraries, and other locations, voters are not aware of the federal form option," the lawyers said. And Scharff said only Apache and Yavapai counties provide such information on their websites.
"Indeed, most recorders' websites have instructions regarding the documented proof of citizenship requirement that inform voters that they 'must also include proof of citizenship or the form will not be processed' while failing to explain that this is not the case with respect to federal forms for federal elections," the lawsuit states.
And Scharff said the forms prepared by Reagan's office for recorders to send to voters whose registration forms lack the proof of citizenship does not inform them of the federal form option.
Today we learn that there is yet another potential lawsuit pending for voter disenfranchisement by the Secretary of State's office. ACLU says Arizona is in violation of National Voter Registration Act:
A coalition of voting rights groups is charging that state agencies are violating federal laws designed to provide opportunities for people to register.
In a 15-page complaint Tuesday to Secretary of State Michele Reagan, attorneys for the groups detailed what they say are flaws in both state statutes and the processes used by state agencies in getting people signed up to vote. The lawyers say if the problems are not corrected within 90 days they will sue.
Attorney Darrell Hill of the American Civil Liberties Union of Arizona defended the 90 day deadline.
"The state has been aware of some of these problems for quite some time," he told Capitol Media Services. Hill said groups have filed similar complaints in the past.
As far as what happens at the end of 90 days, Hill suggested the organizations will hold off going to court "if there's significant compliance" within that period.
Hill said the state's practices violate the National Voter Registration Act, the 1993 federal law approved by Congress with the aim of providing additional ways for people to register to vote. And he said the state also unfairly–and illegally–discriminated against the poor and people of color.
In a prepared statement, Reagan said she takes the NVRA "very seriously."
And while Reagan said she believes Arizona is "in full compliance" with the law, she agreed to set up meetings between the lawyers for those who filed the complaint and the state agencies whose practices they contend run afoul of the statute.
The NVRA has resulted in a variety of requirements for states to ease the registration process.
For example, there is the "motor voter" law, requiring states to provide people an opportunity to register when they get or renew a driver's license or state-issued ID card. The federal law, according to the lawyers, says that action also will "serve as an application for voter registration" unless the person does not sign the registration application.
But what happens–according to the lawyers representing the League of Women Voters, the Mi Familia Voter Education Fund, and Promise Arizona–is that those who make a change of address with the Arizona Department of Transportation are not provided with voter registration services, but instead told to seek an address change on their voter registrations.
Where the issue takes on fiscal and racial overtones is in other complaints involving the Department of Economic Security and the Arizona Health Care Cost Containment System, both agencies whose duties include providing services to the poor.
The complaint charges that both agencies are failing to comply with requirements of the NVRA to provide opportunities for their clients to register to vote. That includes a requirement that they give applicants an opportunity to register unless that person declines–and does so in writing.
"It appears from our investigation that DES and AHCCCS are not distributing voter registration applications to clients who leave the voter preference question blank when filling out initial applications, renewal applications, or change of address forms," the complaint says.
"Leaving the question blank is not equivalent to declining to register in writing," it continues.
The complaint also finds fault with online methods people may use to get state services, like food stamps, noting that the ability of those people to update an address for voter registration is available only to those who have either a driver's license or state-issued ID.
"Furthermore, many clients who do not qualify to register online may not have access to a printer," the lawyers contend. "Providing only a link to the Secretary of State's web page is a violation of the NVRA."
The complaint says there is evidence that the state's practices are discriminatory.
In the period of 1990 and 2000, there were 32,137 voter registration applications that originated from Arizona public assistance offices. By 2015-2016, that dropped to 13,135 — even as the number of people seeking public assistance in the state has increased.
Hill also said just 58 percent of people earning less than $30,000 a year are registered. By comparison, the figure for those making more than $60,000 is 76 percent.
"So there's a big gap in the number of low-income Arizonans who are being registered to vote," Hill said. "And part of that is explained by the failure of these public agencies to implement the requirements of the NVRA."
The voting rights coalition has an op-ed in today's Arizona Republic. Arizona routinely breaks the law, denies your right to vote:
To help citizens exercise their right to vote, Congress passed the National Voter Registration Act – also known as the "Motor Voter" law – in 1993.
But after several reports from Arizonans indicating the law was not being followed here, the League of Women Voters of Arizona, Mi Familia Vota, and Promise Arizona engaged with the ACLU Voting Rights Project, the ACLU of Arizona, Demos and the Lawyers' Committee for Civil Rights Under Law to assess Arizona's Motor Voter compliance.
What we discovered is disturbing. Arizona is routinely violating the law and denying people the right to vote in the process.
What the Motor Voter law requires
The Motor Voter law requires states to offer voter registration opportunities through state motor vehicle offices as well as through public assistance and disability services offices. The Voting Rights Act requires several Arizona counties to offer these opportunities in Spanish or native languages as well.
For example, at the Arizona Motor Vehicle Department, a driver's license application, renewal or change of address must also serve as a voter registration application or update unless the applicant declines.
In our quest to determine whether Arizona state agencies were following federal voting laws, our coalition coordinated interviews and other data collection activities last summer.
We found violations at many MVD locations and public assistance agencies. There were systemic failures to provide voter registration forms and language assistance, and to help clients provide documentary proof of citizenship, which, unfortunately, is required to vote in Arizona's state elections.
These particulars may help explain the strange findings of the U.S. Election Assistance Commission, which reported the number of voter registration applications coming from Arizona public assistance offices decreased nearly 60 percent over the past decade and a half, even though requests for public assistance in Arizona have almost doubled in roughly the past 10 years.
No wonder applications went down
Even more telling: Arizona's reported number of voter registration applications actually went down between 2014 and 2016 – although 2016 was a presidential election year, when voter engagement is always at its peak.
When state agencies fail to follow voting rights laws, it has a discriminatory effect on low-income people and people of color. In 2016, only 58 percent of Arizona citizens earning an annual income of less than $30,000 were registered to vote, while 76 percent of those earning $60,000 or more were registered.
This is not acceptable in a society that touts equality and fairness in elections.
With the help of our legal advocates, we recently sent Secretary of State Michele Reagan a letter notifying her of these violations. We hope that we can work together to improve voter registration procedures so that more people can register before the mid-term elections. If state leaders do not take swift action to fix its errors, we will see them in court.
Federal voting rights guidelines are clear, they are not new, and they are not optional. To ensure that access to voting is equal for all, and that our democracy remains a democracy, Arizonans deserve all of the opportunities to register to vote that our laws require.
My guess is this case will be filed after 90 days. I don't see Michele Reagan conceding any ground during an election year when she is up for reelection.