One of the most important functions of our system of justice is the selection of an impartial jury. Judges and lawyers do this through a jury selection process called voire dire. A few key points:
There must be assurance that the jurors chosen are unbiased, i.e., willing to decide the case on the basis of the evidence presented.
A violation of an impartial jury occurs when the jury or any of its members is subjected to pressure or influence which could impair freedom of action.
Exposure of the jury to possibly prejudicial material and disorderly courtroom activities may deny impartiality and must be inquired into.
Private communications, contact, or tampering with a jury, or the creation of circumstances raising the dangers thereof, is not to be condoned.
This is impossible in a Senate impeachment trial. There is no voire dire to select an impartial jury willing to decide the case on the basis of the evidence presented. We are stuck with the 100 elected senators who will sit as the jury.
Which raises a serious question: "How can Senate Republicans possibly serve as impartial jurors in an impeachment trial of President Trump, when they are implicated in the same pattern of political malfeasance?"
Salon points out:
The Washington Post published an interview with a Ukrainian diplomat who claimed to have met with Sen. Ron Johnson (R-WI), this summer to discuss the baseless conspiracy theory promoted by President Trump that Ukrainian officials had interfered in the 2016 election on behalf of Hillary Clinton.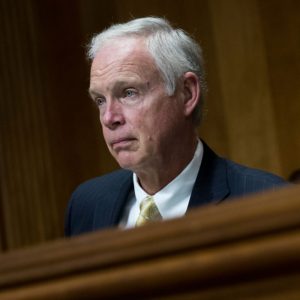 Johnson reportedly met with Ukrainian diplomat Andrii Telizhenko for at least 30 minutes on Capitol Hill in July, and Telizhenko then met with Johnson's Senate staff for five additional hours. According to the report, "the discussions focused in part on 'the DNC issue' — a reference to his unsubstantiated claim that the Democratic National Committee worked with the Ukrainian government in 2016 to gather incriminating information about then-Trump campaign chairman Paul Manafort. Telizhenko said he could not recall the date of the meeting, but a review of his Facebook page revealed a photo of him and Johnson posted on July 11."
Johnson is a vocal Trump defender who has hounded the inspector general of the intelligence community about investigating media leaks regarding the Ukraine call. He has previously admitted that he was told by Gordon Sondland, the U.S. ambassador to the European Union, that Ukraine needed to "get to the bottom of what happened in 2016" in order to receive military aid.
As Johnson told the Wall Street Journal earlier this month, Sondland told him that he was assured "if President Trump has that confidence" that the Ukrainians would do his bidding "then he'll release the military spending." Now, as the Post points out, Johnson's "knowledge of key events" in the case may "complicate his role as a juror in a trial by the Senate."
Senator Ron Johnson is a fact witness who corroborates Gordon Sondland, the U.S. ambassador to the European Union who, facing a potential perjury charge, "revised" his congressional testimony to cop to the crime. Sondland Updates Impeachment Testimony, Describing Ukraine Quid Pro Quo. A fact witness cannot be a juror. Senator Johnson must recuse himself.
Then there is Senator Aqua Buddha, Rand Paul (R-KY) who, as I pointed out the other day, is one of the Republicans in Congress openly violating the whistleblower law and engaging in unlawful witness intimidation.
Aqua Buddha joined President Trump at a rally on Monday and declared, "The whistleblower needs to come before Congress as a material witness because he worked for Joe Biden at the same time Hunter Biden was getting money from corrupt oligarchs. I say tonight to the media: Do your job and print his name."
As Jennifer Rubin of The Washington Post, who is also a lawyer, points out Rand Paul should recuse himself from any Senate impeachment trial:
There is no evidence that the whistleblower worked for Biden, but even if he did he is protected by the whistleblower statute. As former Democratic senator Claire McCaskill tartly observed on MSNBC, "Well, Rand Paul's just kind of an idiot about stuff. This is so silly. We all know that the whistleblower's account has been corroborated by information directly from the White House, and now, layer upon layer upon layer of corroboration."
Paul, like Trump, is seeking to unmask the whistleblower's identity with the full knowledge that doing so would invite retaliation and surely put him in danger.
* * *
At some point impeachment articles are likely to be voted upon and go to the Senate for trial. Quite likely, one article will include witness intimidation and/or violation of the whistleblower statute, considering the president's public declaration analogizing those who report wrongdoing to spies deserving of the death penalty. How is Paul, who has encouraged and joined in the mob calling to unmask the whistleblower, supposed to render an impartial verdict? He would be implicating himself in the very same wrongdoing.
Paul should be called out by his peers, refrain from further such outbursts and step aside in a Senate trial with respect to articles involving the president's attempts to out and intimidate a whistleblower. His conduct is not protected by the speech and debate clause of the Constitution; he is subject to the same laws that prevent Trump or any other American from intimidating witnesses.
Paul and others who have engaged in the very conduct that may be the subject of the impeachment need to recuse themselves. Their conduct is contrary to their body's responsibility of oversight, in violation of their oaths of office and thoroughly disqualifying.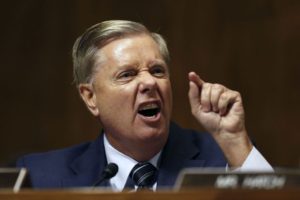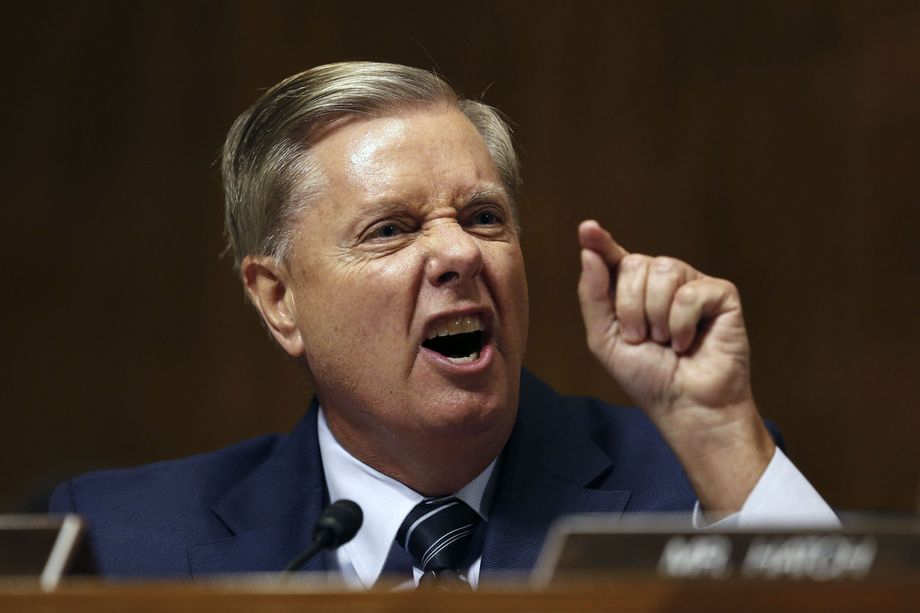 Then there is Senator Lindsey "Stonewall" Graham, who purports to be a lawyer and is the chairman of the Senate Judiciary Committee. "Stonewall" suggested several weeks ago that "if you could show me that, you know, Trump was actually engaging in a quid pro quo, outside the phone call, that would be very disturbing."
The witnesses have now established beyond a reasonable doubt that there was a months-long campaign to extort Ukraine with bribery. Trump's "no quid pro quo" defense died on Tuesday when the man he was relying on "revised" his congressional testimony to cop to the crime. Sondland Updates Impeachment Testimony, Describing Ukraine Quid Pro Quo.
So what say you now, "Stonewall"? Graham won't read newly released transcripts:
Sen. Lindsey O. Graham (R-SC), chairman of the Senate Judiciary Committee, told reporters Tuesday that he would not be reading two newly released deposition transcripts, calling the Democratic-led impeachment probe a "bunch of BS."
"Stonewall" is saying that (1) he will not be an impartial juror, (2) he will violate his oath of office, (3) he will refuse to do his duty as chairman of the Senate Judiciary Committee, and (4) he will violate his ethical obligations as a lawyer under the Rules of Professional Conduct. No senator has so thoroughly debased himself in servitude to Donald Trump as Lindsey Graham.
As former Republican congressman David Jolly said on MSNBC's Hardball with Chris Matthews on Tuesday, he 'Should Resign If He's Not Going to Do His Job':
"I think Lindsey Graham should resign if he's not going to do his job," Jolly said. "If Lindsey Graham is unwilling to do his job, he needs to quit the United States Senate and he should hand in his bar license to the state of South Carolina. We will never understand why Lindsey Graham has abandoned the convictions of old but instead chosen to embrace Donald Trump."
"A lie is much easier to sell to the American people than the truth is," Jolly added. "A lie can be sexy. Look what [Republicans] did around the Mueller report: 'No obstruction, no collusion.' When we actually know there was obstruction. It's shown there. And kudos to the Democrats for leaning in on this, you are hearing them use words like betrayal, bribery, you are seeing them talk to the press each day because they have the facts on their side. In the face of a Republican Party led by Donald Trump and Lindsay Graham who are lying to the American people, who are saying that truth doesn't matter, Democrats have to be able to sell the American people on the damming truth that the president conducted or committed impeachable behavior."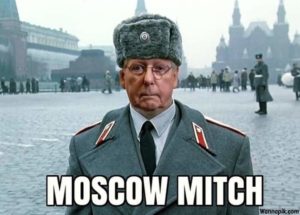 Then there is "Moscow Mitch" McConnell who, as Senate Majority Leader, is technically the equivalent of the jury foreman in the Senate. On Tuesday, Moscow Mitch essentially said the evidence does not matter, the jury is rigged, a Senate trial 'would not lead to a removal' of Trump if held today (or any day that I am Majority Leader):
"I will say I'm pretty sure how it's likely to end," McConnell said to reporters. "If it were today I don't think there's any question — it would not lead to removal. So the question is how long does the Senate want to take?"
"How long do the presidential candidates want to be here on the floor of the Senate instead of in Iowa and New Hampshire?" The Kentucky Republican asked, taking aim at the six Senators running in the Democratic primary election for President. "And all of these other related issues that may be going on at the same time, it's very difficult to ascertain how long this takes. I'd be surprised if it didn't end the way the two previous ones did with the president not being removed from office."
This is blatant jury tampering. This is compounded by Donald Trump's attempt to bribe the jury  — yet another impeachable offense — by conditioning RNC campaign cash on senators support (a quid pro quo). Trump is Committing 'Felony Bribery' by Giving Fundraising Cash to GOP Senators Ahead of Impeachment Trial. As recipients of the bribe, Republican senators are equally culpable at law.
There is a threat of disorderly courtroom antics, like the recent "storming of the SCIF,"  to deny jury impartiality. Ride-or-die Trump Senate allies could disrupt impeachment trial:
Conversations with former parliamentarians, procedural experts, and historians indicated Trump and his defenders can very well wreak havoc on an impeachment trial, which would require two-thirds of senators to convict and oust the president.
Republicans are also considering turning the Senate impeachment trial into a sideshow to smear Joe Biden by putting their entirely debunked conspiracy theories on trial instead of President Trump. Senate Republicans consider including Bidens in Trump impeachment trial:
Senate Republicans are privately debating whether they should use an impeachment trial of President Trump to scrutinize former vice president Joe Biden and his son Hunter as some Trump allies push to call them as witnesses while others dismiss the suggestion as a risky political ploy.
Among a group of Trump's allies inside and outside Congress, there is intense and growing interest in countering the House Democrats' impeachment inquiry by delving into Hunter Biden's business dealings in Ukraine and China. Because his father was vice president at the time, these allies think it could be a way to explain why Trump pressed Ukrainian President Volodymyr Zelensky in a July 25 phone call to "look into" the Bidens, who have denied any wrongdoing.
That effort gained steam on Capitol Hill last week at a private lunch where Republican Sens. Rand Paul (R-KY) and John Neely Kennedy (R-LA) raised the idea of summoning Hunter Biden, said two people familiar with the exchange who, like others in this article, spoke on the condition of anonymity because they were not authorized to discuss the matter publicly. Paul took his private push public at a campaign rally with the president Monday night in Kentucky.
"I say this to my fellow colleagues in Congress, to every Republican in Washington: Step up and subpoena Hunter Biden and subpoena the whistleblower!"
UPDATE: Dems Warn Against Calling Bidens to Testify: It 'Would Be Literally Rolling a Grenade Down' the Senate:
Senate Democrats issued stark warnings on Wednesday that Republicans would severely damage the institution of Congress if they acquiesced to a push from Trump allies to haul former Vice President Joe Biden and his son Hunter for testimony about their actions in Ukraine.
Sen. Chris Coons (D-DE), told The Daily Beast that calling the 2020 presidential contender—who served for 35 years in the Senate—and his son for testimony "would be literally rolling a grenade down the aisle of the Senate" that would have "lasting consequences" on the upper chamber's ability to work together.
"The impeachment process is already disruptive enough. I think we should be approaching it with seriousness, not by entertaining conspiracy theories that are utterly unfounded. And I think it would be a very unfortunate move."
There has never been a political party in our history as morally bankrupt and as shamelessly lawless as the Party of Trump.
I have said before and I cannot emphasize enough that the Party of Trump is a criminal enterprise led by a third-rate mafia "Don" Trump. They are all accomplices, co-conspirators and accessories who are aiding and abetting his criminality and corruption. There is not a patriot among them. They put fealty to their "Dear Leader" above all else, including loyalty to their country and our national security, and their oaths of office to defend the Constitution.