Double Feature!
Smoke Signals & More Than Frybread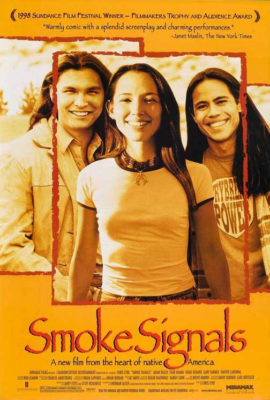 SUNDAY, FEBRUARY 11 AT NOON | GENERAL ADMISSION: $15 • LOFT MEMBERS, TRIBAL MEMBERS & UA/PCC STUDENTS WITH VALID ID: $10
SMOKE SIGNALS starts AT NOON • MORE THAN FRYBREAD starts AT approximately 1:50pm
PLEASE NOTE: WE CANNOT ACCEPT PASSES OR GROUPONS FOR THIS SCREENING
---
Co-presented by the UA American Indian Alumni Club and The Loft Cinema.
"Don't miss this special 20th anniversary screening of the acclaimed 1998 hit, Smoke Signals (presented on 35mm), paired with the hilarious 2012 comedy, More Than Frybread! Miss Native American University of Arizona will be on hand to introduce the films, and delicious homemade frybread will be available for sale on our patio. A portion of the proceeds from this event will benefit the UA American Indian Alumni Club.
Smoke Signals / 20th Anniversary / 35mm film print!
Billed as the first feature film entirely written, directed and acted by Native Americans, director Chris Eyre's award-winning 1998 Sundance hit Smoke Signals is a funny, touching and honest look at what it is to be Indian in America.
Written by Sherman Alexie, based on four of his own short stories, Smoke Signals follows Victor (Adam Beach) and Thomas-Builds-the-Fire (Evan Adams), two young Idaho men with wildly different memories of one Arnold Joseph (Gary Farmer), a former resident of their Idaho reservation who split years before and has just died in Phoenix. Arnold's popular, athletic son, Victor, remembers him best as an alcoholic, occasionally abusive father who drove off one day and never came back. By contrast, the highly-quirky, always-talking Thomas Builds-the-Fire, whom Arnold had saved from certain death years earlier, has chosen to romanticize the man's life and deeds in a way that drives Victor crazy. However, circumstances bring this odd couple together in a funny and funky road trip to Phoenix to retrieve Arnold's ashes. Along the way, they must confront the reality of Arnold's legacy, which has profound and unexpected effects on both of them. (Dir. by Chris Eyre, 1998, USA, 89 mins., Rated PG-13)
More Than Frybread
In the deliciously fun, award-winning comedy More Than Frybread, twenty-two Native American frybread makers, representing all twenty-two federally recognized tribes in Arizona, convene in Flagstaff to compete for the first ever, first annual, state of Arizona Frybread Championship!
The film takes a larger-than-life turn as four passionate contestants (Teresa Choyguha, Dey & Nite, Camille Nighthorse and Tatanka Means as hip-hop Navajo frybread rock star, Buddy Begay)"
https://loftcinema.org/film/smoke-signals-and-more-than-frybread-double-feature/