The Republican talking point today is "Why did Democrats wait until the eleventh hour" to bring to light this allegation of sexual assault by Judge Kavanaugh when he was in high school just days before his confirmation vote?
Seriously? Republicans are complaining about regular order and procedure after having blockaded President Obama's nomination of Merick Garland for a year, and then rushing the nomination process for Brett Kavanaugh? That is chutzpah.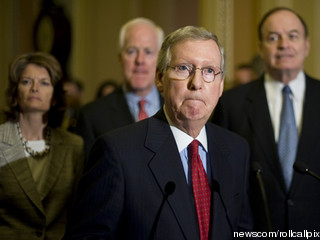 The confirmation vote has been rushed by the Septuagenarian Ninja Turtle, Senate majority leader Mitch McConnell, before the National Archives has even completed its review of documents related to Kavanaugh. Only about 10% of documents have been made available through an alternative source, a very non-neutral arbiter, Bill Burck, a private attorney employed by former president George W. Bush and a longtime Republican — and reportedly a longtime friend of Kavanaugh's — overseeing the review of the documents. The fight over the release of Kavanaugh documents. A group of Democrats on the Senate Judiciary Committee have been forced to file a lawsuit against the National Archives in an attempt to gain access to records related to Supreme Court nominee Brett Kavanaugh. Senate Dems sue Archives to try to force release of Kavanaugh documents.
You want to talk about regular order and procedure Turtle Man? Mitch McConnell is the man who broke America. UPDATE: Charles Pierce at Esquire brings it up to date. History Will Remember Mitch McConnell as One of the Very Worst.
Then there is the fact Christine Blasey Ford did not want to come forward and be subjected to a political assault. She told this to both Senator Dianne Feinstein and reporters at the Washington Post. It was only after her letter was leaked to the Intercept and the New Yorker last week that she made the decision over the weekend that she would be willing to testify after having been outed against her will. She is now, predictably, being politically assaulted.
Joan McCarter of Daily Kos asked the right question last week, What did Grassley know about sexual assault allegations against Kavanaugh, and when did he know it?
Thursday afternoon, when news broke that Senate Democrats had referred a letter alleging sexual assault by Brett Kavanaugh to the FBI, a spokesman for Judiciary Chairman Chuck Grassley played dumb.
"At this time, he has not seen the letter in question, and is respecting the request for confidentiality," a spokesman for Grassley said. "There's no plan to change the committee's consideration of Judge Kavanaugh's nomination."
What Grassley DID have a plan for, however, was a response. In response to the letter he supposedly had never seen, Grassley had a letter from 65 women who knew Kavanaugh from when he was in high school who he didn't sexually assault. Boy, that was sure some efficient overnight organizing they did there. "For the entire time we have known Brett Kavanaugh, he has behaved honorably and treated women with respect," the letter which just came out of no where reads.
So many questions.
When did Grassley find out that these allegations were out there? Who told him? When did the process to find three dozen women who knew Kavanaugh 35 years ago begin? How did they find three dozen women who say the knew him in high school when the school he went to—Georgetown Prep—is an all-boys' school? Most, the letter said, "knew Brett well through social events, sports, church, and various other activities." Quick, name three dozen people you encountered in social events in high school who could testify to your character now. "Many of us have remained close friends with him," it says. Because we all have three dozen "close" friends.
Clearly, they knew this was coming and they've known for quite a while—long enough to round up three dozen women willing to sign onto a draft of a letter responding to allegations that had not yet been made, to say that he didn't try to rape them.
Joan Sweeney at Salon also notes the curious timing of Sen. Grassley's letter. Brett Kavanaugh didn't rape 65 women: Great, but that proves nothing:
Within 30 minutes of the story breaking, Judiciary Committee chair Sen. Chuck Grassley, R-Iowa, produced a letter from 65 women who said they had known Kavanaugh during that time and that he was "a good person" who "has always treated women with decency and respect." (Politico reporters were only able to find two signatories to the letter who were willing to speak on the record, interestingly. Two other women declined to comment and more than "two dozen" others did not respond.) This letter is being put forward as though it proved or at least suggested that Ford's allegations are untrue.
It is clear to me that GOP leadership knew about Dr. Ford's letter before last week. The timing of this character witness letter proves it. So what did GOP leaders do about it (other than try to cover it up)?
[T]he 65 women defending Kavanaugh go further and, essentially, call Ford a liar by stating that Kavanaugh never tried to rape them and that they never saw him rape anyone.
* * *
[Rapists] don't rape every woman they come across. Indeed, they don't rape the vast majority of women they meet. They can be "good people" in other contexts. People are complex.
So, women who support Brett Kavanaugh: Your letter means less than nothing to me. If a man had accused Brett Kavanaugh of cornering him at a party, having his friend hold him down, then beating him up and stealing his wallet, would 65 men come together in solidarity with statements that Kavanaugh could never have done such a thing because he didn't do it to them? Would they even think of it? Would that be reported in the press? Would we care?
The statements of these 65 women shouldn't be newsworthy, let alone evidence that Kavanaugh didn't attempt to rape a woman while in high school … [A]ny investigation should not take into account that there are women he did not rape. That's not evidence of anything.
Supreme Court reporter Dahlia Lithwick correctly notes that "It doesn't matter when assault victims speak up. People will always say they are too late." Christine Blasey Ford's Timing Isn't Suspect:
The definition of power must include the power to set the timetable in which facts are discernible, and Senate Republicans, who held a Supreme Court seat open for almost a year, are now unwilling to hold one open for three months. The reason the eleventh hour wasn't, say, the third hour is entirely because the timetable has been set by those who wanted to short-circuit meaningful scrutiny. So the complaint that it's too late in the process is hard to swallow.
I recommend that you read Lithwick's entire powerful piece.
Christine Blasey Ford now has her own letter. Alumnae Of Christine Blasey Ford's High School Circulate Letter Of Support:
A group of women who went to Christine Blasey Ford's high school are circulating a letter to show support for the woman who has alleged that Supreme Court nominee Brett Kavanaugh tried to sexually assault her while they were in high school.
"We believe Dr. Blasey Ford and are grateful that she came forward to tell her story," says a draft letter from alumnae of Holton-Arms, a private girls school in Bethesda, Maryland. "It demands a thorough and independent investigation before the Senate can reasonably vote on Brett Kavanaugh's nomination to a lifetime seat on the nation's highest court."
The women also say that what Ford is alleging "is all too consistent with stories we heard and lived while attending Holton. Many of us are survivors ourselves."
The letter is a boost of support for Ford, who has been thrust into the political spotlight and had her credibility questioned by going up against Kavanaugh and the White House. The signatories span decades at the school ― before, during and after Ford attended.
More than 200 women had signed the letter as of late Monday morning, said Sarah Burgess, a member of the class of 2005. (One notable signature: Julia Louis-Dreyfus, class of 1979, who said Monday afternoon that she had added her name to the letter. ) Burgess said she and some of her schoolmates wrote the letter because hearing Ford's story felt "personal."
"I know that in the coming days, her story will be scrutinized, and she will be accused of lying," Burgess said in an email. "However, I grew up hearing stories like hers, and believe her completely."
Susanna Jones, the Holton-Arms head of school, put out a statement Sunday night in support of Ford.
"In these cases, it is imperative that all voices are heard," Jones said. "As a school that empowers women to use their voices, we are proud of this alumna for using hers."
Then there is Mark Judge, the friend of Kavanaugh whom Christine Blasey Ford says was in the room when this sexual assault occurred.  It tuns out that he is a self-described "blackout" drunk when he was a teenager. Brett Kavanaugh's High School Friend Isn't Helping the Nominee's Case:
The New York Times reported that the friend the woman alleged was in the room with Kavanaugh was conservative writer Mark Judge, who attended Georgetown Prep with the nominee. On Friday, Judge told the Weekly Standard no such incident took place. "It's just absolutely nuts," he said. "I never saw Brett act that way."
* * *
In his 2005 book, God and Man at Georgetown Prep, which is now out of print … describes an institution where alcoholism was rampant, a theme he detailed in his 1997 addiction memoir, Wasted: Tales of a Gen X Drunk.
That book chronicles Judge's time as a teenage alcoholic. Like many works of the genre, it devotes a lot of ink to the kinds of debauchery that leads to Alcoholics Anonymous and recovery. While there's nothing in the book that resembles the incident reportedly described in the private letter given to the FBI, Judge says his own blackout drinking while he and Kavanaugh were Georgetown Prep students "reached the point where once I had the first beer, I found it impossible to stop until I was completely annihilated."
"The amount of drinking Judge describes himself undertaking might suggest his memory of those days may not be entirely reliable." Ya think?
Laura Clawson at Daily Kos highlights Mark Judge's writings. Mark Judge is today a conservative writer  who has been published in the Daily Caller, the American Spectator, and other right-wing outlets. Brett Kavanaugh's chief character witness thinks 'uncontrollable male passion' is 'awesome':
Back in high school, Judge was the kind of guy whose yearbook quote was about hitting women. Not hitting on them. Hitting them.
* * *
Also relevant to Judge's defense of Kavanaugh as not having attempted to rape Ford: He's written about how, while no means no, there's also an "ambiguous middle ground" in which, if a man "is any kind of man, he'll allow himself to feel the awesome power, the wonderful beauty, of uncontrollable male passion."
If this guy is your character witness, Kavanaugh had better lawyer up.
---
Support volunteer citizen journalism at the Blog for Arizona with a donation today. Your secure contribution keeps the Blog online and sustains a free press in Arizona.
---