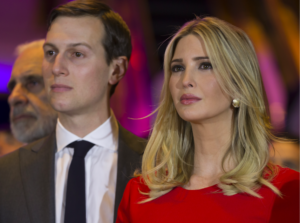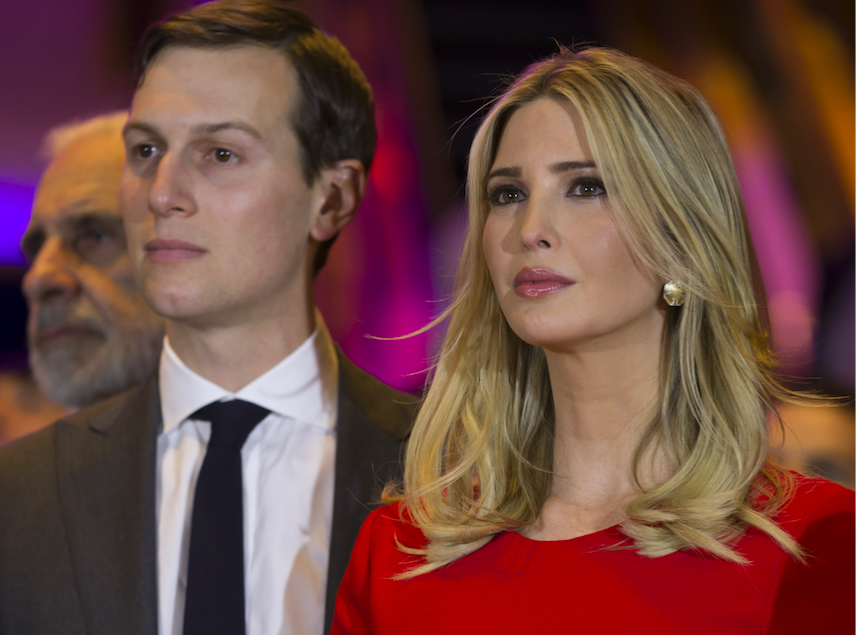 The "Secretary of Everything" in the Trump administration, son-in-law Jared Kushner, is having a really bad week.
Jared had his security clearance pulled by Chief of Staff General John Kelly because he has not been able to pass a FBI background check after more than a year, because Jared has not been forthcoming about his foreign contacts and business dealings on his SF-86 form. For anyone else, that gets you terminated and/or prosecuted for lying on the SF-86 form.
"Officials in at least four countries have privately discussed ways they can manipulate Jared Kushner, the president's son-in-law and senior adviser, by taking advantage of his complex business arrangements, financial difficulties and lack of foreign policy experience, according to current and former U.S. officials familiar with intelligence reports on the matter." Kushner's overseas contacts raise concerns as foreign officials seek leverage.
We previously learned that Jared was negotiating financing for his business interests during the transition. Mueller Eyes Kushner's Pursuit of Foreign Financing:
During the transition period, Kushner (reportedly) met with the chairman of the Chinese firm Anbang Insurance, in hopes of securing a $400 million investment in his family's flagship property at 666 Fifth Avenue. Meanwhile, his company also (reportedly) sought $500 million in capital from the former prime minister of Qatar for the same project.
And let's not forget that Jared asked the Russian ambassador for a "back channel" to Moscow to avoid detection by the U.S. intelligence agencies during the transition. Russian ambassador told Moscow that Kushner wanted secret communications channel with Kremlin.
'The Kush' is a whole bucket full of red flags of national security risks. He should have been gone a long time ago.
Now we learn that Jared was engaged in influence peddling and pay-to-play to benefit his family's business through his unique access to the president. This is unethical conduct that is also illegal.
The New York Times reports, Kushner's Business Got Loans After White House Meetings:
Early last year, a private equity billionaire started paying regular visits to the White House.
Joshua Harris, a founder of Apollo Global Management, was advising Trump administration officials on infrastructure policy. During that period, he met on multiple occasions with Jared Kushner, President Trump's son-in-law and senior adviser, said three people familiar with the meetings. Among other things, the two men discussed a possible White House job for Mr. Harris.
The job never materialized, but in November, Apollo lent $184 million to Mr. Kushner's family real estate firm, Kushner Companies. The loan was to refinance the mortgage on a Chicago skyscraper.
Even by the standards of Apollo, one of the world's largest private equity firms, the previously unreported transaction with the Kushners was a big deal: It was triple the size of the average property loan made by Apollo's real estate lending arm, securities filings show.
It was one of the largest loans Kushner Companies received last year. An even larger loan came from Citigroup, which lent the firm and one of its partners $325 million to help finance a group of office buildings in Brooklyn.
That loan was made in the spring of 2017, shortly after Mr. Kushner met in the White House with Citigroup's chief executive, Michael L. Corbat, according to people briefed on the meeting. The two men talked about financial and trade policy and did not discuss Mr. Kushner's family business, one person said.
There is little precedent for a top White House official meeting with executives of companies as they contemplate sizable loans to his business, say government ethics experts.
"This is exactly why senior government officials, for as long back as I have any experience, don't maintain any active outside business interests," said Don Fox, the former acting director of the Office of Government Ethics during the Obama administration and, before that, a lawyer for the Air Force and Navy during Republican and Democratic administrations. "The appearance of conflicts of interest is simply too great."
The White House referred questions to Mr. Kushner's lawyer, Abbe Lowell, who did not dispute that the meetings between Mr. Kushner and the executives took place.
* * *
Mr. Kushner's tenure in the White House has been dogged by questions about conflicts of interest between his government work and his family business, in which he remains heavily invested. Mr. Kushner steers American policy in the Middle East, for example, but his family company continues to do deals with Israeli investors.
This blurring of lines is now a potential liability for Mr. Kushner, who recently lost his top-secret security clearance amid worries from some United States officials that foreign governments might try to gain influence with the White House by doing business with Mr. Kushner.
Investigators working for Robert S. Mueller III, the special counsel looking into Russian interference in the 2016 election, have asked questions about Mr. Kushner's interactions with potential investors from overseas, according to a person familiar with the matter. Mr. Kushner's firm has sought investments from the Chinese insurer Anbang and from the former prime minister of Qatar.
* * *
Mr. Kushner resigned as chief executive of Kushner Companies when he joined the White House last January, and he sold a small portion of his stake in the company to a trust controlled by his mother.
But he retained the vast majority of his interest in Kushner Companies. His real estate holdings and other investments are worth as much as $761 million, according to government ethics filings. They are likely worth much more, because that estimate has his firm's debt subtracted from the value of his holdings. The company has done at least $7 billion of deals in the past decade.
Public filings show that Mr. Kushner still owns part of the company that received the Apollo loan. The loan was used to refinance a Chicago skyscraper that is the Midwest headquarters for AT&T. Mr. Kushner also still holds a stake in the entity that owns the Brooklyn buildings and received the loan from Citigroup.
Federal ethics regulations restrict government employees from participating in some matters that involve companies with which the official is seeking "a business, contractual or other financial relationship that involves other than a routine consumer transaction."
Mr. Fox, the ethics expert, said Mr. Kushner risked violating the regulations in his meetings with Citigroup and Apollo executives.
* * *
Mr. Kushner has also met at the White House with Stephen A. Schwarzman, chief executive of the private equity firm Blackstone, which in the past has lent money to Kushner Companies for several projects, though all before the election. Until August, Mr. Schwarzman was the head of a White House business advisory council.
* * *
All of the executives who met with Mr. Kushner have lots to gain or lose in Washington.
Apollo has sought ways to benefit from the White House's possible infrastructure plan. And its executives, including Mr. Harris, had tens of millions of dollars personally at stake in the tax overhaul that was making its way through Washington last year.
Citigroup, one of the country's largest banks, is heavily regulated by federal agencies and, like other financial companies, is trying to get the government to relax its oversight of the industry.
Mr. Kushner has reported owning hundreds of partnerships, limited liability companies and other entities, but he is not required to disclose the lifeblood of any real estate firm's business: its lenders and outside investors.
Some of the lenders can be pieced together through public records. The Apollo loan is disclosed in Chicago mortgage filings, which list the lender as "ACREFI Holdings J-I, LLC." That vehicle is owned by Apollo's real estate investment trust, securities filings show.
The loans' interest rates and other key provisions are not disclosed.
* * *
Mr. Harris [from Apollo], a co-owner of the Philadelphia 76ers and the New Jersey Devils, is Apollo's senior managing director. He also is an adviser to the Federal Reserve Bank of New York.
Early last year, the White House enlisted Mr. Harris and other executives to advise the administration on infrastructure policy. Over a period of months, Mr. Harris met regularly with Mr. Kushner and other White House officials.
Apollo made the loan to Kushner Companies on Nov. 1, 2017, according to public records.
Apollo does not make real estate loans directly. Instead, it makes them through a so-called real estate investment trust, called Apollo Commercial Real Estate Finance. The trust is a publicly traded company with its own set of shareholders. It is managed by Apollo, which charges the trust management fees, and has no employees of its own.
One of the largest investors in Apollo's real estate trust is the Qatari government's investment fund, the Qatar Investment Authority.
Mr. Kushner's firm previously sought a $500 million investment from the former head of that Qatari fund for its headquarters at 666 Fifth Avenue in Manhattan. That investment never materialized.
Shortly after Kushner Companies received the loan from Apollo, the private equity firm emerged as a beneficiary of the tax cut package that the White House championed. Mr. Trump backed down from his earlier pledge to close a loophole that permits private equity managers to pay taxes on the bulk of their income at rates that are roughly half of ordinary income tax rates. The tax law left the loophole largely intact.
Marcy Wheeler writes at The Times, Has Jared Kushner Conspired to Defraud America?
On Tuesday, The Washington Post reported that "officials in at least four countries" — United Arab Emirates, China, Israel and Mexico — "have privately discussed ways they can manipulate" Mr. Kushner by taking advantage of his "complex business arrangements, financial difficulties and lack of foreign policy experience." . . . The implication in the article is that the United States government has intercepted communications of foreign leaders talking about ways they could take advantage of Mr. Kushner, whose family real estate empire is facing substantial debt woes.
The biggest concern in the Post report — and surely one reason such intelligence led to Mr. Kushner's being stripped of his interim top-secret security clearance last week — is that foreign countries would offer him personal financial benefits in the same conversations in which he purports to represent America's best interests.
There has already been ample reporting suggesting that Mr. Kushner may have done just that. During a period when Mr. Kushner was negotiating President Trump's first visit to China, his family business was trying to sell a debt-ridden property in New York to an insurance company with ties to the Chinese Communist Party. Public scrutiny of the deal scuttled it. Last May, The New York Times described how, immediately after the Trump administration extended a visa program for wealthy investors, Mr. Kushner's sister invoked Mr. Kushner in a presentation seeking Chinese investment in one of the family's New Jersey real estate developments.
Such appearances of conflict might not, by themselves, get Mr. Kushner in trouble. The president has broad authority to set the country's foreign policy, and public corruption laws have been far more difficult to enforce after a 2016 Supreme Court decision overturning the conviction of the former Virginia governor Robert McDonnell on bribery charges.
But Mr. Kushner might face more trouble to the extent he keeps such negotiations secret from those in charge of carrying out United States foreign policy. When the national security adviser, H. R. McMaster, learned of some of Mr. Kushner's communications only after the fact, he was surprised, one official told The Post, and thought it was "weird."
Mr. Kushner has been famously tardy in disclosing his business interests and ties with foreigners in his application for a security clearance. He was still making updates to his forms as recently as January. That means he has conducted an entire year of foreign policy without officially disclosing all the personal interests he may have been serving.
Finally, the risk might be greater still if Mr. Kushner negotiated such deals before Mr. Trump's inauguration. That's the possibility raised by Mr. Kushner's pre-inauguration meetings with Russia. In December 2016, Mr. Kushner met with Sergey Gorkov, the head of a bank under American sanctions, Vnesheconombank. That meeting came after Mr. Kushner suggested a back channel of communications in a meeting with Russia's ambassador, Sergey Kislyak, according to Mr. Kislyak.
Nor did Mr. Trump's transition team alert the Obama administration before Crown Prince Mohammed bin Zayed al-Nahyan of Abu Dhabi in the United Arab Emirates visited New York in December 2016 for a meeting involving Mr. Kushner and others at Trump Tower.
While the proper authorities may not have been informed of this series of meetings, Michael Flynn, the former national security adviser who pleaded guilty and agreed to cooperate with Mr. Mueller's investigators late last year, did attend or at least knew of them. Steve Bannon, who recently sat for 20 hours of interviews with special counsel prosecutors, participated in the Zayed Trump Tower meeting along with Mr. Flynn and Mr. Kushner. So if they are a concern to Mr. Mueller, he has recently gotten far more details of what happened at the meetings.
* * *
Perhaps Mr. Kushner is just a person who had no idea what he was doing and wanted to improve his and his family's finances. Still, there are many reasons to question whether he has talked with foreign officials with the proper disclosures, designed to ensure that those claiming to represent the interests of the United States aren't hiding their own interests or those of foreign governments.
In pursuing his investigation into Russian tampering, Mr. Mueller appears to be doing something more: restoring the regulatory teeth to ensure that those engaging in American politics are doing what they publicly claim they are. If Mr. Mueller extends this effort to foreign policy, Mr. Kushner may be in real trouble.
Our supplicant Tea-Publican Congress will not investigate the Trump princeling Jared Kushner. It is up to the Special Counsel to drain the swamp of corruption.
UPDATE: In December 2016, Jared Kushner, a senior adviser to Donald Trump's presidential transition, was busy helping shape the new administration. But Trump's son-in-law also had another pressing concern: finding a wealthy investor to buy into a Manhattan commercial building owned by his family's company that was facing down a $1.2 billion debt. Jared Kushner's troubles include an impending $1.2 billion company debt:
Meetings that Kushner had that month with a Chinese insurance company and a Russian banker — as well as the company's efforts to get funding from a Qatari source — are coming under new scrutiny after The Washington Post revealed that foreign government officials viewed him as a figure who might be manipulated due to the family company's financial needs and his lack of experience.
Kushner's talks with foreign officials as the company continued searching for financial backing have raised questions. Foreign intercepts showed that four countries — the United Arab Emirates, China, Israel and Mexico — viewed Kushner as a White House official who might be easily influenced because of the debt, The Post reported this week.
Special counsel Robert S. Mueller III, who is examining whether there was collusion between Russia and the Trump campaign in the 2016 presidential election, has reviewed Kushner's financial dealings, including the meeting with the Russian banker, The Post reported in June.
* * *
Kushner Cos. has been under scrutiny by the U.S. attorney's office for the Eastern District of New York in relation to its use of a foreign visa investment program, which was pitched to wealthy Chinese investors by Jared Kushner's sister with a reference to his White House role. It also has turned over documents related to a $285 million loan the company received from Deutsche Bank a month before the election. It is unclear whether those documents have been shared with Mueller's office.
On Wednesday, the New York Times reported that the Kushner Cos. received loans from two firms whose executives met with Kushner in the White House.
* * *
Kushner met in December 2016, while he was working with the Trump transition team, with officials of Anbang, a Chinese insurance company. The deal fell apart as Kushner moved to the White House.
Kushner, or representatives of his family firm, also met with a Qatari investment company, run by the country's former prime minister and finance minister, Hamad Bin Jasim al-Thani, one of the world's wealthiest men.
Jared Kushner also met on Dec. 13, 2016, with Russian banker Sergey Gorkov, who heads a state-affiliated bank known as VEB, for Vnesheconombank. The bank has said they talked about "promising business lines and sectors," but Kushner told Congress that the family business was not discussed.
NBC News reports that "Federal investigators are scrutinizing whether any of Jared Kushner's business discussions with foreigners during the presidential transition later shaped White House policies in ways designed to either benefit or retaliate against those he spoke with, according to witnesses and other people familiar with the investigation." Mueller team asking if Kushner foreign business ties influenced Trump policy:
Special counsel Robert Mueller's team has asked witnesses about Kushner's efforts to secure financing for his family's real estate properties, focusing specifically on his discussions during the transition with individuals from Qatar and Turkey, as well as Russia, China and the United Arab Emirates, according to witnesses who have been interviewed as part of the investigation into possible collusion between Russia and the Trump campaign to sway the 2016 election.
As part of the scrutiny of Kushner's discussions with Turks, federal investigators have reached out to Turkish nationals for information on Kushner through the FBI's legal attache office in Ankara, according to two people familiar with the matter. Separately, Qatari government officials visiting the U.S. in late January and early February considered turning over to Mueller what they believe is evidence of efforts by their country's Persian Gulf neighbors in coordination with Kushner to hurt their country, four people familiar with the matter said. The Qatari officials decided against cooperating with Mueller for now out of fear it would further strain the country's relations with the White House, these people said.
* * *
In the weeks after Kushner Companies' talks with the Qatari government and HBJ collapsed, the White House strongly backed an economically punishing blockade against Qatar, led by Saudi Arabia and the UAE, citing the country's support for terrorism as the impetus. Kushner, who is both President Donald Trump's son-in-law and a key adviser, has played a major role in Trump's Middle East policy and has developed close relationships with the crown princes of Saudi Arabia and the UAE.
Some top Qatari government officials believe the White House's position on the blockade may have been a form of retaliation driven by Kushner who was sour about the failed deal, according to multiple people familiar with the matter. Saudi Arabia and UAE have long had a rivalry with Qatar.
There is much more in this reporting.
"Any cooperation with Mueller's probe from foreign nationals or government officials would mark a significant new dimension to the investigation beyond what is currently publicly known."