On Friday, the "insider access" media Politico reported, Biden's 14th Amendment message to progressives: It ain't gonna happen:
Senior Biden officials have told progressive activists and lawmakers in recent days that they do not see the 14th Amendment — which says the "validity of the public debt" cannot be questioned — as a viable means of circumventing debt ceiling negotiations. They have argued that doing so would be risky and destabilizing, according to three people familiar with the discussions.
The White House has studied the issue for months, with some aides concluding that Biden would likely have the authority to declare the debt limit unconstitutional as a last-ditch way to sidestep default. But Biden advisers have told progressives that they see it as a poor option overall, fearing such a move would trigger a pitched legal battle, undermine global faith in U.S. creditworthiness and damage the economy. Officials have warned that even the appearance of more seriously considering the 14th Amendment could blow up talks that are already quite delicate.
"They have not ruled it out," said one adviser to the White House, granted anonymity to speak candidly about discussions. "But it is not currently part of the plan."
The New York Times' "deep thinker" Ezra Klein relies upon an op-ed by former jurist and conservative apologist for the  GQP economic terrorists to argue, Liberals Are Persuading Themselves of a Debt Ceiling Plan That Won't Work:
In remarks after a meeting with House Speaker Kevin McCarthy, Biden said he was "considering" the argument that the debt ceiling is unconstitutional. The problem, he continued, is that "it would have to be litigated." And that's the problem with all these ideas and why, in the end, it's doubtful that Biden — or any Democrat — will try them.
The legality of the debt ceiling or a trillion-dollar platinum coin doesn't depend on how liberals read the Constitution or the Coinage Act. It depends on how three conservatives read it: John Roberts, Brett Kavanaugh and Neil Gorsuch, who are the closest the Supreme Court now comes to having swing justices.
It's easy enough to come up with counterarguments that conservative justices are likely to find persuasive. Michael McConnell, a former judge on the 10th Circuit Court of Appeals, to which he had been appointed by President George W. Bush, just offered one in these pages. "For the United States to fail to pay interest or principal on its debt would be financially catastrophic, but it would not affect the validity of the debt," he wrote. "When borrowers fail to make payments on lawfully incurred debt, this does not question the validity of those debts; their debts are just as valid as before. The borrowers are just in default."
[My] point is not that more conservative readings of these laws are right in some absolute sense. It's that no such absolute sense matters. We just watched this Supreme Court wipe out decades of precedent to overrule Roe. It has repeatedly entertained cases that even conservative legal scholars thought farcical just a few years earlier. I still remember Orin Kerr, a law professor who clerked for Justice Anthony Kennedy, telling me at the beginning of the Obamacare case that there was "a less than 1 percent chance that the courts would invalidate the individual mandate" only to update that to a "50-50 chance" as the court prepared to rule.
The Supreme Court does what it wants to do. Does it want to let the Biden administration dissolve the debt ceiling using a novel legal theory?
Ezra Klein asks the wrong question. Will the Supreme Court actually hold that a statutory provision which has been superseded by a later statutory act of Congress, and which is in direct conflict with the 14th Amendment of the Constitution, somehow takes precedence over the constitutional provision to enable GQP economic terrorists to take the country hostage and demand ransom, and to risk blowing up the U.S. and global economy with a default?
In an earlier post, I explained that Constitutional Law professor Laurence Tribe Schools The Apologists For The Extremist GQP Economic Terrorists On The Federal Debt Limit (Updated). Klein's concern that the U.S. Extreme Court would rule in favor of the GQP economic terrorists and for default on the debt is overblown. It is the same inaction based upon fear of the terrorist acts of Republican extremists that Politico assigns to Biden advisors.
The defenders of democracy cannot allow the anti-democracy terrorists to define the context of this fight. We cannot live in fear of the anti-democracy terrorists threatening to blow it all up. This just concedes power to the terrorists over you and emboldens them to engage in further acts of terrorism. The defenders of democracy most act boldly and be fearless.
The only appropriate response to the ransom demands from these GQP economic terrorists is from Willie Wonka. "It's all there, black and white, clear as crystal [the 14th Amendment]. You get nothing! You lose! Good day sir."
President Biden is moving closer to this position. The Hill reports, Biden says he thinks he has authority to use 14th Amendment on debt ceiling:
President Biden on Sunday said he believes he has the authority to use the 14th Amendment to unilaterally address the debt ceiling [he does], but he acknowledged potential legal challenges could still lead the nation to default if he went that route.
"I'm looking at the 14th Amendment as to whether or not we have the authority — I think we have the authority," Biden told reporters at a press conference in Hiroshima, Japan. "The question is, could it be done and invoked in time that it would not be appealed, and as a consequence past the date in question and still default on the debt. That is a question that I think is unresolved."
The legal challenge and default are separate issues. If the U.S. continues to borrow to pay its debts in accordance with the 14th Amendment, there is no default.
Biden added that all four congressional leaders said in a recent White House meeting [last week] that they agreed the nation would not default, signaling that he hoped talk of the 14th Amendment would ultimately not be necessary.
"So I'm assuming that we mean what we say and we'll figure out a way to not have to default," Biden said.
Sunday's remarks were Biden's strongest to date on the 14th Amendment, which has been a point of debate among legal experts and administration officials as the U.S. gets closer to the risk of default. The Treasury Department has warned the U.S. could default as early as June 1 if no action is taken to raise the debt ceiling.
The idea hinges on a phrase in the 14th Amendment that says the public debt "shall not be questioned," which proponents of the idea argue means the president could unilaterally continue to issue debt if Congress does not act.
Biden earlier this month said he had been "considering" the 14th Amendment as a way to unilaterally work around the debt ceiling, but he acknowledged that it would not be a viable short-term solution.
It would be a permanent, long-term solution to eliminating the hostage Republicans take every time a Democrat is in the White House.
Treasury Secretary Janet Yellen previously warned that using the 14th Amendment could trigger a "constitutional crisis," calling it "one of the not good options" if Congress failed to act.
Yellen should stay in her lane, she is not a constitutional law expert. It is not a "constitutional crisis," it is a political crisis manufactured by GQP economic terrorists.
We can't let House Republicans drive our economy off a cliff or hold funding for education, health care, veterans, and seniors hostage. Mr. President, it's time to seriously consider using the 14th Amendment. pic.twitter.com/jKiL0eEuGk

— Ed Markey (@SenMarkey) May 18, 2023
Yesterday, Senators stood together to urge President Biden not to cave to Republican demands to make cuts that would cause incalculable harm to the American people. Instead, we believe he should prepare to use the 14th Amendment. https://t.co/aEUc68KHUz

— Bernie Sanders (@SenSanders) May 19, 2023
President Biden took default off the table.
Senator Schumer took default off the table.
Leader Jeffries took default off the table.

Kevin McCarthy is threatening to default on America to advance an unpopular agenda.

— Senator Jeff Merkley (@SenJeffMerkley) May 19, 2023
The White House offered to essentially freeze domestic spending at FY2023 levels in negotiations. This was a sign of weakness, and the GQP economic terrorists saw this as an opportunity to make even more ransom demands. Politico Playbook reports, Playbook: GOP ratchets up debt ceiling demands:
[C]ongressional Republicans are expanding their demands to raise the debt ceiling, according to a source familiar with the talks who emailed us an update at about 1 a.m.
Congressional Republicans have not only rejected a new White House offer to essentially freeze domestic spending at FY2023 levels, they're now demanding work requirements for SNAP recipients that are more rigid than those they originally proposed. They're also insisting on adding new immigration provisions from the GOP's recently passed border bill — which, mind you, Republicans didn't include in their own debt ceiling bill.
The GOP's dug-in position comes at the end of a week when both President JOE BIDEN and Speaker KEVIN McCARTHY acknowledged that a budget deal would have to be bipartisan. Vote-counters on the Hill believe that any eventual deal will need the backing of about 100 House Democrats since a number of conservatives will never support any compromise. Yet given what Republican negotiators are now countering, they're far from that number.
So it is the GQP House Freedom (sic) Caucus, aka the GQP House Fascist Caucus aka GQP Sedition Caucus  aka Chaos Caucus, who are so extreme that they are ready to burn down the U.S. and global economy and cause financial pain and suffering to millions of Americans in pursuit of their extremist agenda.
The White House is not happy with the new GOP demands. This morning, Biden told reporters that the GOP needs to move off their "extreme positions."
President Biden said he would be blameless if the U.S. defaults on its debt in the coming days, Fox News reports. Said Biden: "I've done my part. It's time for the other side to move their team positions because much of what they were proposed is simply quite frankly, unacceptable."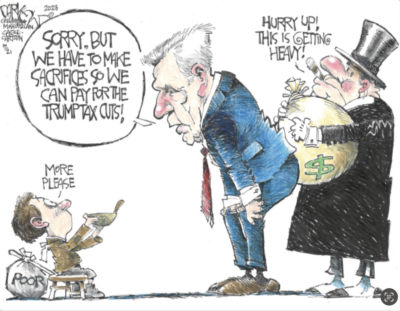 Added the aforementioned source: "Just days after publicly acknowledging that any budget agreement would need the support of both parties, the Speaker's team has taken a big step backward with a set of extreme partisan demands that doesn't reflect any movement after days of negotiations and that they know will never pass both Houses of Congress."
* * *
WORTH NOTING: The Biden White House's concessions have already infuriated some in their own allies on the Hill. Congressional Democrats worry about the effect of spending cuts on teachers, Meals on Wheels, law enforcement, cancer research and, especially, poorer Americans who depend on SNAP, Medicaid and TANF.
The White House appears to be waiting for the GOP to let go of some of its demands, which will of course anger some conservatives, but which the administration argues is nonetheless necessary to broker a deal and avoid a catastrophic default.
Speaker Kevin McCarthy said Sunday that he and President Joe Biden will meet on Monday in person to discuss raising the nation's debt limit, the AP reports.
President Biden should tell "Traitor" Kevin McCarthy,  "It's all there, black and white, clear as crystal [the 14th Amendment]. You get nothing! You lose! Good day sir." See you in court.