Ahead of Pennsylvania's GQP Senate primary election on Tuesday, the media is hyperventilating about how Kathy Barnette, a right-wing provocateur/commentator is suddenly surging late. Kathy Barnette is neck and neck with Oz and McCormick in the Pa. Senate race, poll says.
Barnette has been running a shoestring campaign and is surprising the supposed frontrunners, quack doctor and grifter of supplements, Mehmet Oz – who has Donald Trump's endorsement – and David McCormick, the CEO of Bridgewater Associates, an investment management firm, from 2017 to January 2022. Before joining Bridgewater in 2009, he served as Under Secretary of Commerce for Industry and Security and as Under Secretary of the Treasury for International Affairs in the George W. Bush administration. Dr. Oz and McCormick have spent more than $11 million apiece from their own pockets.
On May 12, Donald Trump issued a statement opposing Barnette. "Barnette will never be able to win the General Election." Neither will Dr. Oz, "stable genius."
Kathy Barnette has the late backing of the dark money PAC Club For Growth, financed by ultra-rich right-wing donors like Peter Thiel (their largest donor), leverage-buyout specialist John Childs and New Jersey investor Virginia James. Club For Growth supports far-right Republican candidates, spending money to not only oppose Democrats, but also moderate Republicans they term "RINOs" (an acronym for Republican In Name Only). Some within the Republican party dislike the Club; Mike Huckabee, former Arkansas Governor and Republican Presidential Candidate (and current FOX News host), says the group should be called the "Club for Greed."
The New York Times reports, Club for Growth Starts Ad Blitz for Kathy Barnette in Pennsylvania Senate Primary:
After months of a bruising television ad war between Dr. Mehmet Oz and David McCormick and their allies, the relatively shoestring campaign of Kathy Barnette, a conservative commentator showing surprising strength in the polls, will receive a late boost in the Republican primary for Senate in Pennsylvania.
The Club for Growth, the pro-business and anti-tax group, began booking television ads on Tuesday on behalf of Ms. Barnette worth $2 million, according to AdImpact, the ad-tracking firm.
That sum is more than 10 times what Ms. Barnette's campaign had spent in total on television to date, and the total pro-Barnette reservations could continue to grow.
Super PACs backing Mr. McCormick, Dr. Oz and their campaigns have already spent or reserved $40 million in the primary.
Despite that disparity, Ms. Barnette, author of the book "Nothing to Lose, Everything to Gain: Being Black and Conservative in America," is running neck and neck with Dr. Oz and Mr. McCormick after strong debate performances turned heads.
[Ms.] Barnette also has the backing of State Senator Doug Mastriano (Trump Backs Doug Mastriano, a Far-Right Loyalist, to Lead Pennsylvania), who has been the front-runner in the Republican primary for governor, and she has run an unabashedly hard-right campaign, attacking her better-funded rivals as "globalists" on the debate stage and questioning their commitment to gun rights and the anti-abortion movement.
* * *
The Club for Growth has not formally endorsed Ms. Barnette, which makes the group's late intervention all the more politically intriguing. The group did not respond to requests for comment.
The group noisily sparred with former President Donald J. Trump in the Ohio Senate primary. The Club for Growth, which backed Josh Mandel, continued to attack J.D. Vance, the eventual winner, even after Mr. Vance won Mr. Trump's endorsement.
Its continued assault on Mr. Vance angered both Mr. Trump and his son, Donald Trump Jr., who attacked the Club for Growth on the campaign trail. And Mr. Vance made clear he was still bitter about all the attacks, calling out the Club by name in his victory speech even as he praised his rivals for their efforts.
The Club for Growth and Mr. Trump are allied in another Senate race next Tuesday, in North Carolina, where both are backing Representative Ted Budd against former Gov. Pat McCrory.
Two of the GQP senate candidates were among the MAGA/QAnon insurrectionists who were in Washington, D.C. on January 6. Leading GOP candidates in Pennsylvania were in Washington on Jan. 6:
[Doug Mastriano], candidate for the Republican nomination for governor in Tuesday's Pennsylvania primary — endorsed Saturday by former president Donald Trump — participated in the "Stop the Steal" rally in Washington on Jan. 6, 2021, the day the U.S. Capitol was attacked.
Note: Mastriano campaign spent thousands on buses ahead of D.C. insurrection: Campaign finance records show that State Sen. Doug Mastriano's campaign spent thousands of dollars on charter buses ahead of the Washington D.C. rally that ended with supporters of President Donald Trump violently storming the halls of Congress last week during an insurrection.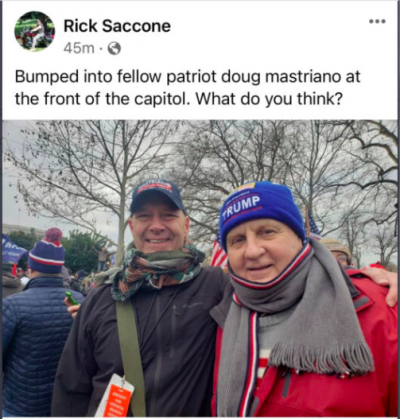 Video appears to show State Sen. Mastriano closer to Capitol riot than he said: Internet sleuths have unearthed video from the Jan. 6 riot at the U.S. Capitol that appears to show Pennsylvania State Sen. Doug Mastriano was much closer to clashes with police than earlier statements about his whereabouts that day indicated.
Pa. Sen. Doug Mastriano subpoenaed by Jan. 6 committee: The committee cited a Nov. 28, 2020, tweet by Mastriano that said he was pushing to have the Pennsylvania Legislature appoint electors.
This insurrectionist is also deep into the QAnon cult. Pa. GOP governor hopeful Mastriano campaigned at event promoting QAnon: state Sen. Doug Mastriano, attended the conference called "Patriots Arise for God and Country," according to Right Wing Watch, a website that monitors the far right. Mastriano was joined by Republican lieutenant governor hopeful Teddy Daniels.
Mastriano also met with Arizona's insurrectionist Republican legislators and toured Arizona's GQP sham "fraudit" of Maricopa County ballots, to set up his own sham "fraudit" in Pennsylvania. Sen. Mastriano opens Arizona-style 'election audit' plan in Pa.
This guy is a serious head case. It's no wonder Trump endorsed him.
The Post continues:
So, too, did a surging candidate [Kathy Barnette] for the GOP nomination for the U.S. Senate in Pennsylvania.
Note: Kathy Barnette also helped organize buses to the now-infamous "Stop the Steal" rally in DC on Jan. 6. Barnette posted a video on December 31 saying that she and her team were organizing two busses to support President Donald Trump. A Barnette spokesperson told PoliticsPA she was in attendance for Trump's remarks, but did not participate in the riots or enter the Capitol building.
I found GOP candidate for Senate Kathy Barnette in at least 2 separate Jan 6 videos, marching alongside Proud Boys on their way to storm the U.S. Capitol.

I don't have Barnette inside Capitol grounds. Does anyone recognize the bearded man in the camo hat who's next to Barnette? pic.twitter.com/76R2WdHBx5

— Chad Loder (@chadloder) May 15, 2022
And so did one of the Republican contenders to be the state's lieutenant governor -T eddy Daniels.
The trio are part of a phalanx of Republican candidates nationwide who so strongly embraced Trump's false claims that the 2020 election was stolen from him that they traveled to Washington to participate in the rally that preceded the violent attack on the Capitol, temporarily disrupting congressional certification of Joe Biden's victory.
Most of the candidates, including the Pennsylvanians, have said they did not enter the Capitol building that day. But they have made their commitment to Trump's baseless claims key to their campaigns, and their rise shows the extent to which many in the party's grass roots have embraced participation in Jan. 6 as a badge of honor.
Should the candidates win their elections, some would be in position to play a critical role in the administration of the presidential vote in 2024. In Pennsylvania, for instance, the governor appoints the secretary of state, who serves as the state's chief elections officer. Leading GOP gubernatorial candidate Doug Mastriano, a state senator, has said he would appoint a secretary of state who would require all voters to re-register before casting their ballots, a move that could dramatically reshape the electorate — and would likely violate federal law.
[O]ther candidates nationwide who have said they attended the rally in Washington on Jan. 6 include Arizona Rep. Mark Finchem (R), who as a candidate for secretary of state is seeking to run his state's elections. U.S. Senate candidate Ron Hanks, a Republican state representative, and J.R. Majewski, who this month won the GOP nomination to challenge an Ohio Democrat in a swing congressional district, have also said they were there.
[In] Pennsylvania, Mastriano was a key voice in the effort to overturn Biden's more than 80,000-vote victory in the state. He has said he attended Trump's speech at the Ellipse, and videos show him among a crowd moving toward the Capitol as another man removes a bike rack blocking the sidewalk.
Mastriano has said he respected police lines and that he and his wife departed when it became clear the event was no longer peaceful. In February, the House committee investigating Jan. 6 subpoenaeddocuments and testimony from Mastriano. He has been vague about whether he has cooperated.
U.S. Senate candidate Kathy Barnette, who was also a leading figure in pushing to overturn the Pennsylvania vote, has said she was in attendance when Trump spoke but was not in the crowd that broke into the Capitol. In a video posted online on Dec. 31, 2020, she announced that she was organizing buses to bring supporters to Washington. "Don't grow weary. FIGHT!" she titled the video.
About 90 minutes after the Capitol was breached, Teddy Daniels, who is running for lieutenant governor with Mastriano and Barnette's endorsement, posted to Twitter a 12-second video clip of a crowd thronging what appears to be the Capitol's east plaza. "I'm here. God bless our patriots," he wrote. He told a local Fox station in Pennsylvania the next day that he got close to the building and heard explosions but that no one in his group went inside.
[F]ormer Pennsylvania Republican congressman Charlie Dent, who in 2018 left Congress dismayed by the Trumpian-takeover of his party, called Mastriano and Barnette "a double nightmare." He said their role in Jan. 6 and their perpetuation of false claims that Trump won the election should disqualify them from running.
"It's almost unthinkable that this is where we are," Dent said. "I don't know exactly what they were doing down at the Capitol, but the fact that they still talk about this stolen election should be disqualifying."
You are absolutely correct, sir!
This shitshow of unqualified Republican candidates in Pennsylvania led the Philadelphia Inquirer to publish an extraordinary editorial opinion (don't expect to see the Arizona Republic to do the same for the Arizona GQP primary in August). We wanted to endorse in Republican primaries this year. We can't.
With Pennsylvania voters headed to the polls Tuesday to choose the Republican and Democratic candidates for governor and U.S. Senate, it's as if the primaries are occurring on two different planets.
On the Republican side there was a palpable shift, one that seems to have happened between the presidential election on Nov. 3, 2020, and the insurrection in the U.S. Capitol on Jan. 6, 2021.
It is no secret that this board, for decades, has leaned toward Democrats. And yet we have endorsed Republicans in past elections — including U.S. Rep. Brian Fitzpatrick for another term in 2020 and Kevin Brobson in the primary for the state Supreme Court in 2021.
Even when a candidate's views didn't exactly align with positions taken by this board, we've found points of agreement, sustained moments of mutual respect, and an appreciation of the kind of apolitical qualifications that are objectively deserving of praise.
Most fundamentally: We were all operating in the same reality.
When we sent a survey to Republican candidates in the Senate race to ascertain their positions on a range of issues, we learned that nearly everyone in the field felt our questions were biased and unfair.
In their view, among the most problematic queries that we asked was: Who won the 2020 presidential election? The only two options in the multiple-choice format were Joe Biden or Donald Trump. Only one candidate — Jeff Bartos — agreed to acknowledge reality.
If one of these Republicans wins the general election, they will represent Pennsylvania at the next State of the Union address. We guarantee that it will not be Donald Trump who walks into the U.S. Capitol to deliver the speech. The 2020 election is over. A candidate won, he lives at 1600 Pennsylvania Avenue, and his name is Joe Biden.
How do you find points of agreement when you can't reach common ground on facts so basic that they could be used in a field sobriety test?
We also reached out to each of the candidates in the Republican primary for governor. Three candidates who made it onto the ballot — Melissa Hart, Nche Zama, and Charlie Gerow — responded to our survey and acknowledged that Biden is president. In the current iteration of the Republican Party, that takes courage — and we applaud them for it.
But then we read the leaked draft opinion of the Supreme Court that would completely overturn Roe v. Wade. The next governor of Pennsylvania is likely to be the one to decide whether to sign or veto a ban on abortion.
This board has endorsed Roe from the day it was decided in 1973. None of the Republican candidates for governor supports abortion rights and all of them say they would implement statewide restrictions — some more rigid than others. For example, the leading candidate in the polls, State Sen. Doug Mastriano, is the prime cosponsor of a "fetal heartbeat" ban, which would make abortion illegal beginning at about six weeks of gestation. When this board asked Zama if he'd sign such a bill, he said no — not because he doesn't support a ban, but because he felt doing so would incorrectly imply that he supports abortion before six weeks of pregnancy.
Given the Supreme Court's apparent plans, the members of the board asked each other if we could bring ourselves to support a candidate who, if given the opportunity, was all but certain to use their pen as governor to ban abortion once the protections of Roe are no longer in place. We could not.
There is no pleasure in coming to this conclusion. In fact, it is a sad state of affairs.
There is no inherent virtue in supporting the policies that this board supports — but that's not the point. The question isn't how can more people agree with us, but how can this nation come to a place where we reach different conclusions and hold different opinions while operating from the same commonly shared set of facts? We don't have an answer.
Here is what we do know: It is through discussion, debate, and the interrogation of ideas that we develop a shared story. We hold on to the words of Thomas Jefferson — one of this nation's flawed but fundamental founders — that "truth is great and will prevail" unless "disarmed of her natural weapons, free argument and debate."
That is why we wanted to speak with all of the candidates this primary. That is why we will invite the Republican nominees in both races to endorsement meetings in the fall. That is why we wanted to help provide guidance to Inquirer readers with an endorsement in the Republican primaries this year — but we couldn't. Nevertheless, we will not stop engaging in free argument and debate until truth prevails.
If you think Pennsylvania is a shitshow, you haven't been paying attention to the Citizens Clean Eelctions candidate debates here in Arizona, and have been ignoring the godawful candidate political ads. Arizona was "ground zero" and gave birth to the Stop The Steal movement to promote Donald Trump's Big Lie.  As bad as Pennsylvania Republicans are, Arizona Republicans are almost certain to do them one better in August.
As Samuel L. Jackson would say, "Wake the fuck up" and pay attention to what is going on in these campaigns. You are about to lose American democracy to these fascists.