In case you missed this last week, the caption from Charles Pierce at Esquire sums it up perfectly: Because Benghazi Went So Well, We Have a New Planned Parenthood Committee (and it's chock full o' wingnuts):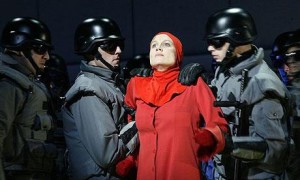 Things went so well for the Republicans in Thursday's Benghazi, Benghazi!, BENGHAZI! snipe hunt that departing Speaker John Boehner, who may just be pranking the bastards at this point, on Friday announced the members of the next Special Committee For Expanded Ratfcking. This one will look into the fictitious sale of baby parts by Planned Parenthood. Here are your dogged GOP inquisitors tasked with "investigating" "evidence" produced by phony videotapes:
Marsha Blackburn, Chairman (R-TN); Joe Pitts (R-PA); Diane Black (R-TN); Larry Bucshon (R-IN); Sean Duffy (R-WI); Andy Harris (R-MD); Vicki Hartzler (-MO); Mia Love (R-UT).
​A real pack o'pips, this one. Blackburn is a thoroughgoing nut. Her Tennessee colleague, Diane Black, is no fan of the 14th Amendment, and hires people with interesting views about our African American president.  Duffy's the former Real World contestant who complained that he can't make it on the nearly 200-large he gets for being a congresscritter, and who also put words in the Pope's mouth and is therefore going to hell. Bucshon has visited the shebeen before; here's another science-denying wingnut physician. He is joined on Grand Rounds in the nervous ward by Harris, another doctor who doesn't know fck-all about his day job. Mia Love is the perpetually rising Republican star from Utah, and Vicki Hartzler is just flat-out freaking amazing. She's standing tall against the Chinese, who are spying on her through her toasters.  Put this bunch on TV, too, primetime. Yeah, this oughta work.
The Inquisition of Planned Parenthood by this panel of wingnuts is not going to turn out well for them.