The Washington Post summarized the size of Joe Biden's decisive win:
Biden received more votes – 77.3 million (so far) – than any other candidate for public office in American history. With the highest levels of turnout since 1900, he beat Trump by more than 5 million votes nationwide, and that number is expected to grow as California continues to count its ballots. Biden has garnered a higher percentage of the popular vote – 50.8 percent – than any challenger to an incumbent since Franklin Roosevelt defeated President Herbert Hoover in 1932, narrowly edging out Ronald Reagan's share of the vote in 1980 when he beat Jimmy Carter.
While the Twitter-troll-in-chief's tweets attacking the legitimacy of the 2020 presidential election will not sway the outcome — they do sway his MAGA cult followers' faith in democracy. Trump is poisoning the well of American democracy in order to undermine it. Study: Trump's tweets can lead Republicans to lose faith in elections:
A study by political science researchers from Stanford and five other universities found that exposure to those tweets "erodes trust and confidence in elections and increases the belief that elections are rigged among his supporters." However, among those who oppose the president, the study found that their trust in elections actually increased after seeing his tweets, albeit by a slightly smaller magnitude.
"We've never had a president who is attacking the legitimacy of an election at the level that Trump is," said Stanford University researcher Katherine Clayton, the study's lead author.
Over the last eight years, Trump has attacked mail-in voting or made allegations of election fraud more than 130 times on Twitter, according to a September Wall Street Journal review. Around 66 percent of those tweets were posted this year.
Since the election was called for Democrat Joe Biden, Trump has intensified his attacks on the legitimacy of the process, and many congressional Republicans have fallen in line and bolstered his claims about widespread fraud and the appropriateness of legal action.
Donald Trump's poisonous election fraud conspiracy theories, echoed in the conservative media entertainment complex, have had their desired effect – they are undermining American democracy:
Trump's MAGA cult followers, like Donald Trump himself, are detached from reality. They are living in an alternate reality world of make believe that represents a growing threat to American democracy.
And Republican leaders in Congress who know better are actively aiding and abetting this dangerous alternate reality. The Washington Post reports, GOP leaders' embrace of Trump's refusal to concede fits pattern of rising authoritarianism, data shows:
It is the latest sign of the party's lurch away from democratic ideals and practices, a shift that predates Trump but one that has accelerated precipitously since. Now, according to data released by an international team of political scientists just before the Nov. 3 election, it's possible to quantify the extent to which the Republican Party no longer adheres to such principles as the commitment to free and fair elections with multiple parties, the respectful treatment of political opponents and the avoidance of violent rhetoric.
"The Republican Party in the U.S. has retreated from upholding democratic norms in recent years," said Anna Lührmann, a political scientist at the University of Gothenburg in Sweden and a former member of the German parliament. "Its rhetoric is closer to authoritarian parties, such as AKP in Turkey and Fidesz in Hungary."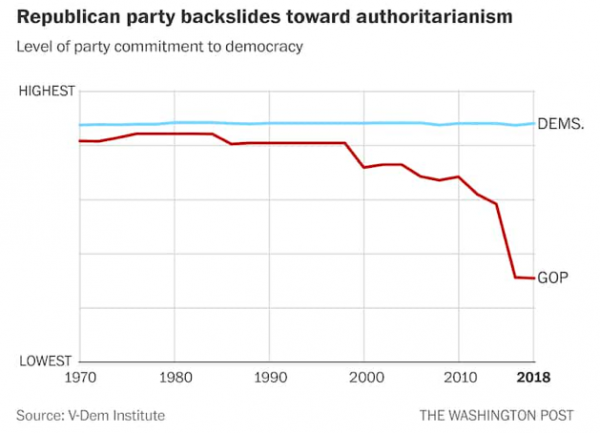 Lührmann is deputy director of the university's V-Dem Institute, which compiled the data. For the project, researchers recruited more than 600 political scientists around the world to make annual assessments of political parties' adherence to a number of key small-D democratic values.
Those assessments are combined into the main measure in the chart above, which tracks parties' overall commitment to democracy. Lührmann points out that the Republican Party score started to edge downward during the Obama administration but fell off a cliff in 2016 with the ascent of Trump.
The Democratic Party, by contrast, hasn't changed much. This is a prime example of what political scientists call asymmetric polarization — a growing partisan gap driven almost entirely by the actions of the Republican Party.
While V-Dem's data only runs through 2018, that asymmetry has only become more apparent in the aftermath of this election, Lührmann said: "It is disturbing that most leading Republicans are still not objecting to President Trump's baseless claims of electoral fraud and attempts to declare himself the winner."
As a result, she says, GOP scores are likely to sink further when 2020 data is released.
* * *
The drivers of the Republican Party's drift toward authoritarianism are visible in the sub-indicators that make up the main index. Consider the demonization of political opponents: In 2006, V-Dem's experts judged that GOP leaders "usually did not" resort to demonization and severe personal attacks in characterizing the Democratic Party.
But the rise of the tea party [astroturf funded by the right-wing FreedomWorks, an associate member of the Koch brothers-founded State Policy Network] was a turning point, research shows. "Angry protesters have frequently made claims ranging from proclaiming Obama's 'socialist' intentions to making explicit Nazi comparisons to suggesting that the President is defying or even subverting the Constitution," the Anti-Defamation League wrote at the time.
By 2016, that sort of rhetoric had become the norm among GOP leaders.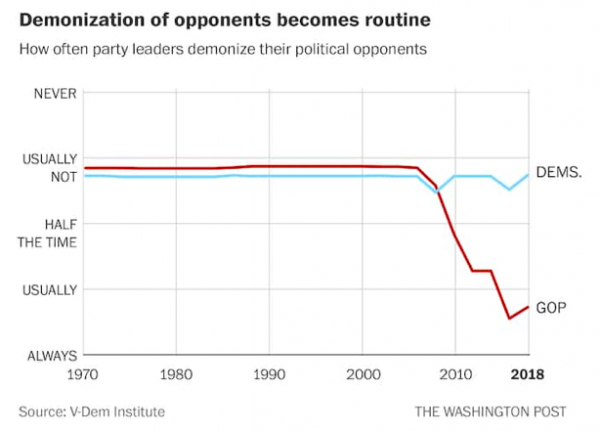 Encouraging violence has become alarmingly common. From the 1970s through roughly 2010, V-Dem's experts note that both Republican and Democratic leaders consistently rejected the use of violence against political opponents. For Republicans, that began to change under Trump.
During the 2016 campaign, Trump appeared to encourage violence against protesters at his rallies. Also during that campaign, Kentucky's Republican governor suggested armed insurrection might be necessary in the event of a Hillary Clinton victory.
* * *
In September, Facebook removed a post by a Georgia congressional candidatefor violating a policy against inciting violence. The candidate, Marjorie Taylor Greene – a QAnon cult member–  went on to win her election.
Many GOP supporters have taken these messages to heart, with news reports documenting dozens of cases of violent crimes committed in Trump's name. Survey data collected by a separate group of political scientists has shown that "willingness to support incivility, harassment, and violence are higher among President Trump's supporters than among his opponents."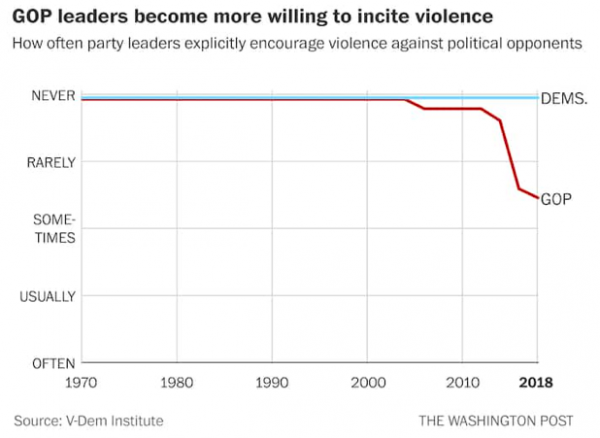 V-Dem's data underscores how much of the Republican Party has adopted the authoritarian beliefs and tactics of the president. Many of the GOP leaders going along with Trump's baseless claims of voter fraud will still be in office after he leaves.
"That leading Republicans are not willing to defend the electoral process shows that Trump is not the only GOP politician who has a problem with key democratic norms," Lührmann said.
We are about to find out just how committed to constitutional democracy, or not, Republicans really are this weekend.
Donald Trump's MAGA red caps, his version of Italian "black shirts" and German "brown shirts" fascist militias, are descending on Washington, D.C. this weekend for a "MAGApalooza." MAGA nation tries to rally around Trump with MAGApalooza:
The disparate tribes of MAGA Nation — Oath Keepers, Three Percenters, Infowars fanatics, Groypers, Proud Boys, white nationalists, neo-Nazis and the people who would simply call themselves die-hard MAGA — have declared that they are simply going to show up in Washington en masse over the weekend to rally together, with the marquee event on Saturday.
Note: Several of these organizations have been identified by the FBI as domestic terrorist organizations — now the "GOP base."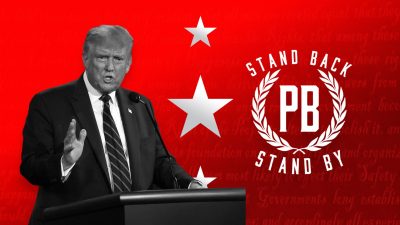 The groups have assigned the gathering different names: the Million MAGA March, the March for Trump, Stop the Steal DC. But they're all set to take place Saturday in the nation's capital, around noon, with most set to congregate near Freedom Plaza, just east of the White House, though some groups have also suggested the Supreme Court building down the National Mall. It's unclear how many people may show up, and past promises of massive rallies have sometimes fizzled out. Notably, organizers have not filed for permits, according to a spokesperson for the D.C. Metropolitan Police. But disinformation and extremist researchers have estimated anywhere from several hundred to several thousand may show up.
The events — or "rally initiatives," as Oath Keeper leader Stewart Rhodes termed them — show how Trump's more dedicated followers plan to spend the coming weeks. Activists throughout the far-right universe, from MAGA celebrities to policy wonks to conspiracy theorists, are exploring how to use the final two-plus months of Trump's presidency to undermine President-elect Joe Biden, vocally support Trump's court challenges to the election, confront antifa, and maybe, just maybe, help keep the current president in office.
"It is solely designed to create disruption, and possibly chaos. It's basically a giant online comment troll come into life," said Angelo Carusone, president of Media Matters, a progressive group that monitors conservative media.
Saturday's events have ricocheted around the MAGA echo chamber in various forms.
Women for America First promoted the March for Trump, Right Side Broadcasting Network called it the "Million #MAGA March." Infowars's Owen Schroyer has organized an elaborate cross-country caravan from Texas, designed to pick up more followers before arriving in D.C. on Friday for the march. Nick Fuentes, a prominent white nationalist who leads the group Groyper Army, has organized a series of rallies across swing states, culminating in a D.C. gathering on Saturday.
Truckers for Trump plan to drive Trump flag-bearing vehicles through the city, and the MAGA caravan organization Drag the Interstate has planned a "Nice Saturday Drive" to an address near Freedom Plaza on Saturday. And members of the Proud Boys, the far-right group known for street brawling, are planning to come to D.C. as well.
Trump allies have also promoted the various events on their Twitter feeds.
Online, these Trump followers have used social media to hype up specific conspiracy theories, including Sharpiegate, a swiftly debunked claim that Arizona ballots weren't registering for voters who had used sharpies to indicate their choices.
A similar phenomenon among the MAGA crowd with the seemingly overnight growth of #StopTheSteal, a hashtag that became the unofficial hub for Trump supporters to dump spurious allegations of voter fraud within hours of the polls opening in swing states. The hashtag's growth was hardly organic — a loose confederacy of Trump allies helped give it life.
The online advocacy has now started to spill over into in-person protesting. The #StopTheSteal movement generated enough energy that MAGA influencers were able to unofficially organize small but vocal protests at statehouses and voting tabulation centers across the country.
Saturday's conglomerate of pro-Trump events appears to be the next step in that progression. A disparate universe of pro-Trump groups is hyping up the various events on Eventbrite, Twitter and Parler, a social-media site popular with conservatives. Fringe groups are sharing details of the march on Telegram, an encrypted messaging app. Officially, there is no joint planning between these groups. But every event is conveniently set to occur in D.C. at around the same time.
"Lots of people are going to come up with different graphics and hashtags and names because they are excited," said Ali Alexander, a former tea party political operative, MAGA influencer and one of the organizers of the March for Trump.
* * *
Some groups have run afoul of the digital platforms being used to organize. Eventbrite, for instance, shuttered the March for Trump's event page for promoting "potentially harmful disinformation." According to Kremer, Facebook and Mailchimp deplatformed them, as well.
"Big Tech is out to take down this President," tweeted Ryan Fournier, co-founder of Students for Trump, which organizes on college campuses.
The rallies are also being heavily promoted on white supremacist sites like The Daily Stormer and Stormfront.
Fuentes, of the white nationalist group Groypers, promised on Telegram: "[W]e will rally in DC this weekend. GROYPERS ARE GOING TO STOP THIS COUP!" And on Twitter, he called the event "MAGA NIGHT AT THE WHITE HOUSE." Ethan Ralph, a white supremacist-sympathetic livestreamer, announced he would be hosting an episode of "The Killstream" live at the event. QAnon groups were lit up as well at the prospect of a MAGApalooza near the president's house.
"Everybody who comes to this will certainly not be an extremist," said Jared Holt, a visiting fellow at the Atlantic Council's Digital Forensics Research Lab, which monitors online extremism and disinformation. "But this event is generating a fair amount of chatter in extremist communities online that we're monitoring."
The declared MAGA goal, of course, is to show support for the president. But the ulterior motive, argued Carusone, is to prove the left is just as violent — a longtime talking point in far-right media.
"I don't really know if this is going to have any sort of impact, unless they can, like, pick a fight with antifa and get on[ Proud Boys' ] Tucker Carlson," he said, referencing one of Trump's favorite Fox News personalities.
It's not out of the question. A "FUCK MAGA" counterprotest has already been scheduled by All Out DC, a local antifascist group, to take place nearby. Washington is also a heavily liberal city — Biden earned over 93 percent of the capital's vote. And several members of attending groups — the Proud Boys in particular — are known primarily for getting into brawls with left-wing counterprotesters.
The most incendiary presence could be the militias, although it's unclear whether they will actually show up.
Rhodes, the Oath Keeper leader, has vowed to station armed "special warfare veterans" outside the city on Saturday, placing them outside the jurisdiction of Washington's gun control laws. But he has made similar pledges before that have not materialized.
Regardless of what they do, Rhodes' sentiment — and those of his fellow MAGA pilgrims — is clear: "We must refuse to EVER recognize this as a legitimate election, and refuse to recognize Biden as a legitimate winner, and refuse to ever recognize him as the president of the United States."
This is the fascist poison that Donald Trump has injected into the bloodstream of the right-wing to undermine American democracy.