With Donald Trump's path to the presidency closing rapidly state by state in the most recent polling — he currently trails in all 11 of the states identified by POLITICO as Electoral College battlegrounds, Trump's shrinking electoral map — "The Donald" has shaken up his campaign staff for the third time in five months. Trump shakes up campaign, demotes top adviser: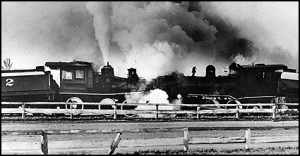 Donald Trump, following weeks of gnawing agitation over his advisers' attempts to temper his style, moved late Tuesday to overhaul his struggling campaign by rebuffing those efforts and elevating two longtime associates who have encouraged his combative populism.
Stephen Bannon, a former banker who runs the influential conservative outlet Breitbart News and is known for his fiercely anti-establishment politics, has been named the Trump campaign's chief executive. Kellyanne Conway, a veteran Republican pollster who has been close to Trump for years, will assume the role of campaign manager.
Trump's stunning decision effectively ended the months-long push by campaign chairman Paul Manafort to moderate Trump's presentation and pitch for the general election. And it sent a signal, perhaps more clearly than ever, that the real estate magnate intends to finish this race on his own terms, with friends who share his instincts at his side.
For all the Beltway media villager speculation that we have had to endure for months on end about an inevitable Trump "pivot" to expand his appeal in the general election, "The Donald" told WKBT-TV in Wisconsin, "I am who I am." "It's me. I don't want to change. Everyone talks about 'oh are you gonna pivot?' I don't want to pivot. I mean you have to be you. If you start pivoting, you are not being honest with people."
Manafort, a seasoned operative who joined the campaign in March, will remain in his role, but the advisers described his status internally as diminished due to Trump's unhappiness and restlessness in recent weeks over his drop in the polls and reports over lagging organization in several key states. See, In Key States, The Trump Campaign Still Lags Badly.
He told some friends that he was unsure if he was being given candid assessments of news stories and the campaign's management.
While Trump respects Manafort, the aides said, he has grown to feel "boxed in" and "controlled" by people who barely know him. Moving forward, he plans to focus intensely on rousing his voters at rallies and through media appearances.
Sean Spicer, chief strategist at the Republican National Committee, said in an interview Wednesday that the national party is already working with the new high command and remains fully committed to supporting Trump's candidacy in the coming months.
* * *
Trump's turn away from Manafort is in part a reversion to how he ran his campaign in the primaries with then-campaign manager Corey Lewandowski. Lewandowski's mantra was "let Trump be Trump" and Trump wants to get back to that type of campaign culture, the aides said.
In Bannon especially, Trump is turning to an alter ego — a colorful, edgy figure on the right who has worked at Goldman Sachs and made several films, including a documentary about former Alaska governor Sarah Palin.
Bannon, in phone calls and meetings, has been urging Trump for months to not mount a fall campaign that makes Republican donors and officials comfortable, the aides said. Instead, Bannon has been telling Trump to run more fully as an outsider and an unabashed nationalist.
Did you catch that? Trump is going to "more fully embrace" xenophobic anti-immigrant bigotry and racism as he transforms the dying GOP into a white nationalist party. The GOP is now Trump's party of white identity and white grievances. The GOP is officially the modern-day reincarnation of the Know Nothing Party from the 1850s. "America first!"
Greg Sargent of the Washington Post had an interesting take this morning: "One other explanation for Trump's latest moves comes courtesy of CNN's Brian Stelter, who suggested this morning that Trump may be positioning himself to launch a new media enterprise after a November loss. Bannon and former Fox exec Roger Ailes (who is also advising Trump), Stelter noted, would be just the team for Trump to do that. If so, perhaps Trump is very consciously sticking to his strategy of fusing white nationalism with rousing WWE style political entertainment, and very consciously avoiding broader demographic outreach that might dilute this approach's appeal to his core constituencies, in order to split off a chunk of the GOP and keep it for himself later as a following and national audience.
UPDATE: Trump has signaled that he's ready to formally embrace the alt-right and their white nationalist views. So Much For Dog Whistles. Trump Has Now Fully Embraced White Nationalists.
Back to the report:
Trump's decision developed over the weekend as he traveled to the Hamptons in New York for a Saturday evening fundraiser at the home of Woody Johnson, the wealthy Republican benefactor who owns the New York Jets.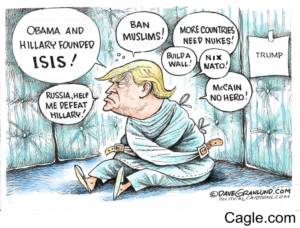 According to three Republicans familiar with that event, Trump was confronted by several supporters there, including mega-donor Rebekah Mercer, about news reports on his advisers' desire to tame his personality. See, Inside the Failing Mission to Tame Donald Trump's Tongue. The three Republicans requested anonymity due to sensitivity of the campaign's transition and their relationships with Trump, Bannon and Conway.
Trump was visibly infuriated at the news stories, the Republicans said, and he conferred with Mercer about potential steps he might take to remake his campaign and populate his inner circle with voices more like his own.
Bannon's name soon came up. Mercer, the daughter of hedge-fund titan Robert Mercer, spoke highly of him. (The Mercer family is a prominent investor in Breitbart News as well as in a super PAC opposing Hillary Clinton.) Trump did the same and told her they had been talking.
By Sunday, as Manafort appeared on network television shows, Trump was stewing and dialing up his friends, the Republicans said. He connected with his son-in-law and trusted adviser Jared Kushner, who has been on vacation in Europe. Then he called Conway and Bannon, ruminating aloud on how they could help him jolt his stalled candidacy.
The Journal reported that Bannon met with Trump later on Sunday at Trump National Golf Club in Bedminster, N.J., to "lay out his new thinking for the campaign team" — with Manafort joining that meeting.
Bannon and Conway, who are friendly, both told Trump they'd be willing to work together and that they understood Trump's vision for the rest of the campaign, the Republicans said. While careful to not be critical of Manafort — Conway has referred to the changes as an "expansion" rather than a shake-up — they told Trump they would be dedicated to sharpening his message rather than handling him.
Bannon came to the conversation armed with ideas about how to promote Trump nationally and underscore his populism. Conway, who worked on Newt Gingrich's 2012 campaign and has long counted Trump's running mate, Indiana Gov. Mike Pence, as a client, had thoughts on how Trump could reach out to more women and suburban voters.
Bannon quickly began to prepare for a takeover. He was spotted at Trump Tower on Monday and worked there Tuesday though he did not travel with Trump.
The campaign's revised structure started to take shape Tuesday afternoon at Trump Tower. Kushner, back from vacation in Croatia with his wife Ivanka, joined Manafort, his deputy Rick Gates, Conway and Bannon, the aides said.
Trump's decision to transfer oversight of the campaign was deliberated at length. At the same time, Bannon and Conway were also remotely assisting Trump as he readied his speech that evening in Wisconsin.
Moving forward, Trump is hopeful that Manafort will remain involved and a leader within the campaign with a possible emphasis on building Trump's Washington operation, one of the Republicans said.
But Bannon's position could make any attempt to smooth relations in Washington difficult. Breitbart News has been harshly critical of House Speaker Paul D. Ryan (R-Wis.) and Senate Majority Leader Mitch McConnell (R-Ky.), and is seen as an antagonistic organ by congressional GOP leaders.
Another headache for Manafort: the continued hovering presence of Lewandowski, now a CNN commentator, who remains a confidant of Trump. According to Trump aides, he had a hand in prodding Trump to elevate Conway and Bannon and spoke with Trump over the weekend.
Lewandowski took a veiled shot at Manafort on CNN on Wednesday morning, praising Bannon's addition to the staff and suggesting it would lead to a more aggressive approach.
"You've got a candidate who wants to win. This is a clear indication of that. If you look at Stephen Bannon and what they've built at Breitbart, it's win at all costs," Lewandowski said. "And I think that really makes some people on the left very afraid because they're willing to say and do things that others in the mainstream media wouldn't do."
For more background information on Trump's new top aides, Bloomberg Politics published an interesting profile on Bannon last fall – it described him as "the most dangerous political operative in America" – while Media Matters has published overviews of Breitbart News and Kellyanne Conway's controversial record. (h/t Steve Beneen).
Mainstream Republicans are now demanding that the RNC bail on the Trump campaign. Republicans deliver letter to RNC urging it to divert money from Trump, to congressional races:
More than 120 Republicans signed a letter that was delivered to the Republican National Committee on Tuesday, urging the organization to divert its financial resources away from Donald Trump's presidential campaign and toward helping congressional candidates win in November.
The letter was first made public last week. It states that Trump's candidacy will have a "catastrophic impact" on down-ballot Republicans and that the committee should focus all of its available resources toward helping Republicans maintain control of Congress.
"This guy is a nut case. Let him sink on his own and take the money and the assets and the volunteers, all the things a party can bring to an election, and use them to help support the Republican candidates for other offices," Mickey Edwards, a former congressman from Oklahoma, said of Trump.
"Otherwise this guy is going to drag the whole party down into oblivion by causing Republican legislators, Republican members of Congress, to get wiped out," Edwards said.
Those who signed the letter include current and former staffers and elected officials in the RNC, advisers to the past nine Republican presidential campaigns, former members of Congress and others. Signing the letter is not an endorsement of any other candidate, drafters and signers said.
The Republican National Committee and Trump's campaign did not respond to requests for comment.
* * *
"I signed because I think it's clear that Mr. Trump's candidacy is going nowhere and there are still a lot of Senate and House candidates who can win, and that's where I think the support should be going," said B. Jay Cooper, a former White House deputy press secretary and communications director at the RNC.
Cooper said he's not supporting Trump, but he's still not sure who he plans to vote for.
"I've worked in the White House for three different presidents and temperament is important. Attitude and how you set the morale for the government, how you present this country to other countries, all of this is extremely important and he doesn't measure up," Cooper said.
"We can survive four years of Hillary Clinton," he said. "I'm not sure we can survive Donald Trump."
The GOP cut loose Senator Bob Dole in 1996 late in the campaign when it was clear that he would lose and could cost Republicans seats in Congress. I don't recall this ever happening as early as the month of August, only weeks after the RNC National Convention.