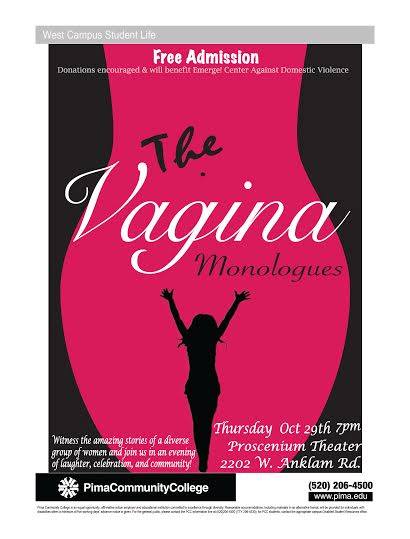 Some people joke by saying that going to this show is as scary as Halloween which is coming up in a few days. I've seen this show at PCC West a number of times, and it is very hilarious and yet down to earth. All are welcome to listen & learn about vaginas and women's sexual health, even men.
West Campus will host a free performance of "The Vagina Monologues," featuring a cast of 14 comprised of PCC students, faculty, staff and alumni.
What: "The Vagina Monologues"

When: 7 p.m., Oct. 29, 2015

Where: Proscenium Theatre, PCC West Campus [map]

Admission: Free; accepted donations to Emerge! Center Against Domestic Abuse

Info: 520-206-6742
Admission is free, but donations will be accepted to benefit Emerge! Center Against Domestic Abuse. The public is invited to this evening of laughter, celebration and community. This powerful, moving Obie-Award-winning play by Eve Ensler tells the amazing stories of a diverse group of women and girls.
Donations for Emerge! is very important,  especially as October is Domestiv Violence Awareness Month.