After weeks of charges and denials between autocratic regimes Turkey and Saudi Arabia over the assassination of permanent U.S. resident and Washington Post reporter Jamal Khashoggi, last week the CIA concluded Saudi crown prince ordered Jamal Khashoggi's assassination: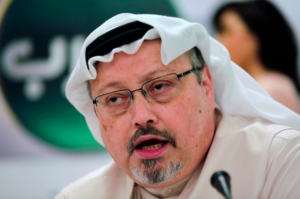 The CIA has concluded that Saudi Crown Prince Mohammed bin Salman ordered the assassination of journalist Jamal Khashoggi in Istanbul last month, contradicting the Saudi government's claims that he was not involved in the killing, according to people familiar with the matter.
The CIA's assessment, in which officials have said they have high confidence, is the most definitive to date linking Mohammed to the operation[.]
In reaching its conclusions, the CIA examined multiple sources of intelligence, including a phone call that the prince's brother Khalid bin Salman, the Saudi ambassador to the United States, had with Khashoggi, according to the people familiar with the matter, who spoke on the condition of anonymity to discuss the intelligence.
Among the intelligence assembled by the CIA is an audio recording from a listening device that the Turks placed inside the Saudi Consulate, according to the people familiar with the matter. The Turks gave the CIA a copy of that audio, and the agency's director, Gina Haspel, has listened to it.
* * *
The CIA's conclusion about Mohammed's role was also based on the agency's assessment of the prince as the country's de facto ruler who oversees even minor affairs in the kingdom. "The accepted position is that there is no way this happened without him being aware or involved," said a U.S. official familiar with the CIA's conclusions.
* * *
The CIA also examined a call placed from inside the consulate after the killing by an alleged member of the Saudi hit team, Maher Mutreb, a security official who has often been seen at the crown prince's side and who was photographed entering and leaving the consulate on the day of the killing.
* * *
In addition to calls and audio recordings, CIA analysts also linked some members of the Saudi hit team directly to Mohammed himself. Some of the 15 members have served on his security team and traveled in the United States during visits by senior Saudi officials, including the crown prince, according to passport records reviewed by The Post.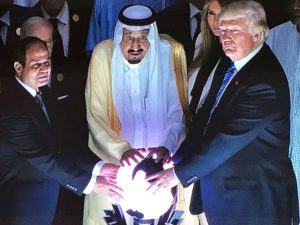 Our "Dear Leader" Donald Trump, who admires murderous autocratic thugs whom he would very much like to emulate — Vladimir Putin (Russia), Kim Jong-un (North Korea), Rodrigo Duterte (Philippines), Recep Erdoğan (Turkey), Mohammed bin Salman (Saudi Arabia), etc. — is once again siding with his autocratic thug role models and dismissing the findings of U.S. intelligence agencies, just as he did with the U.S. intelligence assessments of Russian interference in the 2016 election.
President Trump has resisted pinning the blame for the killing on Mohammed, who enjoys a close relationship with Jared Kushner, the president's son-in-law and senior adviser. Privately, aides said, Trump has been shown evidence of the prince's involvement but remains skeptical that Mohammed ordered the killing.
Trump said he would have a statement on the CIA assessment by Tuesday. And oh my God, what a horrifyingly craven individual Donald Trump truly is. This statement is the raving of an amoral madman. Read Trump's bizarre statement on Saudi Arabia and Jamal Khashoggi:
Read the full statement below.
America First!

The world is a very dangerous place!

The country of Iran, as an example, is responsible for a bloody proxy war against Saudi Arabia in Yemen, trying to destabilize Iraq's fragile attempt at democracy, supporting the terror group Hezbollah in Lebanon, propping up dictator Bashar Assad in Syria (who has killed millions of his own citizens), and much more. Likewise, the Iranians have killed many Americans and other innocent people throughout the Middle East. Iran states openly, and with great force, "Death to America!" and "Death to Israel!" Iran is considered "the world's leading sponsor of terror."

On the other hand, Saudi Arabia would gladly withdraw from Yemen if the Iranians would agree to leave. They would immediately provide desperately needed humanitarian assistance. Additionally, Saudi Arabia has agreed to spend billions of dollars in leading the fight against Radical Islamic Terrorism.

After my heavily negotiated trip to Saudi Arabia last year, the Kingdom agreed to spend and invest $450 billion in the United States. This is a record amount of money. It will create hundreds of thousands of jobs, tremendous economic development, and much additional wealth for the United States. Of the $450 billion, $110 billion will be spent on the purchase of military equipment from Boeing, Lockheed Martin, Raytheon and many other great U.S. defense contractors. If we foolishly cancel these contracts, Russia and China would be the enormous beneficiaries – and very happy to acquire all of this newfound business. It would be a wonderful gift to them directly from the United States!

The crime against Jamal Khashoggi was a terrible one, and one that our country does not condone. Indeed, we have taken strong action against those already known to have participated in the murder. After great independent research, we now know many details of this horrible crime. We have already sanctioned 17 Saudis known to have been involved in the murder of Mr. Khashoggi, and the disposal of his body.

Representatives of Saudi Arabia say that Jamal Khashoggi was an "enemy of the state" and a member of the Muslim Brotherhood, but my decision is in no way based on that – this is an unacceptable and horrible crime. King Salman and Crown Prince Mohammad bin Salman vigorously deny any knowledge of the planning or execution of the murder of Mr. Khashoggi. Our intelligence agencies continue to assess all information, but it could very well be that the Crown Prince had knowledge of this tragic event – maybe he did and maybe he didn't!

That being said, we may never know all of the facts surrounding the murder of Mr. Jamal Khashoggi. In any case, our relationship is with the Kingdom of Saudi Arabia. They have been a great ally in our very important fight against Iran. The United States intends to remain a steadfast partner of Saudi Arabia to ensure the interests of our country, Israel and all other partners in the region. It is our paramount goal to fully eliminate the threat of terrorism throughout the world!

I understand there are members of Congress who, for political or other reasons, would like to go in a different direction – and they are free to do so. I will consider whatever ideas are presented to me, but only if they are consistent with the absolute security and safety of America. After the United States, Saudi Arabia is the largest oil producing nation in the world. They have worked closely with us and have been very responsive to my requests to keeping oil prices at reasonable levels – so important for the world. As President of the United States I intend to ensure that, in a very dangerous world, America is pursuing its national interests and vigorously contesting countries that wish to do us harm. Very simply it is called America First!
As Alex Ward of Vox concludes, "So after more than a month of international outcry and calls for the U.S. to hold Saudi Arabia accountable for murdering a U.S. resident and journalist, the president basically just said that it won't happen."
Karen Attiah, the Washington Post's Global Opinions editor writes, Khashoggi's murder will stain Trump (and America) forever (excerpt):
In a juvenile, clumsy White House statement on Tuesday full of falsehoods, Trump repeated the Saudi lie that Jamal was an "enemy of a state" and that the "United States would stand steadfastly by Saudi Arabia," even though its regime lured, killed and dismembered a peaceful Post op-ed writer who lived in Virginia.
In effect, Trump is doing his best to help the Saudi regime get away with the murder of a U.S. resident and one of the Arab world's most prominent writers. If the administration continues down this path, it will further destroy whatever is left of America's moral credibility on global human rights and freedom of expression. It puts truth-seekers and journalists who dare challenge the Saudi regime and other intolerant governments in grave danger, no matter where they live. Trump's refusal to act gives a symbolic green light to the young, power-drunk Mohammed bin Salman so he can continue his reckless exploits in Saudi Arabia and the Arab world, for possibly the next 40 to 50 years, and face zero consequences.
"If we allow a murderer to get away because we think we can make some deals with him, we are just reinforcing the idea that money can silence everybody," says Abdullah Alaoudh, a senior scholar at the Center for Muslim-Christian Understanding at Georgetown University.  "And this is the dangerous message that created Saddam Hussein and Moammar Gaddafi. We can better protect the good relationship with Saudi Arabia in the long run through building a relationship with the Saudi people, institutions and even the majority of the royal family. Or we can risk losing all that by protecting one powerful individual who has been implicated in a horrible crime."
* * *
The darkly ironic argument that the United States should allow MBS to get away with murder just so it can continue to sell military equipment to Saudi Arabia is as morally craven as it is foolish policy. The Saudi-led coalition along with the United Arab Emirates has orchestrated a disastrous war in Yemen, triggering the worst humanitarian crisis since World War II. Militarily, the war has been a failure. Despite U.S. training of Saudi forces and their use of American weapons, the Saudi forces have not made any significant headway against Iran-backed Houthi rebels. The most newsworthy target that the Saudis managed to hit in recent months with U.S. weaponry wasn't a Houthi stronghold: It was a school bus full of Yemeni children.
There are those who argue that MBS should stay in the interests of "stability." But we have seen this movie before. From Mobutu Sese Seko in Congo to Augusto Pinochet in Chile, dictators supported by elites in Western capitals have terrorized their citizens and destabilized their regions. The peoples of these countries are told by these same governments to grin and bear their own repression, because the alternative is supposedly worse. In the case of Saudi Arabia, Khashoggi dared to declare in his work that Saudi Arabia's citizens deserved better than Mohammed bin Salman's repression. He was killed for it, because he was right.
From Trump's failure to condemn white supremacist violence in Charlotesville to mocking a sexual assault victim, there have been many low points of this presidency. But turning a blind eye to the butchering of a U.S.-based journalist just may be one of the lowest. It is time for Congress to act and impose consequences for Saudi Arabia's dangerous behavior, from Yemen to its bloody repression of peaceful critics. For if we do not, Khashoggi's death will be a blood stain on America's moral conscience that neither time, nor Saudi hush money, will ever erase.
UPDATE: The Washington Post fact checks Trump's statement, Almost everything Trump just said about Saudi Arabia and Jamal Khashoggi is wrong or overly simplistic and provides an annotation. Trump's statement smearing Jamal Khashoggi and giving Saudi Arabia a pass, annotated.
The Post editors write Trump slanders Khashoggi and betrays American values:
In a crude statement punctuated with exclamation points, Mr. Trump sidestepped a CIA finding that the crown prince was behind the killing; casually slandered Mr. Khashoggi, who was one of the Arab world's most distinguished journalists; and repeated gross falsehoods and exaggerations about the benefits of the U.S. alliance with the kingdom. Mr. Trump has betrayed American values in service to what already was a bad bet on the 33-year-old prince.
As with Russian President Vladi­mir Putin's interference in the 2016 election, Mr. Trump is justifying his affinity for a brutal and reckless leader by disregarding the findings of the U.S. intelligence community. The Post reported Friday that the CIA has concluded with "high confidence" — a rating it does not apply lightly — that Mohammed bin Salman ordered the murder of Mr. Khashoggi, who while living in self-imposed exile in Virginia, wrote columns for The Post that were moderately critical of the crown prince.
Mr. Trump's response is to grudgingly acknowledge that "it could very well be that the Crown Prince had knowledge of this tragic event" before adding "maybe he did and maybe he didn't!" He declares the truth unknowable and thus irrelevant: "We may never know all of the facts surrounding the murder."
In fact, the truth about Mr. Khashoggi's death is not only knowable but largely known. Audio recordings in the CIA's possession record his actual killing as well as phone calls from the hit team to Mohammed bin Salman's close aides. Five members of the team have been identified as probable members of the crown prince's personal security team.
While discounting these facts, Mr. Trump bases his continued backing for the regime on false claims, including his thoroughly debunked boast that Saudi Arabia will "spend and invest $450 billion" in the United States. He says the kingdom has "been very responsive to my requests to keeping oil prices at reasonable levels," though Riyadh is reportedly preparing to cut production to raise prices.
Worst of all, Mr. Trump libels Mr. Khashoggi, saying that "representatives of Saudi Arabia" had called him an "enemy of the state" and a member of the Muslim Brotherhood. The crown prince did make those allegations in a phone call to the White House — but the regime itself was so embarrassed when The Post reported on the call that it denied making them. Mr. Khashoggi's family has confirmed that he was not a member of the Brotherhood.
Bipartisan legislation mandating sanctions for all those implicated in Mr. Khashoggi's death is pending in the Senate Foreign Relations Committee. Chairman Bob Corker (R-Tenn.) last week gave us a statement indicating he wanted to know "what more would be done" by the administration before Congress responded. Now he knows. If Mohammed bin Salman is to be held accountable, as Mr. Corker said he must, the committee must act. The alternative is a world where dictators know they can murder their critics and suffer no consequences.
---
Support volunteer citizen journalism at the Blog for Arizona with a donation today. Your secure contribution keeps the Blog online and sustains a free press in Arizona.
---