The headline in the Sunday Washington Post blares 'Pure madness': Dark days inside the White House as Trump shocks and rages:
Trump's friends are increasingly concerned about his well-being, worried that the president's obsession with cable commentary and perceived slights is taking a toll on the 71-year-old. "Pure madness," lamented one exasperated ally.
NBC News reported last week that Trump was angry and 'unglued' when he started a trade war, officials say: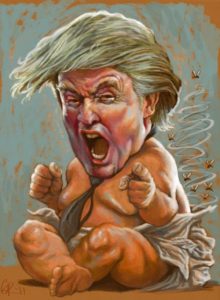 Trump's policy maneuver, which may ultimately harm U.S. companies and American consumers, was announced without any internal review by government lawyers or his own staff, according to a review of an internal White House document.
According to two officials, Trump's decision to launch a potential trade war was born out of anger at other simmering issues and the result of a broken internal process that has failed to deliver him consensus views that represent the best advice of his team.
On Wednesday evening, the president became "unglued," in the words of one official familiar with the president's state of mind.
* * *
Trump, the two officials said, was angry and gunning for a fight, and he chose a trade war, spurred on by Commerce Secretary Wilbur Ross and Peter Navarro, the White House director for trade — and against longstanding advice from his economic chair Gary Cohn and Treasury Secretary Steve Mnuchin.
* * *
No one at the State Department, the Treasury Department or the Defense Department had been told that a new policy was about to be announced or given an opportunity to weigh in in advance.
Mark Sumner at Daily Kos has a good take on this sorry state of events:
Would someone go wake Senator Smoot and tell him to pass the good word to Representative Hawley? After 80-plus years of being blamed for not exactly causing the Great Depression, but rubbing a double handful of salt in the wound, the authors of the Tariff Act of 1930 can safely wander off into history. Because their role as economists' most kickable pair, is being soundly outdone by a disciple of theirs who is far less prepared, far less knowledgeable about consequences, and apparently both unwilling and unable to learn from the past.
This 'good, and easy to win' trade war that Trump started without warning mid-week when he launched a preemptive strike against steel and aluminum, is already spiraling out of control — a result that could have been predicted by … everyone. Because Trump can't let any slight, not matter how slight it is, slip by he might as well just start all negotiations by slapping the big button. Because he's going to get there.
As the Washington Post noted, "Trump's argument is causing turmoil in stock markets. It is also based on a fundamental misunderstanding of how trade works … Trump's claims are a reversion to the "mercantilist" thinking that used to characterize arguments about trade centuries ago. Under this logic, trade was a zero-sum game. If I were a ruler, and my country bought more from your country than vice versa, this suggested that my country was losing and yours was winning. As the classical economist David Ricardo pointed out two centuries ago, this argument wasn't really true.
Trump is so determined to make trade into a zero-sum game, even though that has no basis in fact. After all, how can you be a winner unless someone else loses, and Trump is determined that someone is going to lose this game. So far that someone is everyone in America who buys anything that's made out of steel. Sorry, autoworkers, Donald Trump is making steelworkers happy this week, but look! He's already offered to upend the economy to help you next.
Which is just going to go great. Because the last time someone restricted foreign cars coming into the US, the production of cars … went down.
U.S. car makers also lowered production in 1984 to help boost car prices. Less production meant fewer workers: America lost over 60,000 auto jobs between 1982 and 1984 due to the trade restrictions, according to Brookings.
When Reagan put limits on imports of Japanese cars, American companies saw the opportunity to drop their own production and create an artificial shortage of vehicles, driving up prices and giving them more profit per car. They also cut R & D spending because … why research improvements if the White House is willing to just shut out the competition. As a result, the quotas and tariffs Reagan laid against foreign autos, cost American consumers, and lowered the number of jobs in the auto industry. Meanwhile, consumers outside the US were finding a glut of new vehicles available, giving them the power to demand a bargain. So maybe someone does have to win.
When Trump ran for president in 2016, he railed against China's trade policies. But after meeting President Xi Jinping on his state visit to Chima last year, Donald Trump tells Xi Jinping 'I don't blame China' for 'unfair' trade: "Donald Trump has praised China for carrying out the "unfair" trade practices which he had previously lambasted after enjoying an official welcome to Beijing filled with pomp and pageantry."
Even more disturbing,  at a Republican fundraiser at Mar-a-Lago this weekend Trump praised China's President Xi Jinping for recently consolidating power and extending his potential tenure, musing he wouldn't mind making such a maneuver himself. Trump on China's Xi consolidating power: 'Maybe we'll give that a shot some day':
"He's now president for life. President for life. No, he's great," Trump said. "And look, he was able to do that. I think it's great. Maybe we'll have to give that a shot some day."
Trump's threatened tariffs on steel and aluminum do not affect Chima but rather our chief trading partner and ally, Canada. Canada, top exporter of steel and aluminum to U.S., 'flabbergasted' by Trump's tariff proposals:
Canadians reacted with a mixture of anger, confusion and resignation this week to President Trump's promise to hit U.S. imports of steel and aluminum with hefty tariffs, upending decades of economic cooperation and integration.
"We're pretty consistently flabbergasted that Canada is at the top of the hit parade of trade villains" in Trump's eyes, said Douglas Porter, chief economist at the Bank of Montreal.
Under the Trump policies announced Thursday, steel imported into the United States would be slapped with a 25 percent tariff and aluminum with a 10 percent tariff. The announcement sent shudders through world markets and prompted a global outcry, with European allies and others threatening retaliation.
Trump has often accused China of forcing U.S. steel and aluminum companies to fold by inundating the market with cheaper materials. But Canada is the largest exporter of steel and aluminum to the United States, supplying $7.2 billion of aluminum and $4.3 billion of steel to the United States last year.
Prime Minister Justin Trudeau called the tariff proposal "absolutely unacceptable," using the same phrase as Foreign Minister Chrystia Freeland, who also threatened retaliatory measures if Canada isn't exempted from the trade actions.
It is unclear from Trump's announcement what countries would be subject to the tariffs. More details on his "policy" are expected to be announced this week.
What is clear is that Trump's proposed trade war with China in the 2016 campaign is now a trade war against our North American and European allies and major trading partners.
This morning the Twitter-troll-in-chief is using his threat of tariffs to extort favorable terms in a renegotiated NAFTA agreement. Trump Tweets NAFTA Ultimatum: The Tariffs Stay Until a 'Fair' Deal Is Signed:
President Donald Trump said the U.S. won't lower tariffs on steel and aluminum from Mexico and Canada unless the two countries agree to a revamped NAFTA that's fair to the U.S.
It's the latest sign that Trump's plan to impose stiff tariffs on steel and aluminum is overshadowing talks to overhaul the North American Free Trade Agreement. The president's intervention may complicate a process that had already been yielding little progress on the most contentious issues.
Until recently, the U.S. probe into the national-security risks of steel and aluminum has been considered separate from the NAFTA discussions. Over the weekend, Trump advisers gave no indication that any countries would be excluded from the tariffs.
The seventh round of negotiations wrap up Monday in Mexico City, with U.S. Trade Representative Robert Lighthizer due to meet with Mexican Economy Minister Ildefonso Guajardo and Canadian Foreign Minister Chrystia Freeland, just hours after Trump's tweet. The three will address the media in the afternoon.
"It now looks impossible for negotiators to meet their goal of getting an agreement by the end of this month, especially amid the prospect of escalating trade tensions from the steel dispute."
Vladimir Putin smiles and says to himself "job well done" in disrupting the western world and their economies.