Above: TIME Magazine cover today.
It's official: Dr. Anthony Fauci, the U.S.'s top infectious-disease expert, says that a gathering in the White House Rose Garden last month was a "super-spreader event" for the novel coronavirus. Fauci Calls White House Ceremony a 'Super-Spreader Event':
President Donald Trump held a ceremony in the White House Rose Garden on Sept. 26 to honor Supreme Court nominee Amy Coney Barrett. While the White House had a testing regime in place to screen for virus cases, few guests wore masks and attendees mingled and sat in close proximity to one another both indoors and outdoors.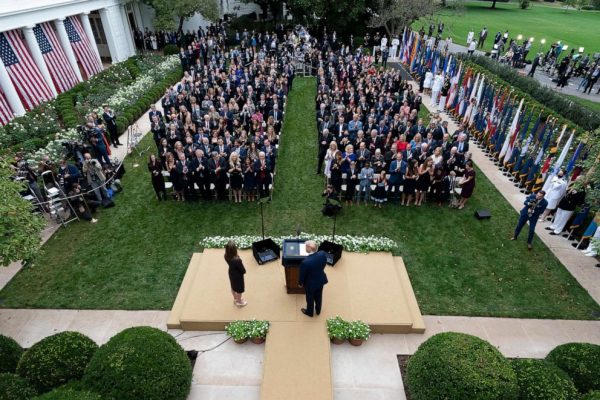 Subsequently, the president and several top staffers, as well as senators and military officials, have tested positive for the novel coronavirus.
"The data speak for themselves," Fauci said in an interview Friday with CBS News Radio. "We had a super-spreader event in the White House. And it was in a situation where people were crowded together, were not wearing masks. So the data speaks for themselves."
Two days ago, ABC News reported 34 people connected to White House, more than previously known, infected by coronavirus: Internal FEMA memo:
The coronavirus outbreak has infected "34 White House staffers and other contacts" in recent days, according to an internal government memo, an indication that the disease has spread among more people than previously known in the seat of American government.
UPDATE: Thirty-seven White House staff and other contacts have tested positive, according to a website tracking the outbreak, citing public information such as media reports and tweets.
The actual number of people infected traceable to this super-spreader event is likely much higher, but "The Trump Administration is not even trying to contact trace the outbreak related to the Rose Garden event, The New York Times reports, arguing that it took place more than 48 hours before the president's diagnosis, which is the CDC guideline for when to begin tracing contacts." (NPR)
NPR reports, "The White House's apparent failures to thoroughly contact trace its current coronavirus outbreak has led local health officers to take matters into their own hands." The Many, Maddening Hurdles To Contact Tracing The White House Outbreak:
The District of Columbia and nine neighboring jurisdictions are calling on White House staff and visitors who might be connected to the recent outbreak there to contact their local health departments.
"We recommend that if you have worked in the White House in the past two weeks, attended the Supreme Court announcement in the Rose Garden on Saturday, September 26, 2020, and/or have had close contact with others who work in those spaces or attended those events, you should get a test for COVID," the health officers wrote in a letter shared by D.C. Mayor Muriel Bowser early Thursday morning.
The authors note that this recommendation is being made based on "our preliminary understanding that there has been limited contact tracing performed to date."
* * *
Emergency physician Leana Wen notes that, given that that event was nearly two weeks ago, it's likely the outbreak has already sparked other infections.
"We're not even talking about first generation spread or second generation to spread, we're talking about third generation spread," she says. In other words, those who were exposed at the Rose Garden could have infected others who have since infected still more people.
When it comes to tracking down all the contacts that might be connected to the White House outbreak, there are many daunting challenges, from the country's fractured public health system to the Trump administration's approach.
* * *
Because people came to the White House for the Rose Garden event from all over the country, the contact tracing effort is extremely tricky.
Normally, during a case investigation, if someone mentions close contacts who are out of state, that person's local health department would notify the health department of that contact. That system has "lots of holes, lots of gaps," explains Lindsay Wiley, health law professor at American University.
"Often what will happen with a major outbreak of a concerning infectious disease is actually the [Centers for Disease Control and Prevention] will get involved in coordinating. But that's optional — it's what we call permissive authority."
But in this case, CDC's role seems to be really limited.
This recklessly irresponsible White House COVID-19 super-spreader event earned the Trump administration the TIME magazine cover above, with the accompanying cover story. Donald Trump's COVID-19 Diagnosis Is Forcing Him to Face His Personal—and Political—Vulnerability.
Even more shocking, Donald Trump is now blaming gold star families at a later event for infecting him, when in reality, he may be the super-spreader who has infected these gold star families. Trump Suggests Gold Star Families May Be to Blame for His Infection:
President Trump on Thursday again suggested that veterans and their families had spread the coronavirus at the White House, floating the idea that a meeting with the loved ones of fallen military members might have been the source of his own infection.
Last week, Mr. Trump suggested that Marines and other service members, as well as police officers, might have infected one of his top advisers, Hope Hicks. In fact, by the time the president made those comments, in an interview with Fox News on Thursday night, he had already tested positive using a rapid test and was awaiting the results of a more precise test.
Sooo, Trump's go to response for his own recklessness is to blame military families, and police officers assigned to protect his sorry ass, when he may be the one infecting them! Isn't it bad enough that he disparages American troops who died in wars as "losers" and "suckers"?
And how is our COVID-19 super-spreader-in-chief responding to all of this negative press? He is planning another "Mussolini on the balcony" campaign rally at the White House on Saturday. Trump to address hundreds from White House balcony on Saturday: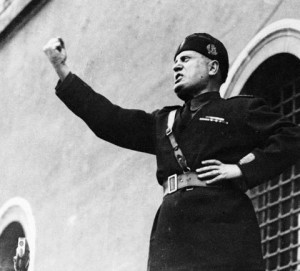 President Donald Trump will emerge from his Covid-forced isolation Saturday for a speech from a White House balcony, allowing the public their first independent glimpse in days of a leader recovering from coronavirus.
Hundreds of guests have been invited to the White House for the event, despite concerns about a late September ceremony in the Rose Garden that may have acted as the nexus for a viral outbreak that has ripped through Trump's staff.
This time, Trump will not be close to attendees. But the prospect of hosting another large gathering as the contagion spreads has already generated concerns among some of Trump's aides.
He is also now scheduled to hold a campaign rally in Florida on Monday evening. The event will take place in a airport hangar in Sanford, Florida, outside Orlando.
Since returning to the White House on Monday evening, Trump has not been seen in public. In a series of lengthy phone interviews, he said he is ready to end his Covid isolation and emerge onto the campaign trail, despite little clarity about his condition, no independent view of his physical state and warnings from health experts he is likely still shedding the virus.
Donald Trump is the new "Typhoid Mary." There are public health laws for this. Anderson Cooper slams behaviour of Covid-infected Trump when people can still be arrested for HIV status in some states:
In a fiery discussion on CNN following Wednesday's vice presidential debate, anchor Anderson Cooper slammed Donald Trump's reckless behavior since his diagnosis with Covid-19.
Specifically, Cooper pointed out that while the president was refusing to allow his doctor to say when his last negative test for coronavirus was, people with HIV can still be arrested in some states for not disclosing their status to a sexual partner.
"There are gay people in this country who are HIV-positive, and in some states, they can be arrested if they do not inform a sexual partner that they are HIV positive, even though if they are on medication it is absolutely zero threat to a sexual partner. None. They cannot transmit the virus," said Cooper.
"In America, in several states, they can be sent to jail because of that. Donald Trump is out there, possibly infecting people … he could've infected Joe Biden on the stage … and he's not held responsible."
In 21 states, laws require people with HIV who are aware of their status to disclose their status to sex partners, according to the Center for Disease Control and Prevention (CDC).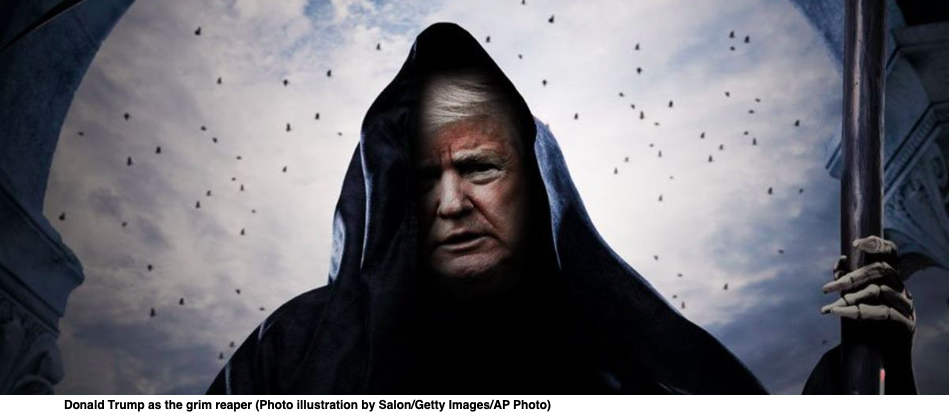 What Donald Trump is doing is reckless endangerment of the health and safety of others. This is criminal negligence. His failure to follow his own administration's COVID-19 recommendations should lead to his prosecution for anyone traceable to his COVID-19 super-spreader events at the White House, or anyone working in the White House or guests, who contract this disease and die because of his reckless indifference for human life. The Trump death cult must end.
I have said it before that after Donald Trump leaves the White House it is going to take an acid power wash to remove his taint from the White House. Before a Biden administration can move in there will have to be a top-to-bottom super-cleaning of everything in the White House, and then do it again, to protect the health and safety of everyone who must work there.