Last week The Daily Beast reported, Trump Cuts Out Media That Doesn't 'Make Him Feel Beautiful':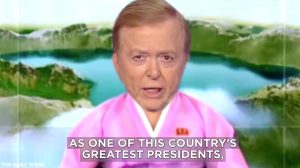 Nowadays, faced with a rapidly escalating impeachment inquiry and a potentially tough re-election fight, Trump is going to even greater lengths than usual to try to banish—or retaliate against—news outlets he perceives as unfriendly, and to build an even more tightly packed media igloo of praise and flattery for himself.
It's a comfort mechanism for the president that intensifies whenever he feels under siege and when scandal swirls. And it is all part of Trump's ideal scenario of, as one senior White House official sardonically put it, erecting a defensive barrier between himself and news coverage that doesn't "make him feel beautiful and powerful."
Musical accompaniment, I Feel Pretty from West Side Story.
What Donald Trump really wants is state-run propaganda media that celebrates "Dear Leader," like his North Korean love interest, Kim Jong-un.
This deep psychosis reached new depths of depravity this week with Trump sycophant propagandists attacking active duty Lt. Colonel Alexander Vindman for having the temerity to testify before the House Intelligence Committee about his first-hand knowledge of the phone call between President Trump and Ukrainian President Volodmyr Zelenski.
This included our Twitter-troll-in-chief, Vietnam draft dodger Cadet Bone Spurs.
The Washington Post reports, Trump allies attack loyalty of impeachment inquiry witness because he was born in Ukraine:
The claim that Vindman was acting in Ukraine's interest appears to have first emerged Monday night on Fox News's "The Ingraham Angle" – [aka The White Supremacist Hour] — before being repeated on other shows. Host Laura Ingraham and her guests suggested that Vindman was working on behalf of Ukraine rather than the United States — and implied that he might be a spy.
Citing a New York Times report that said Ukrainian officials "sought advice" from Vindman on how to deal with Trump attorney Rudolph W. Giuliani, the Fox News host asked, "Here we have a U.S. national security official who is advising Ukraine while working inside the White House — apparently against the president's interest and usually they spoke in English. Isn't that kind of an interesting angle on this story?"
One of her panelists, former Justice Department official John Yoo — [unindicted war criminal (the Torture Memos)] –, responded, "I find that astounding, and some people might call that espionage."
There was also "Fox & Friends" host Brian Kilmeade: "We also know he was born in the Soviet Union, emigrated with his family — young. He tends to feel simpatico with the Ukraine."
Which is ironic, given how Donald Trump is so simpatico with his pal Valdimir Putin.
CNN is not blameless either. CNN pays Sean Duffy to make a ridiculous remark — and then calls his statement "shocking":
Former Republican Rep. Sean Duffy — a former sports commentator, conspiracy theorist, and reality television personality — who has a history of pushing lies and conspiracy theories during his time as a Republican congressman, claimed Vindman is "incredibly concerned about Ukrainian defense" and claiming, "I don't know that he's concerned about American policy." Vindman, who was born in Ukraine and emigrated to the U.S. with his family as a child, is a decorated Iraq war veteran and a top Ukraine expert on the National Security Council. Duffy also said, "We all have an affinity to our homeland where we came from. … I'm sure that Vindman has the same affinity." Co-anchor John Berman strongly pushed back on Duffy's comments, calling them "pretty stunning."
Only a few moments later, Berman re-aired Duffy's comments as an example of "the president's Republican allies trying to discredit today's witness, Col. Vindman, who we will note was awarded a purple heart and is an active member of the U.S. military." Duffy's comments come after he used his first two appearances as a CNN contributor to push a long-debunked conspiracy theory about Ukraine, requiring on-air pushback.
It should be noted that none of these Trumpist sycophant propagandists has any military service.
Without referencing the Twitter-troll-in-chief himself, House Republican Conference Chair Liz Cheney of Wyoming said on Tuesday that it is "shameful" to question the patriotism of Lt. Col. Alexander Vindman, the White House National Security Council's top Ukraine expert, who is testifying in the House impeachment inquiry. Liz Cheney calls attacks on White House Ukraine expert's patriotism 'shameful':
"I also want to say a word about something else that's been going on over the course of the last several hours and last night, which I think is also shameful, and that is questioning the patriotism, questioning the dedication to country of people like Mr. Vindman, Lieutenant Colonel Vindman, who will be coming today, and others who have testified," Cheney said at a House GOP leadership weekly news conference.
"We need to show that we are better than that as a nation," Cheney said, adding, "Their patriotism, their love of country, we're talking about decorated veterans who have served this nation, who have put their lives on the line. It is shameful to question their patriotism, their love of this nation, and we should not be involved in that process."
Cheney did not specify to whom she was referring in her comment during the news conference, but it comes as Vindman, a decorated veteran who was born in Ukraine, has faced attacks from President Donald Trump and other Republicans.
Cheney isn't the only congressional Republican defending Vindman.
Sen. John Thune of South Dakota, the No. 2 Senate Republican, said on Tuesday, "I don't at all question his patriotism. I respect his service. He's a Purple Heart, and I think it would be mistake to attack his patriotism."
Republican Sen. Mitt Romney of Utah similarly said, "I think that is misplaced, very unfortunate. This man is a decorated American serviceman, and I have full confidence in him as an individual and his patriotism."
Sen. Roy Blunt (R-Mo.) said that he's confident Vindman is "doing his best to serve his country" and that he "wouldn't be on board" with efforts to disparage him.
Conservative columnist David French shared a clip of the segment on Twitter and wrote, "The sheer number of American vets the Trumpists will insult, slander, and mock for the sake of their corrupt, draft-dodging dear leader is just astonishing."
These sycophant Trumpist propagandists who promote the personality cult of Donald Trump, modeled on North Korean state media, are the ones who should have their patriotism questioned. Their loyalty is not to their country or the Constitution, but to a deeply disturbed dangerous demagogue with designs on authoritarian despotism.
They are a malignant cancer in the American body politic. The American people should be smart enough to recognize this for what it is, and reject it.