Included in the Articles of Impeachment for President Richard M. Nixon adopted by the House Judiciary Committee on July 27, 1974 was Article 2 for "abuse of power," which included ordering the IRS to audit his "political enemies" list.
We are now confronted with a parallel abuse of power by President Donald Trump, albeit by a different federal agency. The Washington Post reports, Trump personally pushed postmaster general to double rates on Amazon, other firms: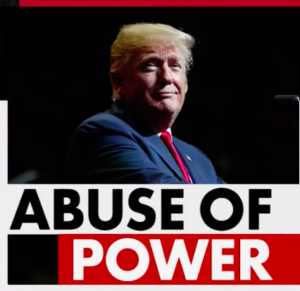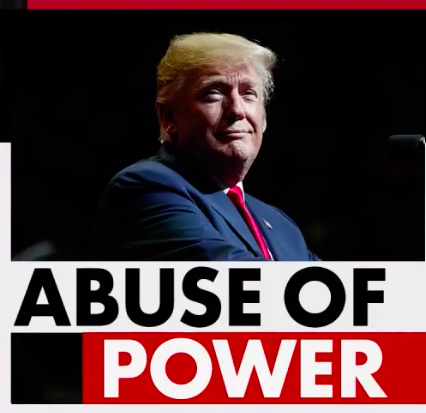 President Trump has personally pushed U.S. Postmaster General Megan Brennan to double the rate the Postal Service charges Amazon.com and other firms to ship packages, according to three people familiar with their conversations, a dramatic move that probably would cost these companies billions of dollars.
Brennan has so far resisted Trump's demand, explaining in multiple conversations occurring this year and last that these arrangements are bound by contracts and must be reviewed by a regulatory commission, the three people said. She has told the president that the Amazon relationship is beneficial for the Postal Service and gave him a set of slides that showed the variety of companies, in addition to Amazon, that also partner for deliveries.
The Wall Street Journal  reported last month that White House officials, eager to help the president understand reality, have put together "PowerPoint presentations and briefing papers they believed debunked his concerns."
Despite these presentations, Trump has continued to level criticism at Amazon. And last month, his critiques culminated in the signing of an executive order mandating a government review of the financially strapped Postal Service that could lead to major changes in the way it charges Amazon and others for package delivery. See, Bloomberg, Trump Orders Post Office Review After Attacks on Amazon.
For more than three years, Trump has fumed publicly and privately about the giant commerce and services company and its founder Jeffrey P. Bezos, who is also the owner of The Washington Post.
Trump alleges that Amazon is being subsidized by the Postal Service. He has also accused The Post of being Amazon's "chief lobbyist" as well as a tax shelter — false charges. He says Amazon uses these advantages to push bricks-and-mortar companies out of business. Some administration officials say several of Trump's attacks aimed at Amazon have come in response to articles in The Post that he didn't like.
The three people familiar with these exchanges spoke on the condition of anonymity because they were not authorized to discuss the White House's internal deliberations.
Brennan and Trump have met at the White House about the matter several times, beginning in 2017, and most recently four months ago, the three people said. The meetings have never appeared on Trump's public schedule. Brennan has spent her career at the Postal Service, starting 32 years ago as a letter carrier. In 2014, the Postal Service's Board of Governors voted to appoint her as postmaster general.
Clouding the matter even further, Trump's aides have also disagreed internally about whether Amazon is paying enough to the Postal Service, with some believing the giant commerce company should be paying more, while others believe that if it weren't for Amazon, the Postal Service might be out of business, according to the three people.
Trump has met with at least three groups of senior advisers to discuss Amazon's business practices, probing issues such as whether they pay the appropriate amount of taxes or underpay the Postal Service, according to the three people.
These groups include Treasury Secretary Steven Mnuchin, then-National Economic Council Director Gary Cohn and Domestic Policy Council Director Andrew Bremberg. Bremberg has served as a key liaison with Brennan.
One of Amazon's biggest defenders within the White House was Cohn, who had told Trump that the Postal Service actually made money on the payments Amazon made for package delivery. Cohn announced his departure from the White House in March.
While Trump has leveled a variety of criticisms at Amazon, his efforts to increase the company's shipping and delivery costs stand as the only known official action he's taken to go after the company.
* * *
Trump has berated Amazon and The Post on social media, briefly driving down Amazon's stock price. See, Amazon stock market value falls by $5bn after critical Trump tweet (August 2017). And he has said publicly that he doesn't believe the information he has been presented by some of his advisers and Brennan herself regarding the Postal Service's contract with Amazon.
"I am right about Amazon costing the United States Post Office massive amounts of money for being their Delivery Boy," he tweeted on April 3. "Amazon should pay these costs (plus) and not have them bourne by the American Taxpayer. Many billions of dollars. P.O. leaders don't have a clue (or do they?)!"
Details of Amazon's contract with the Postal Service are secret, making it difficult for financial experts to assess claims about the relationship. Amazon has said that publicly releasing the contract, which contains detailed information on the company's delivery systems, would give competitors an unfair advantage.
* * *
It is not known how much Amazon pays the Postal Service each year and what percentage of its items are shipped via the Postal Service.
The Postal Service, meanwhile, reported shipping and package income of $19.5 billion last year, an 11.8 percent increase from one year before. This increase wasn't enough to stop the Postal Service from losing money for the eleventh straight year. That's largely because of the continued decline in first-class mail, and high health benefit costs that the Postal Service must set aside for future retirees, according to data released by the agency.
* * *
Still, Postal Service officials, both in meetings with Trump and publicly, have insisted that they are making money off their arrangement with Amazon.
In January, Postal Service spokesman David Partenheimer wrote an op-ed in The Hill newspaper pushing back against calls for it to raise package rates.
"Some of our competitors in the package delivery space would dearly love for the Postal Service to aggressively raise our rates higher than the marketplace can bear — so they could either charge more themselves or siphon away postal customers," he wrote. ". . . The Postal Service is a self-funding public institution that generates its revenue from the sale of postal products and service, we compete for every customer across all of our product categories, and we exist for the benefit of American businesses and consumers."
* * *
The Postal Service is overseen by a board of nine governors, which pick the postmaster general and the deputy postmaster general. Currently, there are no governors serving on the board, though Trump has nominated three individuals who are awaiting Senate confirmation. The Postal Service, led by the postmaster, works out contracts with private companies that are approved by an independent federal agency, the Postal Regulatory Commission, which also assesses each year whether the contracts are in compliance with the law. Amazon has a multiyear contract with the Postal Service, and it is not clear how quickly it could be changed.
Trump's attacks on Amazon date to 2015, when he accused Bezos of using The Post as a tax shelter to allow Amazon to avoid paying taxes, a false accusation. (Amazon is a publicly traded company, and The Post, wholly owned by Bezos, is private. The companies' finances are not intermingled. The Post's editors and Bezos also have declared that he is not involved in any journalistic decisions.)
Steve Moore, a former economic adviser to Trump during the 2016 campaign, says he has told White House officials that Amazon is paying the Postal Service plenty for its services and in fact helping the agency survive.
Chris Hayes of MSNBC presented an excellent summary of the parallels between what Trump is doing with the Postal Service to what Richard Nixon did with the IRS on his program All In (video). The Rachel Maddow Show (video) of MSNBC also presented an excellent summary of the abuse of power parallels between Trump and Nixon.