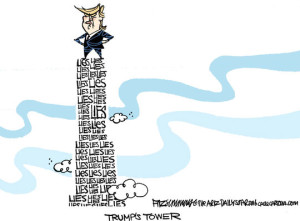 In November 2015, the Washington Post's Fact Checker Glenn Kessler commented that Donald "Trump has already earned more Four-Pinocchio ratings than any other candidate this year." Trump's outrageous claim that 'thousands' of New Jersey celebrated the 9/11 attacks.
PolitiFact awarded its much coveted Lie Of The Year Award to Donald Trump, for all of his 2015 campaign misstatements:
It's the trope on Trump: He's authentic, a straight-talker, less scripted than traditional politicians. That's because Donald Trump doesn't let facts slow him down. Bending the truth or being unhampered by accuracy is a strategy he has followed for years.
* * *
PolitiFact has been documenting Trump's statements on our Truth-O-Meter, where we've rated 76 percent of them Mostly False, False or Pants on Fire, out of 77 statements checked. No other politician has as many statements rated so far down on the dial.
In considering our annual Lie of the Year, we found our only real contenders were Trump's — his various statements also led our Readers' Poll. But it was hard to single one out from the others. So we have rolled them into one big trophy.
To the candidate who says he's all about winning, PolitiFact designates the many campaign misstatements of Donald Trump as our 2015 Lie of the Year.
 Essentially "The Donald" is a lie machine, insert your quarter and out spews a torrent of lies.
Trump's recent speech attacking Hillary Clinton required a team of a dozen fact checkers to fact check the multitude of lies and misstatements in his speech. True: Fact-checking a single Donald Trump speech required 12 AP Writers.
The political fact-checking site PolitiFact has released its midyear report for the 2016 election, and it isn't kind to Donald Trump.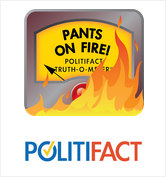 PolitiFact found that about 60.13 percent of Trump's claims were rated as either false or "Pants on Fire" — the lowest rating the site gives.
"Trump has more statements rated Pants on Fire, 30, than the 21 other candidates for president we've fact-checked this cycle combined."
"Ninety-five of the 158 fact-checks of claims made by Trump have been rated False or Pants on Fire. Add in Mostly False and that accounts for 123 (78 percent) of all of Trump's fact-checked claims."
By comparison, "Just 16 of Clinton's 120 rated statements ended up as False or Pants on Fire. By contrast, 53 percent of the statements we fact-checked were rated True or Mostly True."
You would never know this while listening to the evening news. where the media allows Donald Trump to accuse Clinton and the media of lying, without telling listeners that Trump is by far the biggest liar in American politics. The media should run a disclaimer in a chyron on the screen every time they do a story about what Donald Trump said today.