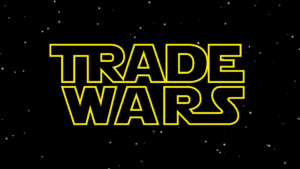 Unless there's a breakthrough in the U.S.-China trade talks before midnight tonight, U.S. tariffs on $200 billion in Chinese imports are about to rise from 10% to 25% — an escalation of Trump's trade war that could hurt major importers and trigger even more painful retaliation by China.
China's Commerce Ministry said in a statement on its website Wednesday it would retaliate with "necessary countermeasures" if the U.S. increased tariffs. China warns of 'countermeasures' against U.S. products if Trump increases tariffs.
Trump's Trade War with China has substantially harmed American farmers. If it was not for the farm subsidies being paid to farmers to offset their losses due to Trump's trade war (some would call this federal assistance "bribery" to retain farmers' votes), farm country would be in an economic depression. USDA has paid out $7.7 billion to help farmers hit by Trump's tariffs:
The Department of Agriculture has paid out $7.7 billion so far to help farmers impacted by the ongoing tariff war with China, according to William Northey, Undersecretary for Farm Production and Conservation.
The funds represent a portion of the $12 billion relief package that President Donald Trump pledged in July to offset the losses from retaliatory tariffs imposed by Beijing in response to Washington's tariffs on Chinese goods.
Northey's comments come as Trump prepares to meet Friday with Chinese Vice Premier Liu He to continue the next stage of trade talks ahead of a March 1 deadline.
If the two countries fail to strike a deal, the current tariff rate of 10 percent will be raised to 25 percent, resulting in billions of dollars of additional tariffs. However, Trump hinted earlier this week that the March 1 deadline was flexible, saying it was not a "magical date" by which any compromise was assured.
The Deadline in now midnight tonight.
Instead of making America great again, the president's policies are "going to make it 1929 again," said Sen. Ben Sasse of Nebraska when the relief package was announced.
Trump's trade policies are so bad that at least six Agriculture Department economists quit on a single day in April after claiming that the administration was retaliating against them for publishing reports showing that President Trump's tariffs have hurt farmers, according to a Politico report. Economists flee Agriculture Dept. after feeling punished under Trump:
Economists in the Agriculture Department's research branch say the Trump administration is retaliating against them for publishing reports that shed negative light on White House policies, spurring an exodus that included six of them quitting the department on a single day in late April.
The Economic Research Service — a source of closely read reports on farm income and other topics that can shape federal policy, planting decisions and commodity markets — has run afoul of Agriculture Secretary Sonny Perdue with its findings on how farmers have been financially harmed by President Donald Trump's trade feuds, the Republican tax code rewrite and other sensitive issues, according to current and former agency employees.
The reports highlight the continued decline under Trump's watch in farm income, which has dropped about 50 percent since 2013. Rural voters were a crucial source of support for Trump in 2016, and analysts say even a small retreat in 2020 could jeopardize the president's standing in several battleground states.
"The administration didn't appreciate some of our findings, so this is retaliation to harm the agency and send a message," said one current ERS employee, who asked not to be named to avoid retribution.
For example, two ERS researchers presented a paper at an economic conference in early 2018 that indicated the GOP tax overhaul would largely benefit the wealthiest farmers — generating negative press coverage that staff members said irked senior officials at USDA.
* * *
Members of the agency were also caught off-guard last summer when Perdue's office issued an internal memo directing ERS and other research branches to include disclaimers in their peer-reviewed publications stating that the findings were "preliminary" and "should not be construed to represent any agency determination or policy" — seen as a way of watering down any unflattering data from the department's own experts.
The move to uproot the agency has led to a brain-drain of experienced researchers … Six of the economists — made up of specialists in the agricultural economy, farm taxation and food programs with more than 50 years of combined experience at ERS — left the agency at the end of April, out of frustration with the relocation process or in some cases suspicion about Perdue's efforts to reshape USDA's research wing, according to coworkers. More are planning to leave in the coming months.
Perdue's office declined to provide information on the numbers of employees who've quit or respond to allegations of political interference in the research service.
In February, the Des Moines Register reported, Farm loan delinquencies reach highest point in 9 years as prices slump:
The nation's farmers are struggling to pay back loans after years of low crop prices and a backlash from foreign buyers over President Donald Trump's tariffs, with a key government program showing the highest default rate in at least nine years.
Many agricultural loans come due around Jan. 1, in part to give producers enough time to sell crops and livestock and to give them more flexibility in timing interest payments for tax filing purposes.
"It is beginning to become a serious situation nationwide at least in the grain crops — those that produce corn, soybeans, wheat," said Allen Featherstone, head of the Department of Agricultural Economics at Kansas State University.
January figures show an overall rise in delinquencies for those producers with direct loans from the Agriculture Department's Farm Service Agency.
Nationwide, 19.4 percent of FSA direct loans were delinquent in January, compared to 16.5 percent for the same month a year ago, said David Schemm, executive director of the Farm Service Agency in Kansas. During the past nine years, the agency's January delinquency rate hit a high of 18.8 percent in 2011 and fell to a low of 16.1 percent when crop prices were significantly better in 2015.
While those FSA direct loan delinquencies are high, the agency is a lender of last resort for riskier agricultural borrowers who don't qualify for commercial loans. Its delinquency rates typically drop in subsequent months as more farmers pay off overdue notes and refinance debt.
With today's low crop prices, it takes high yields to mitigate some of the losses and even a normal harvest or a crop failure could devastate a farm's bottom line. The high delinquency rates are caused by back-to-back years of low prices, with those producers who are in more financial trouble being ones who also had low yields, Featherstone said.
Grain prices peaked in 2012 and prices have roughly fallen 36 percent since then for soybeans, 50 percent for corn and 48 percent for wheat.
When Trump imposed tariffs, China retaliated by stopping soybean purchases, closing the biggest U.S. market. While trade negotiations with China continue, many farmers fear it will take years for markets to recover — as it did when President Jimmy Carter imposed a grain embargo on the then-Soviet Union in 1980.
"The tariffs Trump is messing around with are not helpful at all — I don't think anybody knows the true effect," said Steve Morris, who farms near Hugoton in southwest Kansas.
Many farmers are now scrambling to borrow money as spring planting nears. More Iowa farmers face trouble securing financing as planting season nears:
Dozens of Iowa farmers may be unable to get operating loans to buy seed, pay rent or make tractor payments this year, a sign of the growing cracks in the state's ag economy.
Nearly 3 percent of Iowa farm borrowers will be unable to get renewed financing, the Chicago Federal Reserve said in February, based on a survey of lenders.
"We have a percentage of farmers who are at the end of their credit ropes," said Chad Hart, an Iowa State University agricultural economist.
Banks that serve U.S. farmers are increasingly restructuring existing loans and boosting the collateral needed for new ones as the numbers of late and missed payments have risen. Soaring Bankruptcies in the Farm Belt Force Banks to Boost Defenses:
While regional banks are healthy, they're clearly boosting their defenses against the risks they face. In March, a report by First Midwest Bank in Chicago showed past-due agricultural loans up 287 percent in 2018 over the previous year. Meanwhile, cases handled by the Iowa Mediation Service involving farmers unable to make payments rose 20 percent.
Farmer bankruptcies in six Midwest states rose 30 percent to 103 in 2018, according to the Federal Reserve Bank of Minneapolis. To hold back the tide, Farmers National Bank in Prophetstown, Illinois is restructuring more and more loans to keep growers solvent while trimming the bank's own risk.
Steve Myers, a senior vice president at Busey Bank in LeRoy, Illinois, said he's starting to see more and more farmland sold. It's not yet "rampant," he said, "but it signals a warning sign of sorts. The warning shots are valid. The warning shots are here."
Farmer incomes are down 11 percent since 2010 and expenses are up 31 percent, as crop prices have fallen and a trade war with China has cut demand. Meanwhile, Midwest floods have wiped out some growers, and left others with planting delays and drowned supplies.
* * *
"Banks are working with their customers, trying to figure out how to keep them going," said Chris Kalkowski, vice president of agribusiness banking at First National Bank of Omaha. "If you need liquidity, the advice is being given, you're going to have to create it by doing something. And a lot of the time, that turns out to be selling some assets."
Even so, the crisis has become so severe that Fleming said she recently urged Chuck Grassley, an Iowa Republican and the second-highest ranking member of the U.S. Senate, to push through new legislation to aid farmers forced to seek bankruptcy.
Grassley, meanwhile, said he's already taking steps to help. In March, Grassley and a bipartisan group of senators introduced a bill that would help farmers reorganize by raising the Chapter 12 operating debt cap to $10 million from about $4.2 million, he said in an telephone interview on Tuesday.
"Even if the trade war ends, with this oversupply of corn and soybeans and wheat, we're still going to have low prices," Grassley said in an interview. Separately, the U.S. House of Representatives' Agriculture Committee plans to hold a hearing on May 9 to review the rough Farm Belt economy.
So far this year, personal income for farmers is down 25 percent, the steepest decline since the first three months of 2016, according to an April 29 Commerce Department report.
In March, Chuck Jones explained at Forbes, 2019 Is The Year Farmers Will Feel The Pain From Trump's Trade Wars:
To understand the potential financial impact to American farmers it is important to know that corn and soybeans are the largest monetary crops in the U.S. per NASS, the U.S. Department of Agriculture's National Agricultural Statistics Service. In 2017 the value of corn was $48.5 billion, with soybeans a close second at $41 billion. The next largest crop was hay, a distant third at $16.2 billion. For comparison, the value of apples grown in the U.S. was $4 billion and oranges was $2 billion.
* * *
Farmers could loss money on each acre they plant
Per the University of Illinois' Agricultural & Consumer Economics Department forecast in September last year, corn could lose $68 per acre in 2019 (down from a loss of $2 per acre in 2018), and soybeans could fall even more, from a profit of $32 per acre to a loss of $92. While farmers seem to be rotating some acreage from soybeans to corn, 2019 could be a very tough year no matter what crop they plant.
From the Huffington Post, "Hard times for farmers got tougher with President Donald Trump's trade war. Now Midwestern farmers are filing the highest number of bankruptcies in a decade, according to a Wall Street Journal analysis of federal data." It added, "Twice as many farmers in Illinois, Indiana and Wisconsin declared bankruptcy last year compared to 2008, according to statistics from the 7th Circuit Court of Appeals. Bankruptcies in states from North Dakota to Arkansas leaped 96 percent, according to figures from the 8th Circuit Court of Appeals."
Democrats running for president and for federal offices in farm country need to devise an agriculture commodity-trade policy that allows farmers to sell their product at prices high enough for their operations to be financially viable and to turn a small profit, and no longer need to be on federal farm subsidy assistance just to survive. If Democrats can offer a solution to the farm economy, they can win back those farm states that Republicans have taken for granted.