Small miracles in the Christmas season — today the U.S. Supreme Court rejected Governor Jan Brewer's request to deny DREAMers a driver's license out of hatred for people breathing while brown and spite for that Black man in the White House.
Lyle Denniston at SCOTUSblog reports, Court turns down Arizona on immigrant issue: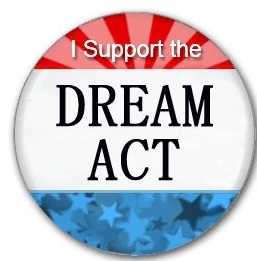 Over the dissents of three Justices, the Supreme Court today rejected Arizona's request to allow it to deny driver's licenses to young undocumented immigrants who have been permitted by Obama administration policy to remain in the United States.
In a brief order, the Court refused to block a temporary ruling by the U.S. Court of Appeals for the Ninth Circuit requiring the state to issue driver's licenses to the so-called "Dreamers" — young adults who came to this country illegally — if they have permits allowing them to have jobs here. Justices Samuel A. Alito, Jr., Antonin Scalia, and Clarence Thomas said they would have granted the state's request. There were no explanations by either the majority or the dissenters.
Arizona remains free to pursue a regular appeal to the Court.
Howard Fischer adds, Arizona erred in denying dreamers' licenses, Supreme Court says:
How quickly dreamers will be able to actually get licenses remains unclear. Even after the 9th Circuit issues its formal "mandate," it is up to U.S. District Court Judge David Campbell to actually issue the injunction. He could do that immediately or seek input from attorneys from both sides.
Today's ruling potentially affects 22,000 Arizonans who have been accepted into the federal Deferred Action for Childhood Arrivals program. That program, announced by the Obama administration in 2012, says those who arrived in this country illegally as children and meet other conditions can both stay without fear of deportation as well as work.
The ball is now back in Judge Campbell's court.