I posted the other day, Candidate petition challenge season is upon us. It appears one more challenge made the filing deadline.
Governor Doug Ducey, the ice cream man hired by Koch Industries to run their Southwest subsidiary formerly known as Arizona, has challenged the petitions of his only primary challenger, Ken "Birther" Bennett. Lawsuit filed to knock Ken Bennett off Republican ballot for Arizona governor: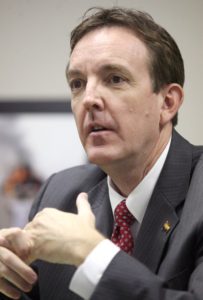 A lawsuit seeks to knock Ken Bennett off the ballot for Arizona governor over accusations that he did not submit enough valid voter signatures to qualify.
Now, one would reasonably assume that he knew what the rules are because:
Bennett, a former Arizona secretary of state, is challenging Gov. Doug Ducey for the Republican nomination in the Aug. 28 primary election.
On Wednesday, political supporters of Ducey filed a lawsuit arguing Bennett's signatures are invalid for a host of reasons, including that they don't match signatures on voter records or were signed by Democrats or unregistered voters.
Primary candidates in Arizona must collect signatures from registered voters who are members of their party or independents to appear on the ballot.
In the lawsuit, attorneys Kory Langhofer and Thomas Basile contend at least 1,316 of Bennett's signatures aren't valid. Bennett jumped into the gubernatorial primary in late April, with little time to collect signatures before the filing deadline.
Bennett didn't respond to requests for comment. He did, however respond to the lawsuit on Twitter (the "weapon of choice" for Republicans).
While the lawsuit doesn't make outright accusations of a forgery scheme, it alleges that Bennett's petitions contain at least 206 signatures that don't match the signatures on voter-registration records.
"Irrespective of whether the variance is the product of proven forgery or other misconduct, the affected signatures are invalid," the lawsuit states.
Or the voter's signature may have changed over time and has not yet been updated in the recorder's records. This is why all 206 must be contacted as to whether they signed the petition or not. One cannot just assume forgery or other misconduct.
The suit states an additional 10 signatures are "suspiciously similar" to other signatures on the same petition sheet, "thus indicating that they were affixed by someone other than the purported signer."
To qualify for the Republican primary ballot for governor, a candidate must submit at least 6,223 valid signatures from registered voters. Bennett submitted 7,833, according to the Secretary of State's Office.
County elections officials from the counties where Bennett gathered signatures will now conduct a detailed review of the signatures in question.
Then, the lawsuit likely will be argued in court, where a judge will determine what signatures are valid and whether Bennett ultimately has enough to remain on the GOP ballot.
Howard Fischer adds, "Maricopa County Superior Court Judge Teresa Sanders has scheduled a hearing for this coming Thursday." Stay tuned.