"On October 22nd, pick your favorite purple item and raise awareness about domestic violence by posting a picture on your social media during Wear Purple Day and tagging us @EmergeTucson. You can also send us your photo at communications@emergecenter.org."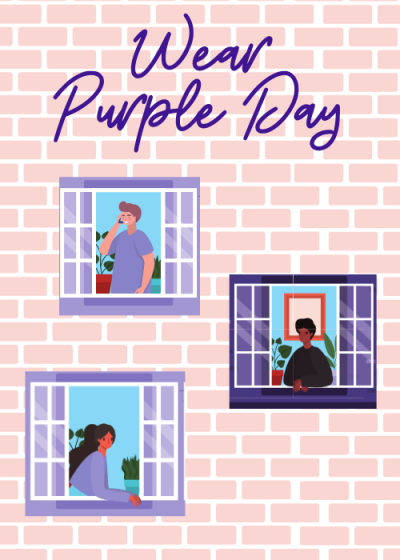 The entire month of October is Domestic Violence Awareness Month, hosted by Emerge! Center Against Domestic Abuse. Calendar is posted online:
Carolyn's note: In the past I have dropped by the Emerge! Center (2545 E. Adams St.) to take a photo with my purple attire, jewelry. So this year of the pandemic, I'm posting a photo of us Blog for Arizona bloggers (some of us) wearing purple. Don't forget to wear purple tomorrow, October 22, for Wear Purple Day. I have been a victims attorney for an Americorps DV project in Hawaii, and Interim Director of the now defunct DV Commission in Tucson, so I know this issue and want to raise awareness of domestic abuse.
L to R in the featured photo: DGT President Larry Bodine, me – wearing purple, BFAZ founder Michael Bryan, LD 9 Rep. Pam Powers Hannley, Linda Lyon. Taking the photo is the anonymous AZ Blue Meanie, taken a few years ago at one of our meetings. (This photo is on our website, on the About link).