The United States was a shooting gallery from coast-to-coast over the weekend. What is the common thread to all these shootings? Easy access to guns, and a Congress which is paralyzed from taking any action by campaign donations from the merchants of death, who can use the Senate's Jim Crow relic filibuster rule to block any meaningful legislation from passing.
But a mass shooting in a grocery store in Buffalo, New York was the result of another legacy of white supremacy in this country.
The Washington Post reports, 10 killed in racially motivated shooting at Buffalo grocery store:
Ten people were killed during a mass shooting Saturday afternoon at a Buffalo grocery store in what law enforcement officials described as a racially motivated hate crime.
Law enforcement authorities said Payton Gendron, an 18-year-old White man, approached the store in a predominantly Black neighborhood and opened fire on shoppers and employees, shooting 13 people including a security guard.
The massacre ended when Gendron surrendered to police outside the store. Later Saturday, he was charged with first-degree murder and held without bail. He pleaded not guilty. [Because he wants a trial where he can take the stand and spew his white supremacy manifesto.]
Stephen Belongia, the special agent in charge of the FBI's Buffalo field office, said law enforcement officials were investigating the shooting as a hate crime and a case of racially motivated violent extremism. Buffalo Police Commissioner Joseph Gramaglia said 11 of the 13 people shot were Black.
Gramaglia added that the gunman, who was heavily armed and wearing tactical gear, used a camera to live-stream the attack and shot several victims in the parking lot before entering the store.
The Associated Press adds, Buffalo shooter targeted Black neighborhood, officials say:
The white 18-year-old who fatally shot 10 people at a Buffalo supermarket researched the local demographics and arrived a day in advance to conduct reconnaissance with the intent of killing as many Black people as possible, officials said Sunday.
[A] preliminary investigation found Gendron had repeatedly visited sites espousing white supremacist ideologies and race-based conspiracy theories and extensively researched the 2019 mosque shootings in Christchurch, New Zealand, and the man who killed dozens at a summer camp in Norway in 2011, the law enforcement official told AP.
Federal agents served multiple search warrants and interviewed Gendron's parents, who were cooperating with investigators, the law enforcement official said.
[As] the country reeled from the Buffalo attack, new details emerged about the gunman's past and Saturday's rampage, which the shooter livestreamed on Twitch. New York Gov. Kathy Hochul, a Buffalo native, demanded technology companies tell her whether they've done "everything humanly possible" to make sure they're monitoring violent content as soon as it appears.
"If not, then I'm going to hold you responsible," she said.
Twitch said in a statement that it ended the transmission "less than two minutes after the violence started."
The Buffalo shooter appears to have been openly planning this mass shooting for several months on Discord.

Those of us who monitor white supremacist Discord and Telegram channels will not be surprised. There's a lot of this stuff on there. pic.twitter.com/T4jZmCMmho

— Chad Loder (@chadloder) May 14, 2022
Wendy Rogers has previously described white supremacist and neo-Nazi groups as "feds." She also has warned her followers about "false flags" on the horizon.

— Nick Martin (@nickmartin) May 15, 2022
Promoting the Great Replacement conspiracy theory just hours after a white man, apparently motivated by the theory, targeted Black people in a mass shooting is definitely an interesting political strategy for a US Senate candidate. pic.twitter.com/iuJnjua5Jo

— Nick Martin (@nickmartin) May 15, 2022
Portions of the Twitch video circulating online showed the gunman firing volley after volley of shots in less than a minute as he raced through the parking lot and then the store, pausing for just a moment to reload. At one point, he trains his weapon on a white person cowering behind a checkout counter, but says "Sorry!" and doesn't shoot.
Screenshots purporting to be from the broadcast appear to show a racial slur targeting Black people scrawled on his rifle, as well as the number 14 — likely referencing a white supremacist slogan.
Authorities said he shot, in total, 11 Black people and two white people Saturday.
"This individual came here with the express purpose of taking as many Black lives as he possibly could," Buffalo Mayor Byron Brown said at a news conference Sunday.
The lengthy statement attributed to Gendron outlined a racist ideology rooted in a belief that the United States should belong only to white people. All others, the document said, were "replacers" who should be eliminated by force or terror. The attack was intended to intimidate all non-white, non-Christian people and get them to leave the country, it said.
The document said Gendron researched demographics to select his target, and picked a neighborhood in Buffalo because it had a high ratio of Black residents.
Gendron traveled about 200 miles (320 kilometers) from his home in Conklin, New York, to Buffalo to commit the attack, police said.
He conducted reconnaissance on the store and the area on Friday, a day before the shooting, Gramaglia said.
The New York Times reports, A Fringe Conspiracy Theory, Fostered Online, Is Refashioned by the G.O.P.:
Inside a Pittsburgh synagogue in 2018, a white man with a history of antisemitic internet posts gunned down 11 worshipers, blaming Jews for allowing immigrant "invaders" into the United States.
The next year, another white man, angry over what he called "the Hispanic invasion of Texas," opened fire on shoppers at an El Paso Walmart, leaving 23 people dead, and later telling the police he had sought to kill Mexicans.
And in yet another deadly mass shooting, unfolding in Buffalo on Saturday, a heavily armed white man is accused of killing 10 people after targeting a supermarket on the city's predominantly Black east side, writing in a lengthy screed posted online that the shoppers there came from a culture that sought to "ethnically replace my own people."
Three shootings, three different targets — but all linked by one sprawling, ever-mutating belief now commonly known as replacement theory. At the extremes of American life, replacement theory — the notion that Western elites, sometimes manipulated by Jews, want to "replace" and disempower white Americans — has become an engine of racist terror, helping inspire a wave of mass shootings in recent years and fueling the 2017 right-wing rally in Charlottesville, Va., that erupted in violence.
But replacement theory, once confined to the digital fever swamps of Reddit message boards and semi-obscure white nationalist sites, has gone mainstream. In sometimes more muted forms, the fear it crystallizes — of a future America in which white people are no longer the numerical majority — has become a potent force in conservative media and politics, where the theory has been borrowed and remixed to attract audiences, retweets and small-dollar donations.
According to the shooter's manifesto, he appears to have been motivated by "replacement theory", the idea that white people are being replaced by non-whites — a theory pushed relentlessly by Tucker Carlson on FOX News to millions of people every night. https://t.co/ZJzu4ULkwM

— Chad Loder (@chadloder) May 14, 2022
[No] public figure has promoted replacement theory more loudly or relentlessly than the Fox host Tucker Carlson, who has made elite-led demographic change a central theme of his show since joining Fox's prime-time lineup in 2016. A Times investigation published this month showed that in more than 400 episodes of his show, Mr. Carlson has amplified the notion that Democratic politicians and other assorted elites want to force demographic change through immigration, and his producers sometimes scoured his show's raw material from the same dark corners of the internet that the Buffalo suspect did.
"It's not a pipeline. It's an open sewer," said Chris Stirewalt, a former Fox News political editor who was fired in 2020 after defending the network's decision to call Arizona for then-candidate Joseph R. Biden, and who wrote a forthcoming book on how media outlets stoke anger to build audiences.
"Cable hosts looking for ratings and politicians in search of small-dollar donations can see which stories and narratives are drawing the most intense reactions among addicted users online," Mr. Stirewalt said. Social media sites and internet forums, he added, are "like a focus group for pure outrage."
In just the past year, Republican luminaries like Newt Gingrich, the former House speaker and Georgia congressman, and Elise Stefanik, the center-right New York congresswoman turned Trump acolyte (and third-ranking House Republican), have echoed replacement theory. Appearing on Fox, Mr. Gingrich declared that leftists were attempting to "drown" out "classic Americans."
The House GOP leadership has enabled white nationalism, white supremacy, and anti-semitism. History has taught us that what begins with words ends in far worse. @GOP leaders must renounce and reject these views and those who hold them.

— Liz Cheney (@Liz_Cheney) May 16, 2022
In September, Ms. Stefanik released a campaign ad on Facebook claiming that Democrats were plotting "a PERMANENT ELECTION INSURRECTION" by granting "amnesty" to illegal immigrants, which her ad said would "overthrow our current electorate and create a permanent liberal majority in Washington." That same month, after the Anti-Defamation League, a civil rights group, called on Fox to fire Mr. Carlson, Representative Matt Gaetz, Republican of Florida, stood up both for the TV host and for replacement theory itself.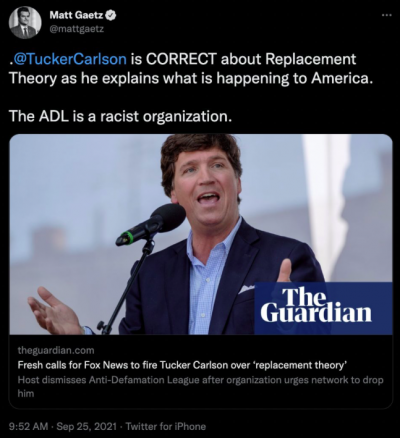 "@TuckerCarlson is CORRECT about Replacement Theory as he explains what is happening to America," Rep. Matt Gaetz wrote on Twitter. In a statement after the Buffalo shooting, Rep. Gaetz denied that he had "never spoken of replacement theory in terms of race."
One in three American adults now believe that an effort is underway "to replace native-born Americans with immigrants for electoral gains," according to an Associated Press poll released this month. The poll also found that people who mostly watched right-wing [fascist] media outlets like Fox News, One American News Network and Newsmax were more likely to believe in replacement theory than those who watched CNN or MSNBC.
Huffington Post adds, Rep. Elise Stefanik Flamed For Pushing Racist Theory Embraced By Accused Buffalo Shooter:
Right-wing Rep. Elise Stefanik (R-N.Y.) was denounced by her local newspaper for touting the racist "great replacement theory" just months before an accused mass killer used it to justify a racist massacre in Stefanik's state.

"How low, Ms. Stefanik?" the editorial in the Albany Times Union asked in September.

Stefanik, a Donald Trump disciple who's now the third-ranking House Republican, was condemned by the newspaper for a Facebook campaign ad campaign that promoted the racist conspiracy that whites are being replaced by people of color through immigration or, eventually, violence. Other right-wing figures, including Fox News personality Tucker Carlson, also have pitched the racist falsehood.

Stefanik's ads didn't specifically name the theory, but clearly evoked its racist vision. The Republican lawmaker "isn't so brazen as to use the [usual theory] slogans themselves; rather, she couches the hate in alarmist anti-immigrant rhetoric that's become standard fare for the party of Donald Trump," the Albany Times Union editorial charged.

"The idea of America as a melting pot is not some idealistic fiction of the left; it is part of the foundation of this nation's greatness," the paper wrote. "If there's anything that needs replacing in this country — and in the Republican Party — it's the hateful rhetoric that Ms. Stefanik and far too many of her colleagues so seamlessly spew."

* * *

Stefanik was roundly attacked last week for blaming mysterious "pedo grifters" for somehow causing the shortage of infant formula in the U.S. Some critics viewed it as a dog whistle to QAnon conspiracists who baselessly believe Democrats are running an international child sex trafficking ring.

Critics warned that such outlandish claims could trigger violence against imagined enemies. A gunman opened fire in 2016 on a Washington pizzeria that was identified as a headquarters for the nonexistent trafficking operation. No one was injured. The gunman was sentenced to four years in prison.
Max Boot writes, The Buffalo shooter's views are mainstream on the right:
It was a conservative writer who coined the phrase "ideas have consequences." The mass shooting at a Buffalo supermarket on Saturday, which left 10 people dead, shows the consequences of two of the horrific ideas that have taken root on the American right: support for the "great replacement" theory and opposition to gun control.
[E]choing the Christchurch, New Zealand, shooter, who killed 51 people at two mosques in 2019, the Buffalo gunman attacked ethnic diversity. "Why is diversity said to be our greatest strength?" his manifesto demanded. "Said throughout the media, spoken by politicians, educators and celebrities. But no one ever seems to give a reason why. What gives a nation strength? And how does diversity increase that strength?"
This is close to what Tucker Carlson, the most popular host on the Fox "News" Channel, said in 2018 and has often repeated: "How, precisely, is diversity our strength? Since you've made this our new national motto, please be specific as you explain it. Can you think, for example, of other institutions such as, I don't know, marriage or military units in which the less people have in common, the more cohesive they are?"
In 2021, Carlson went even further and openly embraced the "great replacement" theory that inspired the Buffalo shooting as well as the earlier white-supremacist attacks in Pittsburgh, El Paso and Christchurch. He suggested that "the Democratic Party is trying to replace the current electorate, the voters now casting ballots, with new people, more obedient voters from the Third World." (His Fox News colleague Laura Ingraham has said the same thing.) The Anti-Defamation League demanded that Fox fire Carlson. But Fox's chief executive, Lachlan Murdoch, stood by him, allowing his network to continue spewing racist vitriol.
A number of Republican politicians, including Rep. Matt Gaetz (Fla.), Rep. Scott Perry (Pa.) and Sen. Ron Johnson (Wis.), have openly espoused the "great replacement" theory too. A few hours after the Buffalo shooting, Arizona Senate candidate Blake Masters (R) posted a video saying: "The Democrats want open borders so they can bring in and amnesty **tens of millions** of illegal aliens — that's their electoral strategy." J.D. Vance, the GOP Senate nominee in Ohio (who, like Masters, is bankrolled by billionaire Peter Thiel), offers an even sicker twist on this demented theory: He says that Democrats are not only opening the borders to create "a shift in the democratic makeup of this country" but that President Biden is deliberating letting fentanyl into the country "to kill a bunch of MAGA voters in the middle of the heartland."
Little wonder that a poll taken in December found that nearly half of all Republicans believe that there is a plot to "replace" native-born Americans with immigrants. Fox talking heads and Republican politicians have mainstreamed white supremacist ideology.
Republicans, of course, will insist that they never intend for anyone to commit murder, but a growing number of GOP politicians have engaged in violent rhetoric. Even those who don't advocate violence have made it easier to carry out by eviscerating the gun laws.
[A]fter the Buffalo attack, Biden issued a statement: "Hate must have no safe harbor." Unfortunately hate continues to enjoy a safe harbor on the American right. And the casualties pile up.
Eugene Robinson writes, The Black victims of the Buffalo shooting were killed by white supremacy:
Do not dare look away from the bloody horror that left 10 dead in Buffalo. Do not dare write off the shooter as somehow uniquely "troubled." Those Black victims were murdered by white supremacy, which grows today in fertile soil nourished not just by fringe-dwelling racists but by politicians and other opportunists who call themselves mainstream.
[W]hat we need to talk about is how politicians and thought leaders on the right are using the vile poison of replacement theory to further their own selfish ends — garnering campaign donations and votes, boosting television ratings, achieving fame. And we need to talk about how most of this demagoguery is coming from people who should know, and probably do know, that what they are telling potential killers, such as Payton Gendron, the man in custody after the Buffalo shooting, is complete fiction.
"Now, I know that the left and all the little gatekeepers on Twitter become literally hysterical if you use the term 'replacement,' if you suggest that the Democratic Party is trying to replace the current electorate, the voters now casting ballots, with new people, more obedient voters from the Third World," Fox News host Tucker Carlson said last year. "But they become hysterical because that's what's happening actually. Let's just say it: That's true."
I know Carlson. I was a frequent guest on his low-rated show on MSNBC years ago. He is smart enough and well-educated enough to know that there is no cabal plotting to "replace the current electorate." But by playing with this racist dynamite, he has made his nightly show the highest-rated on cable television by far.
J.D. Vance, the Republican candidate for Senate in Ohio, claims on the campaign trail that Democrats are trying to import enough voters so that "Republicans would never win a national election in this country ever again." Vance is a best-selling author and a graduate of Yale Law School.
Blake Masters, a Stanford-educated venture capitalist who is seeking the Arizona GOP nomination for U.S. Senate, said recently on a podcast: "If you connect the dots as a candidate for office and say, 'Look, obviously the Democrats, they hope to just change the demographics of our country, they hope to import an entirely new electorate,' man, they call you a racist and a bigot."
Note: Both J.D. Vance and Blake Masters are financially supported by Tech billionaire Peter Thiel and his New Right (same as the Old School Right) fascist politics. They are Thiel's tools.
Yes. That's exactly what I call those who spread such trash.
Sen. Ron Johnson (R-Wis.), who is running for reelection this year, also flirts with replacement theory. Last month, in criticizing President Biden's immigration policies as too lenient, he posed his answer in the form of a question: Is it really that "they want to remake the demographics of America to ensure that they stay in power forever?"
A poll this month by the Associated Press and the NORC Center for Public Affairs Research found that nearly half of Republicans agree at least to some extent with the proposition that there is "a group of people in this country who are trying to replace native-born Americans with immigrants who agree with their political views." This isn't fringe stuff anymore. It's becoming central to the modern GOP's worldview.
The replacement-theory grifters know that they are stoking the anxieties some White people feel about the nation's increasing diversity. They also know that they are playing with tropes that have long been popular among unapologetic white supremacists, including those who infamously marched through Charlottesville bearing torches. And they must realize by now that some impressionable White people will take this rhetoric seriously — and act on it.
The accused Buffalo killer took pains to choose a location where he knew the victims would be people of color. Blame him for what he did. But also blame the prominent right-wing voices that egged him on.