Crossposted from DemocraticDiva.com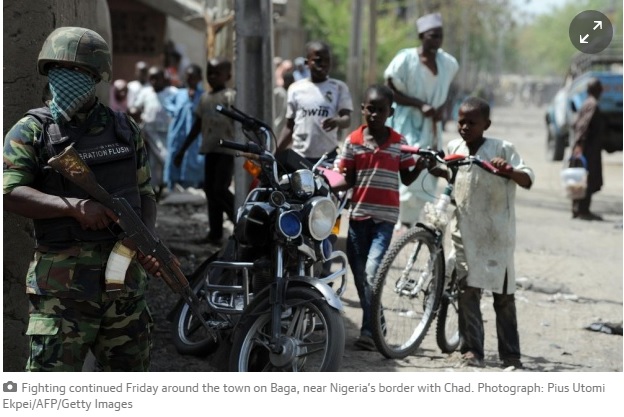 Last week a group of French cartoonists were murdered by terrorists. And it was a horrific thing. Truly. Two days later, terrorists attacked a Jewish market in Paris. Awful.
But at the same time, in Nigeria, Boko Haram slaughtered at least 2000 people (survivors have stopped counting).
District head Baba Abba Hassan said most victims are children, women and elderly people who could not run fast enough when insurgents drove into Baga, firing rocket-propelled grenades and assault rifles on town residents.

"The human carnage perpetrated by Boko Haram terrorists in Baga was enormous," Muhammad Abba Gava, a spokesman for poorly armed civilians in a defence group that fights Boko Haram, told the Associated Press.

He said the civilian fighters gave up on trying to count all the bodies. "No one could attend to the corpses and even the seriously injured ones who may have died by now," Gava said.

An Amnesty International statement said there are reports the town was razed and as many as 2,000 people killed.

If true, "this marks a disturbing and bloody escalation of Boko Haram's ongoing onslaught," said Daniel Eyre, Nigeria researcher for Amnesty International.
The UK Guardian, which I have quoted thus far, tries to explain the lack of coverage:
"I am Charlie, but I am Baga too," wrote Simon Allison for the Daily Maverick, a partner on the Guardian Africa network. "There are massacres and there are massacres" he said, arguing that "it may be the 21st century, but African lives are still deemed less newsworthy – and, by implication, less valuable – than western lives".

Allison recognises the challenges in reporting – "the nearest journalists are hundreds of kilometres away" – but also points to the significance of the attack: taking control of Baga, "Boko Haram effectively controls Borno state in its entirety. These aren't just terrorists: they are becoming a de facto state." Even more reason for the world to take notice.

But the blame does not just lie with western media; there was little African coverage either, said Allison. No leaders were condemning the attacks, nor did any talk of a solidarity movement, he said, adding that "our outrage and solidarity over the Paris massacre is also a symbol of how we as Africans neglect Africa's own tragedies, and prioritise western lives over our own."
Christ, if that isn't the most horrific thing ever. White people, let's get our shit together and recognize that black people's lives mean as much as ours. If we were at that point, this massacre in Nigeria would be at the top of the news cycle, since a whole lot of people died last week from radical religious violence who weren't in France.