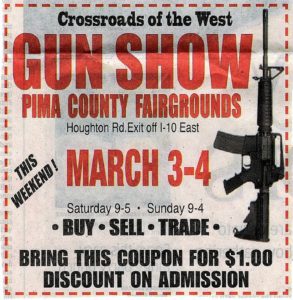 For a $120 fee any arms dealer can rent a table at this weekend's gun show at the Pima County Fairgrounds and sell AR-15s and any kind of assault weapon.
There is no background check for buyers. Any maladjusted psycho can purchase a weapon of war. All you need is a driver's license that says your 18 or older.
At a time when students and parents are mobilizing a nationwide protest on March 24 against gun violence, it is wildly wrong that public property is being used to flood our streets with guns.
The March For Our Lives in Tucson will take place Saturday, March 24 at 11 AM – 4 PM at Jacome Plaza Tucson, 10 West Pennington Street. However, just 20 miles down Interstate 10, dozens of dealers at the Pima County Fairgrounds will be selling AR-15s, just like the weapon that killed 17 students in Parkland, Florida.
Calls and emails to Fairgrounds spokesperson Launa L. Rabago were not returned.
Attractive to criminals
The Bureau of Alcohol, Tobacco and Firearms (ATF) estimates on average 2,500 to  5,000 gun shows are held annually. In general, between 25% to 50% of sellers are not licensed dealers. The access to anonymous sales and the availability of large numbers of secondhand guns makes gun shows attractive to criminals and other prohibited purchasers. A federal study found that 10% of guns used in crime by juveniles were sold either at a gun show or a flea market, and in 1999, gun shows were associated with approximately 26,000 firearms used in crime.
The Fairgrounds are managed by Southwestern Fair Commission, Inc., a non-profit, private corporation, established in 1975 by Pima County to operate the fairgrounds and the Pima County Fair.
The Board of Directors are Marvin Selke, President; Judy Patrick, Secretary; Alan Levin, Director; Jim Murphy, Director; Mark Cowley, Director; Garrett Ham, Director; and Ronald Allen, Director. Jon Baker is the Executive Director.
The board sees no problem using our taxpayer dollars and public property to promote the easy access to guns. It's time to close the gun show loophole right here in Tucson.